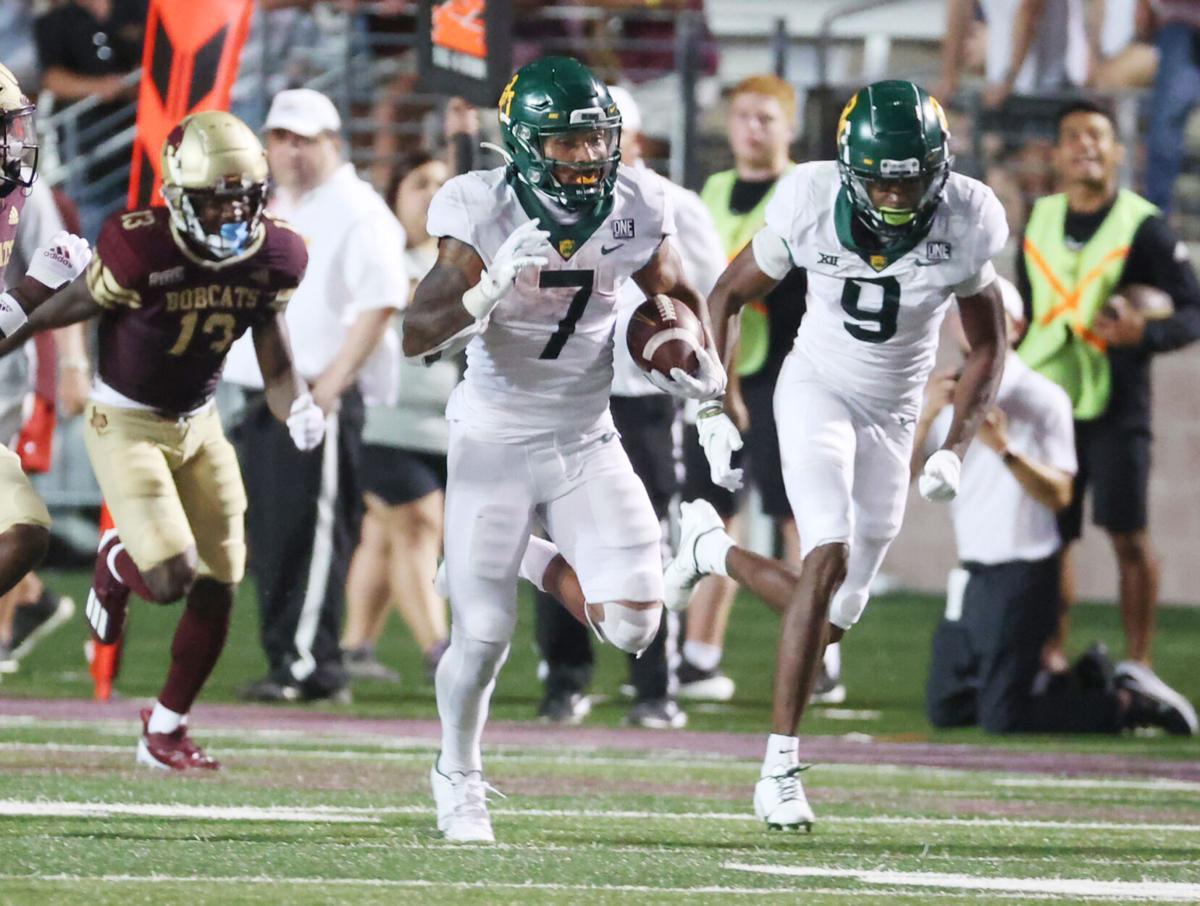 It's only the second weekend of September, but Baylor already has Big 12 play sharply in its scope.
After last weekend's 29-20 season-opening win over Texas State in San Marcos, the Bears hope to polish a few areas in their home opener against Texas Southern at 6 p.m. Saturday at McLane Stadium.
Topping the list is cutting down on penalties, developing a better pass rush, and for first-year starting quarterback Gerry Bohanon to improve accuracy on deep balls. The Bears need to get a better handle on all of those things before opening Big 12 play against Kansas on Sept. 18 in Lawrence.
"There were a lot of positive things (against Texas State), but a lot of things we can get better at," said Baylor coach Dave Aranda. "We've been really kind of diving into those details. I think there's such a great amount of improvement we can make from week one to week two, so we're really looking at that."
The Bears committed 11 penalties for 99 yards, which made their win over the Bobcats closer than it could have been.
"I thought it tightened the game," Aranda said. "I think there were some penalties that were careless and were not reflective of who we are and who we want to be. I take responsibility for that."
With Texas State quarterback Brady McBride showing considerable escapability, the Bears finished with just one sack by linebacker Terrel Bernard for an eight-yard loss.
Aranda expects LSU transfer noseguard Siaki "Apu" Ika to be a bigger factor up front after finishing with one assisted tackle against Texas State.
"I think he can play better," Aranda said. "With Texas State, it was more double teams and more downhill blocking, which he can destroy that stuff as well. But I think he's got to be really disciplined in his approach and technique to do that. This will be a big week for him."
Making his first start in four seasons at Baylor, Bohanon was effective as he hit 15 of 24 passes for 148 yards. While he was sharp on a lot of play-action passes, his longest completion was 26 yards to RJ Sneed.
Bohanon showed he has the arm strength to throw deep, but misfired on several attempts. But the Baylor coaches and players have full confidence in him and like the leadership he brings to the team.
"I think he's very confident actually, and a lot of us are confident in him," said Baylor running back Abram Smith. "Us being confident in him builds that in him. Just him controlling the offense and knowing where to go with the ball, knowing what to do and kind of timing things up, he's over the top and full of confidence."
After ranking last in the Big 12 with 90.3 yards rushing per game last season, the Bears' biggest goal offensively was to establish dominance up front against Texas State by pounding away with their running game.
That approach was highly successful, and the Bears hope to use it as a template for the rest of the season. For the first time since 2018, the Bears had a pair of backs surpass 100 yards rushing as Trestan Ebner rushed for 120 yards on 20 carries and Smith picked up 118 yards on 19 carries and scored a pair of touchdowns.
"In the past, the run game wasn't really that strong," Smith said. "So for us to go out there and do what we did, as a running back I'm really pleased with how we performed. I think it's really good actually for us to be feeding off one another and just going out there and showcasing pretty much what kind of statement we wanted in the run game."
Baylor's starting offensive line, featuring left tackle Connor Galvin, left guard Xavier Newman-Johnson, center Jacob Gall, right guard Grant Miller and right tackle Gavin Byers, formed a strong unit and played with a sense of purpose.
"They've grown a bunch," Smith said. "In terms of physicality, it's night and day. When you come out to practice, you can see them just moving bodies. I'm talking about huge bodies, just moving them."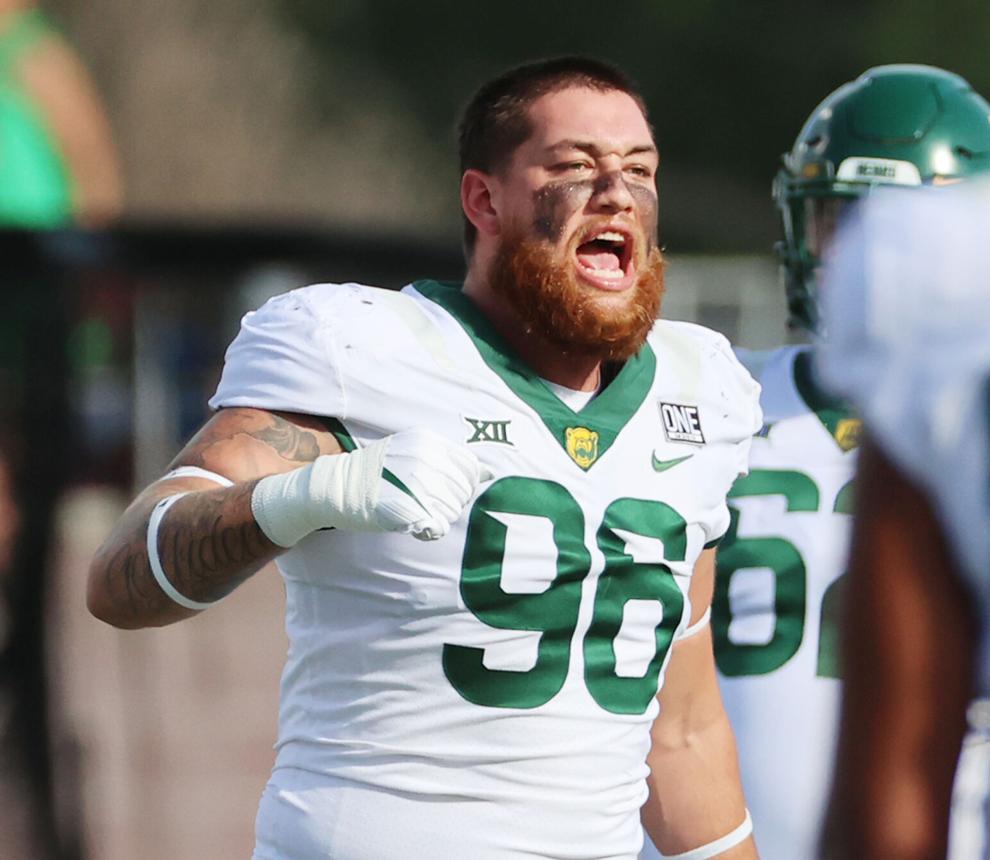 Baylor's defense also delivered a solid performance. It limited the Bobcats to 235 yards and intercepted three McBride passes.
Safety JT Woods returned the first interception for a 20-yard touchdown in the first quarter. Safety-linebacker Jalen Pitre returned an interception for 20 yards while safety Jairon McVea picked off a pass late in the game.
"Take three, that's our defense," said Baylor defensive lineman Cole Maxwell. "If we get three turnovers, we did our job for the day. There's a lot behind taking three turnovers, like technique and you've still got to get to the ball and this and that."
Saturday's game will be the Baylor football team's first against a SWAC school, and Texas Southern has struggled in recent years. The Tigers finished 0-11 in their last full season in 2019 and opened this season with a 40-17 loss to Prairie View A&M.
Prairie View A&M quarterback Jawon Pass carved up Texas Southern's defense by hitting 25 of 37 passes for 354 yards and three touchdowns. Texas Southern quarterback Jalen Brown hit 20 of 41 passes for 181 yards and a score while LaDarius Owens led the rushing attack with 46 yards and a touchdown.
For the Bears, the game will be an opportunity to clean up some areas and perhaps get more players into the game to develop depth.
After McLane Stadium attendance was limited to 25 percent capacity last year due to COVID-19 protocol, the Bears are looking forward to playing in front of more fans in their home opener.
"Nothing beats that home atmosphere," Smith said. "Going out there and just hearing the fans again will mean a lot to us."