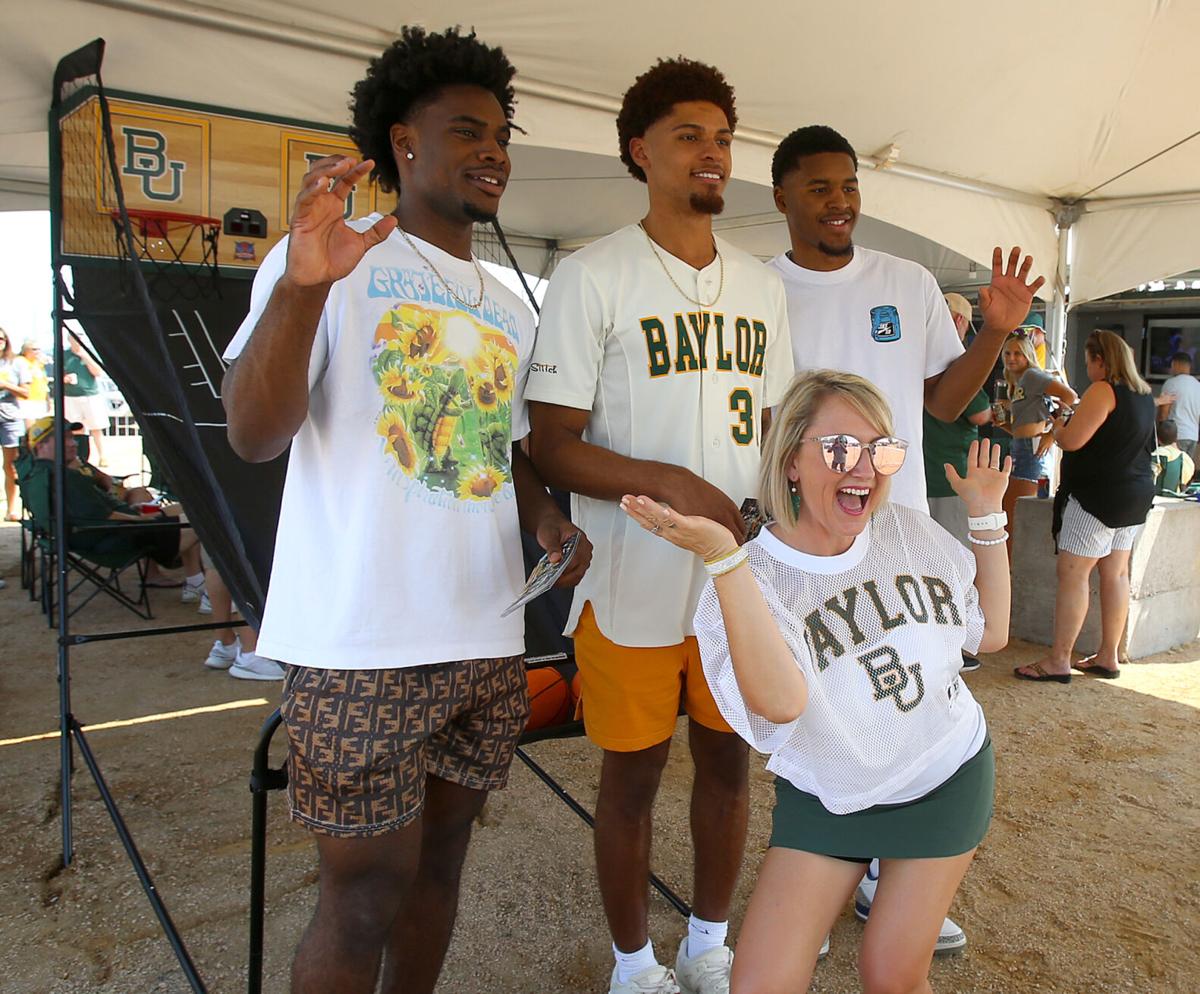 NBA-bound Baylor basketball players Davion Mitchell, Jared Butler and MaCio Teague joined their former teammates at McLane Stadium on Saturday to receive their Big 12 championship rings.
Of course, that journey eventually ended with the Bears winning the program's first national championship at Lucas Oil Stadium in Indianapolis in April.
The Baylor fans were glad to have their conquering heroes back home, and they welcomed them with a resounding roar.
"I love Baylor, obviously it's a great place," Butler said. "It's a great time for me."
Before the game, the trio took photos with fans in the tailgate area outside the stadium. Everyone from kids to grandparents couldn't have been happier to see them back for Baylor's home opener against Texas Southern.
They're all looking forward to the next chapter of their basketball careers in the NBA.
The Sacramento Kings drafted Mitchell with the ninth pick in the NBA Draft while the Utah Jazz took Butler in the second round with the 40th overall pick. Teague signed with the Jazz as a free agent after playing in the NBA Summer League.
Mitchell showed why he was a lottery pick as he earned co-MVP of the NBA Summer League.
"It was a real good experience," Mitchell said. "I've been watching the Summer League since I was little. The most important thing is that during the summertime everyone out in Vegas was having a good time. It was real exciting because I was with the team I'm going to be playing with."
Mitchell showed why he was named Naismith NCAA defensive player of the year by playing intense, aggressive defense throughout the summer. The talented guard averaged 10.8 points and 5.8 assists while shooting 47.1 percent from 3-point range to lead the Kings to the Summer League title.
"We're trying to change the culture in Sacramento to become a defensive team," Mitchell said. "I wanted to go in there and show them I could guard one through five and do whatever I need to do to win."
Mitchell was thrilled when the Kings made him a lottery pick but realizes the experience he gained from playing for a national championship team helped him get there.
"It's a blessing," Mitchell said. "But credit to my teammates because I wouldn't have been there without them. If we didn't win together, I probably wouldn't have been in this position."
Following a first-team All-America season, Butler's draft potential appeared tenuous at first due to a medical condition before the NBA cleared him to play in mid-July.
"They were talking like I wasn't going to be able to play," Butler said. "Just to be able to play in the league has been my dream, and I'm fortunate for the opportunity,"
Projected to be picked late in the first round, Butler had to wait until the second round before the Jazz selected him. But he's thankful to get the opportunity to prove himself.
"I was upset and it was tough," Butler said. "But at the end of the day, everybody kind of stands on the same ground. I've just got to work to be where I want to be. I feel like it's one of the best organizations in the league. They take care of their players and I think they're really confident in my ability."
Teague had to go the free agent route after he wasn't selected in the draft. But following strong Summer League performances, Teague is glad he'll be joining Butler with the Jazz.
"It's pretty good just getting the opportunity, so I thank God for my blessings," Teague said. "The Summer League was fun. You've got to be a quick learner and adapt. I feel like I possess all the skills, but there are still things I need to work on. I definitely feel like I'm capable of being an NBA player."
Butler recently tweeted a photo of his family's home in the New Orleans area that was damaged by Hurricane Ida. Despite the property damage, it reminded him how much more important relationships are.
"That's where my family lives now, where I grew up," Butler said. "It's terrible but the main thing I wanted to say that it's just so important to be involved with those relationships in your life."