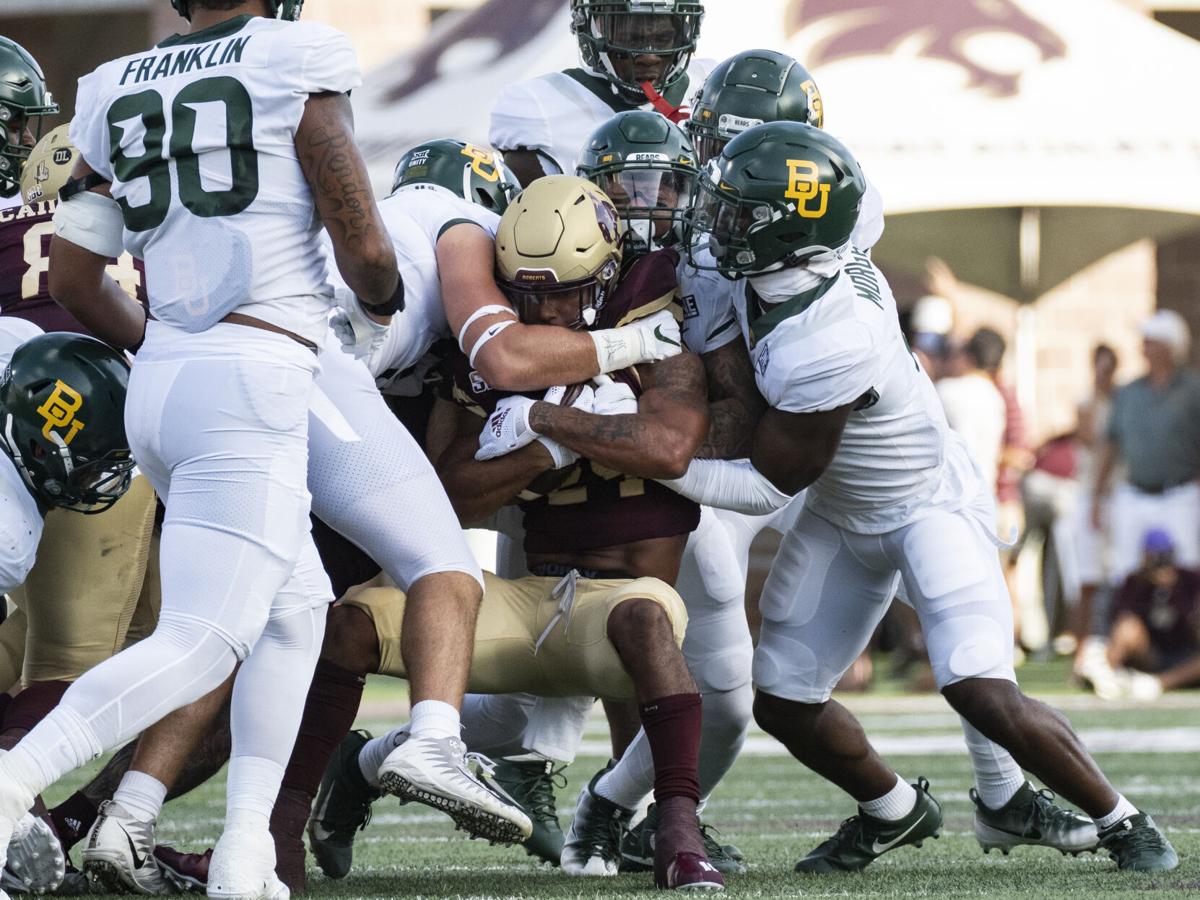 Baylor offense vs. Texas Southern defense
The Bears made their intentions clear from the start in a season-opening 29-20 win over Texas State. They came out running the ball and never stopped as Trestan Ebner rushed for 120 yards and Abram Smith picked up 118 yards and two scores. That helped Gerry Bohanon enjoy a successful starting debut at quarterback. The Bears should have no problem piling up big numbers against a Texas Southern defense that allowed 486 yards total offense in a season-opening 40-17 loss to Prairie View A&M.
Baylor defense vs. Texas Southern offense
The Bears hope to improve their pass rush after coming up with only one sack against Texas State. But overall Baylor delivered a strong defensive performance as Texas State quarterback Brady McBride hit 20 of 40 passes for 156 yards and threw three interceptions. Baylor limited the Bobcats to 79 yards rushing and 2.9 yards per carry. Texas Southern finished with just 274 yards total offense against Prairie View.
Key matchup: Baylor QB Gerry Bohanon vs. TSU pass defense
Making his first start for the Bears, fourth-year junior QB Gerry Bohanon hit 15 of 24 passes for 148 yards against the Bobcats. His numbers would have looked even better if the replay monitor wasn't down. Wide receiver Josh Fleeks was clearly inbounds on a 21-yard pass into the end zone on which he was called out of bounds. Bohanon should enjoy a big day after Prairie View's Jawon Pass threw for 354 yards and three touchdowns against Texas Southern.
Special teams
Baylor freshman Isaiah Hankins won the kicking job over veterans John Mayers and Noah Rauschenberg during preseason drills. Hankins missed a 40-yarder but came back to hit 43 and 26-yard field goals against the Bobcats. Punter Issac Power was his usual consistent self as he averaged 40 yards on three punts. Ric Garcia hit his only field goal attempt, a 22-yarder, for Texas Southern last week while punter Sawyer Evans averaged 36.8 yards on six attempts. Baylor All-America kick returner Trestan Ebner returned just one kick for 17 yards against the Bobcats, but is a scoring threat at any time.
Intangibles
The Bears hope to build off last week's win over Texas State by beating Texas Southern in their first meeting against a SWAC school. The Bears will look to decrease penalties after they were flagged for 11 for 99 yards against the Bobcats in San Marcos. The Bears are looking forward to playing at home before a bigger crowd following last year's COVID-19 restrictions that limited attendance to 25 percent.