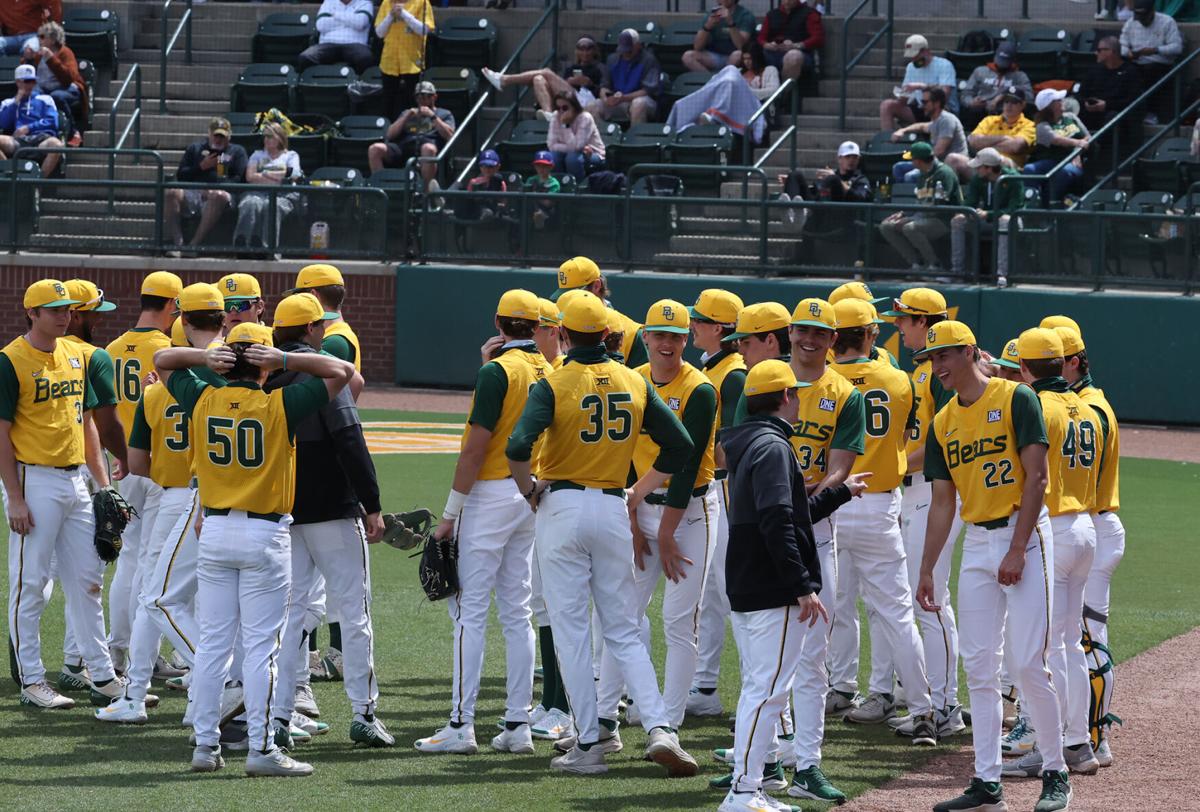 What Baylor baseball coach Steve Rodriguez seems to most want from his hitters is the ability to grind.
That is, he wants guys who will dig in, who will fight off pitches, who won't give up any free at-bats. He demands consistency, both in approach and execution. For the most part this season, the Bears have met that expectation.
Granted, there are always exceptions. Baylor (13-7, 1-2) couldn't muster up the key two-out, run-producing hit it needed in a pair of close losses to open last weekend against Texas. And though the final game turned into a BU runaway in an 11-2 win, that onslaught actually all started with a seemingly innocuous two-out RBI.
Those are big moments for a player, producing in such situations. Nevertheless, Rodriguez said he wants to see the same attitude from his hitters whether the bases are jammed or empty, and no matter how many outs have been recorded in the inning.
"I don't think there is a different approach, and there shouldn't be," Rodriguez said. "There should never be a different approach just because there are two outs. The biggest thing for me is, don't force the at-bat. I talked to our guys a little bit about that. If they're going to throw you a strike, great. Make sure you take a good swing on it. If not, then don't force the at-bat and feel like you're the one that has to do something.
"There's not a change of mentality that goes with it. You see some guys who want to force at-bats in certain situations, because they want to be the guy who does it. But at the same time that can really force you to swing at a lot of pitches that you wouldn't normally swing at."
Baylor carries a .325 team batting average into this weekend's series against No. 12 TCU in Fort Worth, a figure that ranks sixth nationally. That's rather stout. A total of 10 BU batters boast averages of .300 or better. But the Frogs should challenge the Bears with a typically potent pitching staff. The Frogs rank second in the Big 12 with 219 strikeouts and have limited opposing hitters to a .223 average.
Even after dropping the opening two games against the Longhorns last weekend, BU catcher Andy Thomas insisted that the Bears still had the better team, they just hadn't shown it yet. Baylor seemed to back up that statement in the blowout finale.
It speaks to the confidence of this Baylor team that they can remain buoyant even at times when it appears they might be sinking.
"That's a good mentality to have," Baylor third baseman Esteban Cardoza-Oquendo said. "You obviously don't want to go into any game not feeling good about what your team can do and how your guys can perform. I think that's definitely part of our approach going into any game we play. We're going to be confident in our abilities, in our ability to get the job done and just pass the bat on to other teammates, for pitchers to throw strikes and make plays on defense. We have the confidence that we can compete with anybody, no matter who it is."
TCU (13-7, 0-0) will be playing its first Big 12 series after taking two of three from Louisiana-Lafayette on the road last weekend. It always seems to be rowdy and hard-earned anytime the Frogs and Bears get together. This weekend should only continue that trend.
"I just like being able to jump in and play, regardless of who we're playing," Rodriguez said. "Regardless of who we're playing, I kind of give it that little side-eye, like, what are we going to get here?
"But I tell you what, I was really pleasantly surprised with our guys (against Texas). I thought they managed themselves well, thought they handled themselves well. I thought they got rid of the jitters fairly quickly. And they did everything I was expecting them to do, minus a couple of mistakes. They played really well, and I'm expecting the same thing this weekend."
Bear Facts
Pitching matchups for the weekend pit Baylor left-hander Tyler Thomas (2-1, 1.93 ERA) against TCU lefty Russell Smith (3-1, 2.39) on Friday; Baylor right-hander Blake Helton (1-1, 4.43) opposite TCU lefty Austin Krob (2-0, 3.16) on Saturday; and BU righty Hayden Kettler (2-0, 1.45) versus TCU righty Johnny Ray (1-1, 3.31) in Sunday's finale.