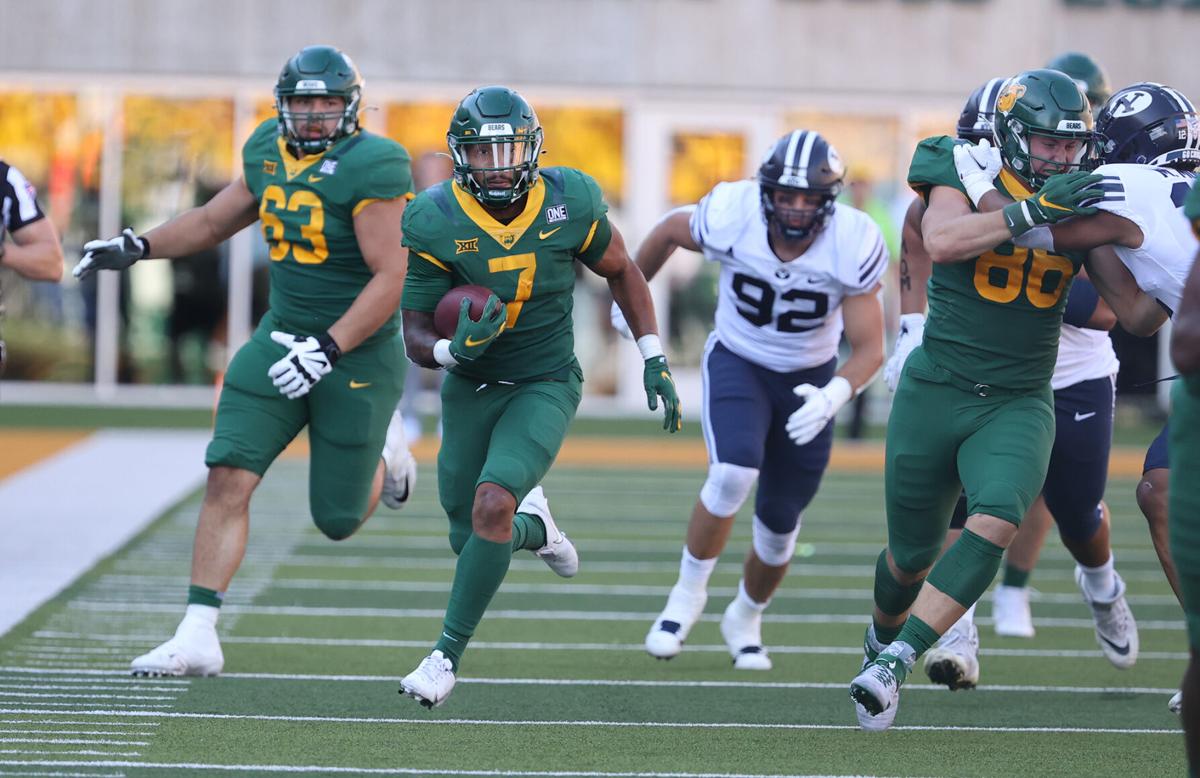 There is nothing Baylor coach Dave Aranda likes to see more than complementary football.
It's like a symphony when the offense, defense and special teams are playing cohesively, feeding off each other, and inspiring each unit to take its game to the next level.
To Aranda's eyes, Baylor's last two games have epitomized complementary football.
In Baylor's 45-20 win over West Virginia, a balanced offense amassed 525 yards while the defense collected a season-high six sacks. The template was similar in the Bears' 38-24 win over then-No. 19 BYU on Saturday as the offense collected 534 yards and the defense sacked BYU quarterback Jaren Hall five times.
"It's a team game," Aranda said. "So what allows us to be at our best is guys playing for each other and holding each other accountable and pushing each other to be their best. I think there are so many facets and ways that that shows up, just having a team with no superstars, having a team of no selfish units, and just people backing each other on."
Following their impressive win over the Cougars, the Bears became bowl eligible at 6-1 and returned to the Top 25 on Sunday at No. 20 in both the Associated Press and coaches polls.
The Bears were previously No. 21 in the AP poll and No. 24 in the coaches poll following a 31-29 win over then-No. 14 Iowa State on Sept. 25, but fell out the following week after a 24-14 loss to Oklahoma State.
The Bears aren't just improving in all areas of the game, they're becoming a more disciplined team. Heavily penalized in earlier games, the Bears committed no penalties against BYU.
"I think it's a good step," Aranda said. "I think looking at sport as a way to master yourself. For any type of self-mastery, there has to be a craft that you work in. Your craft, especially in the heart of the craft, brings out that mastery of self, if you look at it like that."
Heading into a bye week before the Oct. 30 game against Texas at McLane Stadium, Aranda and his staff will seek different areas to fine tune and continue to build relationships with the players.
"A greater connection with our players," Aranda said. "A good-bad film session, here's the things you're doing well, here's the things you can improve on. Just meeting with them, so they're not over there thinking they did this and we're over there thinking you did that. We'll have our defense help with opponent self-scout, and vice versa. We'll look at it and see if there's things that protrude or stick out and have to be addressed. Then recruiting will be a big factor, so we'll have guys on the road in high schools and at high school games. And the last piece will be opponents, that'll be Texas, we'll be starting on them."
Aranda has enjoyed watching quarterback Gerry Bohanon's growing confidence and his ability to lead the team. In the win over BYU, Bohanon hit 18 of 28 passes for 231 yards and a touchdown. He didn't appear fazed when he threw his first career interception in the end zone on the Bears' second drive.
"I think leadership is a loaded word," said Baylor linebacker Dillon Doyle. "He's a good manager of people. He's so positive. He never asks anybody to do work that he wouldn't do himself. He's always focused. I love that about him. To have someone on our team that's willing to do the work, and you know how hard he's been working for the opportunity, we've seen him grow into this role. And so he deserves everything that he's getting right now."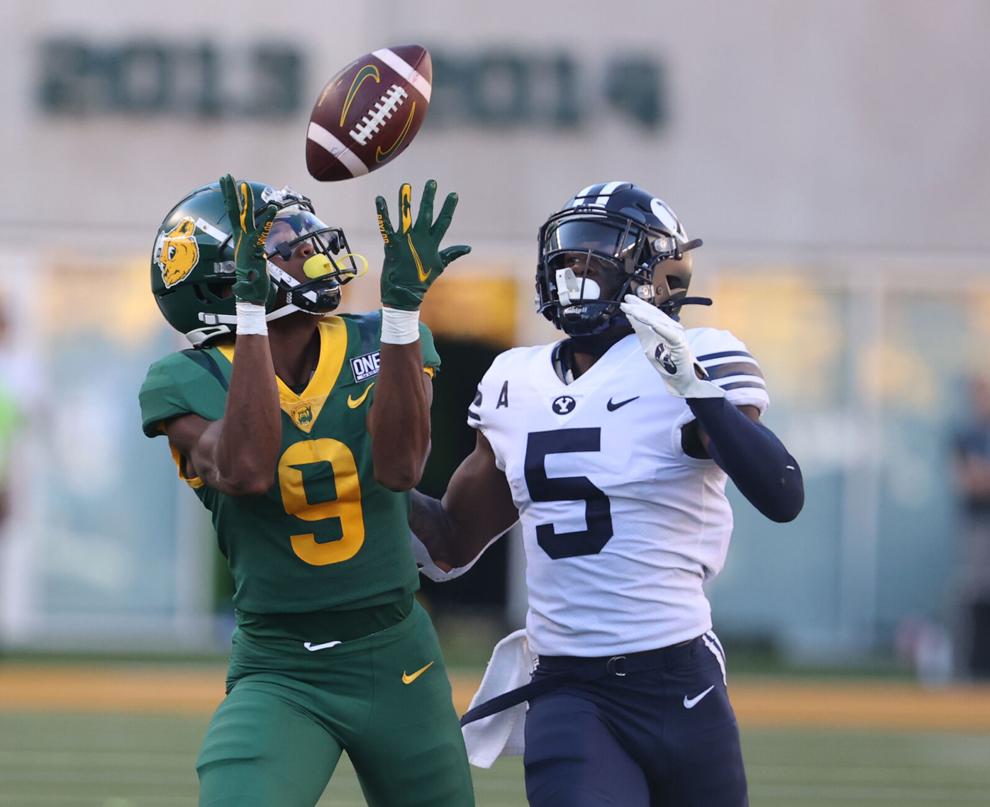 Doyle is another player displaying great leadership skills along with considerable versatility. Not only did he collect a sack for an 11-yard loss, Doyle came in at fullback and ran for a two-yard touchdown and caught a two-yard scoring pass from Bohanon.
The Bears' reaction after Doyle scored his touchdowns said it all as he found himself in the middle of a group hug with teammates jumping all over him.
"Dillon's got a great heart," Aranda said. "The empathy with him is very strong. He can feel if things are sincere and they're coming from the right spot. I think he's a really hard worker and his care factor is very strong. I want to root for guys like Dillon. Dillon's opportunities are now because of what he's done on the field but also what he's done off the field, and the things that he is and also the things he hasn't allowed himself to do, which I appreciate. I think Dillon wants to be a coach and he's going to be a great one."
The Bears' primary offensive goal coming into the season was to establish the run, and they accomplished that by averaging 321.3 yards rushing in their first three games against Texas State, Texas Southern and Kansas.
But there were some doubts whether they could sustain that level after the Bears averaged just 112.5 yards rushing against physical Iowa State and Oklahoma State defenses.
The rushing attack has seen a resurgence in the last two games as the Bears rushed for 171 yards against West Virginia and then gouged BYU for 303 yards. Abram Smith delivered a career day as he rushed for 188 yards and three touchdowns on 27 carries while Trestan Ebner finished with 95 yards rushing on 11 carries.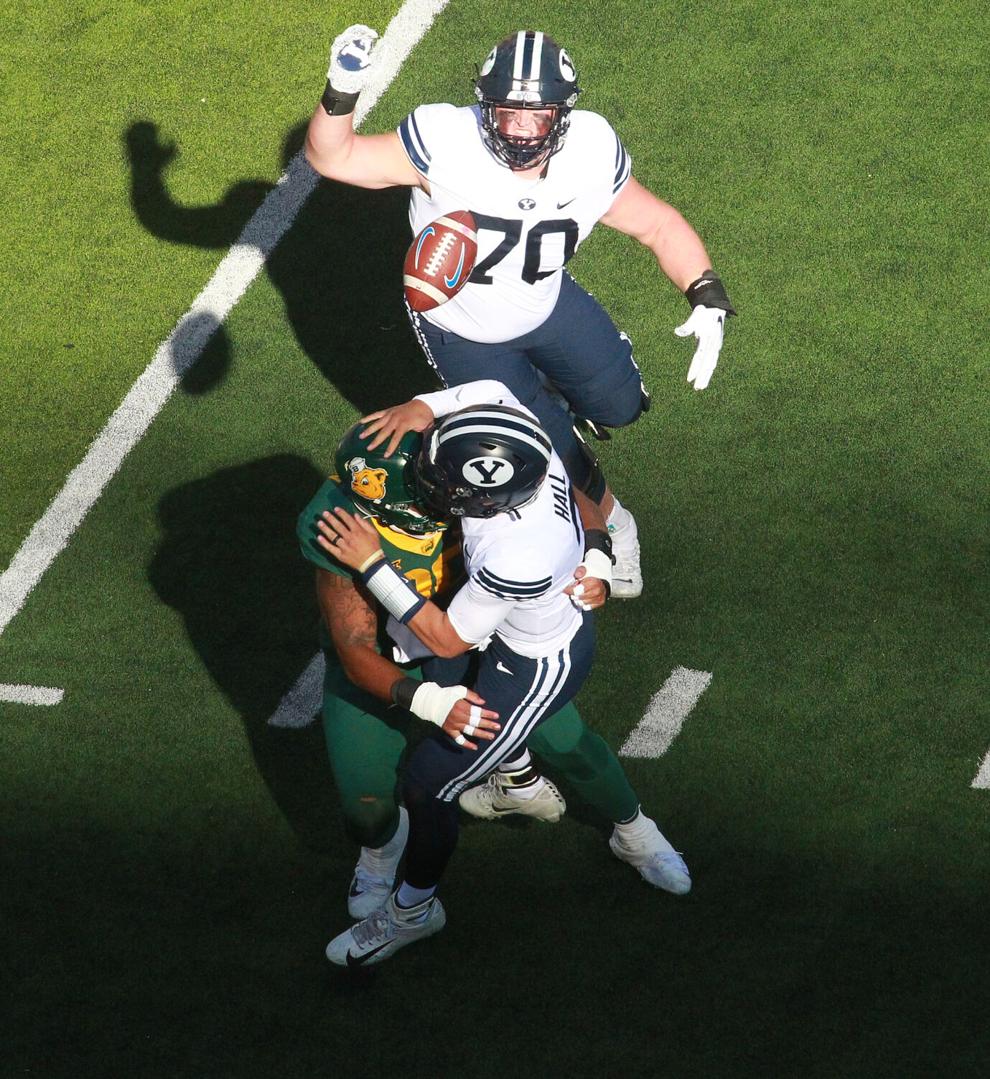 Like Doyle, Smith has played linebacker, and they both bring physicality to the backfield.
"I guess you could look at it that way, linebackers are a lot more physical," Smith said. "So I think that's one thing we're trying to establish in the running back room. I know you've seen Trestan a couple of times run a couple of people over. And so I think that's one thing, linebackers are coming into the backfield and making things happen. So it's kind of great to see Dillon out there getting a couple of scores."
After collecting just six sacks in the first five games, the Bears' pass rush has improved dramatically as they've amassed 11 sacks in the last two games. Doyle, Terrel Bernard, Jalen Pitre, Bryson Jackson and TJ Franklin each collected sacks against BYU.
Nobody's sack was more important than Franklin's as he stripped the ball from Hall and Pitre recovered the fumble at a key point in the third quarter. The Bears were able to go after Hall with great energy because they contained BYU's running game by holding Tyler Allgeier to 33 yards on 15 carries.
"The emphasis has been, we say on the sideline 'Stop the run, have some fun,' because the pass game is fun," Doyle said. "You get to rush the passer, you get to kind of run around and have fun. Stopping the run was big."