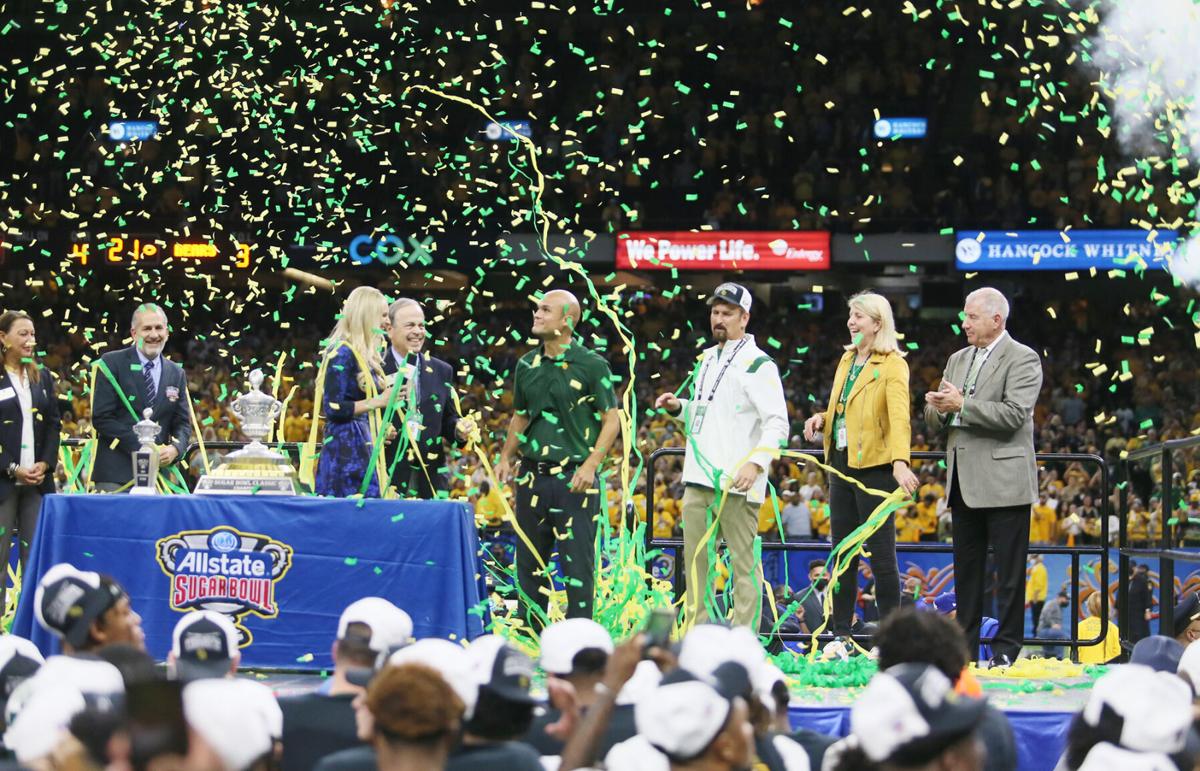 Baylor coach Dave Aranda would have been lauded for producing any kind of winning record as a sequel to his 2020 COVID-hampered 2-7 debut season.
But how about a 12-2 season that produced a Big 12 championship and a 21-7 win over Ole Miss in the Sugar Bowl instead?
The unfathomable became reality.
With a veteran squad that created unmatchable chemistry, Aranda delivered a dream season in which the Bears set a school record with 12 wins and will likely become the highest-ranked team in program history when the Associated Press releases its final poll after Monday's CFP championship game.
No. 6 Baylor's win over No. 8 Ole Miss marked its biggest win in a bowl game since a 13-7 decision over No. 2 Tennessee in the 1957 Sugar Bowl.
The Bears' 21-16 win over Oklahoma State was their first ever in a Big 12 championship game after the 2013-14 teams won conference championships in seasons when no title game was played.
"I look at just all of the change that has happened with Baylor football," Aranda said. "I think for us, the change from last year to this year was really kind of breaking all of that down and earning trust and believing in each other and being selfless. I'm just so humbled by our team."
A good Baylor defense in 2020 took its game to another level in 2021 as the Bears led the Big 12 with 19 interceptions and ranked second in the league with 44 sacks.
Jalen Pitre became a consensus All-America safety while safety JT Woods tied for the national lead with six interceptions. Terrel Bernard was arguably the best linebacker in the Big 12 as he capped his college career with 17 tackles and two sacks to lead a remarkable defensive performance against Ole Miss.
Following a dismal offensive season in 2020, Aranda hired BYU offensive coordinator Jeff Grimes and offensive line coach Eric Mateos.
The improvement was startling as the Bears rose from the worst rushing team in the Big 12 to the best with an average of 219.3 yards per game. With Abram Smith setting a Baylor rushing record with 1,601 yards and Trestan Ebner contributing 799 yards, quarterbacks Gerry Bohanon and Blake Shapen were set up for success as the Bears ranked third in the league with 31.6 points per game.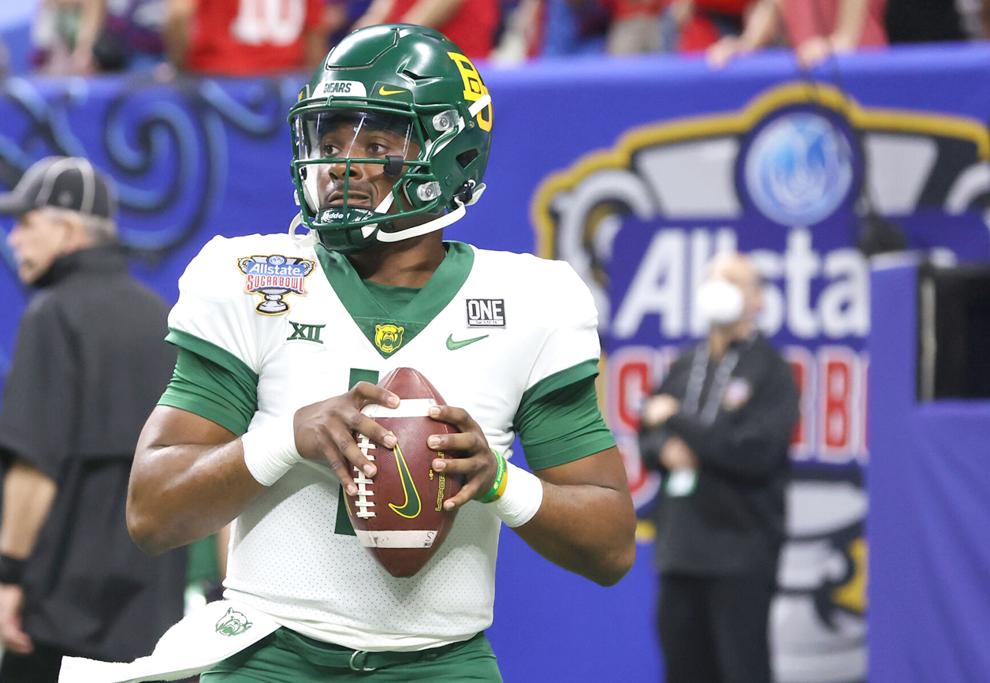 Now the question becomes: What does Baylor do for an encore?
A foundation that seemed shaky a year ago is now rock solid with Aranda pledging his loyalty to continue leading the Baylor program after a year in which potential suitors were lining up to steal him away.
Baylor athletic director Mack Rhoades recently said the university has reached a verbal agreement to enhance Aranda's contract. The 45-year-old Aranda indicated that he wants to stay at Baylor for the long haul.
"What Baylor represents to me is the value and that there are things bigger than football," said Aranda after the Bears won the Big 12 championship. "I've never really looked on the outside, have always been very preoccupied with what's on the inside. I think Mack sees that, and I think appreciates it, I hope. And I hope to be here for a very long time."
Led by Grimes and defensive coordinator Ron Roberts, Aranda's offensive and defensive coaching staffs have remained almost completely intact. Safeties coach Matt Powledge left Baylor to become co-defensive coordinator at Oregon.
The Bears will have to replace remarkable leaders like Smith, Pitre and Bernard, who will all play in the Senior Bowl on Feb. 5 to show their talents to NFL scouts. All-Big 12 senior wide receiver Tyquan Thornton and cornerback Kalon Barnes have both declared for the NFL Draft.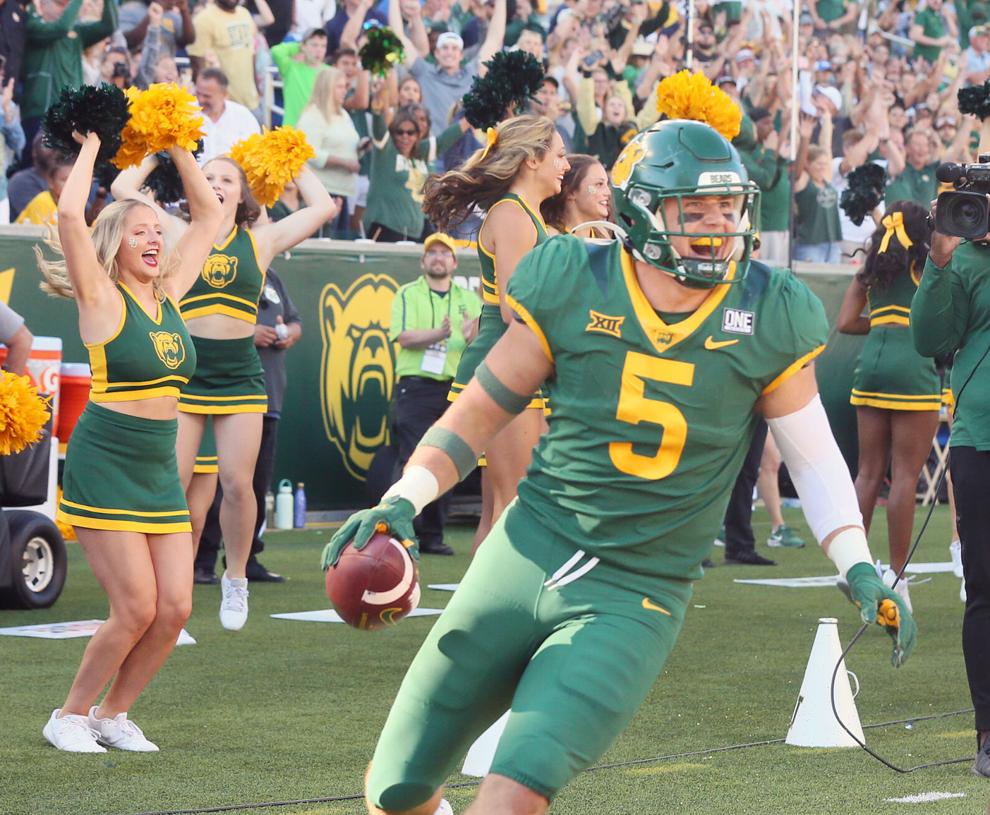 But several 2021 seniors have already announced they will return for the 2022 season since 2020 didn't count against player eligibility due to COVID-19 interruptions. Baylor will also likely dip into the transfer portal like last year when they found key players like noseguard Siaki "Apu" Ika, receiver Drew Estrada, and offensive linemen Jacob Gall and Grant Miller.
There will be numerous great position battles throughout the spring and summer as a lot of talented players are eager to get their turn in the spotlight.
Topping the list will be the battle for starting quarterback between junior Gerry Bohanon and redshirt freshman Blake Shapen.
After winning the starting job last summer, Bohanon showed how much he had improved his skills and leadership ability as he completed 62.9 percent for 2,200 yards passing and 18 touchdowns while rushing for 323 yards and nine scores.
When Bohanon went down with a hamstring injury in the 11th game against Kansas State, Shapen helped the Bears finish off the win over the Wildcats before getting his first college start in Baylor's 27-24 win over Texas Tech to end the regular season.
Shapen earned most outstanding player honors by completing his first 17 passes and throwing for three touchdowns in Baylor's win over Oklahoma State in the Big 12 championship game.
Shapen injured his shoulder against the Cowboys, leaving his availability for spring drills in question. But by the summer, Bohanon and Shapen should be locked in an intense battle for the starting job.
Though Bohanon struggled against Ole Miss in the Sugar Bowl, Aranda thought the quarterback's leadership qualities still showed.
"You think about the journey that dude has been through," Aranda said. "The best is yet to come with him. All this adversity that he goes through just makes him stronger.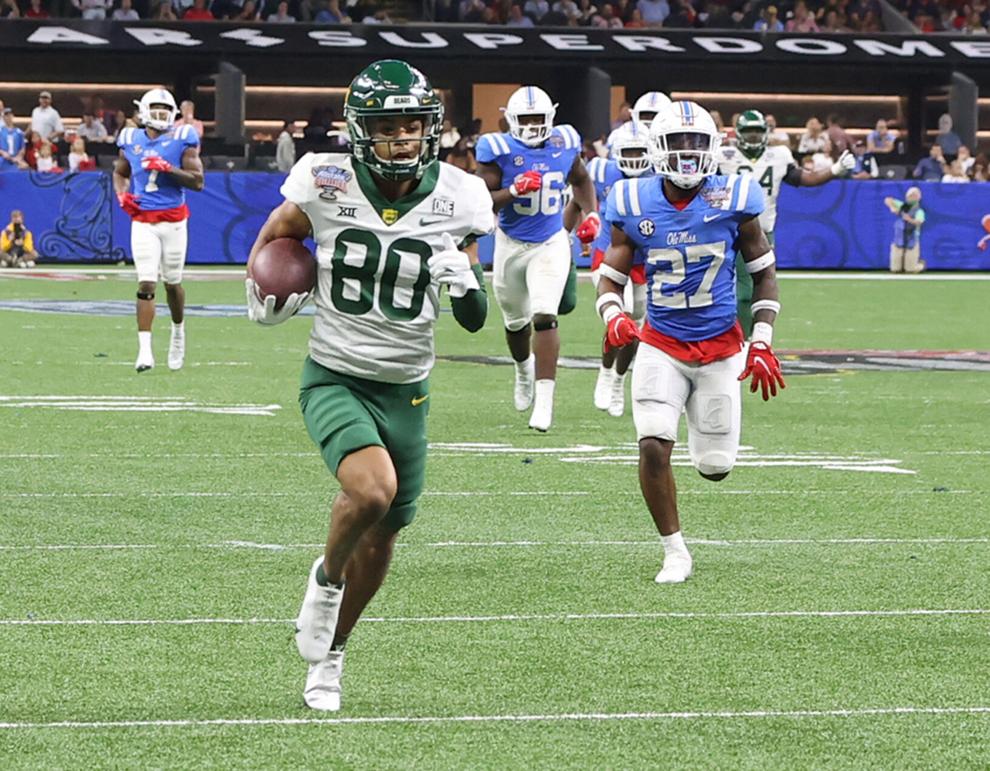 With Smith and Ebner gone, Baylor will look to backs like Qualan Jones, Taye McWilliams, Craig (Sqwirl) Williams and Jordan Jenkins to step up.
The Bears will also look for some younger receivers to play major roles. Some of the top candidates in a deep room of receivers are Monaray Baldwin, Javon Gipson, Elijah Bean, Hal Presley, Jaylen Ellis and Seth Jones.
Baldwin produced the biggest offensive play of the night against Ole Miss when he exploded for a 48-yard touchdown run in the fourth quarter.
"I was so happy for him, his first actual collegiate touchdown," Smith said. "I remember running full speed to the end zone just to go celebrate with him."
Baylor will be in good shape at tight end with junior Ben Sims back after making 31 catches for 361 yards and six touchdowns.
The offensive line went from a weakness to a strength in 2021, and has a chance to be outstanding again. Big 12 offensive lineman of the year Connor Galvin will be back at left tackle while starting guard Miller and veteran tackle Khalil Keith also announced they are returning for their fifth seasons of eligibility.
Likewise, Baylor's defensive line made tremendous strides throughout the season, and the majority of those big men will return.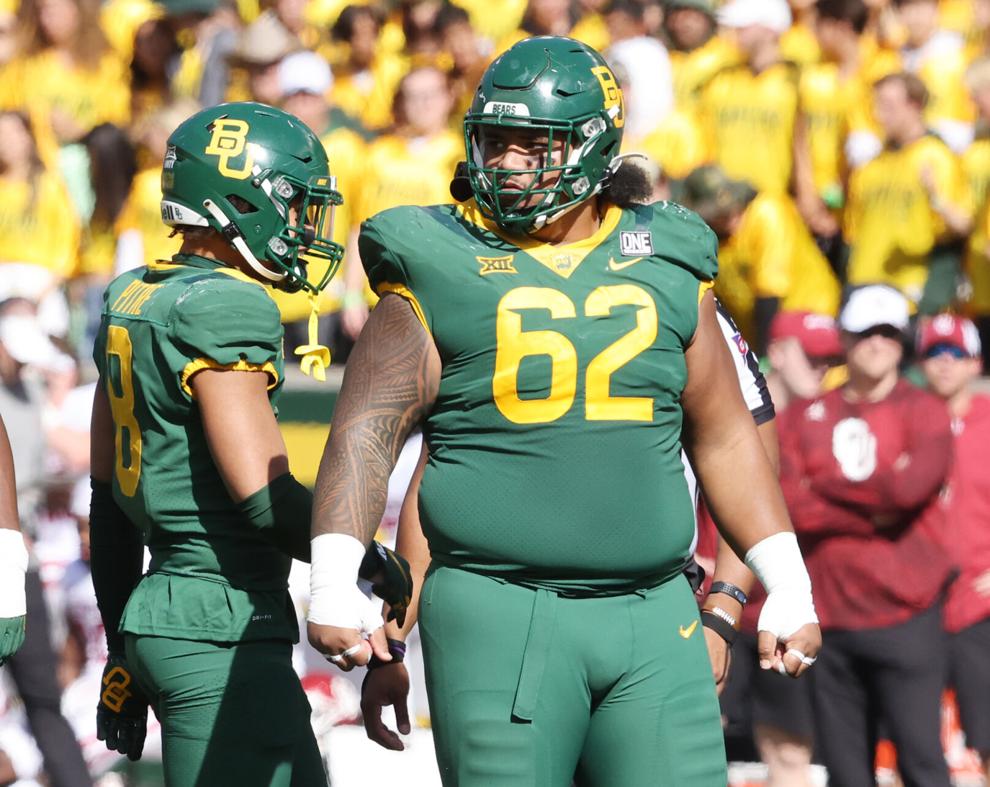 Ika emerged as an all-Big 12 noseguard as he collected 4.5 sacks during his sophomore year following his transfer from LSU. With the 6-4, 350-pound Ika often occupying two blockers, his teammates were free to make more tackles.
"It's hard because fans generally tend to look at stats, and stats don't tell the whole story," said Baylor junior linebacker Dillon Doyle. "When we're playing in a three-down front and he's playing a zero nose, he's taking up the center and the guard, and generally one of those guys is responsible for me. So I owe a lot to Apu, a lot of my tackles are because of him. So I'm definitely thankful for his big body in the middle."
Sophomore Gabe Hall led the defensive linemen with six sacks and junior end TJ Franklin collected four sacks. Junior lineman Brayden Utley had two sacks while sophomore defensive end-linebacker Garmon Randolph showed glimpses of big-play ability.
While Bernard's leadership will be greatly missed, Doyle will continue to be a force at linebacker after finishing the season second on the squad with 89 tackles. He also played a little fullback in short yardage situations.
Sophomore linebacker Matt Jones collected 51 tackles and displayed his big-play ability with 7.5 tackles for loss and forcing three fumbles. Jones tipped the pass that cornerback Al Walcott returned for a 96-yard touchdown in the Sugar Bowl.
Walcott and Mark Milton will give the Bears a lot of confidence at cornerback as they return for their senior years. Senior safety Christian Morgan has indicated that he will return for a fifth season while redshirt freshman safety Lorando Johnson could be a star of the future.
Baylor's special teams will be in good hands with junior punter Issac Power and freshman kicker Isaiah Hankins returning. Power ranked fourth in the Big 12 with 45 yards per punt and Hankins hit 14 of 20 field goals.
Coming off the best season in school history, the Bears will enter 2022 with considerable momentum. The Bears didn't just deliver a breakthrough season on the field, they've also raised the bar off the field.
"These guys academically set the highest GPA for football that Baylor has ever had, in both spring and fall semester back to back," Aranda said. "So guys that are doing it off the field and then getting this 12th win that Baylor has never done. So it's a bunch of never-dones at Baylor. I'm just way proud of that."