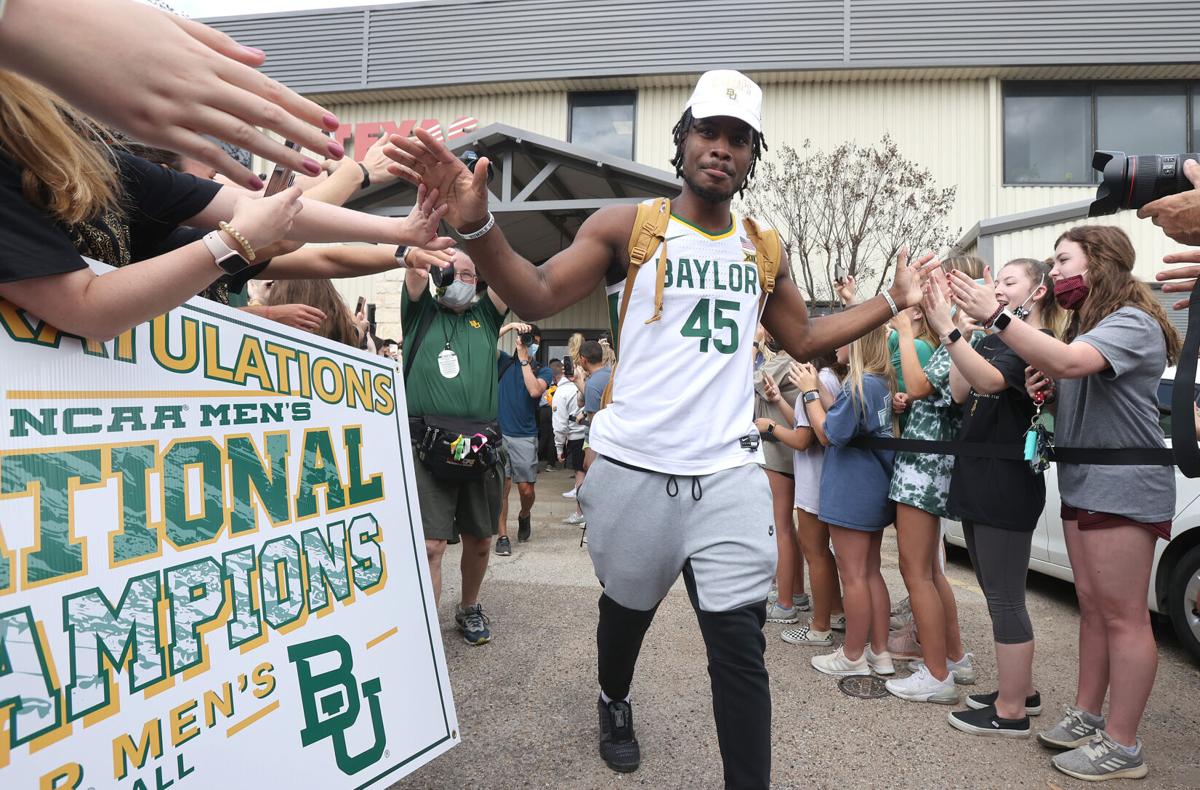 For Scott Drew's veteran basketball team, the sacrifices were many but the payoff was a place in history.
After four weeks in a bubble that began at the Big 12 tournament in Kansas City, Baylor exited isolation triumphantly with the program's first national championship Monday night at Lucas Oil Stadium in Indianapolis.
No other college basketball champion has ever faced the obstacles this year's NCAA tournament field had to endure.
But after the 2020 tournament was canceled due to the COVID-19 outbreak, the NCAA pulled it off and the Bears were the last team standing after romping to an 86-70 win over previously unbeaten No. 1 overall seed Gonzaga.
"I think it's harder to win it this year than ever before with the stoppages and testing, and the sacrificing of your social life just so you can play basketball games," said Baylor guard Jared Butler, the NCAA tournament's most outstanding player. "Having no fans sometimes, it's just hard to get up sometimes for these games. And I'm just so thankful that we were able to play and the tournament still goes on. It was really cool to say we did that in the midst of adversity, in the midst of tribulations, and to bring it home for Baylor, it's amazing."
Though NCAA tournament attendance was limited due to COVID-19 protocol, Baylor fans knew how big the moment was and showed up in force with vocal cords ready for delirious cheering.
They were loud throughout the championship game, and the Bears showed their appreciation by hopping on tabletops at court side and recognizing them after the final seconds ticked off the clock.
"It was good to see the Baylor fans to be able to celebrate and cheer, and to see the city of Waco be able to celebrate," Drew said.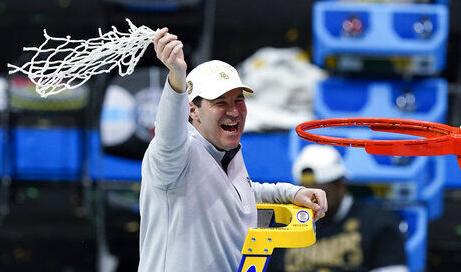 Finishing with a 28-2 record, the Bears felt fortunate to stay in the bubble while other teams' bubbles burst.
Following an 83-74 loss to Oklahoma State in the Big 12 tournament semifinals, defensive improvement was at the top of Baylor's priority list. Following a three-week COVID-19 lockdown in February, Baylor's defense didn't play at its usual intense level despite clinching the Big 12 title with a 94-89 overtime win against West Virginia on March 2 in Morgantown.
Finally with some time to schedule numerous practices, the Bears worked on improving defensive communication and getting back to the tenacious man-to-man defense that helped them go 17-0 before the COVID-19 pause.
"We came back and played six games in 14 days, so you were just basically playing, recovering, prepping but no practicing," Drew said. "And at the end of the day, you can't be good at defense and not practicing for three weeks, four weeks, five weeks. Once we lost in the Big 12 tournament, we were able to practice for the first time where we could really get better.
"Our players really bought in. They really practiced hard, competed hard, and because of that our defensive rotations and defensive close-outs have really gotten so much better, and obviously a lot more similar to what they were prior to the pause."
Just as important, the Bears spent time in the bubble growing closer as a team. When they weren't playing games or practicing, they were hanging out and eating together. They found games to play like Connect Four and cornhole and watched movies together.
"It's really like a family," Butler said. "When I talk about a family, like a group of brothers, after 30 days in the bubble, you start to not want to be around each other. You're around dudes all day. It's hard. We got through it. We loved each other. We did everything together."
Not everything went smoothly for the No. 1-seeded Bears once the NCAA tournament began March 19 against No. 16 Hartford in the South region opener. Showing some early jitters, the Bears couldn't find the basket. But Baylor pulled away as the game progressed. MaCio Teague scored 22 points to romp to a 79-55 win.
With Matthew Mayer coming off the bench for 17 points and six rebounds, the Bears rolled to a 76-63 win over No. 9 Wisconsin in the second round.
The Bears showed their versatility against No. 5 Villanova. After hitting two of 12 3-pointers, the Bears trailed 30-23 at halftime. They switched their approach in the second half as they relentlessly attacked the basket and turned up the defensive pressure to outscore the Wildcats by 18 points in the second half to grab a 62-51 win.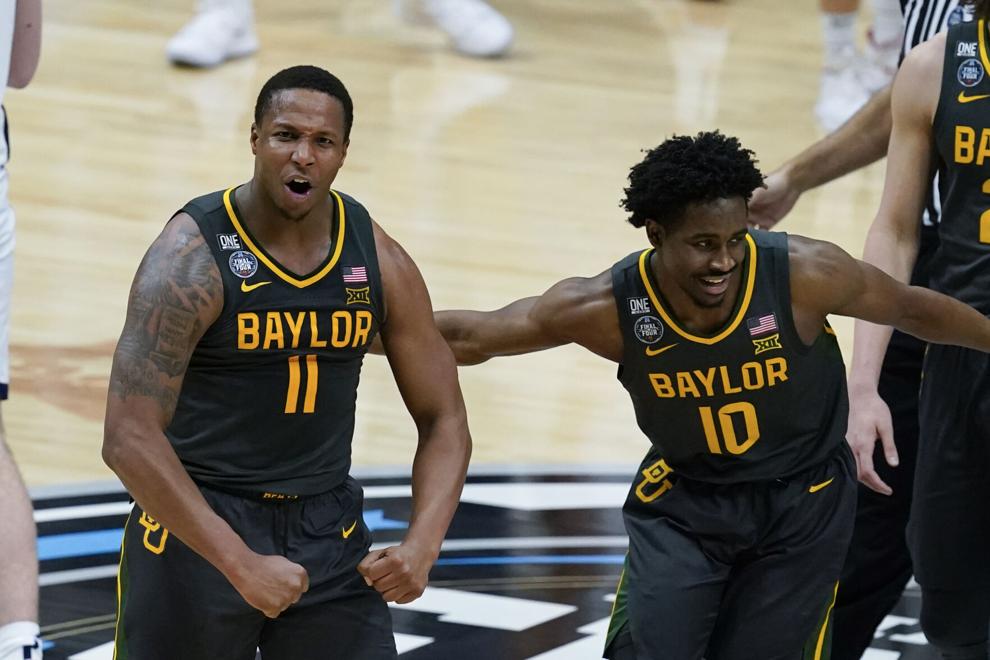 In the final three games, the Bears got off to energetic, torrid starts. They hit 15 of their first 21 shots in an 81-72 win over No. 3 Arkansas in the Elite Eight.
Playing their second straight old Southwest Conference rival in the Final Four semifinals, the Bears took Houston completely out of its offense to build a 45-20 halftime lead. Butler burned the Cougars for 17 first-half points while Davion Mitchell collected 12 points and 11 assists with no turnovers en route to a 78-59 blowout.
"That's the best team that I've seen in the seven years I've been at Houston," said Cougars coach Kelvin Sampson. "They're really, really good. I keep going back to them: Butler, Mitchell, Teague, (Adam) Flagler, Mayer. I don't think I've seen a team with five guards at that level. No drop off, and they're good at both ends."
In the national championship game, Baylor's defense played with tremendous energy from the tipoff and took Gonzaga's offense out of its rhythm. Meanwhile, the Bears nailed their first five 3-pointers as they shot out of the gates for a 29-10 lead.
Butler finished with 22 points and seven assists while Teague scored 19, and Mitchell collected 15 points, six rebounds and five assists. Fifth-year senior forward Mark Vital keyed Baylor's defense as he pulled down 11 rebounds and made two steals.
"We're really good defensively, and I thought we made things tough," Drew said. "Gonzaga missed some shots that they probably normally make. But credit our guys for making everything difficult. (Baylor assistant) Coach John Jakus was on their staff there and obviously familiar with the program. He had a great scouting report. Credit the players then for executing it."
The Bears showed their dominance by outscoring six NCAA tournament opponents by 15.3 points per game. Their ball handling was near flawless with only 7.9 turnovers per game. In the last three games, the Bears hit 29 of 62 3-pointers.
Baylor's defense limited opponents to a 43.4 shooting percentage while forcing 15.7 turnovers per game.
"I can tell you in the coaching fraternity getting to a Final Four, very similar to winning a national championship, there's usually some luck that goes into that," Drew said. "And we didn't even have to be lucky because our guys were so dominant this entire tournament."
Photo gallery