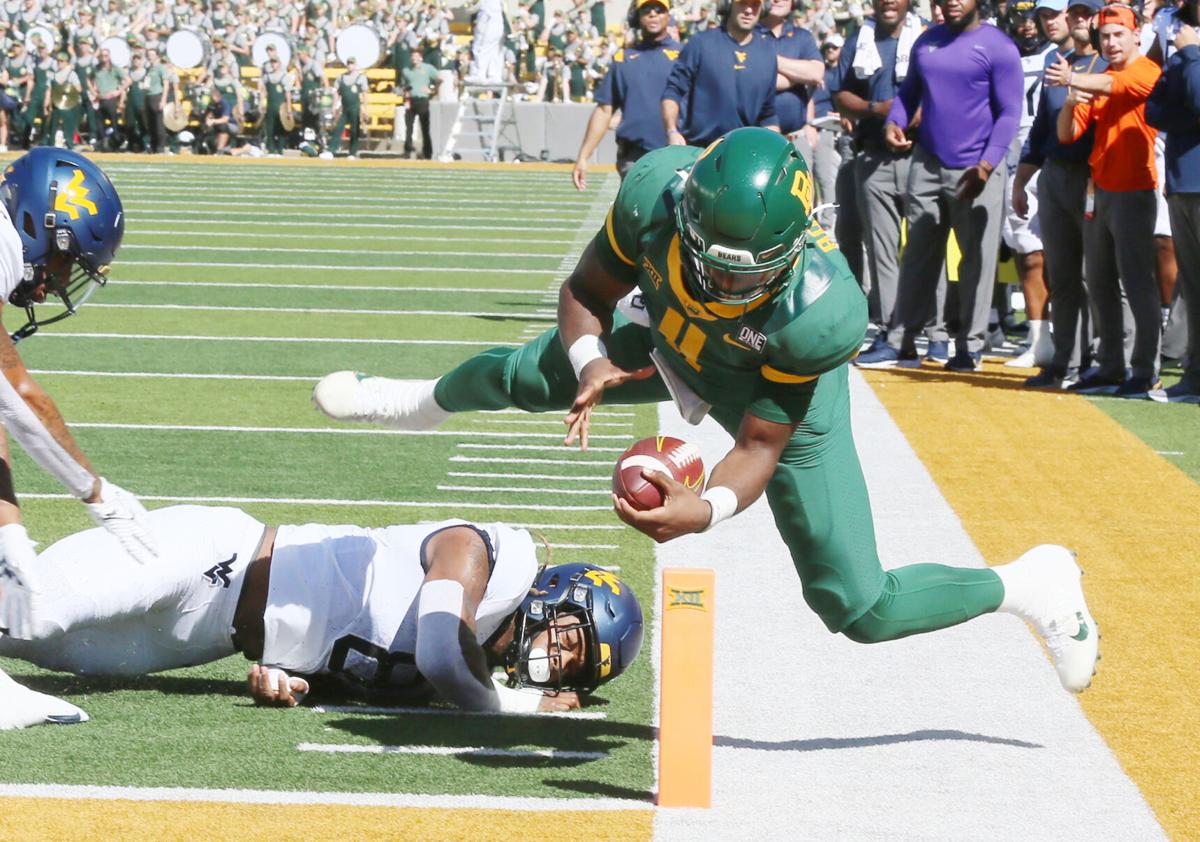 If there were any questions whether Gerry Bohanon could hit the home run strike, he proved against West Virginia that he could do it anytime the Baylor coaches dialed it up.
In fact, Bohanon showed he could throw any kind of pass with high precision.
Taking advantage of West Virginia's stacked defensive front, Bohanon threw for a career-high 336 yards and four touchdowns and also ran for a touchdown as the Bears romped to a 45-20 win Saturday afternoon before 43,569 fans at McLane Stadium.
Bohanon came out hot by hitting five of his first six passes and finished 18 of 29 while still not throwing an interception this season. The Baylor coaches put a lot on Bohanon's shoulders and he responded in a major way.
"It's a good showcase for Gerry and his ability and his calmness, and his ability to connect on whether it's play-action passes or shot plays," said Baylor coach Dave Aranda. "I think he was able to hit on some swing and outlet routes. I thought he was able to make some yards on the ground and some speed option keeps, and some designed quarterback runs. So I think you saw everything from Gerry today, and he does it without saying a word, and I love that."
Following last week's 24-14 loss to Oklahoma State in Stillwater, the Bears' impressive all-around performance is exactly what they needed to improve to 5-1 overall and 3-1 in the Big 12. West Virginia (2-4, 0-3) was blown out for the first time in conference play after losing to Oklahoma and Texas Tech on last-minute field goals.
Aranda could see throughout practice all week that the Bears would be highly focused for West Virginia.
"I've been looking forward to this game since Saturday at Oklahoma State," Aranda said. "The lessons learned and all of the accountability, all of the film to look at was hard to look at. Our players came in with their attitude, and their confidence and our coaches took real extreme ownership. To have it that way and to come out with some energy and execution on Saturday was way cool to see."
Bohanon set the tone for the afternoon when he fired his first pass to Tyquan Thornton over the middle for a 75-yard touchdown. The fourth-year junior went on to hit Thornton deep for 44 yards and Drew Estrada for 58 to set up first-half touchdowns
Thornton enjoyed a big day as he made eight catches for a career-high 187 yards and two touchdowns while Drew Estrada made four catches for 90 yards. Tight end Ben Sims continued to be a major part of Baylor's passing game as he caught touchdown passes of 10 and 29 yards.
"We had a good game plan," Bohanon said. "I think we studied film pretty well on what they do best off formations and down and distance, and we took advantage of that. We trusted ourselves and had a pretty good week of practice and we were going to go out there and dominate."
With Bohanon looking sharp in the passing game, Baylor's ground game eventually opened up. Abram Smith rushed for a game-high 87 yards on 11 carries, and busted loose for a 31-yard touchdown run in the third quarter. Trestan Ebner finished with eight carries for 53 yards as the Bears amassed 525 total yards.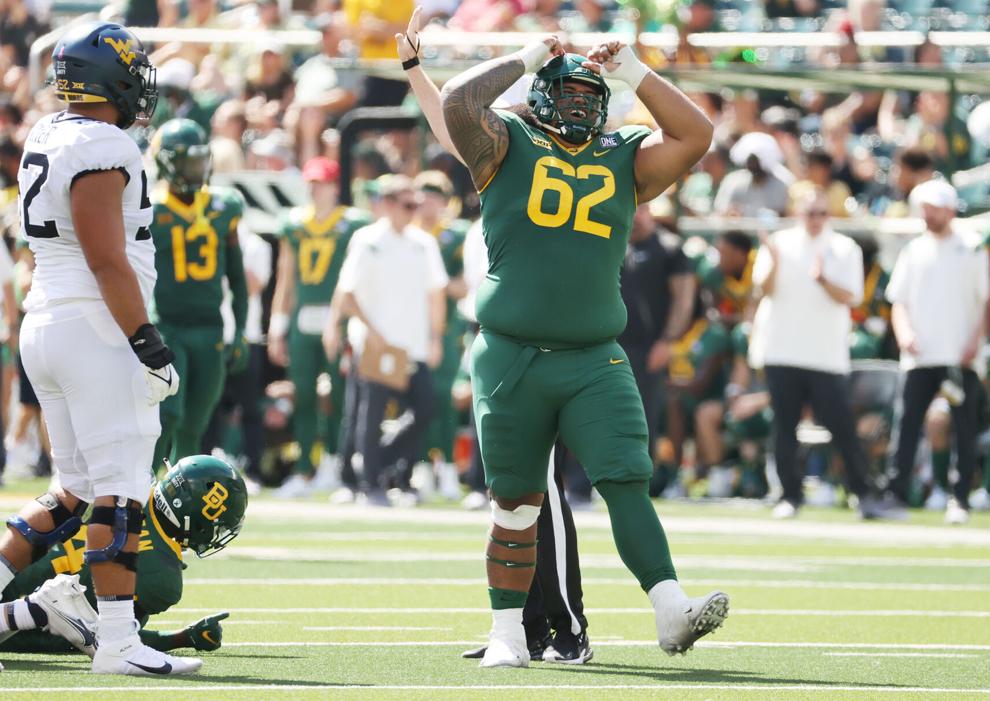 Equally impressive was Baylor's defense, which kept pressure on West Virginia quarterback Jarret Doege all afternoon by collecting a season-high six sacks for 46 yards, including the first two of the season for LSU transfer noseguard Siaki "Apu" Ika.
The entire defense benefited from the return of all-Big 12 linebacker Terrel Bernard, who collected a team-high nine tackles with a sack after he missed the Oklahoma State game with a knee injury.
"It was a team effort," Bernard said. "We had a bunch of different calls, a bunch of different pressures, kind of scheming things up. We've got a bunch of guys that can get sacks. You get one-on-ones, and when it's your time you've got to win your one-on-ones. We did that a lot today."
Bohanon started bombing the West Virginia defense on the second play of the game as he spotted Thornton open across the middle.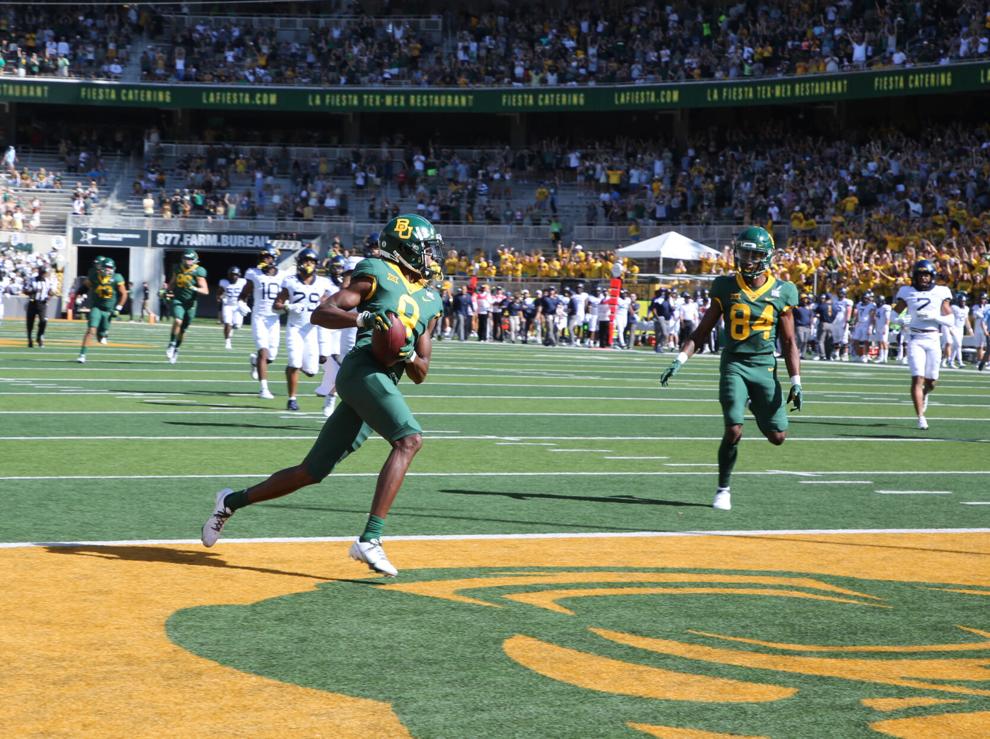 Thornton did the rest as he found a crease in the Mountaineers' defense and turned on the afterburners for a 75-yard touchdown just 41 seconds into the game.
"We had talked about starting fast all throughout the week," Aranda said. "We came down (Saturday morning), we had our little coaches' meeting, and when we came down to meet the players today at our hotel, man, they were giving us like a standing ovation. There was all this type of energy in there. That just told you that they were into it, that they were listening, we're in this together. So I think Ty's touchdown is a reflection of that."
West Virginia respond quickly as Jarret Doege hit Sam James for 53 yards to set up his 12-yard scoring pass to Sean Ryan for a 7-7 tie with 12:41 left in the first quarter.
But that didn't stop Bohanon from responding at lightning speed as he went deep to Thornton for 44 yards. Facing third-and-2 at the 10, Bohanon faked a handoff to Smith and hit a wide open Sims for the touchdown to give the Bears a 14-7 lead with 9:22 left in the first quarter.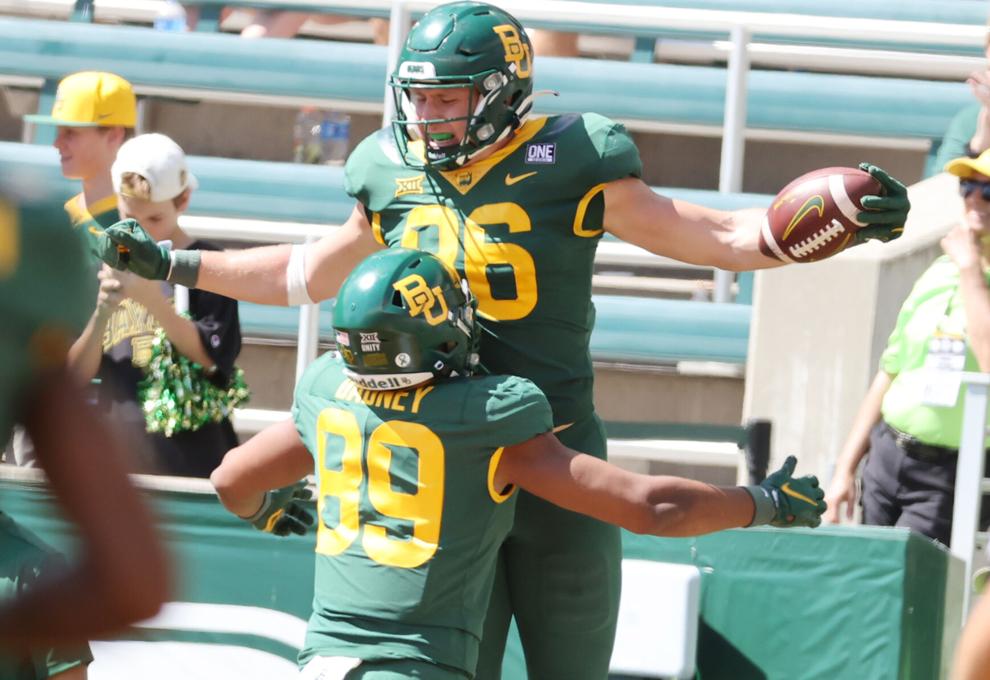 After Jalen Pitre intercepted Doege's pass at West Virginia's 48, Bohanon kept up his hot start by hitting Estrada for 18 yards and Thornton for 22. Bohanon's one-yard plunge for a touchdown extended Baylor's first-quarter lead to 21-7.
Bohanon threw deep to Estrada for 58 yards to set up his 11-yard touchdown pass to Thornton on the right side of the end zone to push Baylor's lead to 28-7 with 9:52 left in the second quarter.
"When I saw Tyquan, I saw everyone," Bohanon said. "Everyone was ready to roll. He was put in that position to make more plays. Everyone had the same mindset. They gave us the looks that we wanted and we took advantage of it."
Casey Legg broke Baylor's three touchdown scoring streak by nailing a 29-yard field goal, but the Bears went into halftime with a 28-10 lead.
Taking the second-half kickoff, West Virginia reeled off 78 yards on 12 plays, but Baylor's defense stiffened at the 10 as the Mountaineers had to settle for Legg's 27-yard field goal.
But the Bears took control again by responding with a pair of third-quarter touchdowns.
Bohanon spotted Sims behind the West Virginia defense down the left sideline for a 29-yard touchdown. Smith found a huge hole on the right side for a 31-yard touchdown run to extend Baylor's lead to 42-13 with 4:37 remaining the third quarter.
"This is a big game for Gerry," Aranda said. "It's a big game for Apu. I think there are dudes that have been really striving and working almost in the cover of darkness. In our room and our space, we know them and we see them, and we value them. For them to kind of share that and for them to put that on display when it really matters, I think that's one of the way cool things about this game."