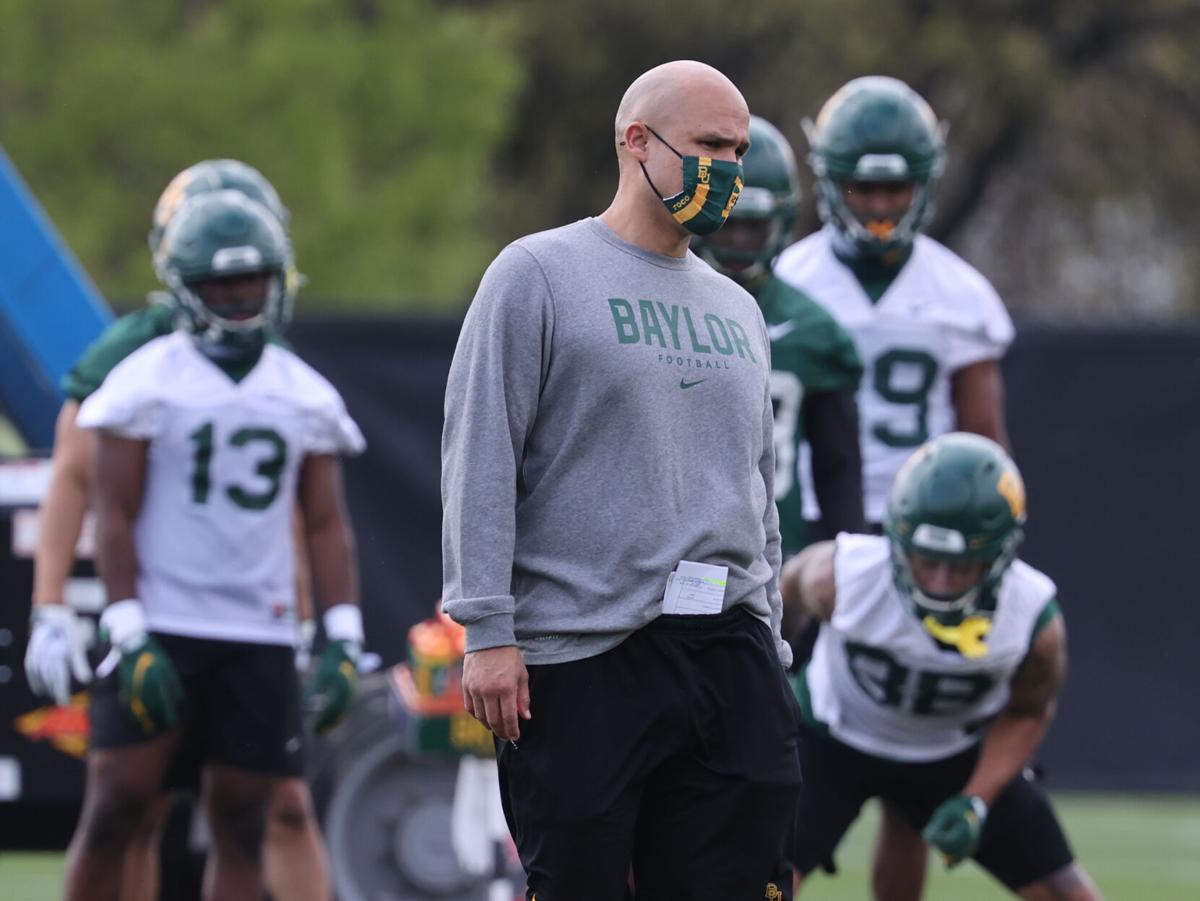 During his 2-7 debut season, Baylor coach Dave Aranda came nowhere close to experiencing the success he envisioned.
But the Bears' defense rarely let Aranda down. With inspiring performances nearly every week, the defense usually kept Baylor in games.
Now Aranda is seeing that confidence and experience spill over into spring drills. Most of the key defensive players are back, and they're consistently playing at a high level while pushing the younger players to raise the bar.
"Defensively I'm just really proud of the accountability on that side of the ball, how fast we're playing, the intensity we're playing," Aranda said. "The ceiling's really high on that side of it. I think we'll continue to get better. We've got the leaders to do it."
Aranda saw improvement on both sides of the ball during Saturday's scrimmage. The Bears are a week away from capping spring practice with the annual Green and Gold game at noon Saturday at McLane Stadium.
"It was a good week," Aranda said. "I thought Tuesday and Thursday were both very intense and physical practices. You could feel the back and forth with offense and defense, and I think there's confidence and accountability that has grown on both sides. I think we carried some of that in today."
Baylor's defense features a pair of all-Big 12 returning linebackers in Terrel Bernard and Jalen Pitre. With Dillon Doyle, Matt Jones, Ashton Logan and Bryson Jackson returning, the Bears arguably own the most talented and deepest group of linebackers in the league.
They've got a lot of veteran players backing them in the secondary like cornerbacks Raleigh Texada and Kalon Barnes and safeties Christian Morgan, JT Woods and Jairon McVea.
After COVID-19 shut down spring drills last season, Aranda can see the defense communicating better and playing with more cohesiveness.
"I think the scheme has been simplified," Aranda said. "We know who we are. So you look at last year on the Zooms, not kind of knowing who guys are and what's the best way to teach, and how do they learn. So having an idea of how all that works, we're able to better connect."
With so much experience, the veterans can quickly learn defensive concepts and apply them to the field.
"Not only are they veteran players, they're football junkies," Aranda said. "So when you're installing something or putting something in, they're already seeing how this complements something else or this is an answer to what we're seeing or this is a changeup or this is going to force teams to do this."
The line is the most unproven area of Baylor's defense, but LSU transfer Siaki "Apu" Ika has given the Bears a big boost at nosetackle. Possessing good quickness at 6-4 and 350 pounds, Ika could provide a force up the middle like all-Big 12 nosetackle Bravvion Roy did in 2019.
"Apu is special," Aranda said. "Having a guy that's just a mismatch at nose really is a huge favor. You saw some of that today when we were putting five guys on, and we have a hard time handling Apu. Apu has a great heart, man. The guys have taken to him."
Aranda wants both the defensive and offensive lines to be so dominant that they set the tone for the Bears. Though they both have a great deal of work to reach that level, Aranda believes they're trending in the right direction.
"I think Apu helps," Aranda said. "I think he has been a difference maker defensively. And I think there is an edge and an energy that he brings to that side of the ball.
For new offensive coordinator Jeff Grimes' attack to be successful, a strong running game is essential. The Bears ranked last in the Big 12 with 90.3 yards rushing per game last season.
"Thursday was probably our best day running the ball on offense," Aranda said. "We were really able to move the ball up and down the field and then really have that mentality that we're looking for on the offensive side of the ball. If you can run the ball, you're going to get the play-action pass game. That is a continual build. They all know full well what this league's about and what's coming."
When Bernard went down with a midseason shoulder injury, Abram Smith stepped in and played well in his place. Besides playing linebacker, Smith is seeing some time this spring at running back where he began his Baylor career.
"We're looking for downhill runners," Aranda said. "We're looking for that aggressive straight-line path from the running backs, and I think Abram has that experience in his past as a running back. We're looking to find a guy that can be a physical downhill, fall forward runner, and I think Abram is challenging the guys that we've got right now."
All the Baylor running backs were running behind solid blocking during Saturday's scrimmage. But that's no surprise to Aranda because he's seen how the offensive line has progressed under new offensive line coach Eric Mateos.
"Coach Mateos has done a great job working to build a connection there," Aranda said. "I think there's a great bond being built and I feel like there's a great respect and care factor. The level of effort is matching that level of care. I think we're going to be really good there. It's good to see the progress weekly."