When Baylor fired highly successful coach Art Briles in May 2016, the fallout began almost immediately.
The Bears' 2017 recruiting class fell apart as top-rated recruits de-committed in a wild frenzy.
Quarterback Kellen Mond, receiver Hezekiah Jones and defensive lineman Jayden Peevy decided to go to Texas A&M. Defensive back Donovan Stiner opted for Florida and La Vega tight end Kedrick James picked Alabama.
SUBSCRIBE to the Super Centex podcast on iTunes, Spotify, Google Podcasts or wherever you prefer to listen to your shows.
Stafford defensive back Jalen Pitre was the only commitment who stuck with the Bears before Matt Rhule began rebuilding the class after he became head coach in December 2017. And football wasn't the only reason Pitre honored his commitment.
"Academics were probably the biggest part in the decision with me and my parents," Pitre said. "Just looking at the graduation rate and the success that Baylor had from an academic standpoint was big. Baylor has always had outstanding athletes, so I thought I could grow in my athletic ability here. Also just the Christian aspect of the school, I felt like my faith was very important to me."
Pitre has shown how much academics mean to him as he earned his undergraduate degree in August after just three years, and is currently working on his master's degree in educational psychology. He plans to coach football in the future, but the fourth-year junior's best days as a player appear to be directly ahead.
Pitre has emerged as one of Baylor's defensive leaders, making seven tackles and a pass breakup in a 47-14 season-opening win over Kansas. He's playing the "star" position as a hybrid safety-linebacker, which he believes perfectly fits his skills.
"I love the versatility of the position," Pitre said. "I feel like the coaches have put me in a lot of different areas of the field. Whether I'm blitzing, covering or in the box, I feel like they're utilizing my talents very well and putting me in a lot of different positions to make plays. So I'm very thankful for that."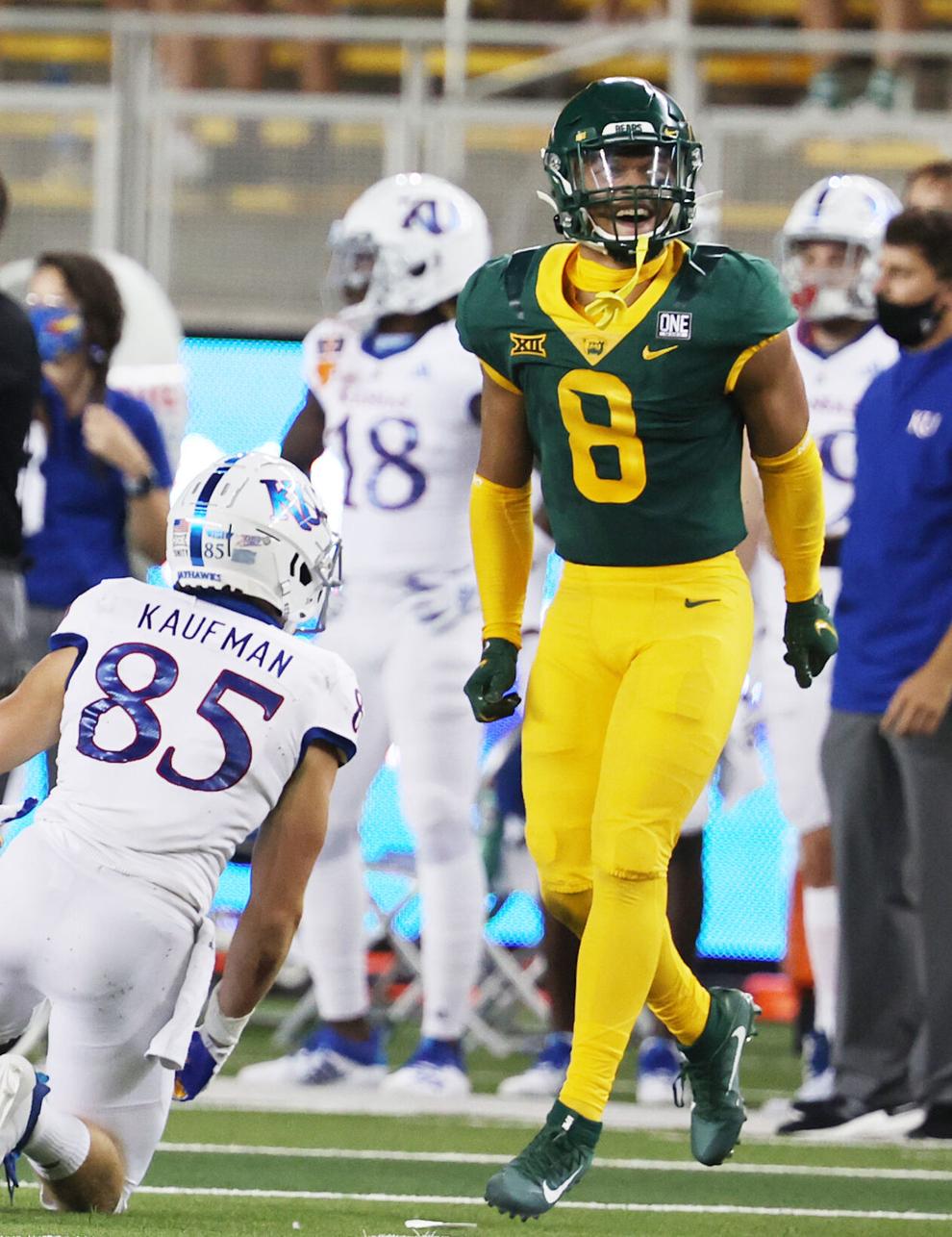 After Pitre played linebacker his first three years for the Bears, first-year coach Dave Aranda quickly saw his potential in the star position after arriving at Baylor in January.
"On the field, when I first got here, he was an inside linebacker and we were moving him some to safety," Aranda said. "I remember during that time just thinking, this guy looks like he's a star. And I know (defensive coordinator) Ron Roberts was feeling the same way.
"I think that position is just made for him because it's a combination of both the linebacker and the safety. It highlights his ability to blitz, his ability to set the edge, and then he has just enough coverage responsibilities that he's keeping people honest with things. I think the best is yet to come with him."
It's no surprise that Pitre is showing his versatility because he's always been an athlete who could excel in a lot of sports. During his high school years at Stafford in the Houston area, he competed in football, basketball, track and soccer.
Pitre didn't just love to play all those sports, he was always interested in the strategy and training methods that went behind them.
"I've always been intrigued by football and the different schemes the game has," Pitre said. "I had good high school coaches and a good middle school coach and select coaches. My dad (Rick Pitre) has also coached me and he's my biggest role model."
Pitre made a big impression on Briles' coaching staff early in his high school career as he committed to Baylor the summer before his junior year in 2015.
Midway through his junior year, Pitre went down with an ACL injury and missed the rest of the 2015 season. After Briles was fired following an investigation into sexual assault issues in his program, Pitre watched as key signees in Baylor's 2016 class and every other commitment in the 2017 class bailed on the Bears.
But Pitre never wavered. Over the years, Baylor fans have often thanked him for staying true to his commitment.
"I do hear from time to time how thankful they are for me sticking with Baylor coming into my freshman year," Pitre said. "I'm very thankful for them and the love that they give me and my teammates."
Pitre came back from his knee injury to make the Houston Chronicle's 2016 all-Greater Houston second team as he collected 83 tackles and six interceptions as a senior.
When Pitre arrived at Baylor in 2017, Rhule and defensive coordinator Phil Snow immediately saw his potential. Pitre started eight games as a freshman linebacker and finished with 37 tackles, a sack and a pass breakup.
Pitre's had to learn a lot quickly in Snow's complicated defensive scheme, but he was up to the task.
"It was a fun experience but it was also fast," Pitre said. "During that first year, I didn't really understand what was going on. I had always dreamed of playing college football, and it was like my eyes were wide open. I really enjoyed that year and I feel like it taught me a lot about college football and just about myself as a person."
Though Pitre played in every game as a sophomore for Baylor's 7-6 squad that beat Vanderbilt in the 2018 Texas Bowl, his playing time dropped as he started just one game. Bothered by a shoulder injury, Pitre redshirted in 2019 after playing just four games.
"It was a joint decision between me and the coaches," Pitre said. "I felt like last year coming off my shoulder injury I didn't have enough time to rehab and be where I wanted to be. So we made the decision for me to play four games, and I thank God that it worked out perfectly for me. I feel 100 percent now and I'm ready to go."
Though he wasn't on the field, Pitre increased his knowledge of the game by watching the Baylor coaches on the sidelines. That knowledge isn't just helping him as a player, it should benefit him when he goes into coaching.
"I got to shadow the coaches a lot more, got to watch what they did on a day by day basis, and I got to be with the graduate assistants and see what they did," Pitre said. "It helped me out and has slowed the game down for me, and I'm definitely seeing things a lot quicker."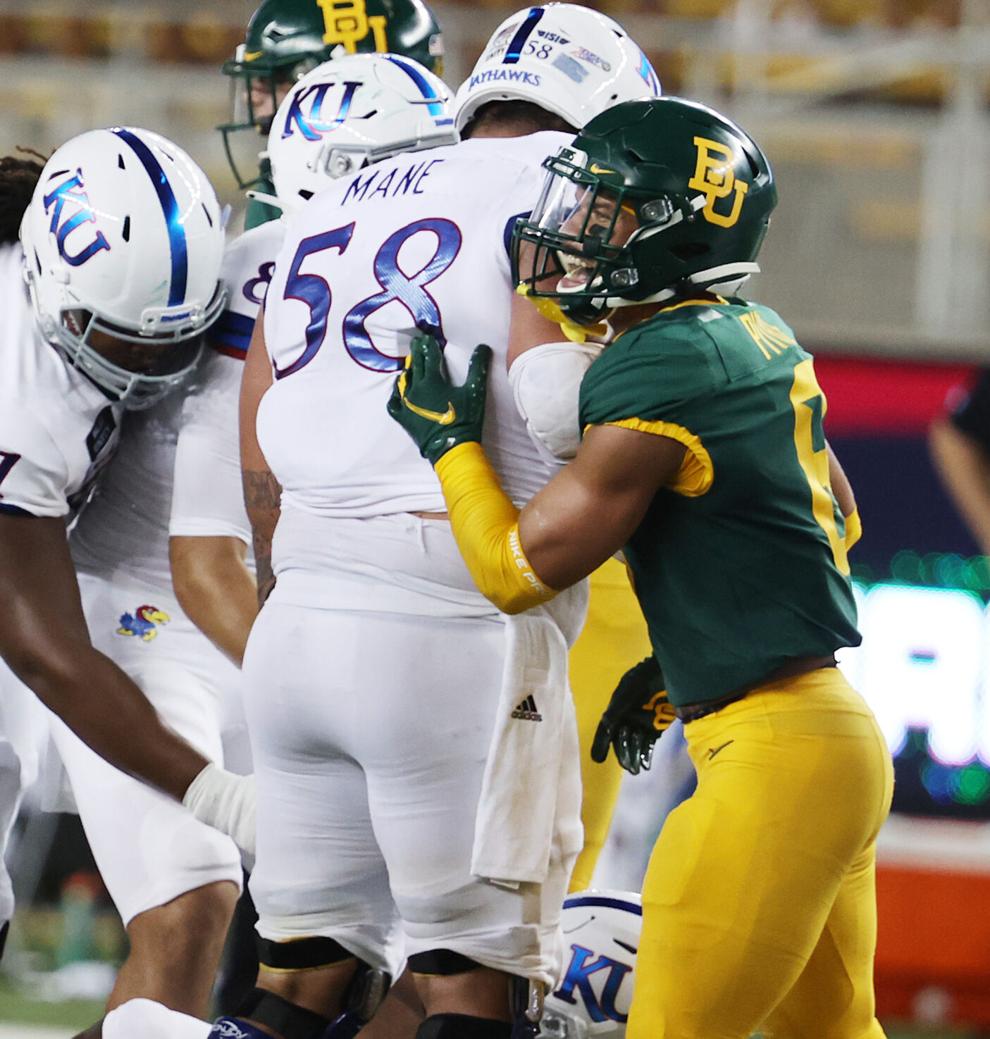 Pitre's teammates have seen how skillfully he has adapted to the star position and like what he brings to the defense. After wearing No. 24 in previous seasons, Pitre is wearing No. 8 now after earning a single digit following a vote by his teammates.
"First game, he was just doing what he did all fall camp, and I believe as the season goes on he's going to get better and better," said Baylor junior receiver RJ Sneed. "And I believe he earned a single digit."
Though the Baylor defenders have had to learn some new defensive techniques and language in Roberts' scheme, Pitre said it hasn't been a major adjustment. Aranda noted how intelligently Pitre processes the game and how he routinely takes the right angles to make tackles.
"There's an area of football intelligence that comes with knowing spatial relation, knowing where your help is, knowing in this call I've got help here," Aranda said. "Or in this part of the field, I've got a short boundary, so I'm going to use that boundary as the 12th guy. We try to teach players to that. But he's either been taught that already or instinctively has that inside of him. So when that comes out, it's a great teaching tape for us."
But beyond the talent and experience Pitre brings to the field, Aranda admires the way he treats others and handles his business on and off the field.
"Jalen, first of all, is just a great person," Aranda said. "He's got a great heart. I just see him treat people right. I see him have respect for people, and he's got respect for himself. I feel like he's a great student. So the things he does off the field are very impressive and something that I think all of our players can strive toward."
Baylor football: Single-digit jersey crew for 2020