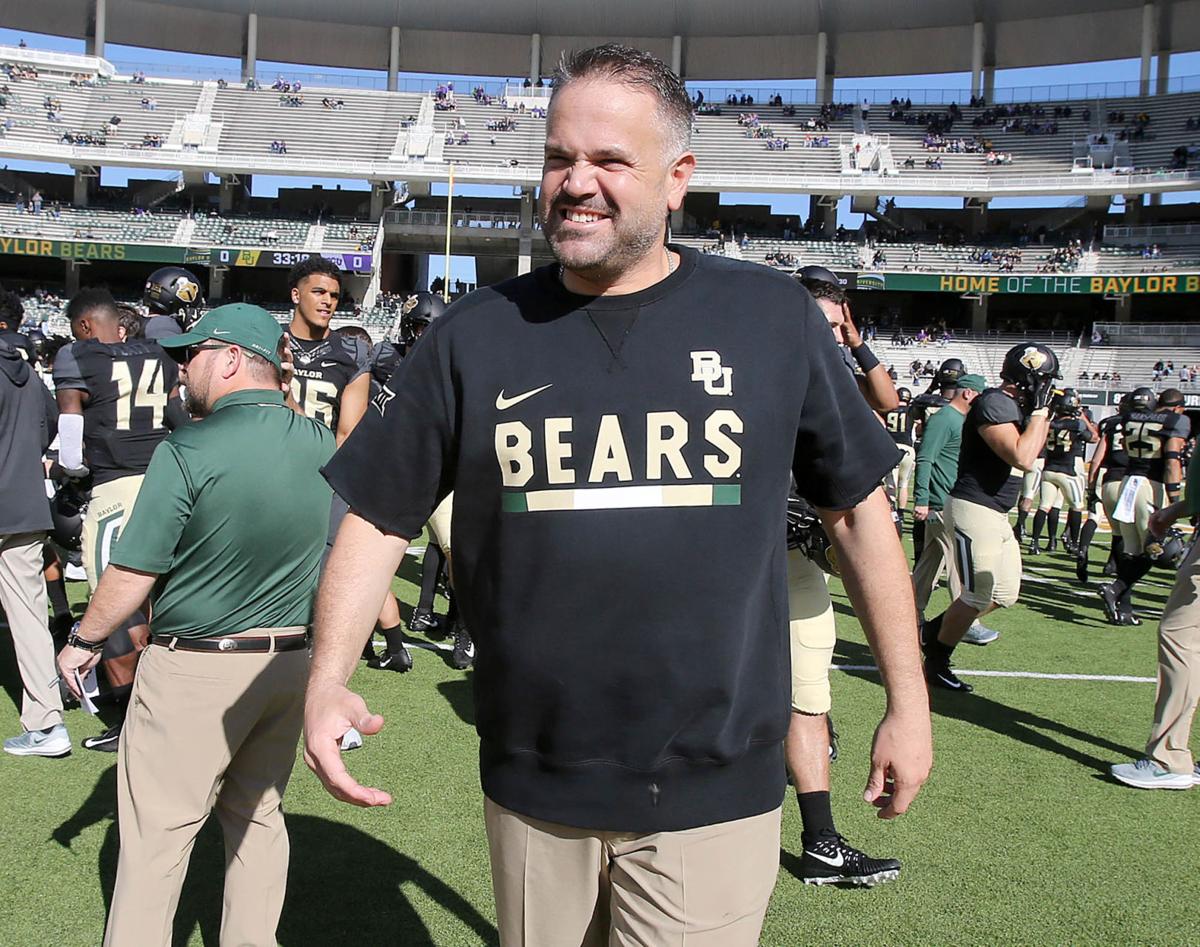 Baylor is expected to sign a small but potentially productive 2020 recruiting class when the NCAA's early signing period kicks off Wednesday.
With Cypress Ranch High School tight end Drake Dabney announcing his commitment Tuesday, the Bears have verbal commitments from 15 players, including a pair of Rivals.com four-star recruits in Newton defensive end James Sylvester and Lamar Consolidated running back Taye McWilliams.
The 6-6, 230-pound Dabney, a three-star recruit by Rivals.com, had been committed to Arizona, but opened up his recruitment following his visit to Baylor last weekend.
On Sunday, Baylor received a commitment from three-star safety Devin Neal from Frederick Douglass High School in Lexington, Ky. Baylor is expected to add more recruits to the class during the early signing period or the February signing period.
While it's too early for Baylor to experience the full impact of its 11-2 season and upcoming Sugar Bowl appearance, Matt Rhule believes high school coaches like the direction of his program and feel comfortable sending their players to Waco.
"People in this state, high school coaches in this state, even people we've recruited for two years, I think they understand the magnitude of going from where we were to where we are," Rhule said. "I talk a lot about process. I think people truly believe in the process, the way we do things. And I think they see players developing. So it's been a really positive message out there."
Following the success of its Big 12-leading 3-3-5 defense this season, Baylor's new class will be heavy on defensive backs with six verbal commitments. Joining Neal will be Pflugerville Connally cornerback Jahdae Barron, Lancaster cornerback Theron Stroops, Lawton (Okla.) safety Chateau Reed, and a pair of Louisiana recruits including Cecilia cornerback Jalen Celestine and West Monroe safety Brooks Miller.
The other defensive commitments include Sylvester, Sachse defensive end Anthony Anyanwu and Klein linebacker William Garner.
Baylor's offensive commitments are Dabney, McWilliams, Kilgore lineman Mose Jeffery, Colleyville Heritage tackle Gavin Byers, Pearland Shadow Creek wide receiver Seth Jones and Brownwood receiver Adonis McCarthy.
BEAR FACTS – Former Baylor star Del Shofner has been named to the Sugar Bowl Hall of Fame. In No. 11 Baylor's 13-7 upset of No. 2 Tennessee in the 1957 Sugar Bowl, Shofner rushed for 88 yards on 14 carries, including a 54-yard run in the second quarter to set up a touchdown. Shofner also intercepted a pass in the end zone and punted seven times for 228 yards.
---
Centex 25 for 2020
| No. | Name | Pos | Ht | Wt | School | Status |
| --- | --- | --- | --- | --- | --- | --- |
| 1 | Quentin Johnson | WR | 6-4 | 190 | Temple | Signed with TCU |
| 2 | Jay'veon Sunday | RB | 5-11 | 188 | Connally | Signed with Washington |
| 3 | Will Nixon | RB | 5-11 | 185 | Midway | Signed with Nebraska |
| 4 | Korie Black | DB | 6-1 | 160 | Connally | Signed with Oklahoma State |
| 5 | Trent Pullen | OT | 6-3 | 270 | Connally | Signed with Oklahoma State |
| 6 | Demarrquese Hayes | LB | 6-2 | 195 | La Vega | Signed with Kansas State |
| 7 | Wesley Ndago | OL | 6-3 | 295 | Midway | Committed to Air Force |
| 8 | Logan Smith | K | 5-7 | 165 | Belton | Signed with Texas |
| 9 | Jordan Nichols | DB | 6-0 | 180 | Connally | Signed with North Texas |
| 10 | Landry Kinne | QB | 6-1 | 175 | La Vega | Uncommitted |
| 11 | Elijah Washington | OL | 6-6 | 285 | Belton | Signed with Blinn JC |
| 12 | DaMarco Williams | DB | 6-3 | 180 | Temple | Signed with Tulsa |
| 13 | Carson Byrd | DT | 6-1 | 265 | Midway | Committed to Trinity |
| 14 | Devin Wilson | ATH | 5-11 | 185 | Whitney | Uncommitted |
| 15 | Bryce Boland | K | 6-0 | 165 | Midway | Committed to Baylor |
| 16 | Jeremiah Stroupe | RB | 5-11 | 181 | University | Uncommitted |
| 17 | Anthony Jackson | RB | 5-7 | 185 | Temple | Uncommitted |
| 18 | Corey Sandolph | WR | 6-2 | 180 | University | Uncommitted |
| 19 | Luke Horner | LB | 6-2 | 210 | Midway | Signed with Houston Baptist |
| 20 | Kolby Tanner | WR | 5-11 | 165 | Whitney | Uncommitted |
| 21 | Keith Guillory Jr. | S | 5-9 | 175 | Waco High | Uncommitted |
| 22 | Braden Endsley | DE | 6-1 | 240 | Midway | Uncommitted |
| 23 | Ty Moore | WR | 6-1 | 185 | Lorena | Uncommitted |
| 24 | Jar-Mychael Hudson | LB | 6-2 | 180 | Fairfield | Uncommitted |
| 25 | KJ Peoples | WR | 5-7 | 168 | China Spring | Uncommitted |