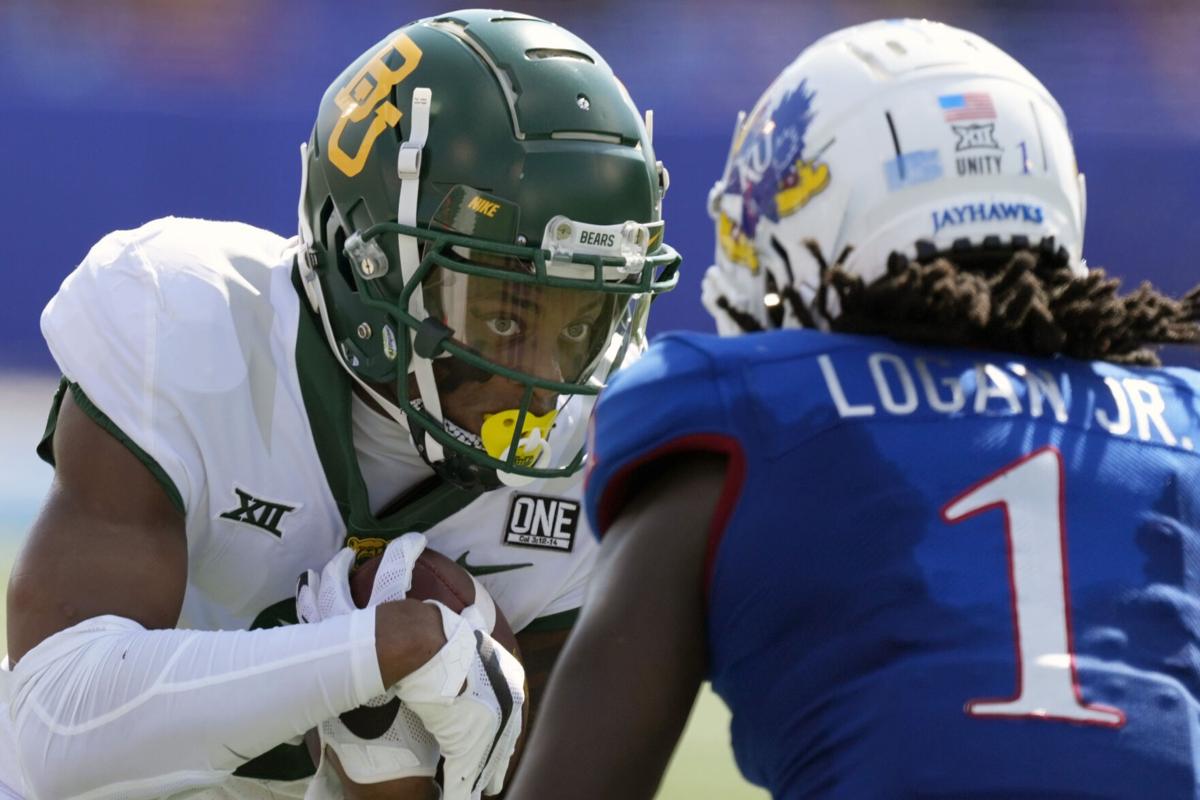 LAWRENCE, Kan. — With 964 yards rushing in a 3-0 start, Baylor has already surpassed 2020's 813 rushing yards in nine games.
The Bears lead the Big 12 with 321.3 yards rushing per game after ranking last in the league with 90.3 yards rushing per game last season.
Establishing a strong running game has been a big emphasis for first-year Baylor offensive coordinator Jeff Grimes in his wide-zone attack.
"That's exciting," said Baylor quarterback Gerry Bohanon. "That's crazy. We knew last year we weren't a good team running the ball. We came in this year and Coach Grimes put a big emphasis on that wide zone. As you guys can see, when that wide zone is working and everybody is playing their part, and the O-line is blocking, and the receivers blocking, and the running backs are making the right cuts, the wide zone is something special."
Smith hits 100 again
Nobody has benefited more from Baylor's impressive ground game than senior Abram Smith.
Smith recorded his third straight 100-yard game this season as he picked up 122 yards on 16 carries to bring his season total to 366 yards. He became the first Baylor back to record three straight 100-yard rushing performances since Shock Linwood had four straight in 2015.
Smith also became the first Baylor back since Linwood in 2014 to rush for touchdowns in each of the first three games of the season.
"Abram was a captain today, and he brings an energy and a toughness," said Baylor coach Dave Aranda. "This was his type of game, this would be what you'd expect. Abram is being pushed by (Trestan) Ebner and being pushed by our offensive coaches, and he's going to continue to get better and better as he's getting adjusted to running back and really feeling out the timing of when to make his cuts."
Sneed reaches century mark
Now in his fifth season with the Bears, RJ Sneed has amassed 101 catches for 1,251 yards and seven touchdowns.
Sneed enjoyed his biggest day of the season by making six catches for 128 yards, including a 69-yard catch and run for a touchdown that gave the Bears the second-half momentum.
"I thought RJ showed a lot of grit, and that's how I see RJ," Aranda said. "What a great kid, what a great family, what a great heart he has. Right away you just want to root for people like him. He just goes about it and sees it the right way. I'm glad he's on our side of it. RJ is someone who has a ton of respect on the team. He doubled-down on that tonight."
Bears capture 12th straight over Kansas
With Saturday's 45-7 win, the Bears extended their winning streak to 12 games over the Jayhawks.
The Bears haven't lost to the Jayhawks since a 58-10 blowout in Lawrence in 2007 when Kansas went to the Orange Bowl.
Since then, Baylor has beaten Kansas by double digits in every game except 2011 when the Bears rallied to pull off a 31-30 win in overtime at Memorial Stadium.
Leading 14-7 at halftime, the Bears outscored Kansas, 31-0, in the second half.
"We finished how we expected and how we wanted to," Bohanon said. "But we started kind of slow. We had some self-inflicted plays where we put ourselves at a disadvantage. But we ended up bouncing back, so that was a good thing."