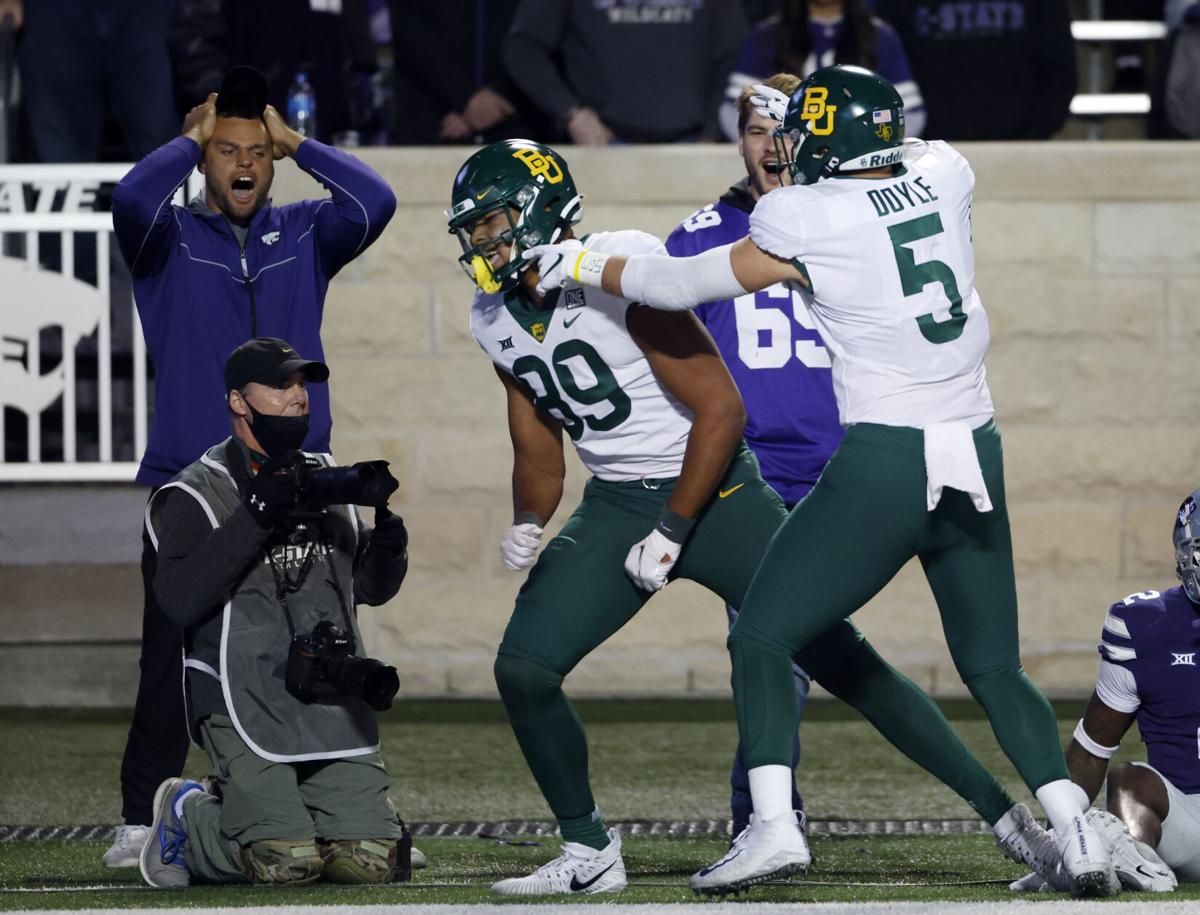 MANHATTAN, Kan. — Baylor continued to have Kansas State's number at Bill Snyder Family Stadium as it won for the fourth time in five games.
Baylor's 20-10 win was keyed by a defense that limited the Wildcats to 263 yards and the relief effort of quarterback Blake Shapen after he stepped in for injured Gerry Bohanon with 59 seconds left in the second quarter.
"There's a great confidence with him," said Baylor coach Dave Aranda. "I think he's got that mentality. I think Gerry's been a great mentor to him. I think he's really improved on that to where he can steady up and steady things up and out when it's getting ready. Like I say, his future is very bright. He's going to be a good quarterback for us."
Wildcats limit Smith's production
After producing four straight 100-yard games, Kansas State limited Baylor's Abram Smith to 46 yards on 21 carries.
Smith came into the game leading the Big 12 with 1,203 yards rushing, but Aranda said he and other players are starting to feel the wear and tear of a long season.
"I think it's just November," Aranda said. "We've got a few of those guys, so I think Abram may be someone that you can truly highlight. Terrel (Bernard) is fighting through bruises and the normal wear and tear of the year. All the guys that are going through that, to be able to fight the way they did, under the home environment for Kansas State is very impressive."
Confident Walcott seals win
Aranda wasn't surprised that junior cornerback Al Walcott came up with the game-clinching interception with 3:45 remaining.
After Kansas State quarterback Skylar Thompson limped out of the game, Jared Lewis' first pass flew straight into the arms of Walcott.
"Confidence has never really been a problem for Al," Aranda said. "I think just maturity and doing stuff right off the field and as well as on the field, just a growth into our team, his place in it, and what he can give. Al is great to be around. You could hear Al around a corner or two. We all appreciate that from him and the energy and juice he brings, I think makes us unique. His best is still yet to come because he's been getting better and better as the season's gone along."