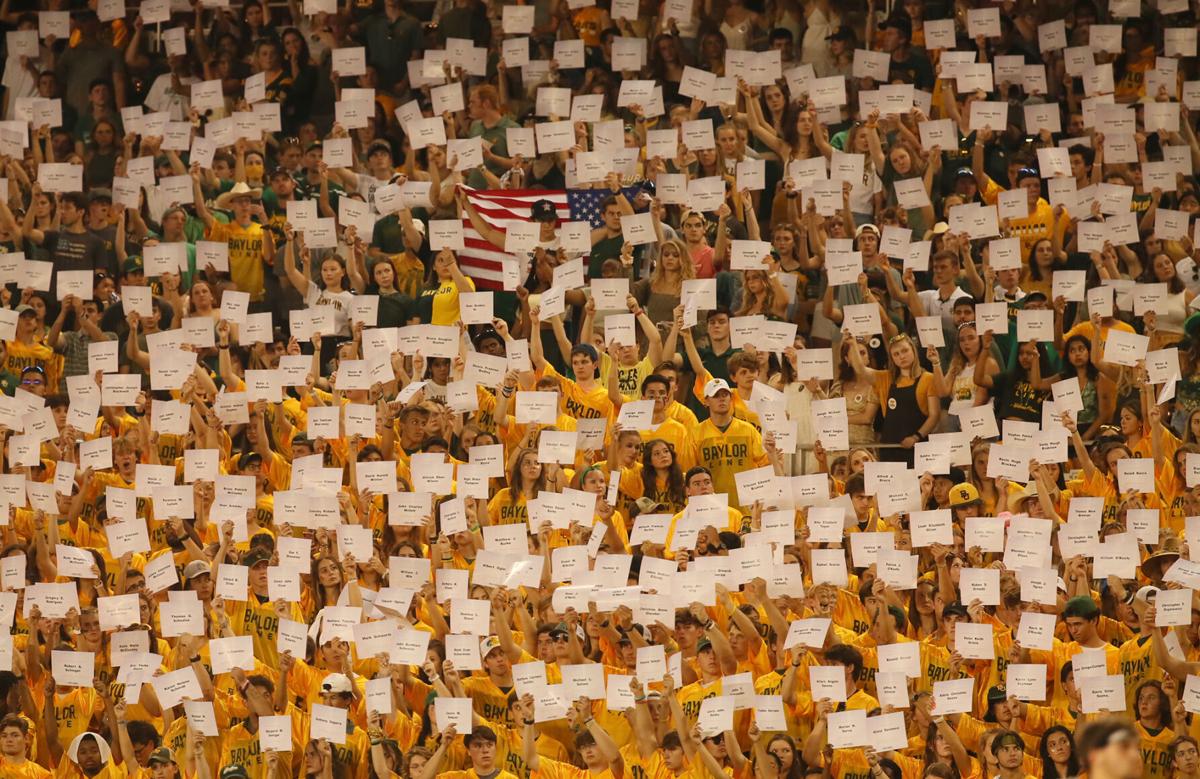 The phrase "Never Forget" has become synonymous with every anniversary of 9/11. At McLane Stadium on Saturday, they didn't forget.
Baylor happened to play Texas Southern on Saturday, the 20th anniversary of the Sept. 11 terrorist attacks, and both the Bears and Tigers remembered that fateful day in solemn ways.
Prior to the game, a team of workers, including members of the Waco Fire Department, unfurled a giant American flag on the field, while the national anthem played. The Texas Southern band — aka the "Ocean of Soul" — paid homage to 9/11 victims during their stirring halftime performance. Also at halftime, Baylor showed a 9/11 video tribute on its big screen, and the student section held up placards to remember the 2,997 that died that day, including the terrorists.
On the field, Baylor's players wore helmets that featured an American flag within the interlocking BU.
J.T. Woods, the scoring machine
Could J.T. Woods end up leading the Big 12 in touchdowns?
Probably not, but through two games the Baylor safety is on a healthy scoring pace. The senior scooped up a Texas Southern fumble and sprinted 97 yards for a fourth-quarter touchdown, marking his second score in two weeks. The fumble return, which came on fourth down, went into Baylor's record books as the longest in BU program history.
"I was following the ball a little bit, saw it popped out, and my instincts kind of kicked in and I just turned on the jets," Wood said.
Last weekend in the Bears' win over Texas State, Woods produced a 20-yard interception return for a touchdown.
Trio of Bears hit 100 yards rushing
In Baylor's opener last week, the Bears put two rushers over the 100-yard mark in their win over Texas State.
In Week 2, they one-upped themselves.
A trio of Bears surpassed the century mark in rushing in the team's 66-7 win over Texas Southern. Abram Smith carried 12 times for 126 yards and two touchdowns, Trestan Ebner had 10 carries for 125 yards and a pair of scores, and Taye McWilliams picked up 102 yards and a touchdown on just six totes.
It marked the first time since September of 2015 that Baylor produced three 100-yard rushers in a single game. In that win over Lamar, Shock Linwood, Johnny Jefferson and Terrence Williams all had 100 yards rushing or better.
Baylor's 419 yards rushing as a team was the Bears' most since Oct. 1, 2016 against Iowa State.