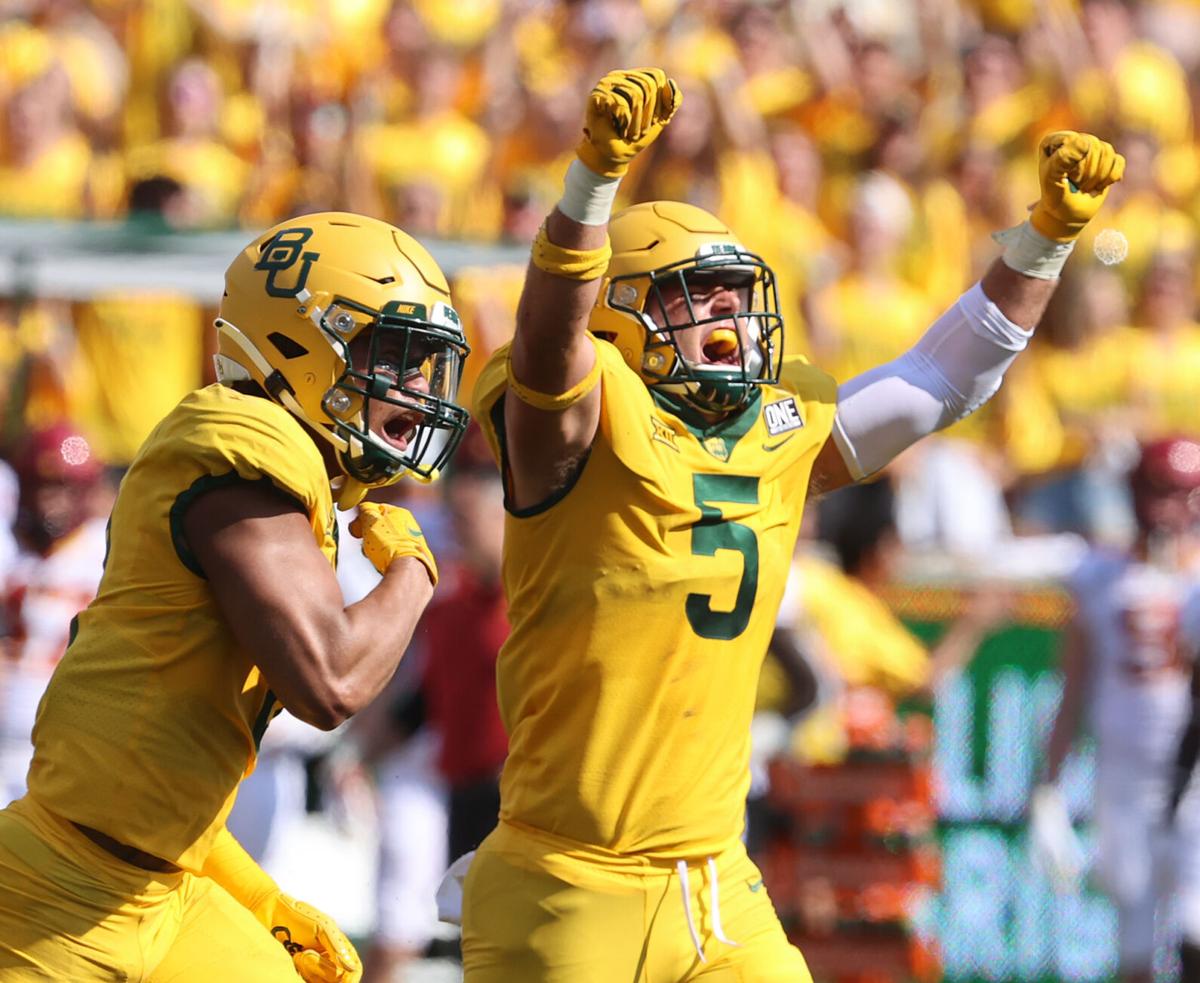 Terrel Bernard just can't seem to catch a break.
The Baylor senior linebacker finished the Bears' 31-29 triumph over No. 14 Iowa State on crutches, the result of an apparent knee injury.
"Find out more on Monday. We're fearful that it might be a tear of the meniscus," Baylor coach Dave Aranda said after the game. "We'll have to see."
If the injury does indeed sideline Bernard for an extended period of time, it will mark the second straight season that he's endured such a fate. In 2020, Bernard played at an All-American level for five games before suffering a shoulder injury that cost him the rest of the season.
After making two tackles against Iowa State on Saturday, Bernard has 21 stops this season.
---
Bears, Cyclones serve up classics
Not many people would probably classify it as a traditional rivalry, but the Baylor-Iowa State matchup has routinely demonstrated itself as of the more competitive series throughout the history of the Big 12.
Baylor's 31-29 win over the 14th-ranked Cyclones on Saturday gave the Bears an 11-9 edge in the all-time series. Lately, the teams seem to produce instant classics every time they get on the field. This marked the fourth time in the past six meetings that the Cyclones-Bears game has been decided by a touchdown or less.
"When I watch Iowa State on tape, I see a tough team that really likes to play hard and a group of guys that love each other," said BU linebacker Dillon Doyle, a native of Iowa City. "So, to get the win over those guys means the world to me."
---
Ika makes his big ol' presence known
Baylor noseguard Siaki "Apu" Ika came into the Iowa State game with just one assisted tackle.
But the 6-4, 350-pound Ika made a key play when he tipped Brock Purdy's pass that fell into the arms of Baylor defensive end Garmon Randolph for an interception at Baylor's 20-yard line with 11:55 left in the game.
"This is one of his better games and this was one of his better weeks of practice," Aranda said. "I think he feels the need for improvement. So I appreciate that about Apu."
Ika never fails to fire up the team whether he's on the field or the sideline.
"In between media timeouts, Apu's dancing," Aranda said. "Whatever music is playing, he's singing and getting other people to sing with him, so the energy is way strong. When people are around that, they kind of take to him. They join in. They catch his energy. I'm glad we got him."