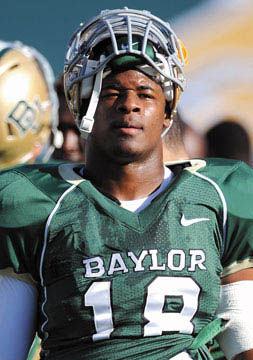 Baylor junior defensive end Tevin Elliott is transferring to Central Arkansas University.
Elliott was suspended from the Baylor football team in April following a violation of team policy. Elliott was arrested on a sexual assault charge in Waco in April. His case is pending but hasn't yet been presented to a grand jury for indictment.
Elliott collected 63 tackles and eight sacks in two seasons for the Bears.
Elliott will join former Baylor defensive back T.C. Robinson at Central Arkansas. Robinson was among several reserve players who transferred from Baylor this summer, including linebacker Robert Singletary to Texas-San Antonio, linebacker LeQuince McCall to Eastern Illinois and offensive lineman Luke Burleson to Northwestern State.
Be the first to know
Get local news delivered to your inbox!