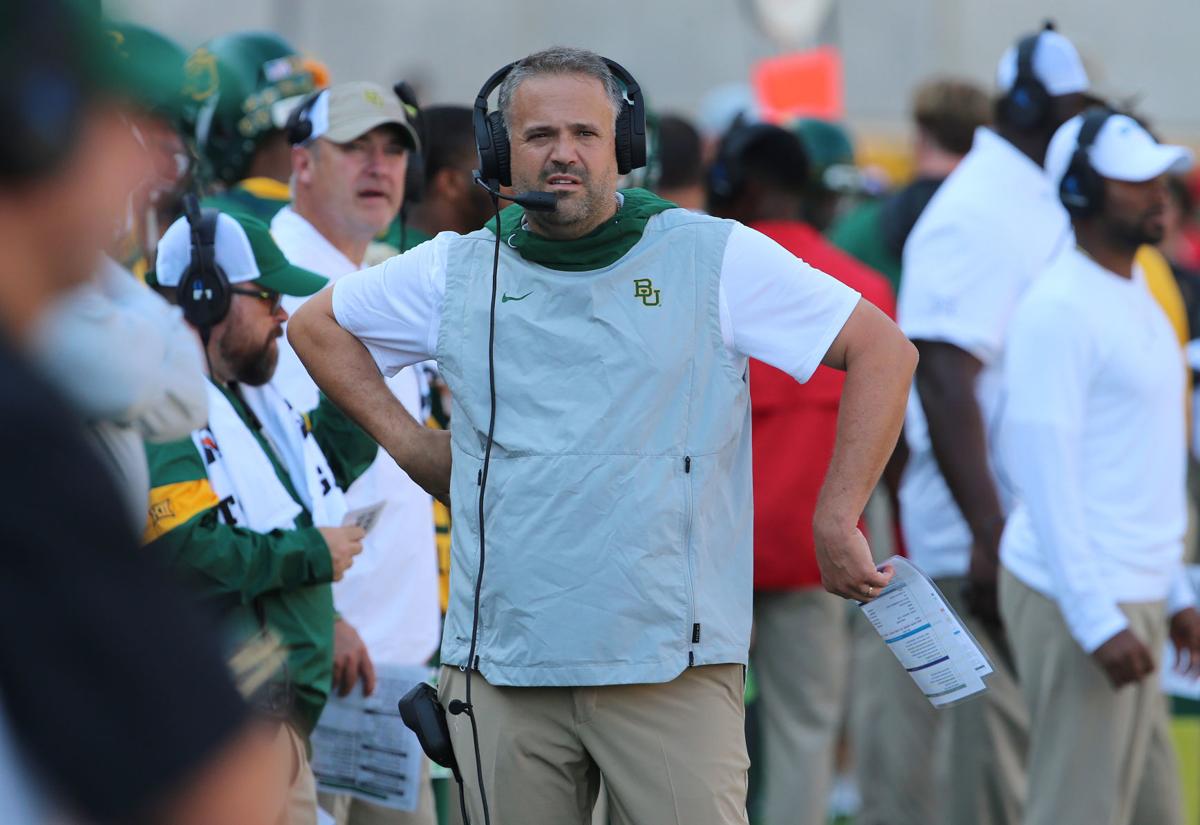 With Baylor graduating a small senior class, Matt Rhule and his coaching staff have had to carefully pick and choose recruits for the 2020 class.
But Rhule believes the 11 players Baylor signed Wednesday to open the early NCAA signing period will fill important needs for his football program. He expects to add at least three to five more players by the later signing date on Feb. 5.
"We've signed a lot the last couple of years because we've had to make up for this huge chasm in the roster," Rhule said. "We've done that and a lot of kids here are happy and they're not leaving, which is great. We kind of have a fuller roster. It's just a small class, a small year. I think some other schools if you have a lot of kids hit the transfer portal, you're going to have to sign a lot more guys or if you've had a lot more injuries."
Baylor made some waves on Twitter with the new recruits being imitated by puppet characters discussing their reasons for signing with Baylor. But Rhule can't wait until the real guys show up.
The Bears are in the midst of a highly successful 11-2 season that landed them a spot in the Big 12 championship game and their first Sugar Bowl appearance in 63 years Jan. 1 against Georgia.
While Rhule believes the rise to the upper echelon of the Big 12 has helped this year's recruiting class, he expects the bigger payoff to be in the 2021 class and beyond.
"If you're a high school kid in the state of Texas right now, Baylor's got to be on your list," Rhule said. "The other schools are great too, but we're kind of past the 'They're not going to be good anymore.' So I think we're feeling it now and we'll feel it in January some. But I think next year we'll feel it. I'll tell you this: This year's class had a ton of options and they decided to come here."
Rivals.com ranks Baylor 61st nationally and last in the Big 12 in team rankings after placing No. 33 last year. The lower ranking is due in part to the small class, but Rhule has never placed much stock in the number of stars next to a recruit's name.
One of Rhule's foremost goals for the 2020 class was to find players who could fit into the Bears' 3-3-5 defensive scheme. After primarily playing a 4-3-4 defense in 2018, the Bears emerged as the Big 12's best defense following their switch to the 3-3-5.
Rhule expects Newton High School four-star defensive end James Sylvester to be a future impact player after he collected 15 sacks for as a senior. He could have a chance to play quickly since Baylor loses senior defensive end James Lockhart and nosetackle Bravvion Roy.
"He's an athletic defensive end who's already 245, 250 pounds, so I think he's really going to grow," Rhule said. "He comes from Newton, which has a culture of playing great, great football. He has a toughness and an edge. He's got a little juice to him, which I like."
Baylor signed Klein linebacker Will Garner and went out of state to sign West Monroe (La.) linebacker Brooks Miller and Lexington (Ky.) Douglass High School safety Devin Neal, who de-committed from Cincinnati.
"I think now that we sort of know how the (3-3-5) defense works and what we need, I think we found the right amount of guys to play all those safety/linebacker positions," Rhule said. "We just need guys who can fly around and run and tackle and make plays. I think we found guys who are 5-11 to 6-2 who run 4.4 or 4.5 that will be real difference makers at the secondary/linebackers positions."
The versatile Neal helped his team reach the state championship game and was runner-up for Kentucky player of the year. As a running back, he carried 70 times for 602 yards and nine touchdowns and made 12 receptions for 300 yards and three touchdowns. As a safety, he made 79 tackles with nine for loss and two interceptions.
Neal will help fill a big need at safety since seniors Chris Miller and Henry Black are graduating.
"Devin's a really fast, athletic, explosive kid, so he fits all of our height, weight, speed that we're always looking for," Rhule said. "He fits all of the analytics. You've got this guy with great numbers that has really good film, plays both ways, and he's really serious about the game."
Two cornerbacks also signed with Baylor, including Pflugerville Connally's Jahdae Barron and Brownwood's AJ McCarty. Barron is a four-star recruit by 247Sports who collected three interceptions and four pass breakups as a senior.
"It's a huge get, he's a great player," Rhule said. "He's a highly-recruited player, a highly-ranked player but also a great player. He came to our camp and competed."
Baylor signed five offensive players, including a pair of linemen in Colleyville Heritage's Gavin Byers and Kilgore College's Mose Jeffery. Cypress Ranch tight end Drake Dabney switched his commitment from Arizona and signed with Baylor on Wednesday.
Rhule expects both Pearland Shadow Creek wide receiver Seth Jones and Lamar Consolidated running back Taye McWilliams to be dynamic players for the Bears. McWilliams amassed 1,582 yards rushing and 19 touchdowns and ended his senior year with three straight 200-yard performances.
McWilliams, Sylvester and Jeffery plan to enroll at Baylor in January and go through spring football.
"I like everything about Taye," Rhule said. "He's a special player. But he's also a special person, comes from a great family. He's going to early enroll, so he'll be here this spring. I think he'll give us another tremendous threat on the offensive side."