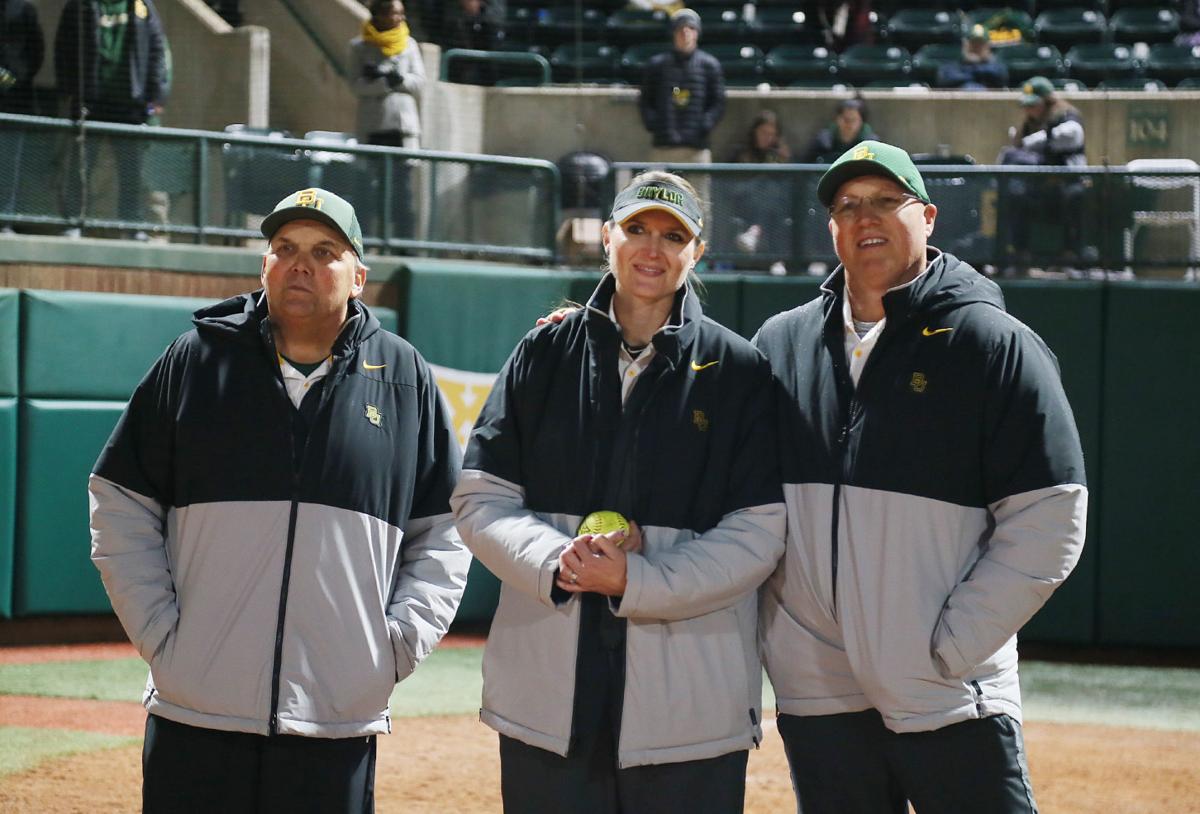 The temperature in Phoenix was in the neighborhood of 110 degrees when Mark Lumley showed up for the interview wearing a three-piece suit in August 1998.
New LSU head softball coach Glenn Moore was there to watch a national tournament. He needed a hitting coach and could immediately see how anxious Lumley was to get the job based on his attire.
"I thought this guy is serious," Moore said. "It was so hot that they didn't play the tournament in the middle of the day, so we did the interview at lunch. Probably 20 minutes into the interview, Mark was asking 'Where do I sign?' That was the beginning of a lifetime friendship."
Moore didn't know it then but he had also recruited his future Baylor pitching coach. Britni Sneed Newman pitched for LSU from 1999-2002, and became a three-time All-American before joining Moore's staff with the Lady Bears in 2003.
"She probably landed me this job at Baylor," Moore said.
Since Moore was hired at Baylor in 2000, he's had one of the most stable and productive coaching staffs in the country. Lumley has been there throughout Moore's entire 20-year tenure while Newman has been Baylor's pitching coach for the last 17 seasons.
"I'm immensely blessed to not just have two coaches who have been with me that long, but they're incredibly quality coaches," Moore said. "Mark has a servant's heart and is a tremendous worker. Britni has all the qualities you want as an assistant. Her knowledge of the game and demeanor is what I wanted in a pitching coach."
Moore and his staff have guided the Lady Bears to 13 NCAA regional appearances and four Women's College World Series berths. With a 19-4 record, the Lady Bears were well on their way to their ninth NCAA regional appearance in the last 10 years when the coronavirus pandemic shut down the season in mid-March.
Moore has compiled a 775-376 record at Baylor in 20 seasons. Along the way, Moore and his staff have developed great working relationships and deep personal friendships.
"We are like family," Newman said. "I love working with Coach Moore and Coach Lumley. They've been great mentors for me and great friends. It's hard to believe this much time has passed. It seems like 17 years have gone by in the blink of an eye."
The support of Moore and Newman along with the rest of the Baylor softball program has been especially important to Lumley as he's battled recurring bouts of cancer in recent years.
Lumley underwent surgery in November 2018 after cancer was discovered in his rectum.
Recently, Lumley has undergone radiation treatment after cancer spots were discovered in his neck, back and arm. He's recovering now and has been at home watching video of potential softball recruits playing in live tournaments.
"I'm almost back to full orneriness," Lumley said. "I'm trying to get my strength back and have started to exercise a little bit."
Throughout the whole cancer ordeal, Moore and Newman have seen how Lumley has relied on his Christian faith and sense of humor.
"He's had a tremendous attitude," Moore said. "I think his faith is very evident. Even with his challenges with his health, he still loves to laugh and cut up, which has probably overshadowed some of scary times he's faced."
A graduate of the University of Arizona, Lumley was a successful softball and basketball coach at Flowing Wells High School in Arizona from 1985-98. Arizona's Mike Candrea, the winningest softball coach in NCAA history, told Moore he ought to check out Lumley as a potential candidate for his LSU coaching staff.
Despite the scorching Phoenix heat in August 1998, Lumley and Moore immediately connected during their initial interview. Their ideas about building a softball program, coaching players, and their deep approach to faith all meshed.
"I was sweating like a pig," Lumley said. "I was kind of getting out of my comfort zone by interviewing for a college job. But after talking with Glenn, I felt like it was meant to be. I felt like God wanted me to take the job."
With Newman becoming the ace of the pitching staff and Lumley developing a powerful hitting attack, LSU captured a pair of SEC titles while winning 56 games in 1999 and 59 in 2000 to make NCAA regionals.
Baylor saw the success Moore was having at LSU and hired him to take over a softball program that had recently moved into its impressive new digs at Getterman Stadium, still one of the premier college softball ballparks in the country.
Though Baylor had never been to an NCAA tournament, Moore felt the program had great potential and he brought Lumley with him.
"When he first came on board at LSU, I saw him making calls past midnight and getting up early in the morning to come back to the office," Moore said. "I could see his deep passion for young people, how he would take time to fix a swing or stay after practice to counsel a player who might be going through a difficult time in life."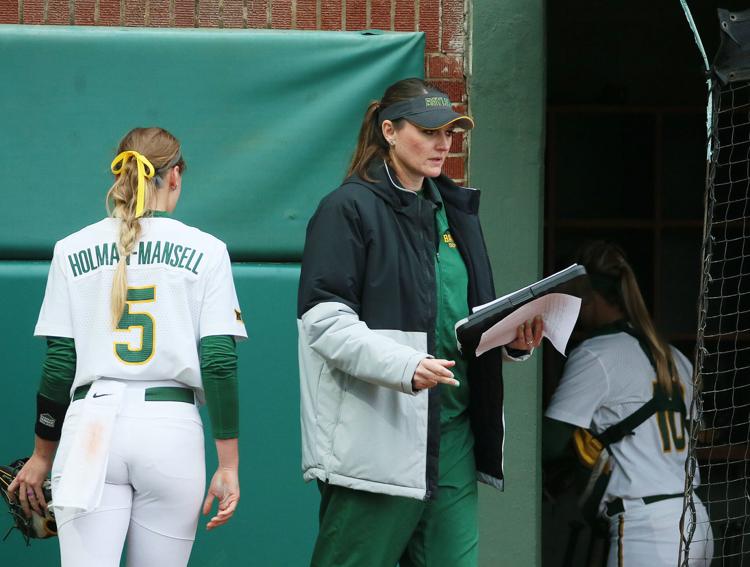 Three years later, Newman joined Baylor's staff as pitching coach after a remarkable LSU career. She finished 120-25 with an 0.89 ERA with 55 shutouts and six no-hitters in four seasons. Twice during her career, she was a finalist for USA Softball player of the year.
"I wanted to be a coach pretty early in my softball career," Newman said. "I wanted to give back to the sport that meant so much to me. Going into my senior year, I was about to graduate and Coach Moore said I'd love to have you be our pitching coach and come back to Texas. I probably would have taken it right there on the spot, but I had to graduate first and then go for it."
In Newman's first season on staff in 2004, Baylor finished 48-17 and made its first NCAA tournament appearance in school history.
The most memorable game was the regional opener at Getterman Stadium as Cristin Vitek set an NCAA record by striking out 28 batters while throwing a three-hitter in Baylor's 1-0 win over North Carolina in 16 innings.
With slugger Ashley Monceaux amassing a school-record 20 homers and 71 RBIs, the Lady Bears broke through with their first World Series appearance in 2007.
Lumley has coached eight NFCA All-America hitters at Baylor, including Monceaux, third baseman Brette Reagan, catcher Chelsi Lake and most recently first-team centerfielder Jessie Scroggins in 2018.
But he gets great satisfaction from watching any hitter improve her swing and pull the most out of her ability.
"I think every coach loves to see a kid develop," Lumley said. "When things click, it makes you feel really good and it validates you as a coach. We get great students here who care about education. But they also know we have a tradition of winning and they've got to swing the bat well."
Moore likes the patience Lumley shows as he works with hitters, and the flexibility he takes as he learns each hitter's swing. Some are power hitters while others are slappers, and Lumley knows that each hitter has her own unique approach.
"I think it's his lack of ego," Moore said. "He's an advisor and gives them nuggets of information to help them improve their game. But he doesn't try to rebuild them. Some players build up resistance to any kind of instruction, but he manages that."
While Newman was a gifted pitcher at LSU, she also understood the value of hard work to improve areas of her game. She expects her Baylor pitchers to have a strong work ethic, but also knows they're not all as talented as first-team All-American Whitney Canion.
"I think every pitcher is different," Newman said. "They know they're competing at the highest level, but some pitchers' mechanics are a little different and their mindset is a little different. I try to instill in them what I had as a pitcher: I hated to lose. Our pitchers do a great job of competing hard and represent Baylor so well."
Newman has a quiet demeanor and refrains from shouting at players. But they all understand the knowledge she brings to the game and her fierce desire to win.
"Our players have tremendous respect for her," Moore said. "She's not a pitching coach who yells, she doesn't use profanity. But she gets respect for her knowledge of what she does. You see the kids get better physically, but probably their biggest change is growth mentally."
While the 2007 season was a major breakthrough as Baylor won its only Big 12 title and reached its first World Series, the Lady Bears' road to their next three World Series were even more difficult.
After beating Michigan at Getterman Stadium in the 2007 Super Regional, Baylor went on the road to beat Georgia in 2011 and 2014 and Arizona in 2017 to reach the World Series in Oklahoma City.
"It takes a lot of hard work and prayer to get to the World Series," Newman said. "Winning at places like Georgia, we really had to battle and get down in the trenches. The team and the coaches had to go to war and we really had to stick together."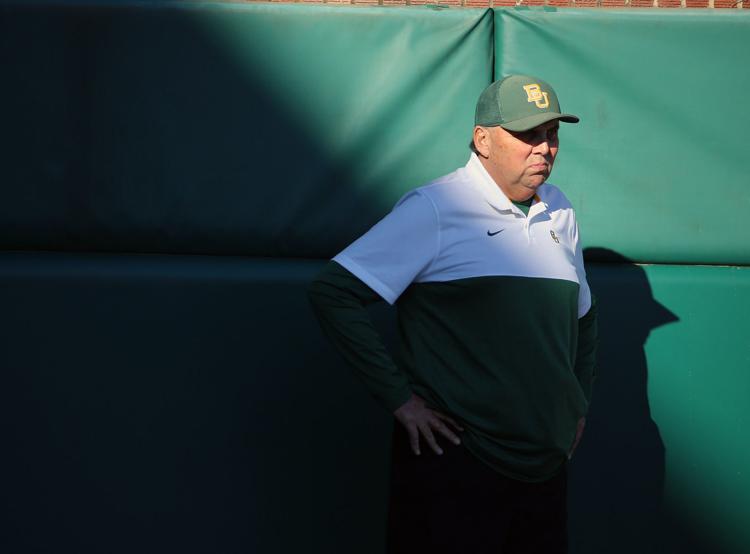 Lumley doesn't believe Moore gets enough credit for the powerful program the Lady Bears have built, and is happy that he's had the opportunity to do his share.
"Coaches can coach for 30 years and never get to the World Series, and I've been blessed to go four times," Lumley said. "There's nothing like it. Going to Georgia and Arizona and winning was unbelievable because we were underdogs in those series. Those are all great moments as a coach."
While coaching a nationally-ranked softball program is demanding, Lumley and Newman have carved out time for their personal lives.
Newman married her husband Josh in 2006 while Lumley married his wife Stacey in 2012. Josh Newman worked on Moore's staff at Baylor when he met Britni after she arrived in 2003, and now they're raising two young sons, Bowen and Brooks.
"The only way I can do my job on the job and at home and is because of the support I have from Coach Moore and Coach Lumley," Britni said. "They know that there's a softball life and our lives, and we have to coordinate that every day. If I need to leave practice when the kids are sick, they pick up the slack. I love that."
Moore, Newman and Lumley have learned to rely on each other over the last two decades as coaches and friends. The demands of their jobs and personal lives are always changing, but they've always made it work.
"Coach Moore and I have a bond we'll never lose," Lumley said. "It's the same way with Coach Newman. We're brothers and sisters in Christ, and I know they've got my back and I've got theirs."
Be the first to know
Get local news delivered to your inbox!