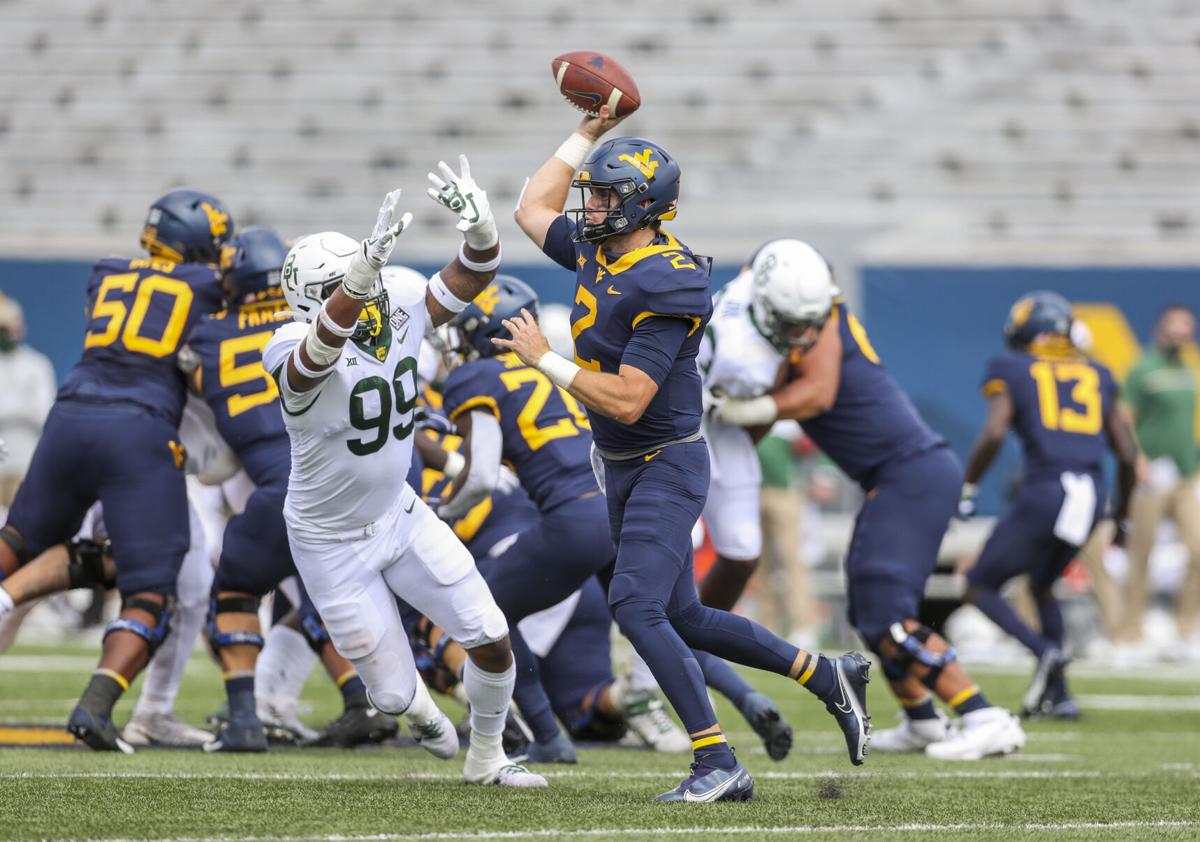 William Bradley-King transferred to Baylor for his final college season in hopes of improving his NFL Draft stock.
It appears the move will pay off as the defensive end-outside linebacker is expected to be picked from the fourth to sixth rounds on the third day of the draft.
The first round of the NFL Draft will be held at 7 p.m. Thursday followed by the second and third rounds Friday beginning at 6 p.m. The fourth through seventh rounds will begin at 11 a.m. Saturday.
As a graduate transfer in 2020, Bradley-King tied for the Baylor lead with 3.5 sacks while leading the team with four pass breakups and four quarterback hurries in nine games.
The 6-4, 248-pound Bradley-King recorded 31 tackles and 5.5 tackles for loss. His versatility to play defensive end or outside linebacker should be an asset. "I think that helps me out a lot," said Bradley-King on Baylor's March 31 Pro Day. "It makes me more valuable. I can rush out of the three-technique, play the edge of the defense, and drop back in coverage. It makes me one of the most valuable defensive ends in this draft."
Bradley-King transferred to Baylor following an eye-popping junior year at Arkansas State. He was named all-Sun Belt Conference after amassing 13.5 tackles for loss, 8.5 sacks and forcing three fumbles.
Following the 2020 season, Bradley-King was invited to play in the Senior Bowl in Mobile, Ala.
"It was a great experience," Bradley-King said. "I was honored to be able to play in the game. I went against the best of the best, and I feel like I put my best foot forward and I enjoyed it."
Following Baylor's 2-7 season, this is expected to be a low-key draft compared to 2020 when four Baylor players were picked after the Bears' 11-3 season that included a berth in the Big 12 championship game and their first Sugar Bowl appearance since 1957.
Wide receiver Denzel Mims was a second-round pick by the New York Jets while the Minnesota Vikings selected All-America defensive lineman James Lynch in the fourth round. The Carolina Panthers took noseguard Bravvion Roy in the sixth round while the Los Angeles Rams picked linebacker Clay Johnston in the seventh round.
Along with Bradley-King, offensive lineman Jake Burton and fullback Trystan Slinker worked out for pro scouts on Baylor's Pro Day. If they aren't drafted, they could be signed as free agents.
Burton transferred to Baylor in 2020 after four seasons at UCLA, and hopes he's proven to scouts that he can play several offensive line positions.
"They like the way that I move, they like the way that I play, they like how tough I am both mentally and physically," Burton said. "I think my mental preparation is top notch. And then, the way that I play on film and the way that I moved people. That's kind of the feedback I've gotten, all positive things."
2021 NFL Draft: Tackling the best linebackers and edge rushers
1. Azeez Ojulari (So., Georgia, 6-foot-2, 249 pounds)
2. Kwity Paye (Sr., Michigan, 6-2, 261)
3. Jaelan Phillips (Jr., Miami, 6-foot-5, 260 pounds)
4. Jayson Oweh (So., Penn St., 6-4, 257)
5. Carlos Basham Jr. (Sr., Wake Forest, 6-3, 274)
6. Joseph Ossai (Jr., Texas, 6-3, 256)
7. Joe Tryon (Jr., Washington, 6-5, 259)
8. Gregory Rousseau (So., Miami, 6-6, 266)
9. Chris Rumph II (Jr., Duke, 6-2, 244)
10. Ronnie Perkins (Jr., Oklahoma, 6-2, 253)
Additional edge rushers
1. Micah Parsons (Jr., Penn St., 6-foot-3, 246 pounds)
2. Jeremiah Owusu-Koramoah (Jr., Notre Dame, 6-2, 221)
3. Nick Bolton (Jr., Missouri, 5-11, 237)
4. Zaven Collins (Jr., Tulsa, 6-4, 259)
5. Jabril Cox (Sr., LSU, 6-3, 232)
6. Jamin Davis (Jr., Kentucky, 6-3, 234)
7. Baron Browning (Sr., Ohio St., 6-2, 245)
8. Chazz Surratt (Sr., North Carolina, 6-2, 229)
9. Pete Werner (Sr., Ohio St., 6-2, 238)
10. Monty Rice (Sr., Georgia, 6-0, 233)
Other linebackers