Iowa State is extremely physical, experienced and confident coming off one of the best seasons in school history that ended with a commanding win over Oregon in the Fiesta Bowl.
Marquee players like All-America running back Breece Hall, quarterback Brock Purdy and preseason Big 12 defensive player of the year linebacker Mike Rose are the most prominent names on a deep and talented roster.
And don't forget about the "five-star culture" sixth-year head coach Matt Campbell has built as Hall alluded to when the Cyclones knocked off Texas in a pivotal game in Austin last November.
Baylor knows the challenge it faces against No. 14 Iowa State, and the Bears welcome it at 2:30 p.m. Saturday at McLane Stadium in their Big 12 home opener.
"I have a lot of respect for Coach Campbell, a lot of respect for Iowa State," said Baylor coach Dave Aranda. "I'm looking forward to the challenge. There's no mistake on who they are and who they want to be. They play really hard and I think they're really physical."
After opening the season with wins over Texas State, Texas Southern and Kansas by a cumulative score of 140-34, the Bears will play their first Top 25 opponent this season.
Baylor is encouraging fans to wear gold and pack 45,000-seat McLane Stadium to create a home-field advantage that was tough to build last year when COVID-19 protocol limited attendance to 25 percent capacity.
"It's always cool to play in front of (Baylor) fans, because that gives us energy," said Baylor defensive lineman Chidi Ogbonnaya. "And obviously, Iowa State is a really good team to play against, so I'm really excited for it."
Though the Bears haven't played a team nearly the caliber of Iowa State, they have a lot of reasons to be confident.
After averaging just 23.3 points per game last season, Baylor's offense has been the most improved in the Big 12. The Bears are averaging 558.7 yards and 46.7 points per game, and their ground game is by far the best in the league with 321.3 yards per game and 11 touchdowns.
In his first year as a starter, junior quarterback Gerry Bohanon has shown impressive poise as he's completed 72.9 percent of his passes for 664 yards with five touchdowns and no interceptions.
Running backs Abram Smith and Trestan Ebner are both averaging more than 100 yards rushing per game, and rank second and fourth, respectively, among Big 12 rushers.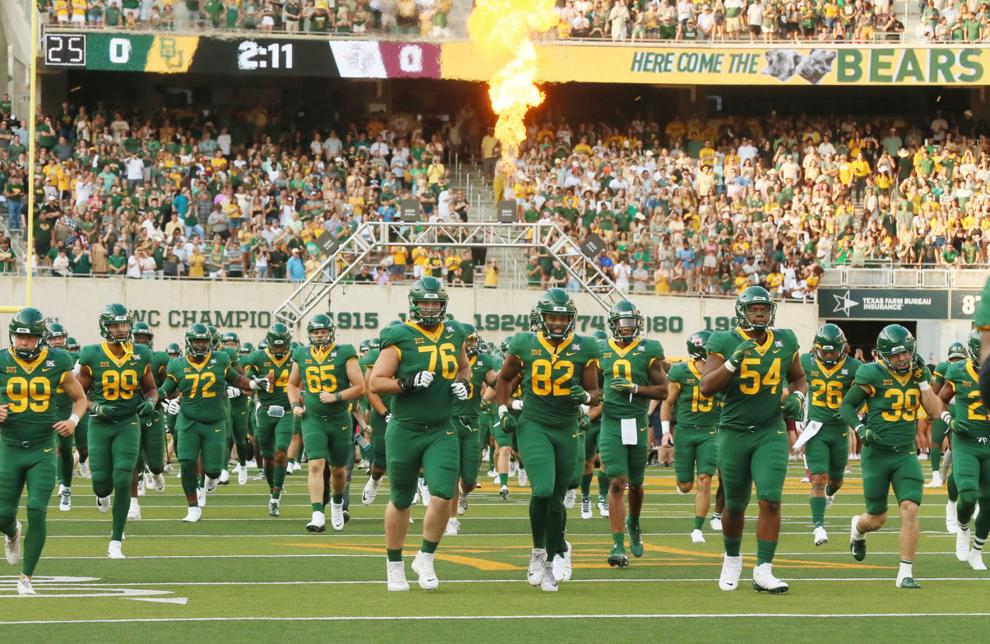 "It's real cool, knowing how they work is ridiculous," said Baylor offensive lineman Xavier Newman-Johnson. "Just seeing them get that type of recognition based on how they work, it's like it's all coming back and repaying them for it."
Defensively, the Bears have allowed a Big 12-low 11.3 points per game and rank second behind Iowa State in fewest yards allowed with 227.3. They've also been opportunistic as safety JT Woods has returned both an interception and a fumble for touchdowns.
But the Bears know they need to get more pressure on quarterbacks after recording three sacks in the first three games.
"It's always frustrating as a D-line to get really close, but that just means that we have to learn how to finish," Ogbonnaya said. "Every single day that we come to practice and work on our pass-rush moves, we have to really work to get off the blocks, because that way it will show up in the games."
The Bears are looking for more production from LSU transfer noseguard Siaki "Apu" Ika, who didn't record a tackle in last week's 45-7 win over Kansas after missing the previous game against Texas Southern for an unspecified violation of team rules.
"Apu can kind of get in a track stance, his best version of that, and get vertical and blow stuff up whereas when stuff's coming downhill at you, you've got to play with hands and base and technique and all of it," Aranda said. "So I think coming to grips with that and coming to grips with low pad level, and just fundamental things, play after play after play, and playing within the scheme and playing within the confines of what we're asking, I think he will continue to have success and see more time."
Like Texas State's Brady McBride and Kansas' Jason Bean, Purdy is an elusive quarterback who can escape pressure to get off passes. Purdy has completed 71.4 percent for 625 yards and three touchdowns with three interceptions in Iowa State's 2-1 start.
Purdy's passing ability is balanced by Hall's running skills as he's collected 238 yards and four touchdowns after leading the nation with 1,572 yards rushing in 2020. Iowa State's veteran offensive line is known for its physicality.
"We believe that to this point, they're going to be the best one that we've faced," Ogbonnaya said. "So we need to make sure that we as a D-line just focus on technique."
The Cyclones are allowing just 192.7 total yards per game and rank second in the league behind Baylor by limiting opponents to 13.3 points. Iowa State has been particularly strong against the run by allowing 49.3 yards rushing per game, 1.5 yards per carry and only one rushing touchdown.
"They drop eight, but all those guys fly to the ball, especially the back guys," said Baylor receiver RJ Sneed. "They have their No. 1 (safety Isheem Young) who's always around the ball. They're a solid fundamental team. They are a physical team. They're probably in the top three in the Big 12 on defense."
Linebacker Mike Hummel leads the Cyclones with 26 tackles with 1.5 for loss while Rose has collected 25 tackles with a team-high 4.5 for loss. Defensive end Eyioma Uwazurike leads Iowa State with a pair of sacks.
"Their D-line is very good, they hit blocks," Aranda said. "Their linebackers are big, physical dudes. I think bigger per the average linebacker in our league, and the way they play their scheme coincides with that."