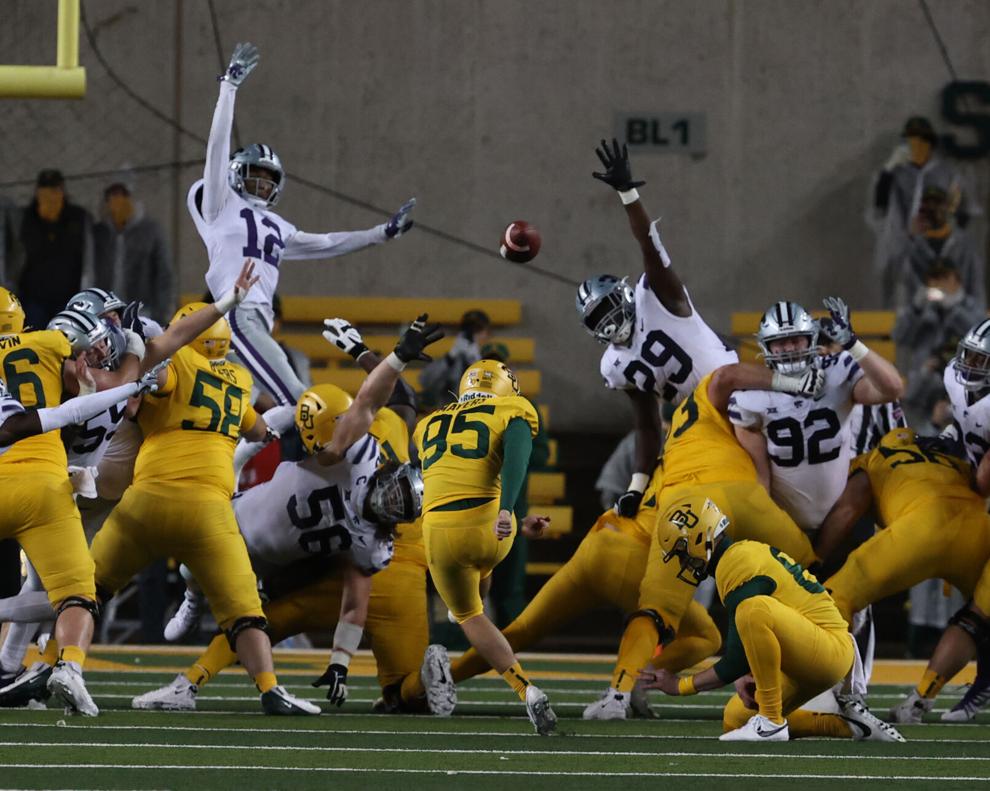 Throughout a rugged, challenging season, dissatisfied Baylor fans have repeatedly shouted for first-year coach Dave Aranda to replace senior quarterback Charlie Brewer.
Aranda has staunchly defended Brewer, insisting he gives the Bears the best chance to win.
On Saturday night, Brewer proved Aranda right.
Brewer led a 57-yard drive to set up John Mayers' 30-yard field goal as time expired to lift the Bears to a 32-31 win over Kansas State at McLane Stadium to snap a five-game losing streak.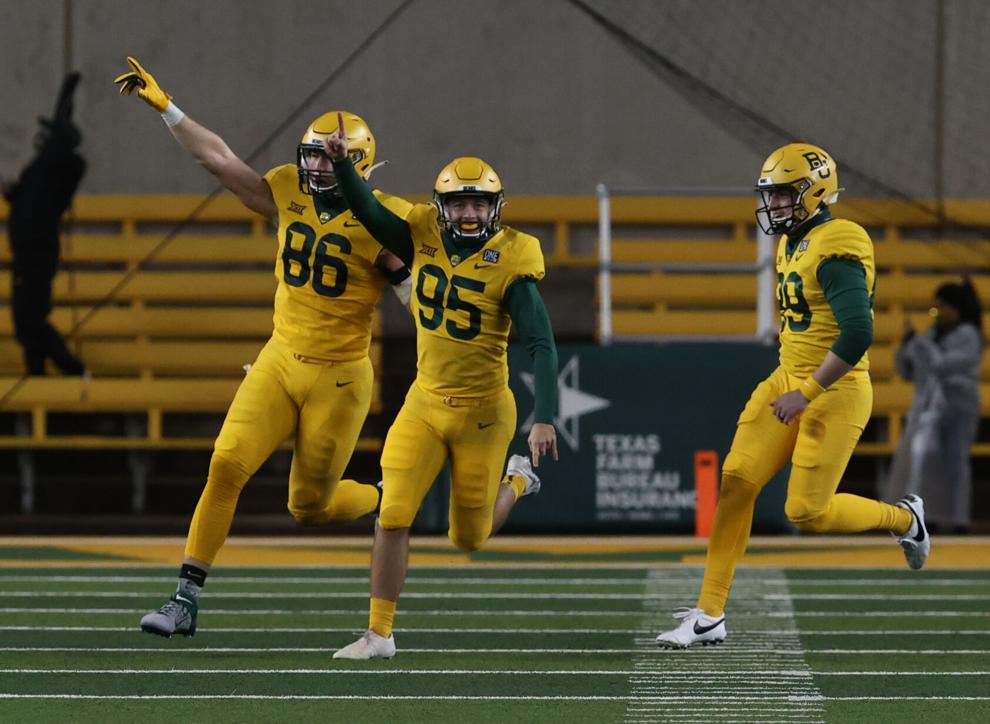 Baylor (2-5) won its first game since a season opening 47-14 blowout of Kansas on Sept. 26. After coming close in a 38-31 loss to Iowa State and a 24-23 loss to Texas Tech on a last-second field goal, the Bears finally finished off a win over the Wildcats (4-5, 4-4).
"This means a lot," Brewer said. "It's been a really tough year and we've definitely lost more games than we should have or wanted. We've dug ourselves in a hole a little bit this year, but tonight we found a way. The resilience of this team is tremendous."
Brewer gave the Bears a shot to win when he scored on a one-yard run to cut Kansas State's lead to 31-29 with 4:16 remaining.
After Baylor's defense stopped Kansas State at its own 18, the Bears got the ball for the last time with 2:32 remaining following a punt to their own 31.
Brewer's five-yard run to start the drive was originally ruled a fumble, but it was overruled after a review when the officials said his knee was down before the fumble.
Brewer hit Gavin Holmes for six yards, Tyquan Thornton for 10 and Ben Sims for 21 before finding Josh Fleeks for eight yards to the 19.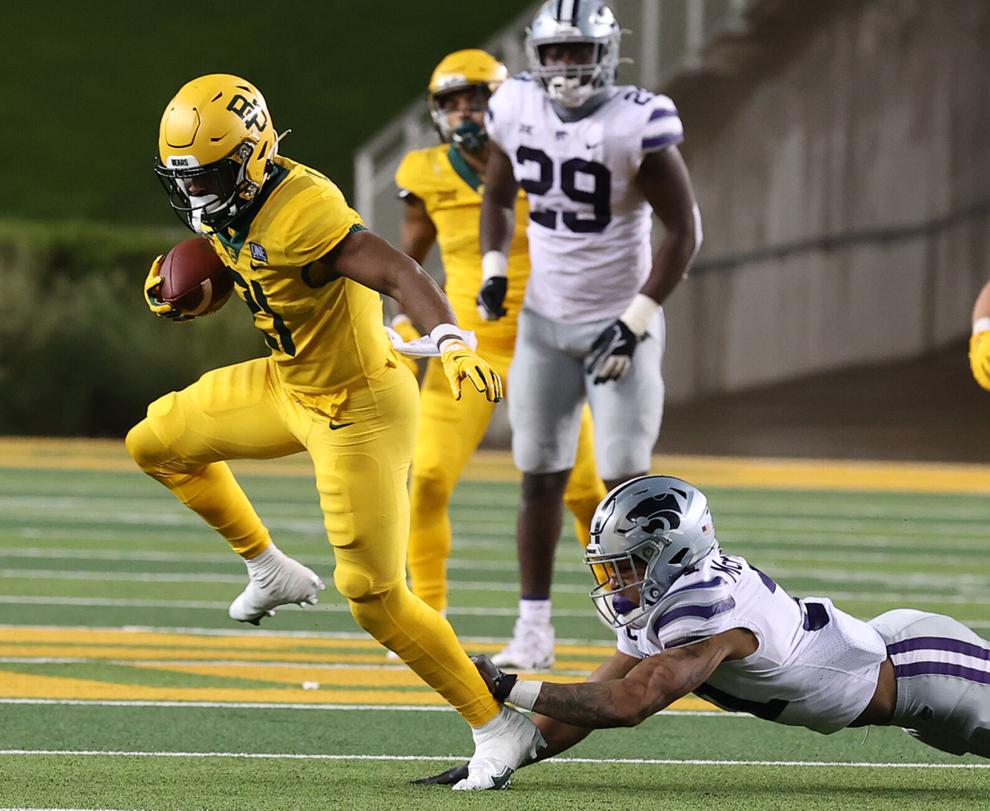 After Trestan Ebner picked up six yards when he hurdled a Kansas State defender, Baylor ran the clock down to four seconds before Mayers nailed the winning field goal.
"To play like we did in the second half, I'm proud of and it's something we can build off, and it gives guys validation for what we go through throughout the week," Aranda said. "For what we ask of and the sacrifices that are being made, and I think it's a shot of confidence."
Mayers had no doubt that he would nail the game-winning field goal after Brewer led the Bears down the field to an ideal spot on the field.
"I have so much confidence in Charlie," Mayers said. "Charlie's a warrior. He's a great leader. I think he's a tough guy who has shown he can do this day in and day out. Without that I don't have the opportunity to go out there and win the game."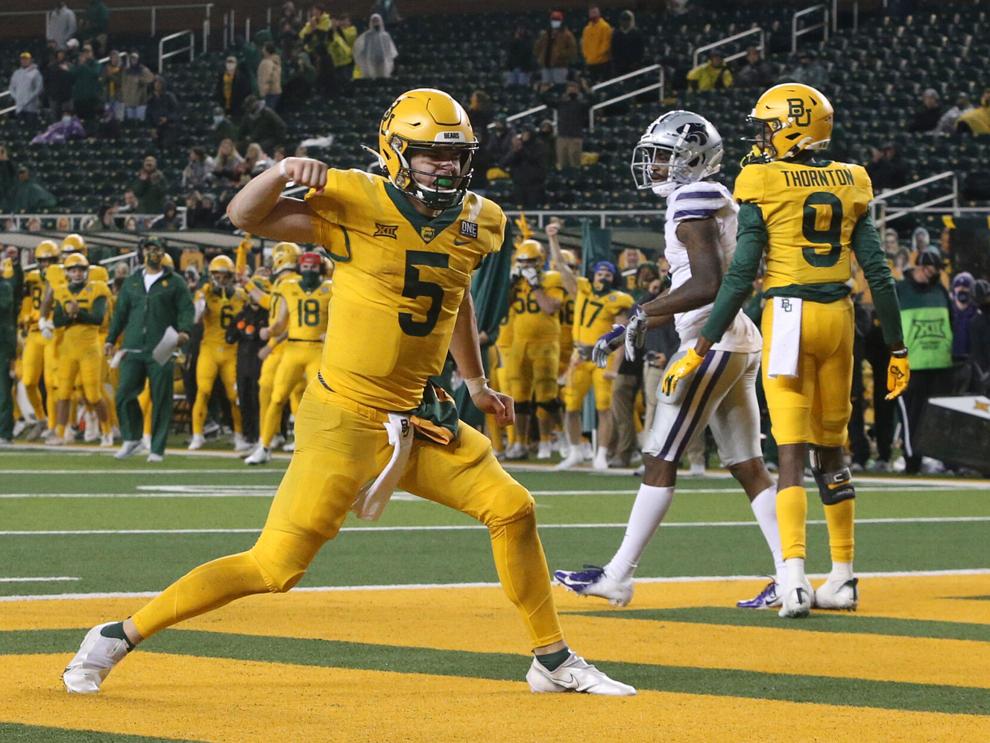 Brewer had a tremendous all-around game as he finished 31 of 39 for 349 yards and two touchdowns while rushing for 56 yards and two more scores on 23 carries.
The Bears played at home for the first time since Oct. 31 when they dropped a 33-23 decision to TCU.
Trailing 17-6 at halftime, the Bears grabbed the momentum to open the second half. Ebner got loose for 44 yards on a screen pass from Brewer to the 19. Brewer's eight-yard pass to Thornton put Baylor eight yards closer to the goal.
The drive stalled when Brewer missed a third-down pass to Holmes, but the Bears cut Kansas State's lead to 17-9 with 11:59 left in the third quarter.
RJ Sneed was the star of Baylor's next drive, beginning with his leaping acrobatic 35-yard catch from Brewer along the right sideline. He managed to get his right foot inbounds at Kansas State's 17.
"I think we needed a spark," Sneed said. "So in my head, I was like I need to do something to get this offense going because right now we're a little stagnant. So I was glad to catch the ball and get us going. That's what we needed."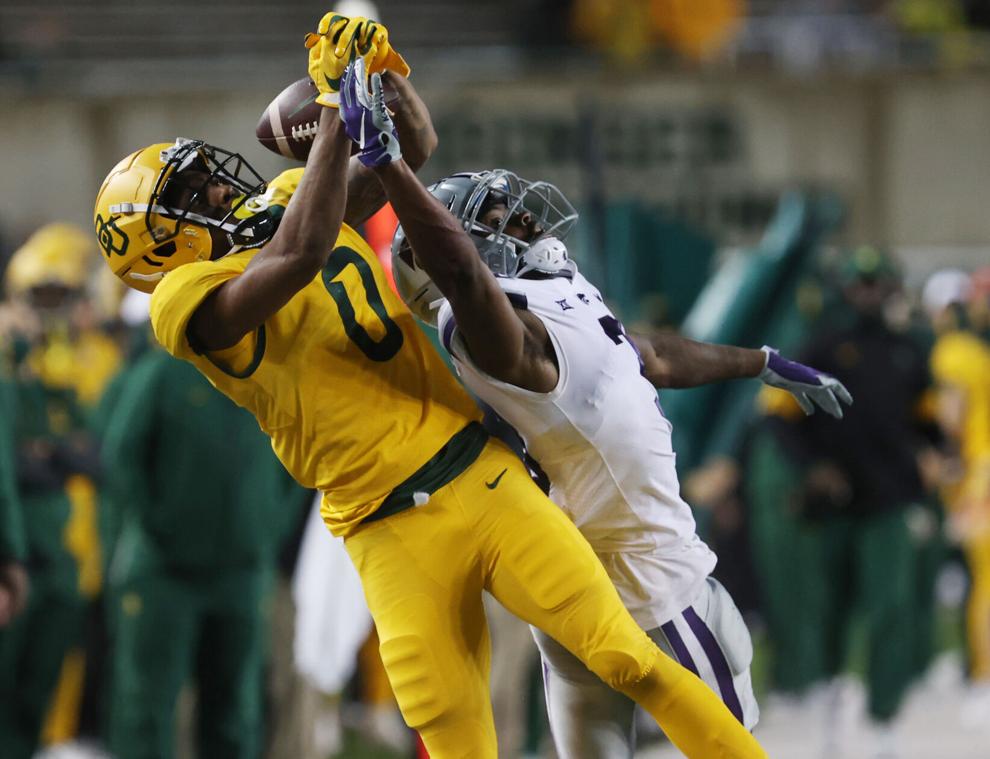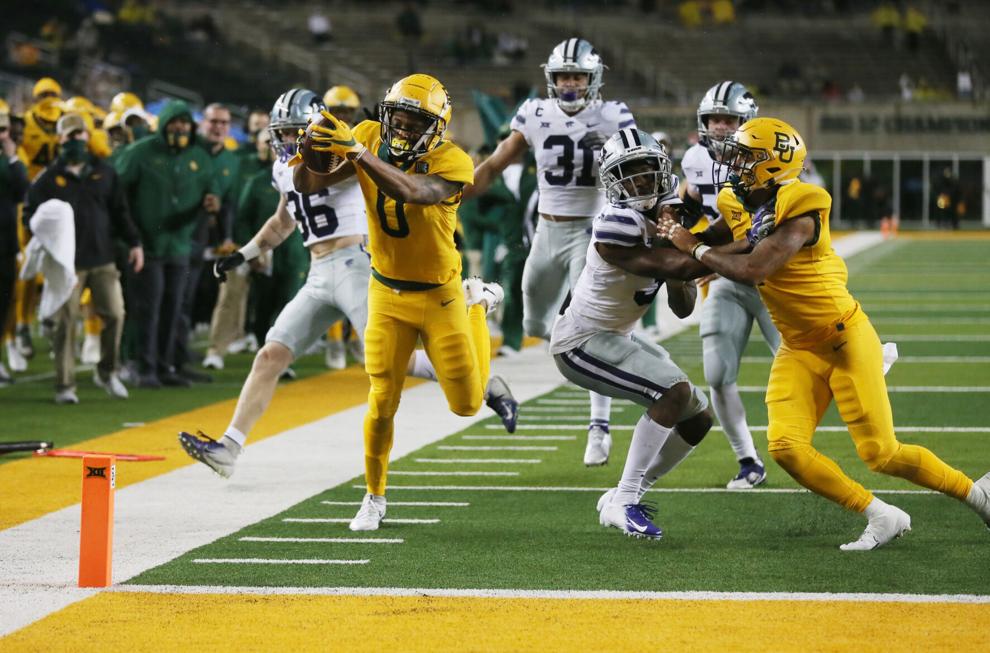 Sneed came through again when he caught a short pass from Brewer and cut past Kansas State safety Jahron McPherson for a 23-yard touchdown to cut the Wildcats' lead to 17-15 with 7:16 left in the third quarter.
Baylor tried to tie the game with a two-point conversion attempt, but Brewer lost the ball.
After Baylor was forced to punt to open the fourth quarter, the Wildcats needed just two plays to score.
Will Howard found tight end Briley Moore behind the Baylor defense along the right sideline for 49 yards. On the next play, Howard fooled Baylor's defense with a fake handoff to Deuce Vaughn before racing around the left side for a 24-yard touchdown to open up a 24-15 lead with 13:57 remaining in the game.
The Bears made a powerful response as they drove 75 yards for a touchdown as Brewer hit seven of eight passes. His 29-yarder to Fleeks set up an eight-yard touchdown pass to Ebner crossing over the middle to trim Kansas State's lead to 24-22 with 10:51 remaining.
But once again, the Wildcats had a quick answer as Vaughn exploded up the middle for a 38-yard touchdown to extend the lead to 31-22 with 8:59 to play.
Playing in a driving rain throughout the first half, the Bears jumped off to a promising start when safety JT Woods intercepted Howard's pass and returned it 32 yards to the 9.
Baylor cashed in as Brewer ran for a seven-yard touchdown, but holder Skyler Wetzel mishandled the snap on the PAT.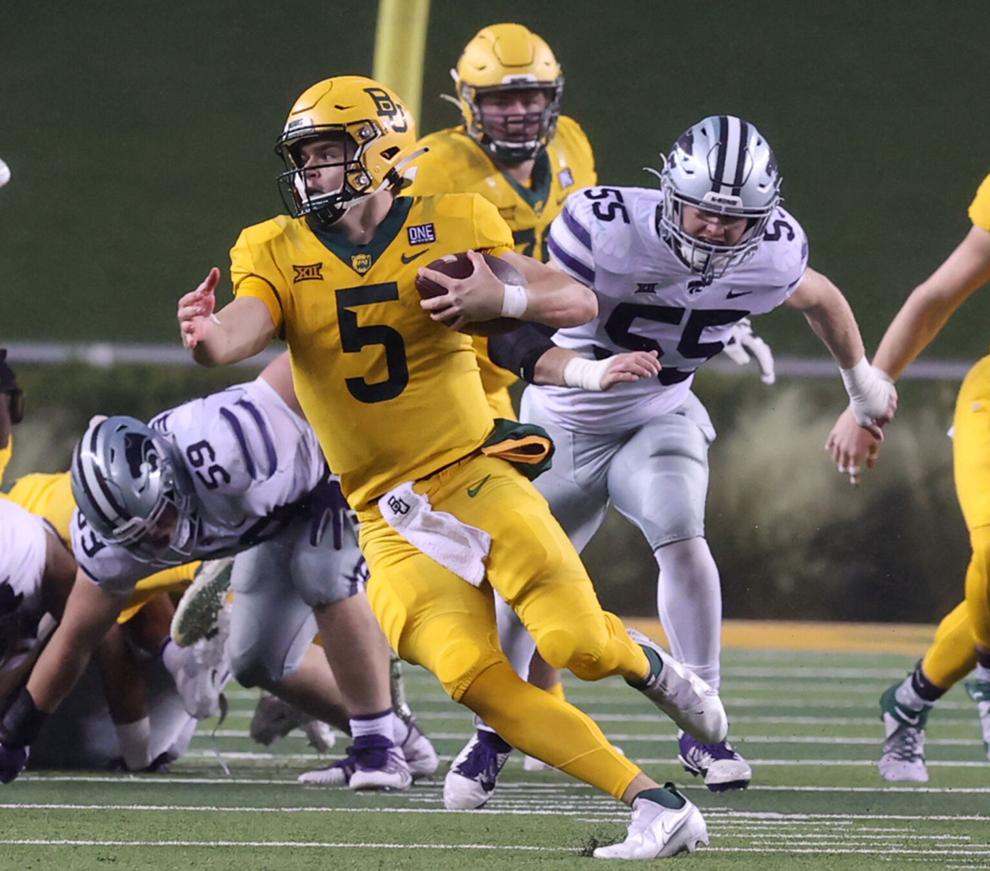 The 6-0 lead lasted exactly 13 seconds as Kansas State wide receiver Malik Knowles took the ball on a reverse and outraced everyone down the right sideline for a 75-yard touchdown to give the Wildcats a 7-6 lead with 12:51 left in the first quarter.
The Bears hurt themselves when Ebner fumbled a bouncing punt to give the Wildcats the ball at Baylor's 35.
The Wildcats took advantage of the opportunity as Howard hit Vaughn over the middle for an eight-yard touchdown to take a 14-6 lead with 4:07 left in the first quarter.
After Baylor failed to move in its next possession, the Wildcats got great field position again at the Bears' 46 when Mark Milton was called for kick interference.
Woods was ejected from the game for targeting when he hit Howard. But the Bears put up a good stand inside the 10 as Jairon McVea tackled Moore at the 2 after a six-yard gain on third down.
Blake Lynch nailed a 20-yard field goal to lift the Wildcats to a 17-6 lead with 13:02 left in the second quarter.
The Bears used up much of the second quarter clock as they drove to Kansas State's 24, but they were called for a false start before Daniel Green sacked Brewer for a one-yard loss.
Facing fourth-and-14 at the 30, the Wildcats brought heavy pressure again as Brewer was forced to shovel the ball to John Lovett, who was stopped after a four-yard gain.
Photo gallery