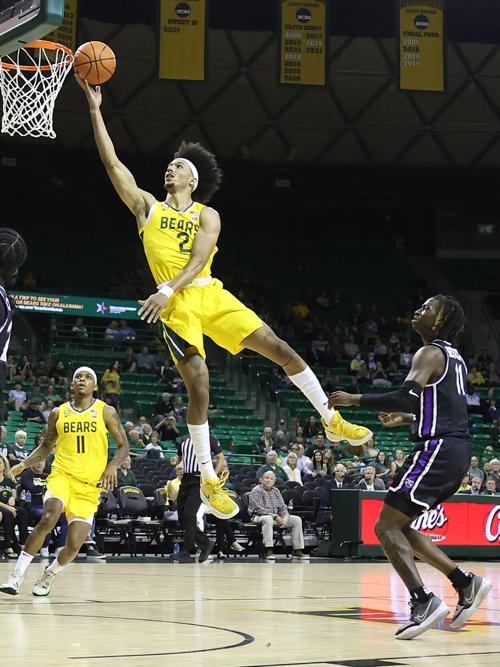 Following a trio of season-opening blowouts, No. 9 Baylor will get its first real test of the season when it hosts Stanford at noon Saturday at the Ferrell Center.
The Bears obliterated Incarnate Word, Nicholls State and Central Arkansas by an average score of 89-56. But those games were beneficial for a program that lost four starters off the 2021 national championship team.
The Bears got a chance to see how gifted newcomers Kendall Brown, Jeremy Sochan and James Akinjo meshed with returners Matthew Mayer, LJ Cryer, Adam Flagler, Flo Thamba and Jonathan Tchamwa Tchatchoua.
"These kinds of games allow them to get some confidence and get some rhythm," said Baylor coach Scott Drew. "Obviously, things will change this Saturday with Stanford. It will be a great test for us and tell us what we need to work on to get ready for Atlantis."
Stanford is off to a 3-1 start that included Wednesday's 74-60 win over Valparaiso. Drew didn't expect to have difficulty getting a good scouting report on Stanford since he was the head coach at Valparaiso in 2002-03 after serving as an assistant under his dad, Homer Drew, for the prior nine seasons.
"I think we'll be all right there," Drew grinned.
Picked ninth in the Pac-12 preseason media poll, Stanford hasn't been nearly as dominating as Baylor in its 3-1 start. The Cardinal has outscored opponents by a 71-65 average and has won the boards by a 37 to 27 average.
Freshman forward Harrison Ingram from Dallas St. Mark's leads Stanford with 14.5 points and 6.5 rebounds per game while nailing six of 14 3-pointers. Senior forward Jaiden Delaire is averaging 11.8 points and 4.3 rebounds, and 7-1 France native Maxime Raynaud is averaging 9.5 points and 6.3 rebounds.
The Cardinal will have to contend with Baylor's dynamic freshman duo of Brown and Sochan. The 6-8 Brown is averaging 15 points, five rebounds and four assists, while the 6-9 Sochan is averaging 10 points and a team-high seven rebounds.
Drew wants the Bears to cut down on their 13 turnovers per game, but likes the way Brown has wowed the Ferrell Center crowds with his dunking ability.
"We'll keep getting better," Drew said. "At the same time, we wanted to see how high Kendall could get. We didn't know if he could get to the top of the Ferrell, so we were going to test that."
Sophomore guard LJ Cryer is Baylor's leading scorer with 17.7 points per game while averaging 3.7 assists and nailing nine of 17 3-pointers. Arizona transfer James Akinjo has stepped in at point guard and averaged 10 points and seven assists.
"He's done a great job, especially in a short time, getting used to playing with the guys," Drew said. "He and Kendall (Brown) have a great bond. He does a great job finding Kendall and making some spectacular plays in transition, especially."
Guard Adam Flagler didn't play in the second half of Wednesday's 92-47 win over Central Arkansas after banging his left (non-shooting) hand that he broke during the preseason, but Drew said he'll be OK.
"He hit his hand, and for precaution we kept him out," Drew said. "He should be fine. He could have gone back in, but we didn't want to risk it with the game coming up Saturday."
After facing Stanford, Baylor will travel to the Bahamas to play three games in the Battle 4 Atlantis tournament beginning with Wednesday's game against Arizona State.
Other first-round games in the tournament include Syracuse vs. VCU, No. 21 Auburn vs. No. 23 Connecticut, and Michigan State vs. Loyola-Chicago.
After the 45-point blowout, Central Arkansas coach Anthony Boone was so impressed by the Bears that he said they could beat last year's national championship team.
"I would love that to be the case, but at the same time, we saw last year's team win a lot of games," Drew said. "This year's team has got talent, don't have quite the experience of last year's team. Obviously, we haven't gone through the rigors of the Big 12, haven't played the meat of our nonconference schedule. We like the possibilities and the upside of this team."