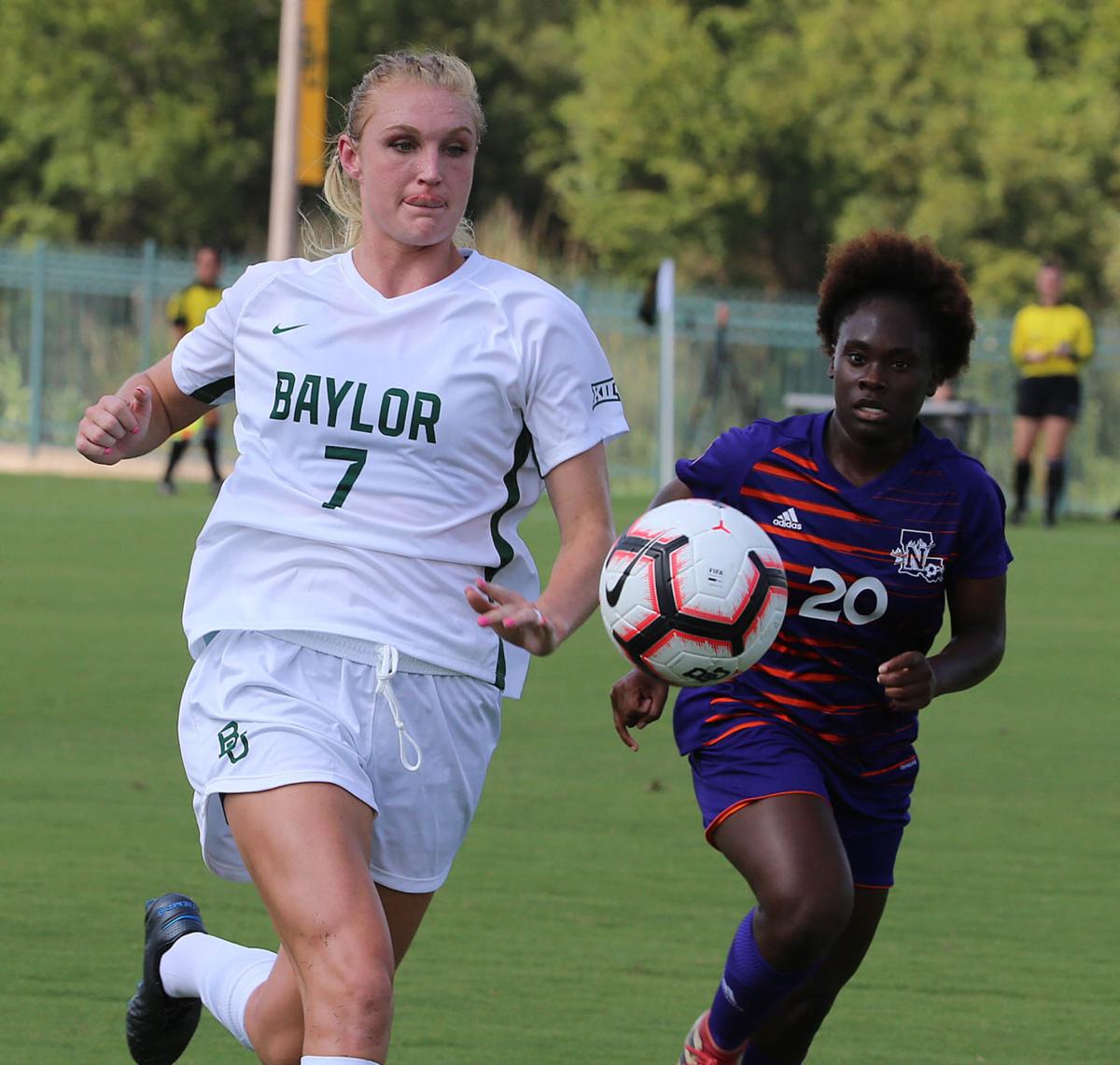 The No. 14 Baylor soccer team didn't expect to rise to Elite Eight form in Sunday's season opener, but there were clear signs that scoring can come from a lot of places.
Seniors Camryn Wendlandt and Raegan Padgett were joined by transfer Eva Mitchell and freshman Michaela Gorman in scoring for the Bears as they overcame Northwestern State, 4-2, in 100-degree heat at Betty Lou Mays Field.
A great deal is expected from the Bears after they won the Big 12 regular season in 2018 and reached the Elite Eight for the second straight year. But it's a long way until the NCAA tournament starts in November, and much improvement is needed.
"I don't feel good about it — we have a lot to work on," Wendlandt said. "But if we were where we needed to be first game of the year, it would be a little concerning. It gives us a good look for the rest of the season. I'm proud of the effort, but there are mostly definitely areas where we need to improve."
The Bears played without three of their key players as preseason all-Big 12 defender Kayley Ables missed the game with a concussion while goalkeeper Jennifer Wandt and midfielder Taylor Moon were out with upper respiratory issues.
"Obviously, you want as many kids as you can available, and we have three key pieces that are missing right now," said Baylor coach Paul Jobson. "But that's no excuse for what we should have been able to do better today. The deeper we can go, the better we'll be for sure. All three of those girls are really close (to being back)."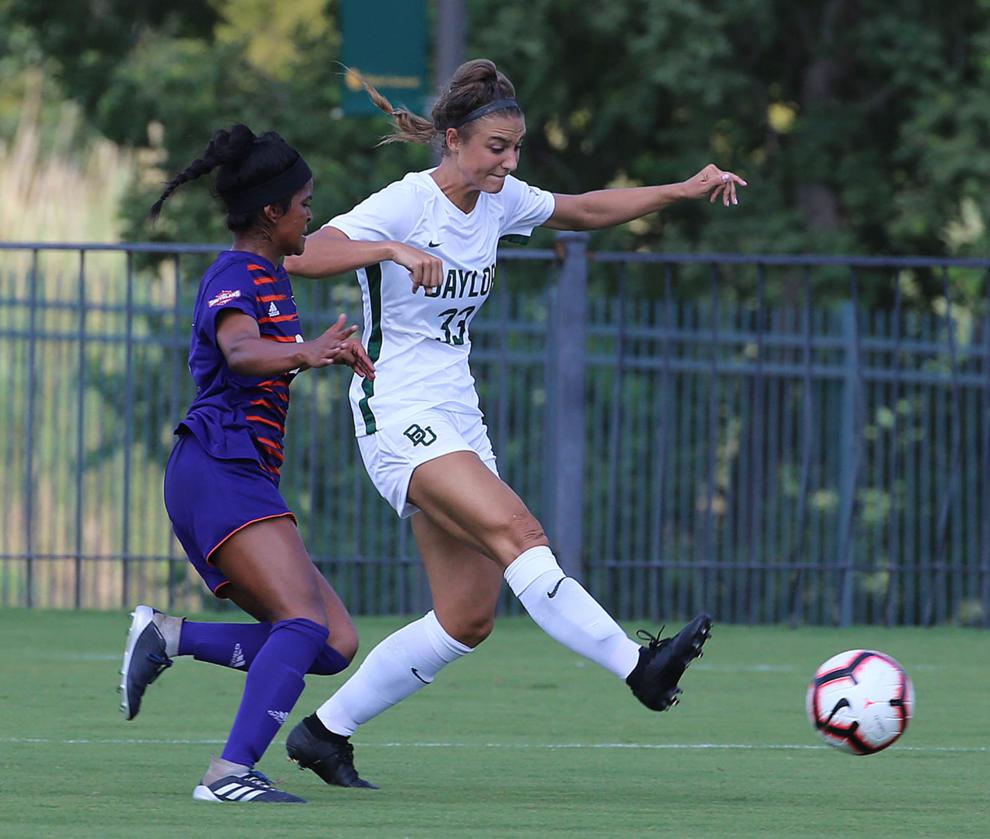 Despite their absence, the Bears dominated the flow of the game by taking 16 shots to Northwestern State's six. Baylor built a 4-0 lead before the Lady Demons (0-2) scored their two goals in the final seven minutes of the game against freshman goalkeeper Maya Bellomo.
Wendlandt, who was Baylor's co-leader with 10 goals last season, picked up where she left off as she opened the scoring with a chip shot in front of the goal following an assist by Ally Henderson just 13 minutes into the game.
Later in the first half, Gorman took a pass from Wendlandt and drilled a shot into the left side of the net to extend Baylor's lead to 2-0.
"That's something we have been working on in practice," said Gorman, a midfielder from Bend, Oregon. "She saw me and dropped it. I really cannot take credit for it. That's all my team doing the hard work and being in the right place at the right time."
Padgett missed several scoring opportunities throughout the game as she took a game-high seven shots, but she came through with a goal in the opening four minutes of the second half.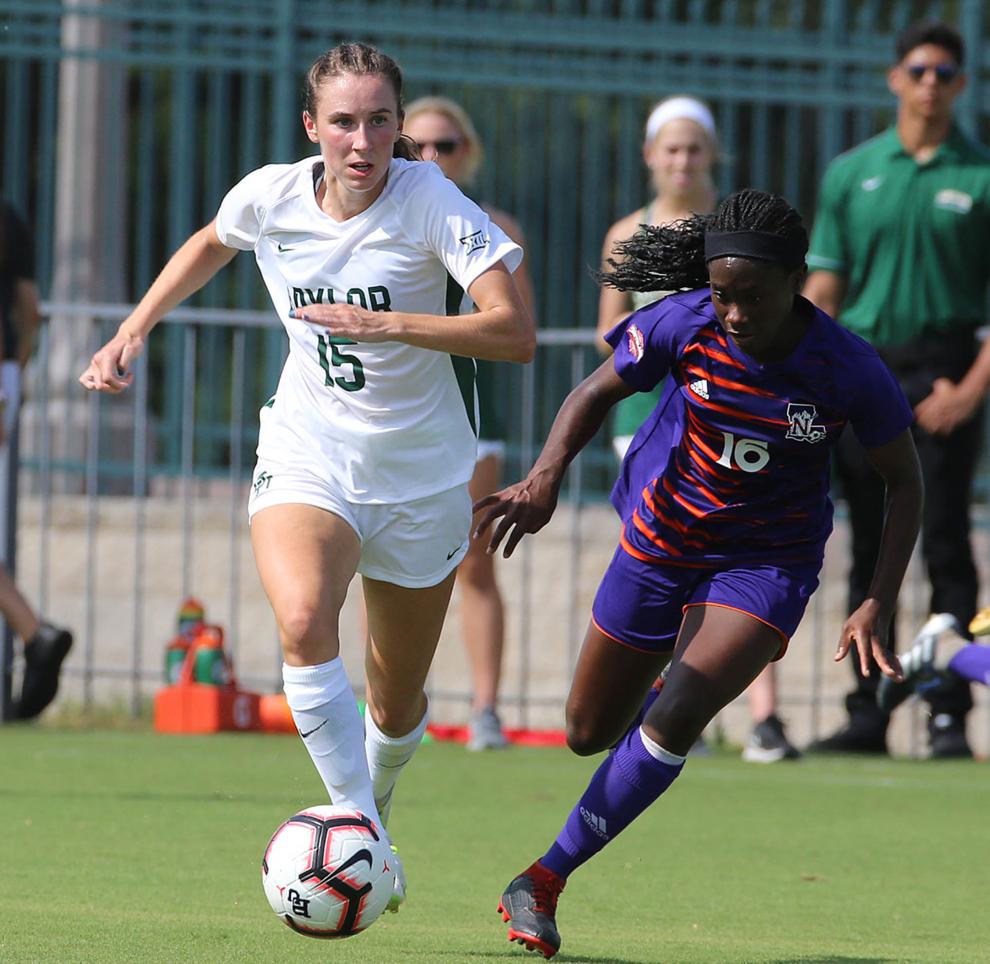 Next it was Mitchell's turn to score as the Kentucky transfer hit a penalty kick to stretch the Bears' lead to 4-0 with 7:02 left in the game.
"It's great to see that we can get some goals from some other places, and good to see that Cam has picked up where she left off and Raegan as well," Jobson said. "Knowing that we can score some goals, there were some other opportunities I think offensively that we weren't as sharp as we needed to be. But first and foremost, defensively we've got to be better."
Kiara Padilla scored Northwestern State's first goal on a long shot directly in front of the goal before Olivia Draguicevich converted a penalty kick.
The Bears will play their next four games on the road beginning Friday night against Drake in Des Moines, Iowa. They'll follow with games at Nebraska on Sept. 1, Wyoming on Sept. 6 and Colorado on Sept. 8 before returning home to face Arkansas on Sept. 12.
"We have an eleven day trip and we are stoked for that," Wendlandt said. "But we have business to do on that trip. We have four games against good opponents, and we are just preparing everything for school and getting everything in order for that."