If everything goes according to plan, No. 9 Baylor will beat Texas Tech and later gather around the television Saturday night and become the biggest Oklahoma State fans in Waco when the Cowboys play Oklahoma.
That's Baylor's dream scenario.
It's the Bears' path to the Big 12 championship game Dec. 4 at AT&T Stadium in Arlington.
"We'll be watching," said Baylor tight end Ben Sims. "I'd say, for sure, it makes things more interesting. But I think if we take care of what we're supposed to take care of, I think we have an opportunity for things to play out in our favor."
Beating the Red Raiders likely won't be easy in Saturday's 11 a.m. regular season finale at McLane Stadium. Especially since former Baylor outside linebackers coach Joey McGuire became the Red Raiders' head coach three weeks ago, and knows the Bears inside and out.
Offensive coordinator Sonny Cumbie has become the on-field coach for the Red Raiders (6-5, 3-5) the last four games since former head coach Matt Wells was fired.
Baylor coach Dave Aranda has known Cumbie since he was a graduate assistant at Texas Tech from 2000-02 when Cumbie was playing quarterback.
"Sonny, for my three years I was there, was our scout team quarterback," Aranda said. "I ran the scout team for our defense, so I had the scout team offense. Sonny was my guy, man. I remember all the stories and some of the weird things I say now, I would say to him then, and he would take it all in with no facial expressions. After a while, he had heard them before. Sonny is one of my favorite all-time guys."
Now 9-2 overall and 6-2 in the Big 12, the Bears stand a game behind Oklahoma State and Oklahoma which are both 7-1 in league play.
The Cowboys have already earned a berth in the Big 12 championship game by beating Baylor, 24-14, on Oct. 2 in Stillwater. But Oklahoma State can knock Oklahoma out of a title game berth since the Bears would win the tie-breaker by beating the Sooners, 27-14, on Nov. 13.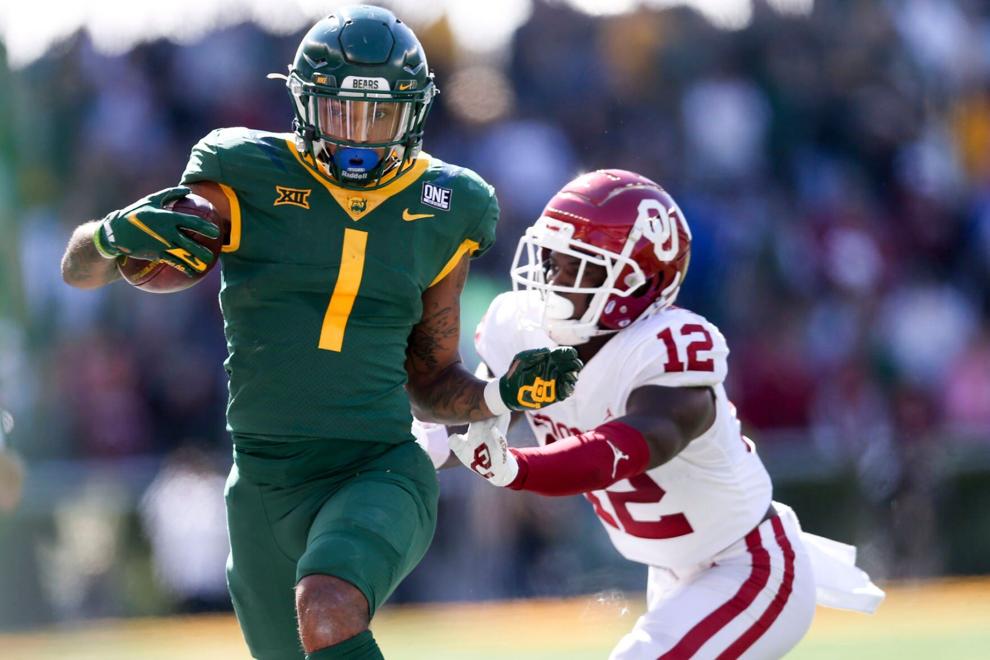 Baylor quarterback Gerry Bohanon has been working to get ready for the game after pulling his right hamstring with 59 seconds remaining in the second quarter in the Bears' 20-10 win over Kansas State last weekend in Manhattan.
But if Bohanon can't go, the Baylor coaches and players have confidence in redshirt freshman Blake Shapen, who stepped in last week and hit 16 of 21 passes for 137 yards and ran five times for 44 yards to help the Bears' seal the win over the Wildcats.
"I think Blake was just doing Blake things, to be honest," Sims said. "Blake's a ballplayer, he's a great player. He shows it in practice every day. For him to go out there and do that was pretty impressive. But I wasn't surprised."
The Bears will face a Texas Tech offense that ranks seventh in the Big 12 by averaging 398.8 yards and 27 points per game. But Oklahoma State completely shut down the Red Raiders in last week's 23-0 win.
Redshirt freshman quarterback Donovan Smith hit just nine of 29 passes for 83 yards and was sacked five times while Texas Tech's running game netted 25 yards. Smith, Henry Colombi, Tyler Slough and Behren Morton have all played quarterback for the Red Raiders this season.
"I think for us in playing Tech, they do a great job of seeing your weaknesses and really having a plan to attack those," Aranda said. "And if there are things that you've put on tape that have hurt you, they're going to notice it and they're going to pull it out, and you can bet you're going to see it."
Baylor's defense has ranked among the best in the league all season and has continued to improve. After holding high powered Oklahoma to 260 yards, the Bears limited Kansas State to 263 yards.
Baylor's defensive line has delivered considerable pressure against quarterbacks as Gabe Hall picked up two sacks against the Wildcats. Baylor's 30 sacks rank second in the Big 12 behind Oklahoma State's 43.
The Bears expect the Red Raiders to try some deep passes against the Bears.
"They like to take deep shots," said Baylor safety Jairon McVea. "So we've got to be prepared for that with the passing game. They're going to try to spread us out wide and take shots and run zone read, so we're going to be ready for them."
Saturday will be Senior Day as notable players like linebacker Terrel Bernard, safeties Jalen Pitre and JT Woods, running backs Abram Smith and Trestan Ebner, and wide receivers Tyquan Thornton and RJ Sneed being honored. McVea and cornerback Raleigh Texada are both six-year seniors.
"It's going to be emotional, my last time in McLane, last home game for Baylor football," McVea said. "But I'm going to try to put those emotions to the side. Feel them and then put them to the side and do what we have to do to get a win."