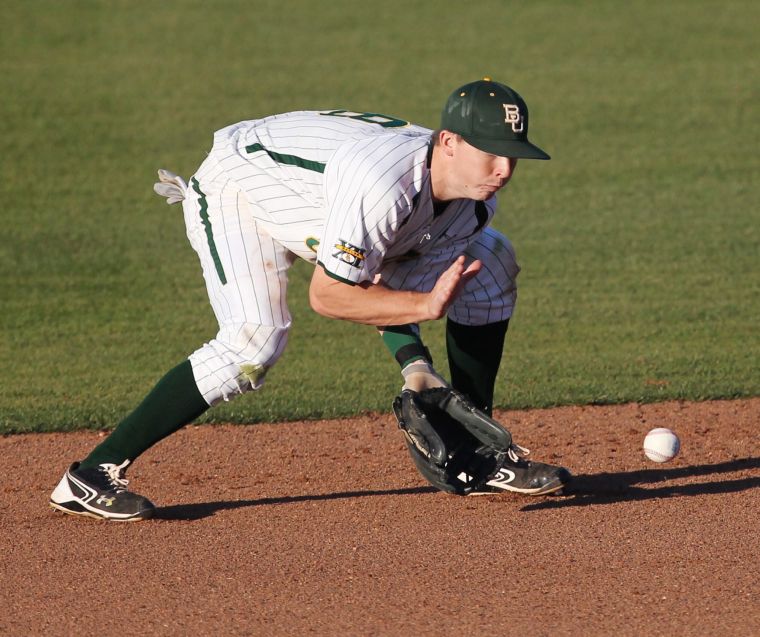 Baylor's defense of its Big 12 championship begins this weekend.
The Bears ran out to an unprecedented 18-0 start last season in conference action before cruising home for a 20-4 mark to claim the title.
Another run like that might be unlikely, but Baylor hopes to start strong when it heads to Stillwater, Okla., to meet Oklahoma State in a three-game series.
"We got a pretty good idea, based on what we've played to this point, of where we are," Baylor coach Steve Smith said. "We know what we need to do better, and that's the value of playing the kind of schedule we've played. You can't be lulled to sleep with the schedule we've played, so I think our guys will be ready for that."
The Bears (10-12) enter Big 12 play off their first win in a true road game of the season, a 4-1 decision over Sam Houston State on Wednesday night.
Against Oklahoma State, they meet a squad that came flying out of the gates.
The Cowboys (18-3) have compiled a 16-2 record at home, and their offense is firing on all cylinders.
Their .311 team batting average is tops in the league, as is its on-base percentage (.408), slugging percentage (.465) runs (150), doubles (48), home runs (17) and RBIs (137). They also have been safe 41 of 49 times on stolen-base attempts in their first season under coach and former Cowboy player Josh Holliday.
Five of their regulars are hitting better than .300, with another at .299, including Tann Krietmeier's .400 mark.
"They've taken last year's offense and reinvigorated it," Smith said. "They've got some good offensive numbers. The Friday night guy is very capable. I don't know much about the other guys right now. I know Josh is a very competitive guy."
Friday's pitching matchup could light up a marqee.
Baylor's Dillon Newman has been efficient and dominant in his first year as a starter with a 3-0 record and a 1.42 ERA. His most impressive number is the two walks he's surrendered in 31 2/3 innings.
Newman will be opposed by Jason Hursh, a powerful right-hander who runs his fastball to the plate in the mid-90s. He's 2-0 with a 1.50 ERA and has struck out 28 and walked five in 36 frames of work.
For Newman, it's the kind of challenge he's wanted since coming to Baylor three years ago.
"Since I came to Baylor, I was wanting to be a starter," Newman said. "This is the role that I wanted, and I'm going to take full advantage of it."
Max Garner is scheduled to take the hill Saturday for Baylor against Mark Robinette. Neither team has named a starter for Sunday's finale, but Austin Stone is the most likely candidate for Baylor.
Smith said the only certainty is that Newman will start Friday.
"In all likelihood, that's the direction we'll go, but our goal will be to win Friday's game," Smith said. "If we need Garner to win Friday's game, that's what we'll do, and then we'll deal with Saturday when we get there and Sunday when we get there."
The Bears are still trying to ignite their offense, as they're hitting .257 as a team and slugging only .331. The biggest problem, however, has been getting the clutch hit, something Nathan Orf was able to do Wednesday with a two-out, two-run double that pushed the Bears in front of the Bearkats.
Last year's team had similar power numbers at this time of the year, but got locked in and hit about 40 home runs, Smith said, in the last 40 games.
"That came out of nowhere as the hitters got in sync," Smith said. "That's not going to happen this year, so we have to be as good on the mound as we can possibly be about throwing strikes and catching it defensively, and we have the ability to do that. We'll keep competing hard at the plate and finding ways to score runs."
As if it hasn't been difficult enough at the plate for Baylor, cold weather figures to be a factor this weekend. Friday's game has already been moved up to 3 p.m. from 6:30, and there's a chance of snow in the forecast for Sunday.