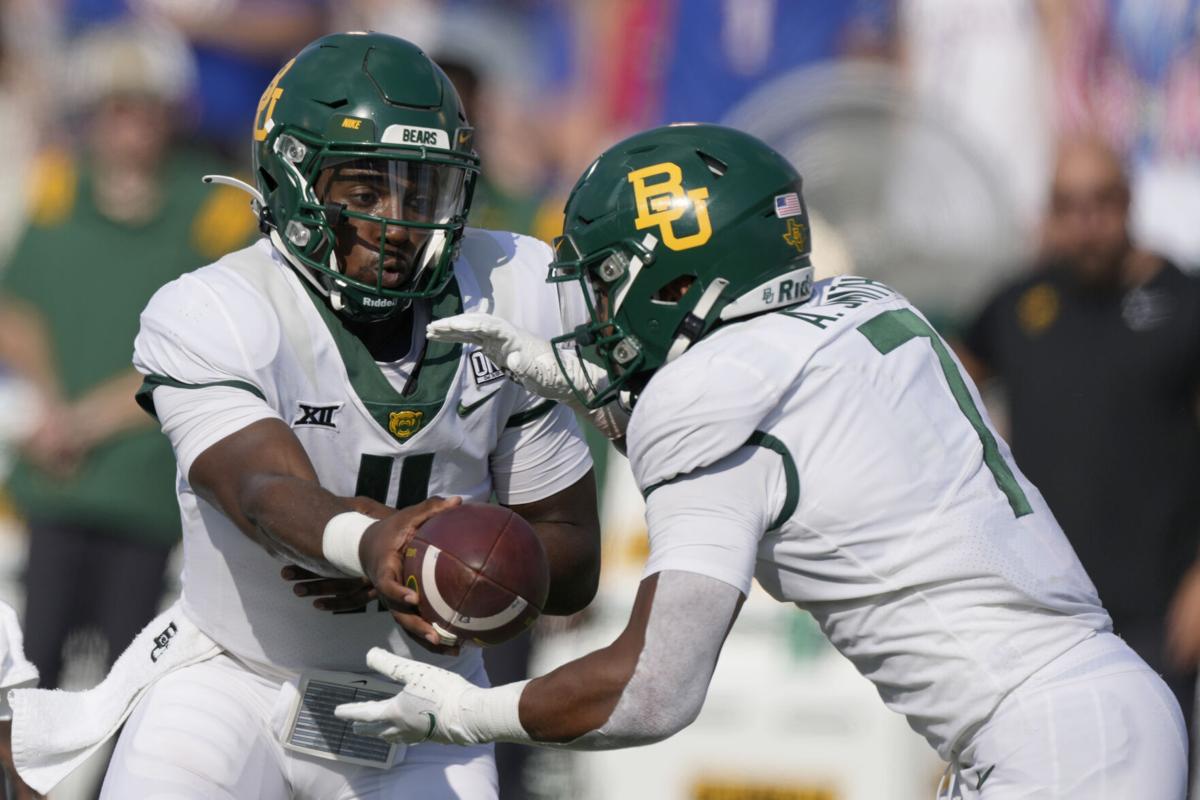 LAWRENCE, Kan. — After Baylor's offensive line pushed around Texas State and Texas Southern, the question lingered whether the Bears could dominate up front against a Big 12 team.
The answer: A resounding yes.
With Abram Smith surpassing 100 yards rushing for the third straight game and Gerry Bohanon throwing precision passes, the Bears controlled the ball all afternoon to power to a 45-7 win over Kansas in Saturday's Big 12 opener at Memorial Stadium.
The Bears (3-0) will face much better Big 12 defenses the rest of the season beginning with Saturday's home game against No. 14 Iowa State at McLane Stadium.
But against the Jayhawks (1-2), the Bears' punishing offensive line allowed them to pile up 576 yards total offense that included Smith's 16-carry, 122-yard rushing performance. Trestan Ebner added 72 yards on 12 carries as the Bears amassed 307 yards rushing.
"Those boys are rolling," Bohanon said. "Those big boys are going to play hard. They play for each other, they play for us, they play for the team. You just look in their eyes and see so much fight in them. You say what more can I do to match their energy? I appreciate those guys, everybody else appreciates those guys, and we're going to keep rolling."
LAWRENCE, Kan. — With 964 yards rushing in a 3-0 start, Baylor has already surpassed 2020's 813 rushing yards in nine games.
Rarely pressured, Bohanon hit 19 of 23 passes for 269 yards and two touchdowns with no interceptions while also running for a nine-yard touchdown in the fourth quarter.
"Gerry continues to grow," said Baylor coach Dave Aranda. "There's two separate tracks with Gerry. One is being calm, cool and collected, being one play ahead a majority of the time. His film study and his intentionality throughout the week come through there. On the other side of it with Gerry, you talk about his leadership. He comes into halftime, everyone knows that's how we want it to be, but Gerry just has an aura and a confidence about him."
Baylor's defense limited the Jayhawks to 166 yards total offense as quarterback Jason Bean hit just eight of 17 passes for 57 yards and a touchdown. Bean also led Kansas with 12 rushes for 62 yards, but the Jayhawks struggled to run the ball consistently with 109 yards.
"We were just being us," said Baylor linebacker Matt Jones. "The first two games, we came out and we feel like we tip-toed into it. This game, we came out from the start. We played green the whole game from the start to the finish. In the run game, we were successful with it and we stopped them."
Though the Bears controlled most of the first half, they went into halftime clinging to a 14-7 edge.
Determined to take command at the start of the third quarter, Baylor came out hot and outscored Kansas, 31-0, in the second half.
"We didn't really make any adjustments," Bohanon said. "We just made up our mind that we were going to come out and play hard and be the more physical team."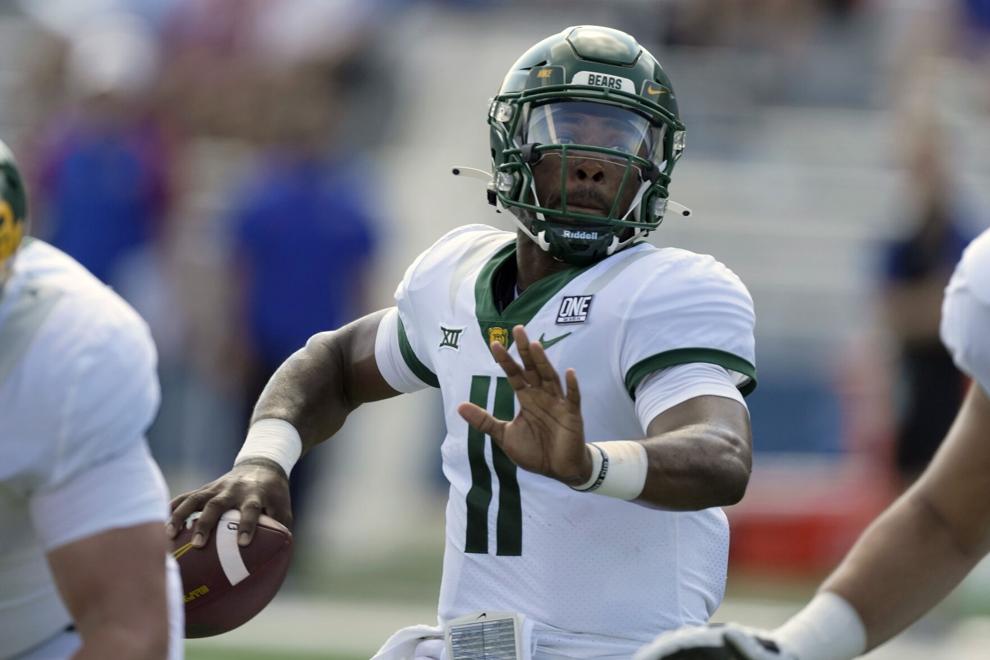 After taking the second-half kickoff, Kansas faced third-and-five at its own 30 when Jones found a clear lane and nailed Bean for a three-yard loss to force a punt.
"I was on a stunt," Jones said. "I hit the B gap, and the next thing you know, the quarterback's right there. I just lowered my shoulder and hit him."
On Baylor's first offensive play, Bohanon hit RJ Sneed along the left sideline with a short pass that he turned into a 69-yard touchdown when he avoided cornerback Ricky Thomas' tackle and then followed Tyquan Thornton's blocking downfield into the end zone.
Sneed was Bohanon's chief target with six catches for 128 yards, and his big catch-and-run for a touchdown was the most dramatic play of the day.
"It's really not a surprise because if you throw RJ a two-yard pass, he's going to try to take it the distance," Bohanon said. "That's exciting for me to have a guy like that catching the ball for me."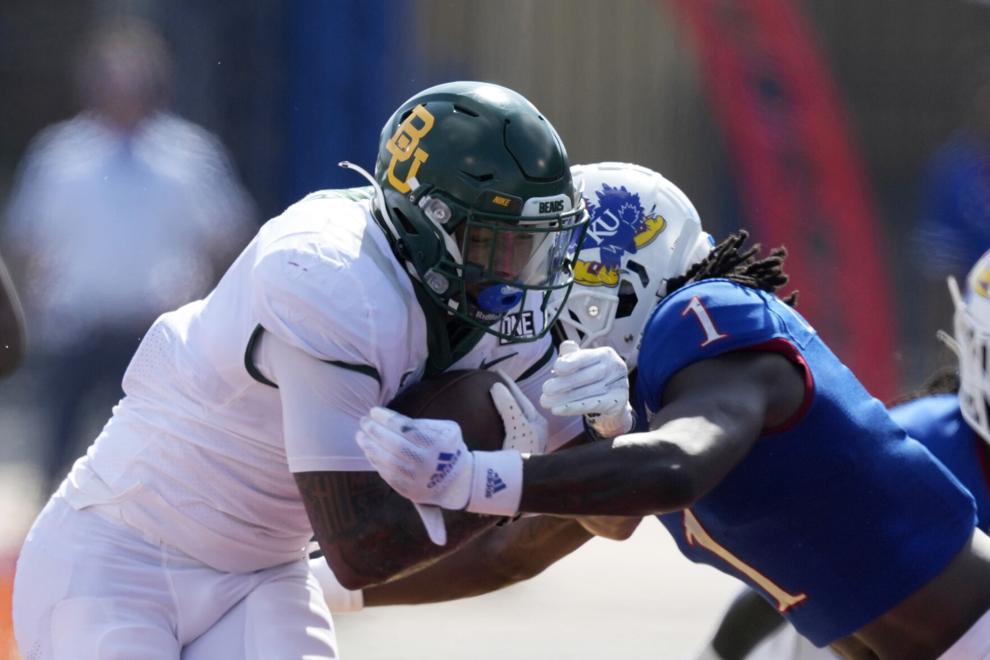 That 14-point edge quickly turned into a 21-point lead when Bohanon's 21-yard pass to Josh Fleeks set up Smith's four-yard touchdown run with 9:09 left in the third quarter. Two touchdowns to open up a 28-7 lead in the first six minutes of the second half was just the kind of boost the Bears were seeking.
"You'd like for your team to respond that way," Aranda said. "You came out of halftime knowing we'd be on the hunt. Going into that time, everyone knowing hey we are our biggest adversary right now. We have to stop fighting us."
After the defense stopped Kansas on fourth down, the Bears got great field position at their own 43. Smith busted loose for a 28-yard run that set up Bohanon's nine-yard touchdown run to open the fourth quarter.
Seeing his first action of the afternoon, Taye McWilliams finished off an 81-yard drive by breaking several tackles on a 20-yard touchdown run to stretch Baylor's lead to 42-7 with 7:10 remaining. Isaiah Hankins completed Baylor's scoring by nailing a 48-yard field goal with 3:34 remaining.
Baylor owned most of the first half as the offensive line opened huge holes for Ebner and Smith.
On the first play of the game, Smith found a massive hole for 14 yards and then popped off 11 on a fourth-and-three play from Baylor's 46. Those early runs set up Baylor's passing game as Bohanon spotted Sneed over the middle for 19 yards before throwing to Fleeks for six.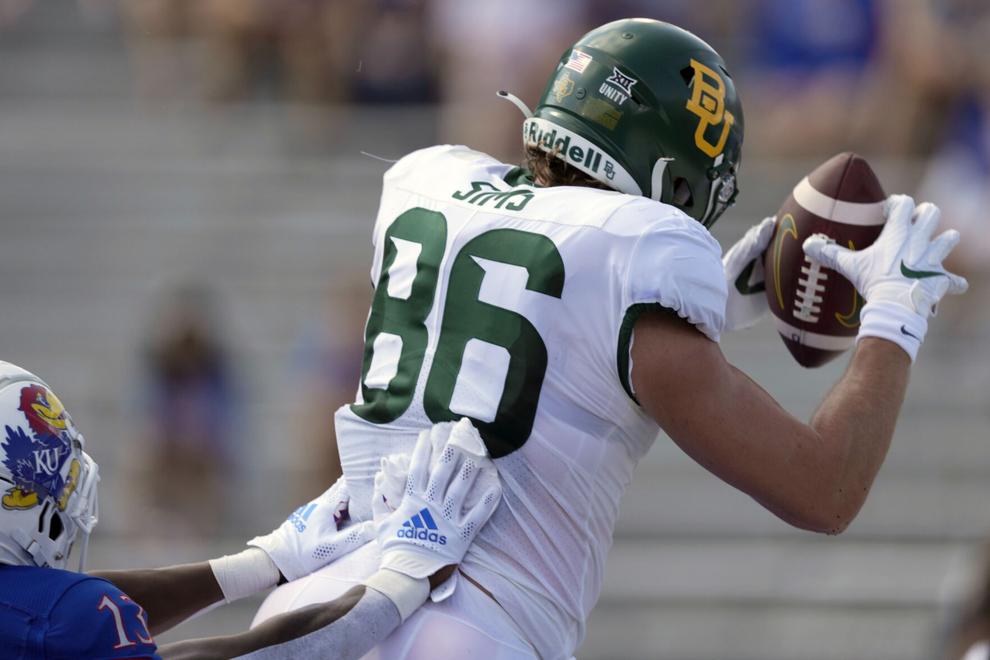 On the next play, tight end Ben Sims reached high to make a 14-yard touchdown catch from Bohanon at the back of the end zone as the Bears finished off a 75-yard drive to take a quick 7-0 lead with 10:29 left in the first quarter.
"That's a play we've kind of been waiting on," Bohanon said. "We've been saving it and preparing for it, and we kind of got the look we wanted for it. We got a great group of tight ends. Coach (Jeff) Grimes is going to use every weapon on the team, and we've got a lot of weapons. That was a great play call and we executed it."
With Smith plowing up the middle for 19 yards and Ebner picking up 17, the Bears moved 53 yards to Kansas' 33 on their next possession. But the drive ended when Kenny Logan knocked the ball loose from Sneed after a catch, and Ra'Mello Dotson picked up fumble for a 14-yard return to the Jayhawks' 46.
After returning a pair of kickoffs for touchdowns in last year's 47-14 win over the Jayhawks, Ebner showed his explosive return ability again by returning a punt for 50 yards to Kansas' 39.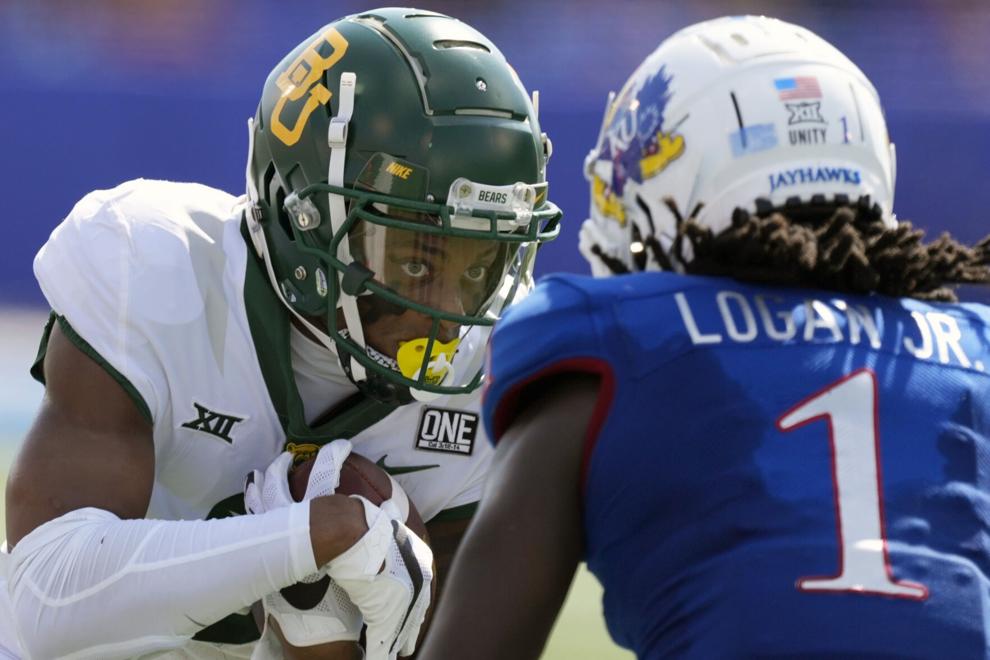 The Bears quickly cashed in as Bohanon's 20-yard pass to Drew Estrada set up freshman Gavin Yates' two-yard touchdown run to push Baylor's lead to 14-0 with 13:47 left in the second quarter. Yates is a tight end for the Bears, but will line up at fullback in goal-line situations.
"We'll have both him and some guys from defense that get some spots there too," Aranda said. "I think the ability to lead block and then take a dive play so to speak is something they all look forward to on Thursdays when we practice short yard goal lines."
But the Jayhawks finally got their offense rolling late in the second quarter as they drove 76 yards on 11 plays for their only touchdown. Bean ignited the drive with a 19-yard pass to Luke Grimm before Trevor Wilson got loose for 14 yards on a reverse.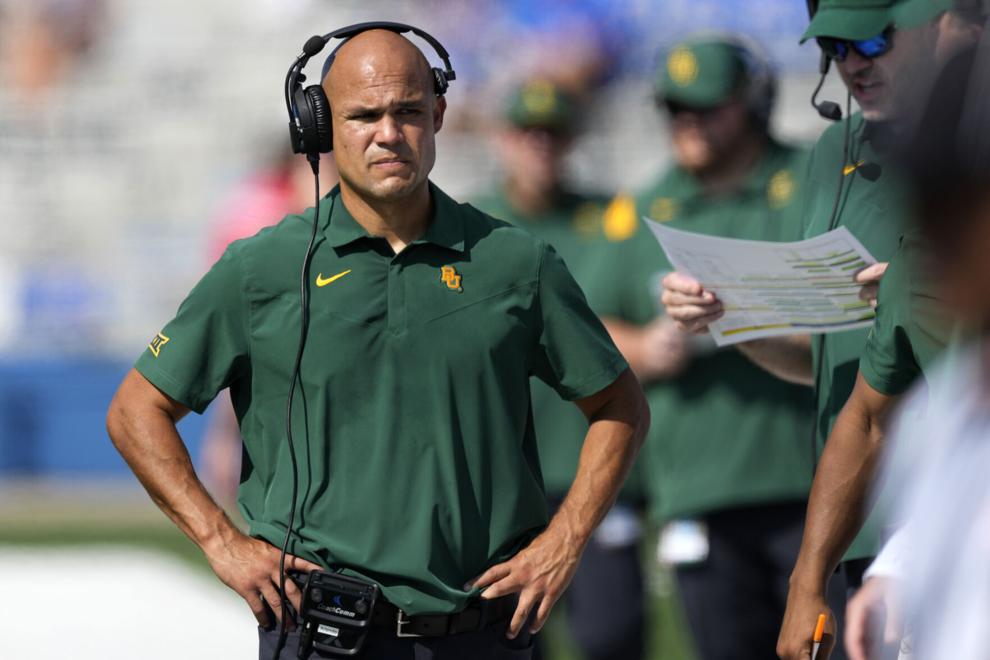 Bean took a shot at the end zone with a pass to Steven McBride. Baylor safety Christian Morgan stopped a potential touchdown when he grabbed McBride for a pass interference call.
With Bean's five-yard touchdown pass to Wilson, the Jayhawks finished off the 76-yard drive to cut Baylor's lead to 14-7 with 1:02 remaining.
But it was all Baylor in the second half to beat Kansas for the 12th straight time.
"I'm proud of how our team finished," Aranda said. "Our team right now can be as good as we want to be."