Nobody is going to mistake Texas Southern's defense for the mass of talent that upcoming Big 12 opponents Iowa State or Oklahoma will put on the field.
But for first-year starting quarterback Gerry Bohanon, 2021's early games are about gaining confidence and finding his comfort zone.
Finally, at long last, the Big 12's members found their backbone. They stiffened their upper lips and started aggressively fighting back.
Bohanon was in the zone from the start against Texas Southern as he passed for 247 yards and three touchdowns while running for a pair of scores to lead the Bears to a 66-7 blowout in Saturday night's home opener at McLane Stadium.
Making his second start following last week's 29-20 road win over Texas State, Bohanon hit 17 of 23 passes as the Bears improved to 2-0 heading into Saturday's Big 12 opener against Kansas in Lawrence.
"Literally from Monday's practice to the game, everybody was focused," Bohanon said. "Guys had things we knew we had to work on. We didn't overlook anybody tonight. It was just us working on us."
Like the season-opening win over the Bobcats, Bohanon's success was set up by a strong running game as Trestan Ebner and Abram Smith each surpassed 100 yards rushing for the second straight week, and Taye McWilliams added 102 yards on six carries after coming in later in the game.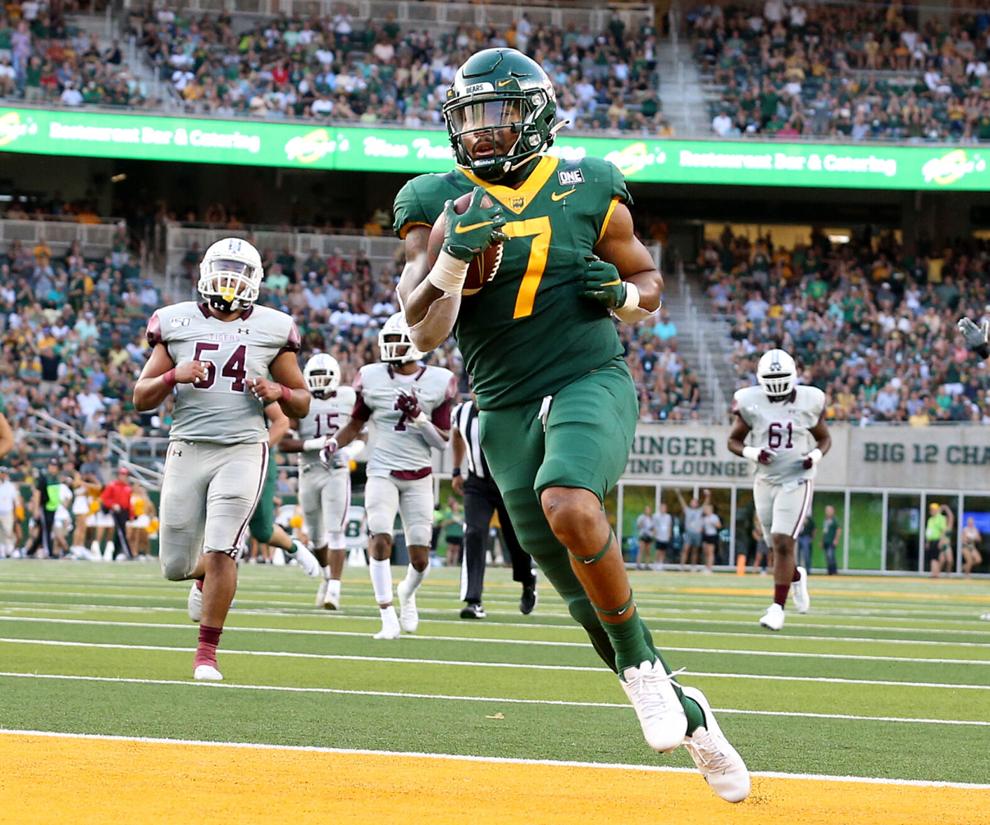 Smith pounded out 126 yards on 12 carries and scored two touchdowns for the second straight game. Ebner collected 125 yards on 10 carries, including a 58-yard first-quarter run where he appeared to fake out half of the Tigers' defense. The fifth-year senior also made four catches for 70 yards and a score.
With the Tigers forced to be wary of the run, Bohanon found open receivers all night on play-action passes and rollouts.
But his most impressive pass was a 48-yard touchdown to Tyquan Thornton in which he displayed impressive arm strength by hitting the receiver in stride into the end zone. Thornton collected five catches for 103 yards and two touchdowns as the Bears amassed 714 yards total offense.
"We want to be able to use our offense's strengths, which I think is going to be the offensive line and the running game and play-action pass game," said Baylor coach Dave Aranda. "So when you're in that style of play it doesn't always lead to a dropback pass, getting five guys out and going through progression reads. The other piece of that is just Gerry as a dual threat. His ability to run as well as throw it is the ability to maximize his potential."
The phrase "Never Forget" has become synonymous with every anniversary of 9/11. At McLane Stadium on Saturday, they didn't forget.
Baylor starting noseguard Siaki "Apu" Ika didn't play due to an unspecified violation of team rules for an off the field incident, but Aranda expects him to be available to play next week.
But even without Ika, Baylor's defense looked solid throughout the game.
Safety JT Woods was opportunistic for the second straight game as he returned Jacorey Howard's fumble for a school-record 97-yard touchdown to give Baylor a 59-0 lead with 12:34 left in the fourth quarter.
"I saw it popped out and instincts took over, and I picked it up and just turned on the jets," Woods said. "The whole time I was running I was kind of looking up at the Jumbotron to see if anybody was behind me. I just saw Christian (Morgan) behind me, so I said 'OK, I'm good.' I knew he was going to let me get in the end zone."
Last week against Texas State, Woods scored the game's first touchdown on a 20-yard interception return in the first quarter.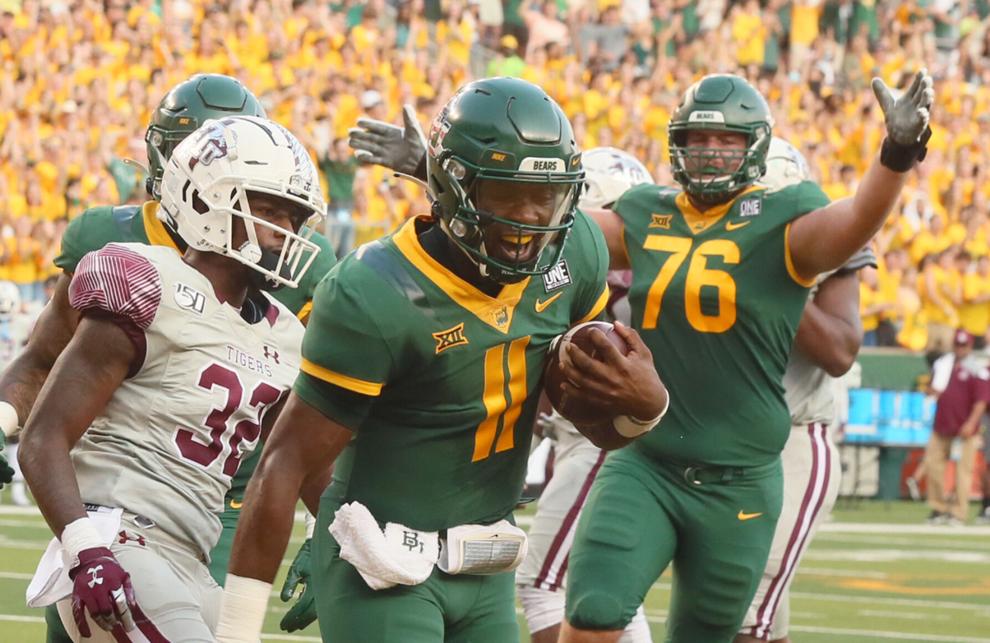 By halftime, the Bears built a 42-0 lead against the only FCS team on their schedule.
"We talk about respect all, fear none," Aranda said. "Respect for the process, respect for not taking short cuts, respect for your teammates and their desires and their wants and their goals. But I think the main piece of that was, 'Hey, man, we can get better. We're here, we can go there, we can do this. Look what we can become.'"
After a holding call on the opening kickoff put Baylor into a quick hole at its own 7, Ebner showed off some of his cutting skills by reversing field for a 22-yard run.
Ebner's 51-yard touchdown run was called back by a holding penalty, but the Bears converted a pair of fourth downs to complete a 12-play, 93-yard scoring drive.
On fourth-and-three at Texas Southern's 44, Bohanon hit Smith for seven yards. Facing fourth-and-three again, Smith blew through a huge hole on the right side for a 20-yard touchdown to give the Bears a 7-0 lead with 9:41 left in the first quarter.
Baylor's defense was impressive from the start as Jalen Pitre and Matt Jones each nailed Texas Southern running back Jeffrey Proctor for losses on the first two plays before defensive lineman Cole Maxwell batted down a Jalen Brown pass.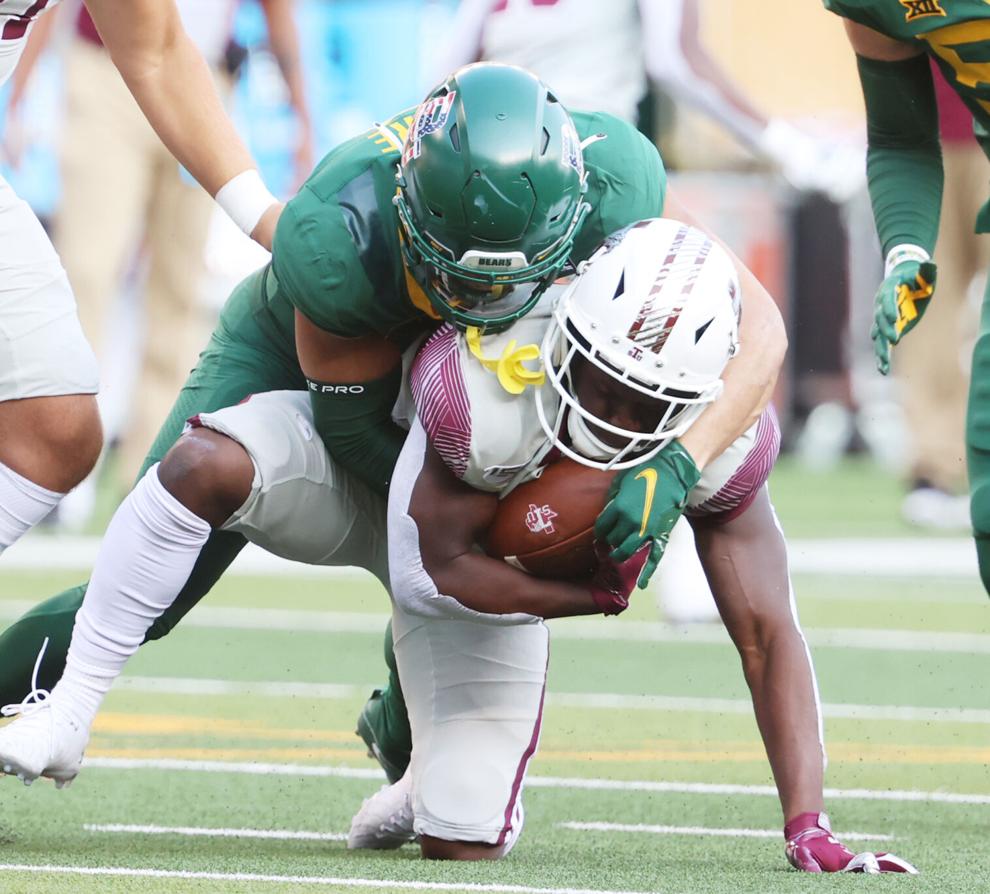 On Baylor's next possession, Bohanon found Thornton streaking behind Texas Southern's secondary for a 48-yard touchdown pass to open up a 14-0 lead with 8:12 left in the first quarter.
"Coaches challenged me and Tyquan and some of the other receivers on the deep balls in this game, just knowing we didn't connect well in the last game," Bohanon said. "That was the big emphasis this week and we got the job done. Since Ty and I enrolled together my freshman year, we always got in a lot of extra work. Now we're really playing together in the game, so all the extra work in practice is paying off."
The Bears were just getting heated up as Ebner left Texas Southern defenders all over the field as he maneuvered through them for a 58-yard run to the 14.
Bohanon ran for a seven-yard touchdown to finish off the 85-yard drive to lift the Bears to a 21-0 lead with 3:44 left in the first quarter.
On the next drive, Ebner broke off a 16-yard run before Bohanon hit RJ Sneed for 14 yards. Bohanon showed he could improvise when he scrambled for a 10-yard touchdown to push Baylor's lead to 28-0 with 10:25 left in the second quarter.
After Bohanon hit Ebner for 19 yards, Smith finished off Baylor's fifth scoring drive by blasting up the middle for a 35-yard touchdown.
Getting the ball again with 2:43 left in the second quarter, the Bears still had time to put their sixth touchdown on the board.
Bohanon got it rolling with a 26-yard pass to Sneed and finished it by finding a wide open Thornton in the end zone for an 18-yard touchdown pass to push Baylor's lead to 42-0 with five seconds left in the first half.
The Bears picked up where they left off by moving 86 yards for a touchdown on their first drive of the second half.
The biggest play of the drive was Bohanon's 41-yard pass over the middle to Josh Fleeks before he hit Ebner along the right sideline for a 12-yard scoring pass. Ebner finished off the play by leaping over a Texas Southern defender to stretch Baylor's lead to 49-0.
"Eb said he was going to do that this week: He said he's going to jump over somebody," Bohanon said. "I said I don't know about that but go for it, and he went for it and got it. I was excited for him."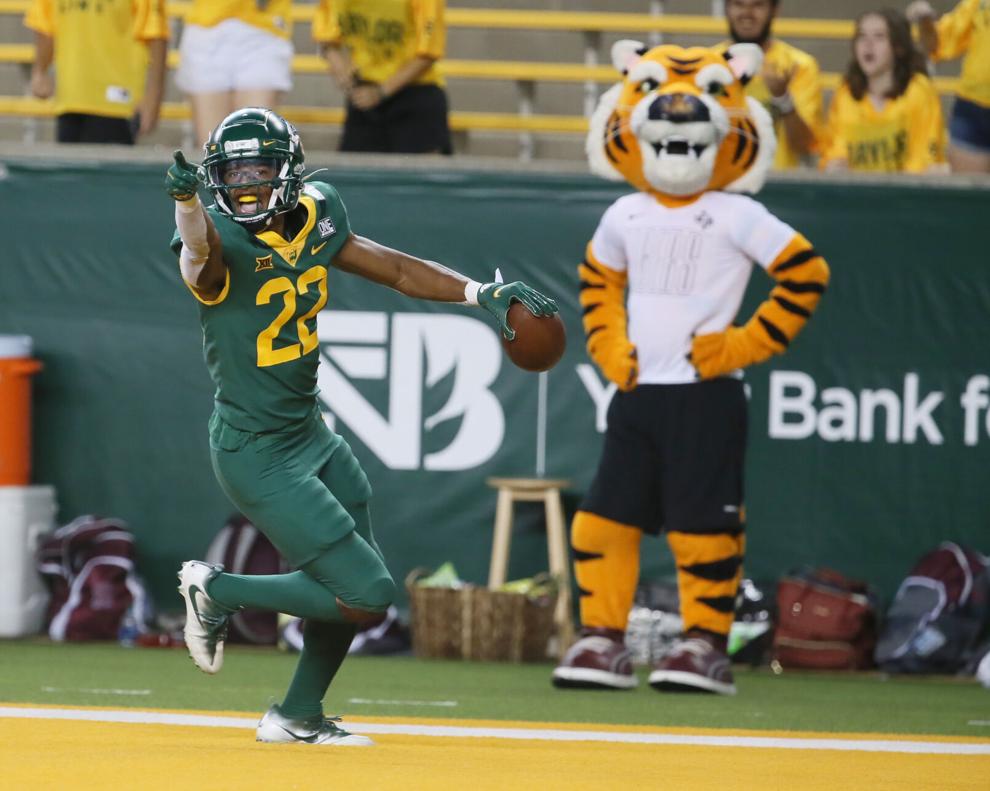 After Woods' 97-yard fumble return for a touchdown, Texas Southern scored its only touchdown on a one-yard run by Kevin Harris to complete a 75-yard drive with eight minutes remaining. Taye McWilliams scored on a 14-yard run for the Bears with 6:46 left in the game.
Baylor's attendance was announced at 42,461 fans, and Bohanon was happy to see them after McLane Stadium was limited to 25 percent capacity due to COVID-19.
"We want to play as well as we can to energize the fans, so that was really good," Bohanon said. "There was a lot of crowd noise going on. Everybody was excited. I'm glad to come out victorious for them."