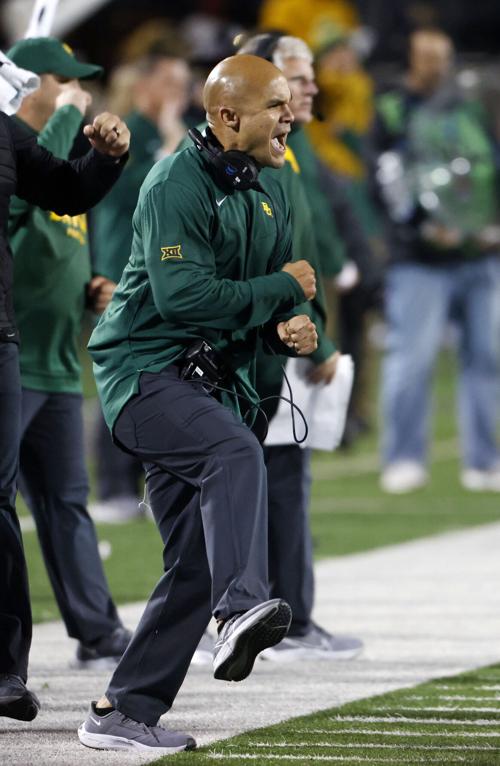 Picked eighth in the Big 12 preseason media poll, Baylor is on the cusp of accomplishing what few people thought possible.
With a win over Texas Tech on Saturday at McLane Stadium coupled with an Oklahoma State win over Oklahoma, the No. 9 Bears will earn a berth in the Big 12 championship game Dec. 4 at AT&T Stadium in Arlington.
The No. 7 Cowboys and No. 10 Sooners head into the final weekend tied for the league lead at 7-1 while Baylor is a game behind at 6-2. Oklahoma State has already earned a berth in the championship game. If the Bears and Sooners both finish 7-2, Baylor advances to the title game since it beat Oklahoma, 27-14, on Nov. 13.
A rugged 20-10 road win over Kansas State with backup quarterback Blake Shapen in the game made it all possible.
"We knew this was going to be a really tough test coming into Manhattan," said Baylor receiver Drew Estrada. "Big crowd on the road, and obviously we had some trouble in the past on the road, so all week we knew it was going to be a battle. So we had that mindset Monday at practice and put in the work all week. Obviously really excited, but we've got one more to go."
All the mistakes the Bears made in previous road losses to Oklahoma State on Oct. 2 and TCU on Nov. 6 were erased against the Wildcats. They came out playing with energy and passion and didn't let up until the final seconds ticked off.
"It always returns to the same things: assignment football, doing your job, bringing energy, being ready to play," said Baylor linebacker Dillon Doyle. "This game was essential for us. Being on the road, we didn't feel we brought the energy we needed against Oklahoma State or TCU. We felt like we started slow."
To help create energy for the team, the Bears brought some reserves to Manhattan who usually bring energy to the sidelines at McLane Stadium.
"We brought the juice crew this week traveling," Doyle said. "Braden Strauss, Jaden Maronen, Tate Williams, those guys are really energetic on the sidelines, and I hope you guys saw that. It was a blast. We just had a lot of fun today."
The biggest revelation was the performance of redshirt freshman quarterback Blake Shapen, who stepped into the game with 59 seconds remaining in the second quarter after starting quarterback Gerry Bohanon went down with a pulled hamstring.
Shapen quickly hit a 32-yard pass to Estrada to set up Isaiah Hankins' 21-yard field goal to lift the Bears a 17-7 halftime lead. He also led the Bears on a 13-play, 72-yard drive that ended with Hankins' 28-yard field goal with 13:35 remaining in the game to give the Bears their 20-10 lead.
Shapen finished 16 of 21 for 137 yards while running for 44 yards on five carries. Most importantly, he showed remarkable poise in the first critical situation of his college career. He came into the game hitting just one of three passes for 41 yards this season, and played for the first time since Oct. 9 in a 45-20 win over West Virginia after the Bears already had the game in hand.
Baylor coach Dave Aranda wasn't surprised how Shapen responded because he's seen how his work ethic has translated into vast improvement during the last two years. If Bohanon isn't ready to play Saturday, Aranda will depend on Shapen again.
"When I look at Blake, he would always attack things in summer and fall camp," Aranda said. "If something didn't go well, he would go down the roller coaster some like we have as a team. I think he's really improved on that to where he steadies things up. Like I say, his future is very bright. He's going to be a good quarterback for us."
Like Oklahoma State's defense that shut out Texas Tech, 23-0, on Saturday, the Bears have proven throughout the season that their defense can deliver at a high level.
After limiting Oklahoma to a season-low 260 yards, the Bears held Kansas State to 263 yards. Deuce Vaughn broke away for a 65-yard touchdown run in the second quarter, but the Wildcats' only other score came on Chris Tennant's 28-yard field goal in the third quarter.
"That kind of caught us a little bit," Doyle said. "The guys on the field needed to communicate a little better. We came off the field like 'Hey what just happened?' We changed the call in the second half with the exact same play, and there was a TFL (tackle for loss)."
The Bears put good pressure on Kansas State quarterback Skylar Thompson most of the day as they sacked him three times, including two by Gabe Hall and another sack by Braden Utley. Cornerback Al Walcott sealed the win with an interception in the closing minutes off backup quarterback Jared Lewis.
With defensive coordinator Ron Roberts preparing his players for anything the Wildcats threw at them, the Bears finished with eight tackles for loss.
"The ability to focus on what you can control and technique and effort improved in the second half," Aranda said. "I think the flow of the game kind of established and we had a feel for when a throw and when a run was coming. I thought Ron did a nice job with that dialing up some pressure when we needed it."
Of course, interest in the Bears' regular season finale against Texas Tech will be ratcheted up with former Baylor outside linebackers coach Joey McGuire becoming Texas Tech's head coach two weeks ago. Offensive coordinator Sonny Cumbie has coached the Red Raiders on the field since Matt Wells was fired after eight games while McGuire has plunged into recruiting.
Now standing 9-2, the Bears can reach the Sugar Bowl on Jan. 1 for the second time in three years by winning the Big 12 championship. Other potential bowl destinations are the Alamo Bowl in San Antonio and the Cheez-It Bowl in Orlando, both on Dec. 29.
Most observers thought Baylor would be scratching to reach any bowl after last year's 2-7 finish. But the Bears have surprised everybody, playing tremendous football on both sides of the ball.
"We play really complementary football," Estrada said. "When the defense gets a stop, we like to put long drives together and juice the clock. Our defense I think is the best in the Big 12, the way they've performed consistently throughout the year, coming up with huge stops."