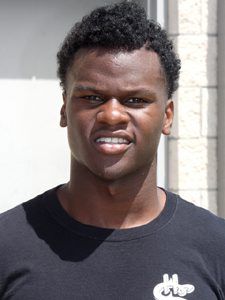 The exodus from the Baylor football program continues, as incoming freshman receiver Tren'Davion Dickson has reportedly asked for a release from his scholarship.
Dickson told 247 Sports and ESPN Wednesday that he planned to leave the program. The Tribune-Herald called Dickson's phone, but was told he was unavailable for comment.
Dickson becomes the seventh incoming Baylor freshman to request for a scholarship release, following the controversy surrounding the program that cost Art Briles his head coaching job. Another freshman, receiver Devin Duvernay, has opted to leave after the Bears failed to properly submit his letter of intent, and two junior college transfers have also either departed or been dismissed.
Duvernay is seeking a transfer to either Oklahoma, TCU or Texas. His brother Donovan remains under scholarship.
Dickson (6-1, 170) was one of the jewels of Baylor's top-20 recruiting class, after setting a single-season national record for touchdown catches at Navasota with 39 in 2014. This past season he made 82 catches for 1,525 yards and 24 touchdowns.
He enrolled at Baylor in January and went through spring drills with the Bears. Because he had already taken part in team activities, Dickson will have to sit out the 2016 season following a transfer.
Baylor could also block Dickson's transfer to certain schools. The school has permitted him to talk to anyone outside of the Big 12, ESPN reported.
For incoming freshmen who have not reported, Baylor would not be able to limit a player's transfer options, Baylor AD Todd Patulski said last week.
However, Baylor has yet to release any of its top recruits, including running back Kameron Martin or cornerback Parrish Cobb, from their letters of intent.