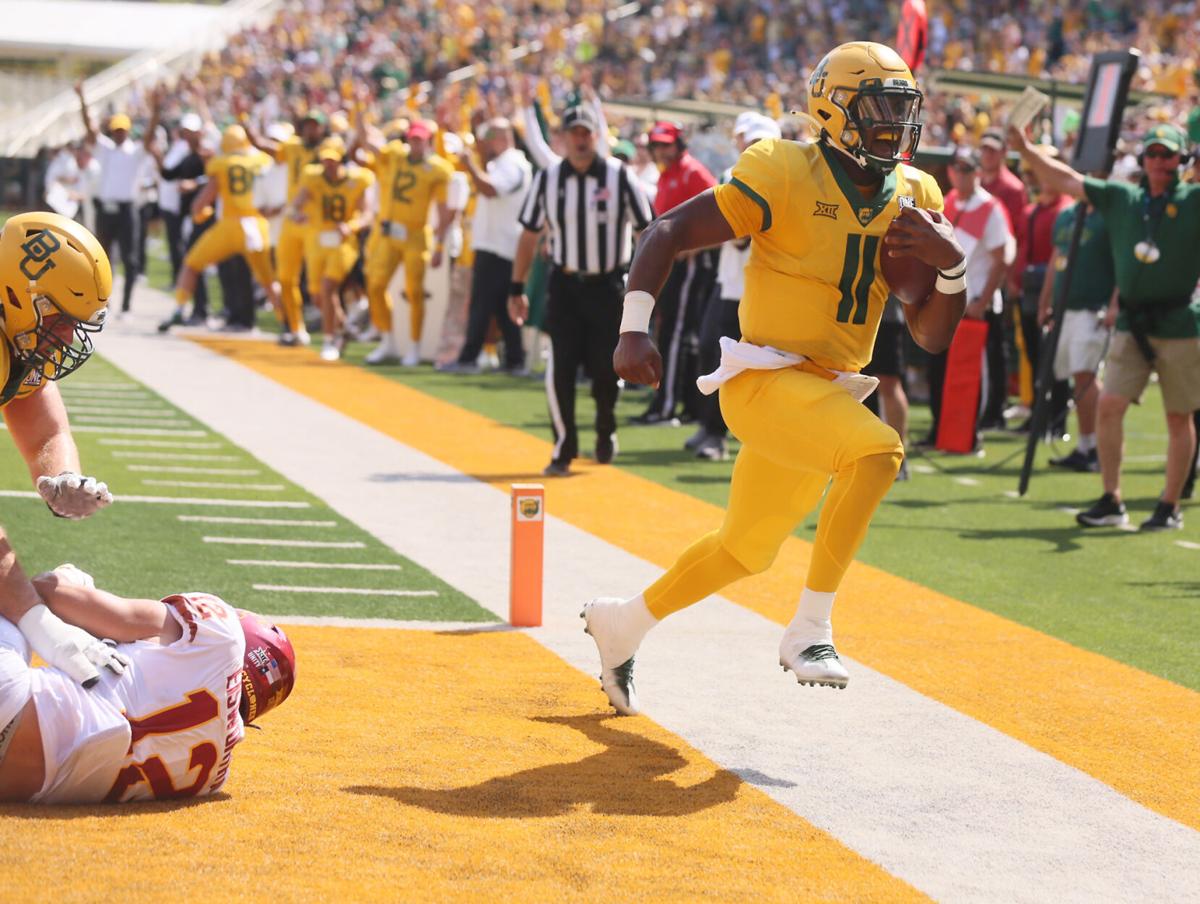 Who are you? Who, who, B-U?
Sorry to go all Pete Townshend on you, but that classic tune from The Who might as well have been Baylor's theme music for the first month of the season. Sure, Baylor scampered out to a 3-0 start, but it was hard to judge the Bears' true speed, given the collective sluggishness of their first three opponents. This Iowa State game, then, would serve up a personality quiz, a "Who Am I?" test for the Bears. It would give us some legitimate insight as to Baylor's secret identity.
Turns out these Bears might be super heroes.
Baylor's 31-29 upset of the 14th-ranked Cyclones proved beautiful and ugly and clinically insane all at once. The Bears gave a soul-searching effort and revealed some things about themselves that we might have believed before, but are absolutely confirmed now.
"To be on the wrong side of both (the turnover and penalty battles) and then still come out with a win, to me, just speaks to how tight this team is," said Baylor head coach Dave Aranda. "How much they fight for each other, how much they believe in one another, just the culture of the team. … I always kind of felt it, but when you're out there and you're seeing it come to life, you can become what you have fought to become, it's way cool."
So, what did we learn, or rather confirm, about these Bears? Well, a few things.
For one, they're tough. Resilient. After rushing for more than 300 yards in its wins over Kansas and Texas Southern, Baylor slogged to 118 well-earned yards against the Cyclones. That number likely won't jump off the page at you. But don't forget that Iowa State featured the No. 1-ranked defense in America, and had held each of its last four opponents, including nationally ranked Iowa, to under 100 on the ground.
"We got heart," said senior running back Trestan Ebner. "We have some guys that went down and people had to step up. It was ugly most of the game. I just think guys did a great job pushing through, and we were able to fight them off at the last minute and win."
Terrel Bernard just can't seem to catch a break.
Give Ebner a whole sheet of helmet stickers, because the Bears don't win this game without him. Ebner's special-teams heroics accounted for all of Baylor's second-half highlights. If you're scoring at home, they included an amazing 98-yard kickoff return for a touchdown, a 41-yard punt return that set up a critical field goal, and an onside kick recovery to put the game on ice. Not sure if "Trestan Ebner" rhymes with "Devin Hester," but it sure feels like it. The BU senior mirrors the same explosive impact as that future Pro Football Hall of Famer, the NFL's all-time leader in return touchdowns.
I'm sure Baylor fans and coaches will hate me for it, but let me offer any future Bear opponents a free-of-charge scouting report: Do not kick to this dude.
"I just think with the blockers we have and the stats I put up, I do take it personally (when they kick to me)," Ebner said, a sly grin curling across his face.
So, what else did we learn about these Bears? Well, they're sloppy. They could use a bib, given the spicy mustard they spilled all over the field. (And we're not talking about those Old Yeller uniforms, so ugly they can bring a tear to your eye).
Penalties reared their gruesome head again for Baylor, and they paved a path for an Iowa State escape. If the Bears hadn't self-destructed as often as they did, they might have won by two touchdowns rather than two points.
They won this one, but it could have easily gone the other way. For Baylor to get better, it needs to bring out the spit and polish and clean up such grime.
Aranda casts an unflappable presence on the sideline. But the barrage of Baylor flags marching off easy yardage for the Cyclones had his stomach twisting like a, well, cyclone.
"There's countless times where, inside, I'm just going crazy, the penalties and all of it," he said. "We make quite a bit of stir about it. We have refs at our practices, we show highlights — or lowlights — of Saturday (college) games and Sunday (NFL) games, with, here's how this penalty affected the outcome of this game. Just being cut from a cloth where little things are important things. There's no such thing as an unimportant little thing."
All-America kick returner Trestan Ebner knew the electrifying moment was bound to come.
So, Baylor is tough. Baylor is sloppy. And the third point of this sermon is that Baylor is good.
Yep, believe it. Don't listen to the student section's moronic jeer declaring Iowa State as "Over-rated." (Can someone please retire this, the most foolish chant in sports, once and for all?) The Cyclones were properly rated, and even with two losses Matt Campbell's team should continue to present problems for all of the rest of its opponents. Brock Purdy isn't always pur-dy, if you catch my drift, but he's a gamer. Breece Hall will play on Sundays. That defense is legit, and it made the proper adjustments to stagnate Baylor's forward progress in the second half.
Baylor beat a good team because it IS a good team. That's an about-face from 2020, y'all, because the Bears were plenty bad last year. They couldn't run the ball, the offensive line was a mess. But they've absolutely transformed those two areas under new coordinator Jeff Grimes and O-line coach Eric Mateos.
Baylor will be back in a bowl game this year. At 4-0, that much is a virtual lock. The Bears won't win them all — precious few ever do — but they've at least shown that if they play well, they've got a chance to beat anyone on their schedule.
"We've got a tough group of guys, and I think we knew that," said linebacker Dillon Doyle. "But, it's definitely awesome to go test yourself and put that on display and see that for real, under the lights and go put on display on a national stage. Just proud of our guys."