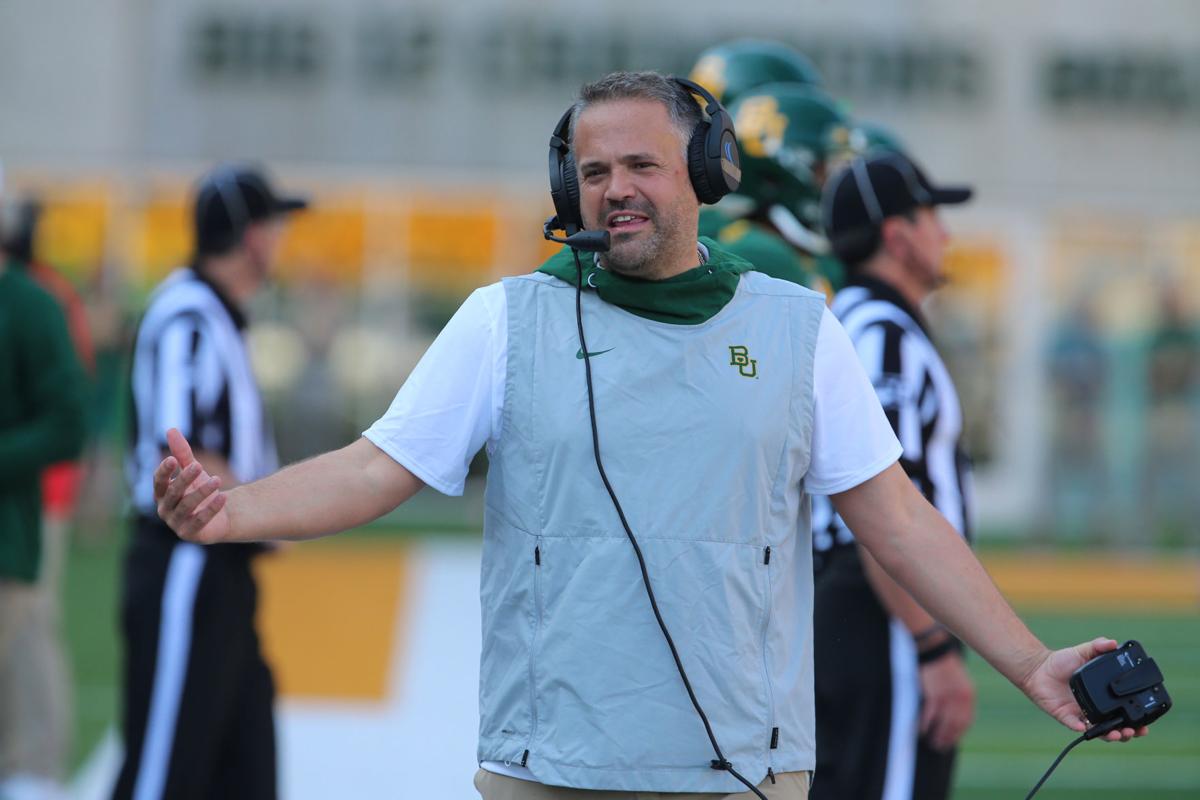 NEW ORLEANS – Dear reader, have you ever tested the waters at any point in your career?
Maybe you haven't. Maybe you took a job after college, and you've remained with that same company for many years, even decades. Bully for you. That's great – honestly.
But I'm betting that a fair amount of the readership has worked for more than one employer during their careers, or has at least rattled the cages to see what else might be available. Maybe you've applied at another company, or even interviewed for another position. Nothing wrong with that at all.
So, why should we view Matt Rhule any differently?
No, seriously. I admire loyalty, but jobs aren't marriages. When you leave one, it's not akin to a divorce. It's chasing a dream. It's pursing the intrigue of a new challenge. And, yes, sometimes it's about the money.
The only people who get lifetime contracts are Supreme Court justices and Bobby Bonilla. (Dude's going to be drawing a Mets paycheck when he's a disembodied floating head on the U.S.S. Enterprise in 2575.)
As football coaching prospects go, Rhule, Baylor's third-year head football coach, is hotter than a bowl of New Orleans' spiciest jambalaya. Here's a short list of the NFL teams to which Rhule has been linked at some point or another since coming to Waco: the Colts, Jets, Panthers, Giants and Cowboys. (Dallas hasn't even painted over Jason Garrett's parking spot yet.)
Now, Rhule said on Tuesday that no NFL team has contacted him in recent weeks. But he knows it comes with the territory.
"I was talking with (defensive end) James Lynch yesterday, and it's like he said, it's part of my job," Rhule said. "When our players play well and when they do the things like they've done, going from 1-11 to the Sugar Bowl, people are going to take notice of not just me, but my staff. The guys on my staff were offered Division I jobs this year, head coaching jobs, and were pretty committed to being at Baylor. It's a wonderful place."
It makes complete sense why Rhule is an attractive candidate. He's a people person. He understands the big picture. He has a track record of successful reclamation projects. Fixer-uppers, if you will. At Baylor, he stepped into a toxic situation and not only won, but he brought dignity and class in the process.
So, I get it, Baylor fans. I get why you'd be upset or worried whenever another NFL team comes calling. Some of you wish it would all just go away. "Why doesn't he just come out and say he has no interest whatsoever?" some of you have asked.
Well, why should he? Look, Rhule may end up coaching Baylor for the next 10 years or more. Or he very well may end up taking an NFL job, possibly sooner than later. But it's his life and his career, and it seems unfair to knock him for at least taking the time to listen. Loyalty counts for something, but so does ambition.
The difference between Rhule agreeing to, say, a sitdown with a faction of executives from the New York Giants (which, again, he hasn't done – yet) and you checking out the options on Indeed.com is that the media won't care to report on your job hunt. Nothing is discreet in the world of big-time NFL (or college) coaching. When the butcher or baker or candlestick maker listen to the pitch from the meat shop, bakery or Hobby Lobby down the street, they can do so under the cover of anonymity. Rhule (and others like him) don't have that luxury.
I'm not asking you to feel sorry for him. Rhule is well-compensated to do his job, and earlier this season Baylor made a commitment to extend his contract through 2028. He has job security and stability in Waco, if he wants it.
And if he doesn't want it, that's OK, too. Interviewing for another job – and even accepting one – doesn't make Rhule a traitor to Baylor. Especially considering he would have left the program in better shape than what he inherited.
The older I get, the more I try to embrace the concept of empathy. Granted, it's not always easy. But when you walk in someone else's shoes, your feet start to hurt. And then it's not all about you anymore. You get a sense of what that other person has been dealing with, and you come away with a new perspective. Maybe you even take the other guy to the shoe store.
So, when I think about Matt Rhule and NFL coaching opportunities, I try to consider his perspective. He's from the Northeast, he grew up rooting for the Giants, he appreciates the NFL game. He's also expressed a great affection for the culture and people in Central Texas. Ultimately, he's got to do what's best for him and his family.
That might be staying at Baylor. It might not.
If he leaves, it doesn't make him a villain. If he stays, it doesn't make him a hero.
He's just a guy with a job – in one zip code or another.