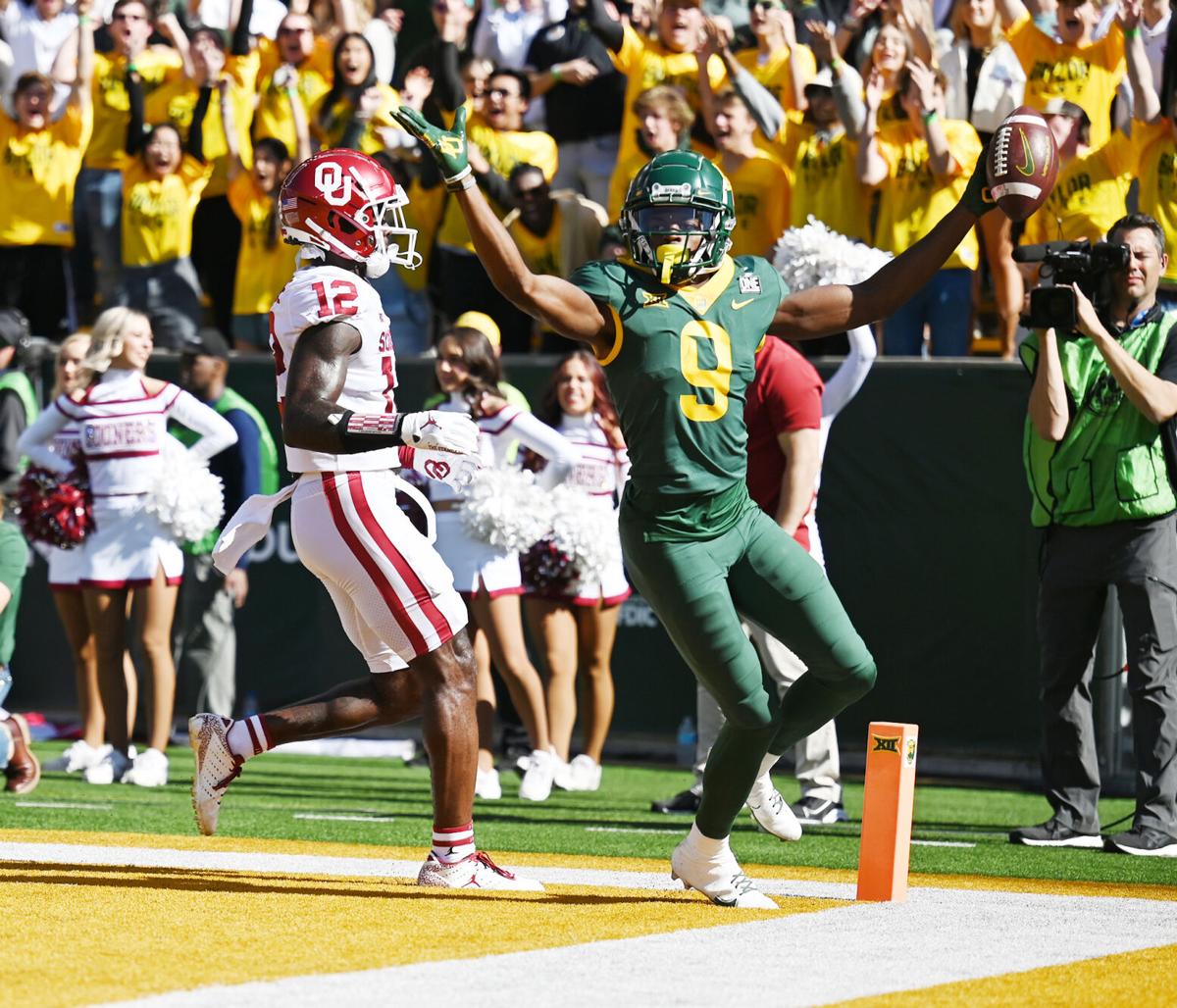 You say you want a revolution? Let's take a look at one revolution of the earth around the sun, from the vantage point of, say, the 50-yard-line at McLane Stadium.
A year ago, Baylor was limping along, weighted down by five straight losses. If the Bears' running game were a dance move, it would have been the Stanky Leg. Or maybe the Moonwalk, since that involves traveling backward. A large population of Baylor fans wondered if Dave Aranda could really cut it as a head coach.
One revolution around the sun later, Baylor is surging along, buoyed by eight wins in 10 games. If the Bears' running game were a dance move, it would be the Electric Slide. Or maybe the Touchdown Dance, since, well, you know. A large population of Baylor fans now worry if Dave Aranda will stick around or whether he'll bolt for LSU or USC.
Makes you marvel at what next year's November calendar might bring.
A year removed from 2-7, Baylor has wedged itself into the thick of the race for the Big 12 title game. The Bears stuck a broomstick into the spokes of the Sooner Schooner, derailing OU's hopes of reaching the College Football Playoff. After (or during) that momentous win, Baylor fans poured onto the McLane turf not just once, but twice. The university will gladly pick up the $25,000 check for that flash mob's gleeful party. (Another drastic change in the past year — no HAZMAT suits required for storming the field.)
The confusion over Baylor's end-of-the-game field goal overshadowed the Bears' utter dismantling of Lincoln Riley's vaunted OU attack. But the kick also illustrated a deeper truth about the Bears' deep thinker on the sideline. Aranda's mind is always going. He's less Rockne than Rodin.
I never took advanced calculus, but I have attended a Dave Aranda press conference, and that might be the same thing. You could call him a master of X's and O's, but that's not quite right, because it's more like he's a master of 2X times O5 equals 6 points. Some coaches talk in platitudes, other bring their attitudes, Aranda pontificates on latitudes. And longitudes. To him, the game is about math and angles and geometry and conquering the space-time continuum. Namely, how much space can Apu Ika occupy in order to give Terrel Bernard or Jalen Pitre time to bag another sack.
So, it's little wonder that Aranda had contemplated the Big 12 tiebreaker equation prior to the Oklahoma game. He knew that three more points would position the Bears better in a point differential tiebreaker, which is well within the range of possibility.
"We'll talk about (big picture scenarios) going into a game, similar with are we going to fake a punt, are we going to go for a block, are we going to sneak onsides or any of those things," Aranda said. "I think it goes into play that way, so there's kind of a time and a place for that."
Suddenly, Baylor opened a wide array of paths to Jerryworld on Dec. 4. The most straightforward road, the high-speed train of routes, may roll out like this: The Bears win each of their final two games at Kansas State and home to Texas Tech, and Oklahoma State defeats Oklahoma in the Bedlam game. Thus, the one-loss Cowboys would advance to Arlington along with the two-loss Bears, who would have the head-to-head edge over the two-loss Sooners.
And, sure, that scenario works. It's even plausible.
But it's far from Baylor's only hope. There are no less than 10 different combinations of results that could yield either a first or second-place berth for the Bears to the Big 12 title tilt. I won't necessarily bore you with them all, but here are three of the more realistic prospects.
* The Bears win their last two. Oklahoma State drops both of its final two games, on the road against Texas Tech and at home against rival OU. Also, OU loses to Iowa State. Baylor advances as the No. 1 seed.
* The Bears win their last two. The Sooners take care of business against both Iowa State and Oklahoma State. The Cowboys also lose to Texas Tech. Baylor qualifies as the 2 seed.
* OK, this one's fun, and it's actually one of three different scenarios where Baylor advances with a 1-1 finish. The Bears fall to K-State but recover to beat Tech. Reeling OU loses to both Iowa State and to Oklahoma State in the Bedlam battle. Kansas State knocks off Texas. Baylor goes as the 2 seed.
Now, before you ask: No, there's no scenario where a two-loss Baylor team makes the College Football Playoff. Not a four-team playoff, anyway. So, stop dreaming.
But however these final two (or three) games play out for the Bears, they're going to end up in a nice bowl game, as bowl games go. Should Baylor win out, including a victory in the Big 12 championship, the Bears will likely be headed to a New Year's Six spot, something like the Fiesta Bowl in Phoenix. The Sugar Bowl (in New Orleans), Alamo Bowl (in San Antonio) and Cheez-It Bowl (in Orlando) are all in play, too, depending on how the Bears finish.
It's kind of crazy to think that after 63 years between Sugar Bowl appearances, the Bears might experience the sweetness of N'awlins for the second time in three seasons.
Remember January 2020? What a simpler, more innocent time. Feels like a lifetime has passed. It's only, you know, three Baylor offensive coordinators, two head coaches and one global pandemic ago.
Baylor Nation, you're living in revolutionary times.