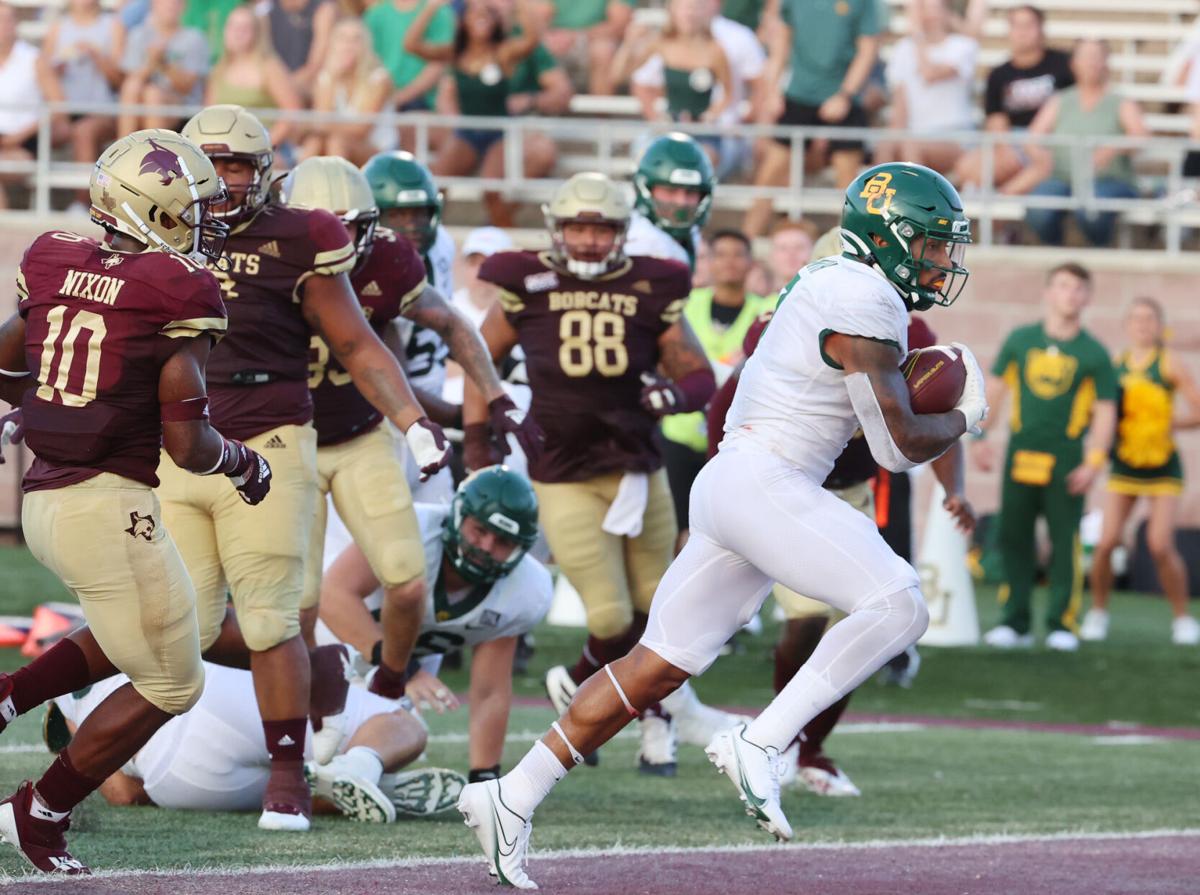 SAN MARCOS — Every season opener is a mystery novel, to a certain extent.
Until the ball is kicked and the first playbook page is turned, you don't really know what to expect. This is when you start to meet the characters (or get re-introduced to them), it's when the plot begins to unfold.
SAN MARCOS — When you looked at the stat sheet, it was almost head-scratching how Baylor won by "only" nine points.
Baylor coach Dave Aranda wanted his Bears to start creating an identity in their 2021 debut against Texas State on Saturday. While it's always dangerous to try to finger the culprit (or even the hero) in the first few pages of a whodunit, the Bears at least showed some promise, some good-guy potential in their 29-20 road win over the Bobcats.
But let's not get ahead of ourselves. It's one game. It's a long season, thankfully longer than last year's COVID-abbreviated campaign that afforded zero nonconference opportunities.
Many an observer wanted the Bears to pop the top on its new offense and see if it they had a little more zip, a little more get-up-and-go than last year's unit. What would Baylor look like with coordinator Jeff Grimes dialing up the plays and Gerry Bohanon taking the snaps? Well, with 8 percent of the precincts reporting, it's far too soon to forecast a winner.
"I am proud of our identity on offense, you can get a feel of what we're trying to accomplish," Aranda said.
Grimes says he wants to install an RVO, which stands for "Reliable, Violent Offense." Apparently, it's going to take some time to build a dependable bomb. The Bears weren't always reliable, and they weren't always violent, at least when it came to explosive plays. Seldom did reliability and savagery ever intersect.
There was nothing flamboyant, showy or particularly theatrical about Baylor's season-opening performance against Texas State. And that's just fine with Bears coach Dave Aranda.
In fact, Baylor's most effective drives transpired as methodical, wagon train-style marches rather than field-flipping detonations. Basically, the Bears floated the river by tube, as the locals are wont to do. They didn't pack the JetSkis on this trip.
That Baylor didn't just breeze through a Bobcat squad that went 2-10 in 2020 may feel concerning. But let's not jump to conclusions. Rome wasn't built in a day, and neither was Provo, Utah (Grimes' last stop). Folks in Waco certainly should understand that construction takes time. Just ask any I-35 driver sitting in standstill traffic AT THIS VERY MOMENT.
Clearly, Baylor's situation is far from hopeless. Many of the questions swirling around Bohanon coming into the season centered on his passing. Remember, this guy did throw it around a little bit in high school. (Try more than 11,000 yards' worth). When he was asked to chuck the ball downfield or move around and slip one into a tight window against Texas State, he did not look out of his element.
"I thought Gerry Bohanon was calm, collected and poised," Aranda said. "Gerry was great on the sidelines, whether it was (going) good or bad, in terms of encouraging people. Gerry's got so much to grow as a quarterback. He's really gifted as a leader."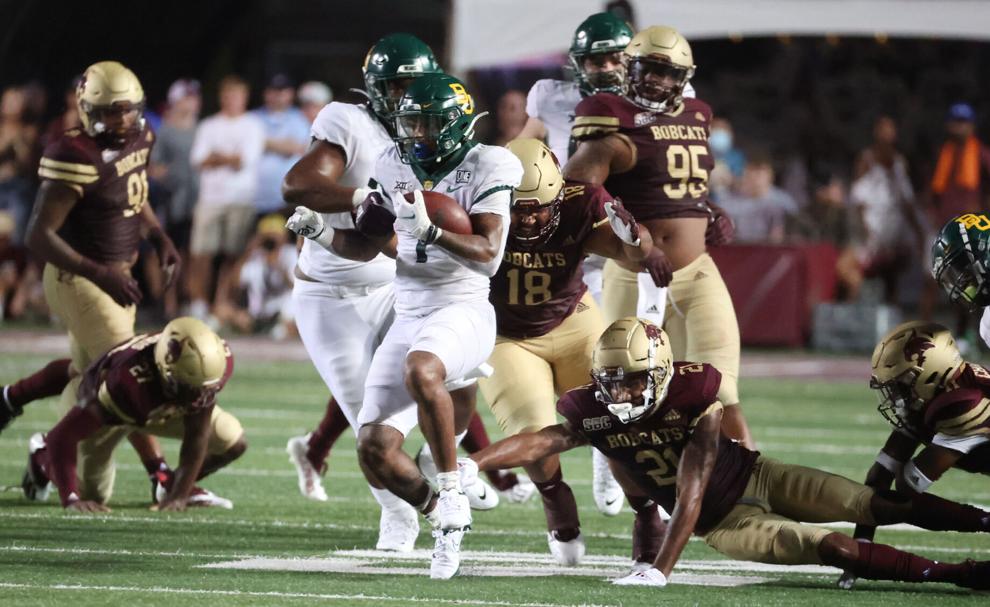 Trestan Ebner, known more for being a zig-zagging scatback in his long tenure at Baylor, demonstrated a heretofore unseen ability to pick up tough yardage between the tackles. He's figuring out that a two-step that covers three yards is often preferable to a lot of line dancing that goes nowhere. If Ebner can combine that newfound maturity with his latent electricity, he could be due for a huge year.
Give those hosses in the trenches a slap on the butt, too. For the past several years, no unit in the Baylor football program has been more beleaguered than the offensive line. Keeping in mind that it's one game against a Sun Belt opponent, these guys looked better. Stronger. Tougher. They're not exactly the Hogs of the old 1980s Washington NFL days. Not yet. But they weren't bad, either, and blazed some wide crevasses for Ebner and Abram Smith, who both topped 100 yards rushing on the night.
"Offensive line-wise, just being in that room, however many yards we rushed for (238 yards), they know the exact number," Aranda said. "They take a lot of pride in that and they want to build off of that. For them to have something to feel good about, it's been a while. So, I'm happy for them."
So, my Trib collague (and, ahem, Texas State alum) John Werner says I've belabored the point, leading up to this Labor Day weekend, that his San Marcos-based alma mater has a longstanding reputation as a party school. Maybe that's changed a bit over the years, but that definitely was the perception when I was a college student (and my childhood best friend, who also attended then-Southwest Texas, would concur.) Let's face it, this is a school that butts up against a river that seemingly exists as a purveyor of Styrofoam coolers. It's a school that stages its tailgating area inside the stadium, just behind the end zone.
These Cats know how to cut loose.
Not sure Baylor felt like partying after this one, but the Bears deserve to kick up their heels for at least a few minutes. After all, Texas State wasn't the only one coming off a two-win season. That was Baylor's win total in 2020, too.
So, enjoy the victory, Bears. Then get back to the grind. Work hard, party hard.
As identities go, you could do a lot worse.