Baylor's offense threw the world's largest Zoom meeting on Saturday.
The Bears zoomed out to three touchdowns in the opening quarter on their way to a lopsided 45-20 win over visiting West Virginia. In the process, Baylor made the Mountaineers look like that awkward guy in the meeting who can't figure out how to unmute his computer before he talks.
This performance gave us all a glimpse of the potential of Baylor's offensive prowess. Maybe not the full, three-dimensional image, but at least a narrow, though still vibrant, picture of what these Bears can be.
Granted, it hasn't always looked like this. Baylor bogged down offensively in the second half of its win over Iowa State two weeks ago and the majority of last week's loss at Oklahoma State. But let's heap some love on Jeff Grimes and the offensive staff, an ink-stained hug, if you will. They compiled a creative, effective game plan, and the Bears executed that strategy with eye-opening effectiveness.
Yeah, yeah, I know. I'm the same guy who criticized the coaching staff following that ugly effort in Stillwater. But as I wrote then, everyone has a bad day, doesn't necessarily mean they're bad at their jobs. This, clearly, was a much better day for the Bears. (I've ceded writing duties over to Captain Obvious at this point.)
From the outset, Baylor receivers found themselves running open. All Gerry Bohanon had to do was flip it out in their general direction. At times there wasn't a West Virginia defender within 10 yards of the BU target. It was almost as if the Mountaineer defenders were parked on I-35 somewhere, stuck in traffic. (Sigh, someday, fellow Waco motorists, am I right?)
The Bears knew some gaps would be open. A few times Bohanon almost found himself licking his lips.
"You watch so much film that when you get lined up in pre-snap, it's like, 'Oh yeah, it's there.' You get excited right away," Bohanon said.
It felt like Baylor took more deep shots in this one game than it had all season. It's a sound strategy, and not just because West Virginia likes to pack the box. Bohanon has flashed a strong arm all season. So, why not use it? He doesn't always throw a picture-perfect deep ball, but it certainly worked out for him and the Bears against WVU.
By throwing with such field-churning precision early in the game, it opened up avenues for Baylor's running attack later in the day. Bohanon hit on 12 of 17 passes for 272 yards and a trio of touchdowns in the first half, but the Bears eked out just 50 yards in the ground game in those first two quarters.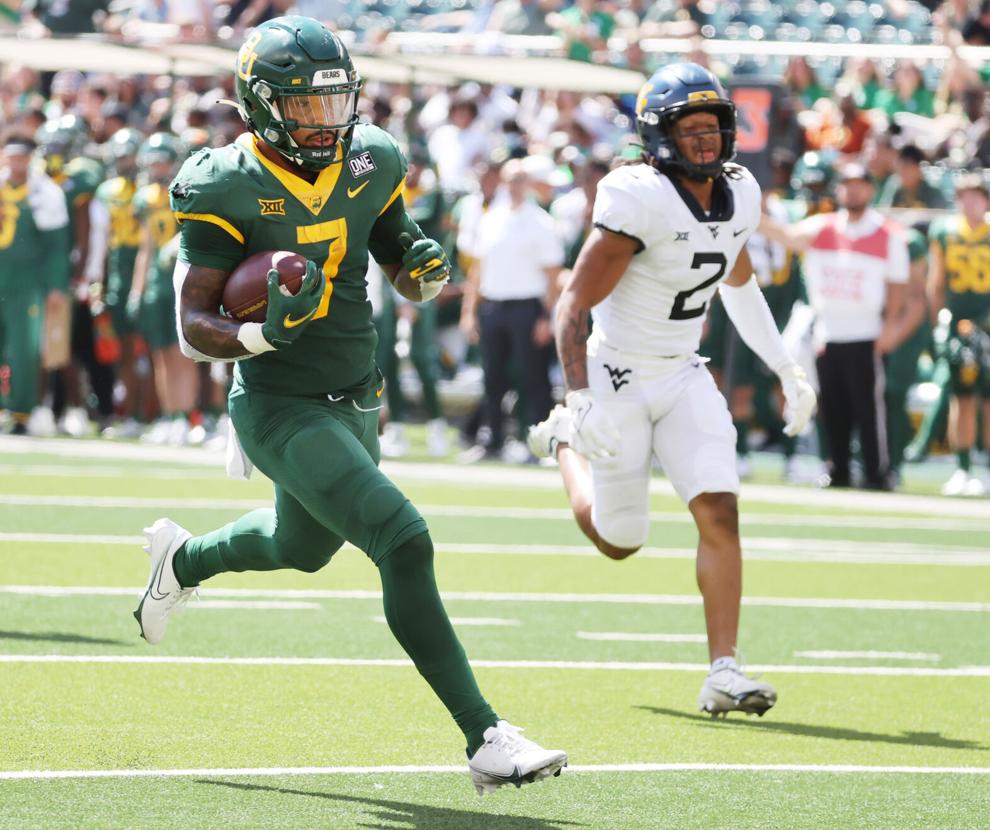 After halftime, it was a different story. The Bears piled up 121 rushing yards in the final two quarters, including a 31-yard touchdown scoot from Abram Smith.
If these Bears could choose what their ID badges would read, they'd pick something like this: We're a wide-zone team. We want to win the line of scrimmage and run the ball with power, and in doing so use the run to set up the pass.
On this day, they flipped it. They passed, and that opened up the run. Give them credit for being flexible, even if it might have been dictated by West Virginia's defensive looks.
Doesn't matter if you take the back roads to travel, as long as you end up at the same destination. (Shout out to Loop 340, baby!)
Also, give Baylor credit for just playing better. Head coach Dave Aranda said that the Mountaineers presented many of the same defensive alignments that Oklahoma State did the week before, with the safeties creeping up eight to nine yards from the line of scrimmage. This time around, the Bears were crisper. Sharper. Better prepared.
"If that's the case just from a math perspective, throw the ball to set up the run, and I think that's what you saw," Aranda said. "A lot of the same things that you saw a week ago, we didn't have the execution that we had today."
If you've watched football for more than five minutes, you've heard that the quarterback is the most important player on the field. Often, the offense goes as the QB goes. So this shapes up as a rather important, even telling, game for Baylor's first-year starter Bohanon. If you ever wondered if the fourth-year junior could punish defenses with downfield power and accuracy, wonder no more. He proved it against WVU.
"This is a big game for Gerry. It's a big game for Apu (Ika)," Aranda said. "I think there's dudes that have been really striving and working almost in the cover of darkness. In our room and our space, we know them and we see them, and we value them.
"For them to kind of share that and for them to put that on display when it really matters, I think that's one of the way cool things about this game. So I'm happy for them."
Aranda said these words in a postgame interview room packed full of living, breathing, three-dimensional reporters. That's one of the many polar changes from last year, when such press conferences were held virtually.
But on Saturday, Baylor showed that Zoom meetings can be fun, too.