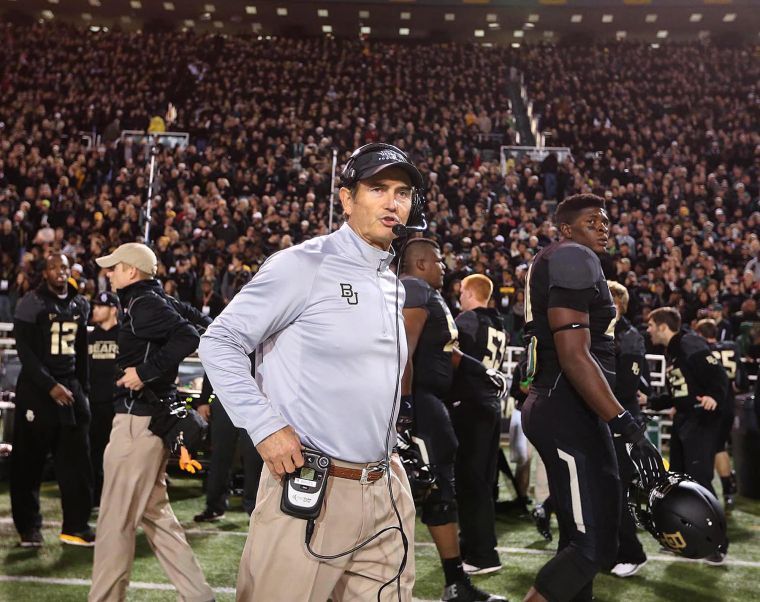 Baylor coach Art Briles said the sexual assaults that have occurred in the football program are a concern and that his players are receiving training on the issue.
"I'm always concerned anytime when anything of that nature transpires," Briles said on Tuesday's Big 12 football coaches teleconference.
"It's been a process to where we're really doing all we can do to make sure all of our guys are at the awareness level they need to be at by giving them proper training with professionals in those fields to help them know how to handle themselves at all times. I hope, like everybody else across America's doing. It's a situation where it's a concern and it's something we are dealing with on a daily basis."
Former Baylor all-Big 12 defensive end Shawn Oakman was arrested last week in Waco for an alleged sexual assault of a fellow Baylor student on April 3. Oakman, who played for the Bears from 2013-15, has denied the charges.
Tevin Elliott, a former Baylor defensive end, was sentenced to 20 years in prison and fined $10,000 in 2014 after his conviction on two counts of sexually assaulting former Baylor student Jasmin Hernandez at a party at a Waco apartment complex in 2012.
Sam Ukwuachu, another former defensive end for Baylor, was convicted on sexual assault in August, and jurors recommended he be placed on probation.
Under the guidance of Title IX coordinator Patty Crawford, Baylor athletes in all 19 sports underwent seminars last summer on awareness and prevention to help stop sexual violence.
Baylor became part of the "It's On Us" national campaign against sexual assault. A video has been shown at Baylor sporting events in which students say they're responsible for their own community being free from interpersonal violence.
At the entrance of the Baylor football practice field, Baylor has posted signs that read "Real Men Respect Women."
"I think it's just an awareness situation that everyone needs to be involved in, across the nation," Briles said recently. "Every high school, every home. Everywhere you see. Because as we know, there's issues all across our society with it."