After Baylor was shut out in last year's NFL draft, nine former Bears carried similar hopes and aspirations into Tuesday's annual Pro Day.
They all just want one of the 32 NFL teams to give them a shot to make a roster.
Wide receiver Jalen Hurd and cornerback Derrek Thomas appear to be the most likely candidates to be drafted April 25-27 in Nashville since they were invited to February's NFL Scouting Combine in Indianapolis.
But any of their teammates would be thrilled to be invited to a camp as a free agent. It's all about proving they belong in the NFL. Scouts from 28 teams were on hand to watch Baylor's Pro Day at the Allison Indoor Practice Facility.
"I'm training for everything I've dreamed of ever since I was 7 or 8 years old," said quarterback Jalan McClendon, who played at Baylor last season after transferring from North Carolina State. "That's been mind-blowing. But it's just waiting now. You're done with Pro Day. Until April 25-27, you're just waiting and you don't know where you're going. So you're just anxious to see where you end up being."
McClendon was a backup for most of his college career. After alternating with Charlie Brewer early last season, McClendon settled into a reserve role and finished the season hitting 55 of 91 passes for 715 yards with three touchdowns.
But at 6-4 and 222 pounds, McClendon has ideal size for an NFL quarterback and has a strong arm that he exhibited on passing routes Tuesday morning.
It was McClendon's second Pro Day after he participated in North Carolina State's Pro Day last Wednesday.
"From the feedback I've been getting, I'm definitely a sleeper (for the NFL draft) and they're excited for me being their developmental guy and maybe their second or third guy," McClendon said. "Like at N.C. State, one of the scouts told me they hoped I wouldn't go out there because they didn't want anybody else to see me."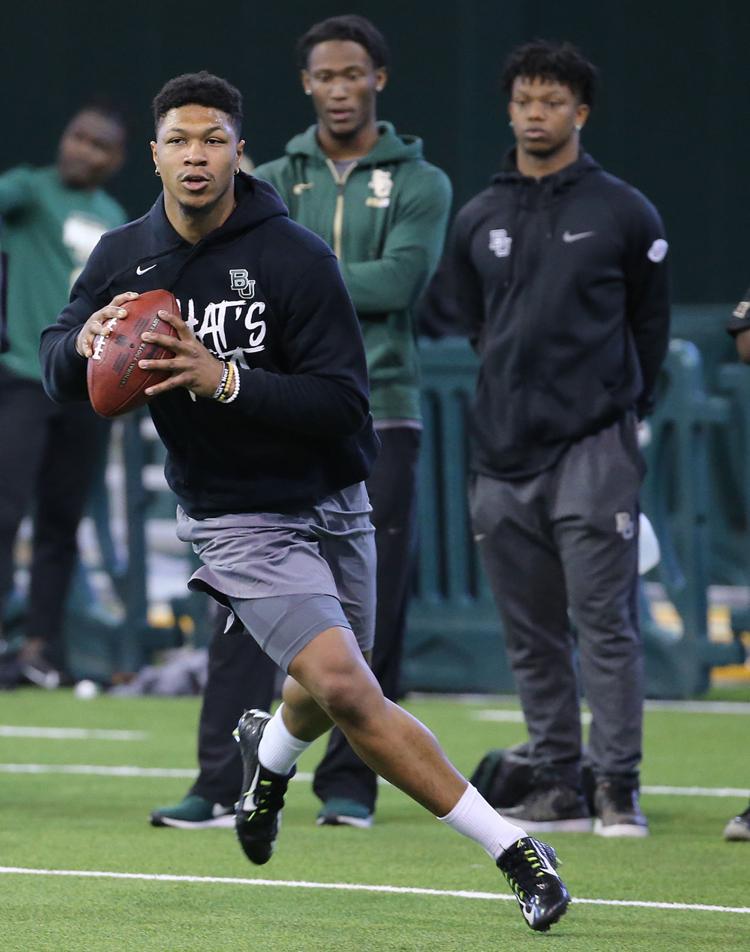 After playing running back for three seasons at Tennessee, Hurd transferred to Baylor for his final year of eligibility to play wide receiver in Matt Rhule's pro-style offense.
Hurd adapted quickly, as he led the Bears with 69 catches for 946 yards and four touchdowns while also logging some time in the backfield by running for 209 yards and three scores. At 6-5 and 228 pounds, Hurd is a big target who has the physicality to compete against NFL defensive backs.
"I showed I can be a pretty dominant and elite receiver," Hurd said. "I'm glad I have a year under my belt (at receiver). They might be a little more skeptical, but I've shown I can do it. My biggest strength is my speed, my versatility and just being able to cut. I'm very big, and I can move a lot better than most big people."
Hurd missed Baylor's 45-38 win over Vanderbilt in the Texas Bowl after undergoing knee surgery. The surgery forced him to miss the Senior Bowl on Jan. 26 and he was limited at the NFL Combine.
Though Hurd ran some routes Wednesday, he said he's still a few weeks from performing full workouts.
"I was just keeping it light today with the top of the routes," Hurd said. "The scouts just wanted to see me move and catch. It (the knee) is doing pretty good. I'm still taking my proper steps rehabbing it, and I should be good to go in two or three weeks."
With his 6-3 frame and 4.4 speed in the 40, Thomas is an intriguing NFL prospect who is still learning the nuances of playing cornerback. Thomas played just one season at Baylor as a graduate transfer from Temple where he was previously coached by Rhule.
Thomas began making the transition from receiver to cornerback at Temple in 2016, and showed tremendous progress last fall as he led the Bears with seven pass breakups while also intercepting a pass.
Most significantly, he showed he could match up against some of the top receivers in the nation in the Big 12.
"Baylor prepared me because I was able to play higher competition," Thomas said. "I was able to go against a 'guy' every week and every day during practice because we've got guys on this team. They just want to see the best against the best. For me, week in and week out my job was against the No. 1 guy."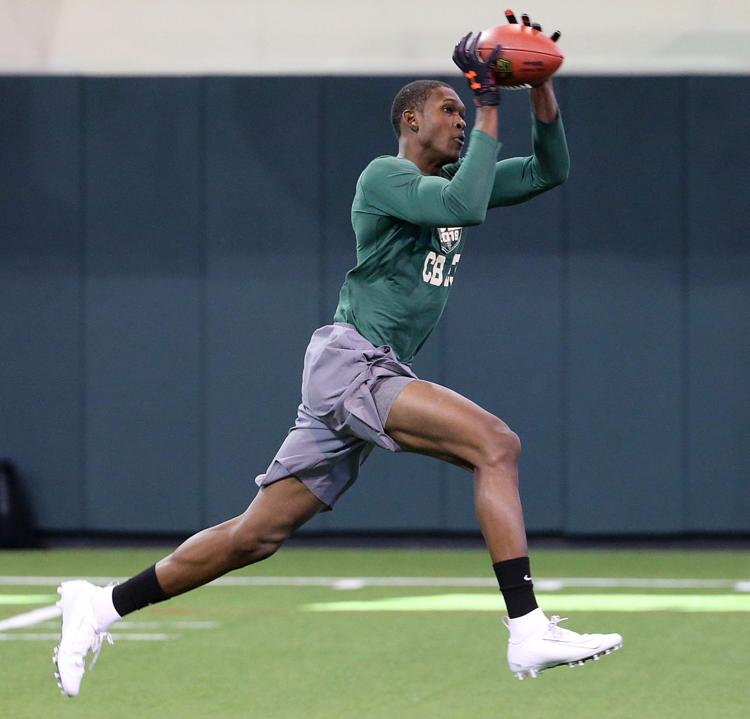 During the combine, Thomas believes he impressed NFL teams with his intellect and interview skills, but they understand he's still a work in progress at cornerback.
"One general thing they've all said is you're extremely intelligent on and off the field," Thomas said. "You're a smart guy and you have the tools physically to do this. For me the conversation was let's just continue to develop and become the guy everybody sees you becoming. We all know you've been playing corner two years and you've got a lot to learn."
Former Baylor offensive lineman Blake Blackmar, defensive linemen Ira Lewis and Greg Roberts, and defensive back Verkedric Vaughns participated in drills at their respective positions and also ran the 40 and did bench presses on Tuesday.
Offensive lineman Patrick Lawrence and punter Drew Galitz were weighed and measured, but didn't participate in drills as they recover from injuries. Galitz suffered an ACL injury before Baylor's regular season finale against Texas Tech, while Lawrence recently underwent back surgery.
Rhule said that he hopes both players get a shot to make an NFL camp.
"Pat's back was bothering him in training, and they found something in his back," Rhule said. "It's really unfortunate for him. It will probably be just a process for him. He's such a great, great human, such a great young talent that I hope he gets an opportunity."
Rhule said Baylor's seniors from last fall will always be special because of the leadership role they displayed in helping the Bears finish 7-6 last season after a 1-11 record in his 2017 debut season.
"I was telling the scouts this is the group that got it turned for us," Rhule said. "Greg Roberts is the guy who made it cool to practice. He's the guy who became a really outstanding player this year because of the way he practiced. We wanted our receivers to do different things that hadn't been done, and Jalen (Hurd) came in and did it. These guys are here because they love the game, and that will get you a long way."
Be the first to know
Get local news delivered to your inbox!