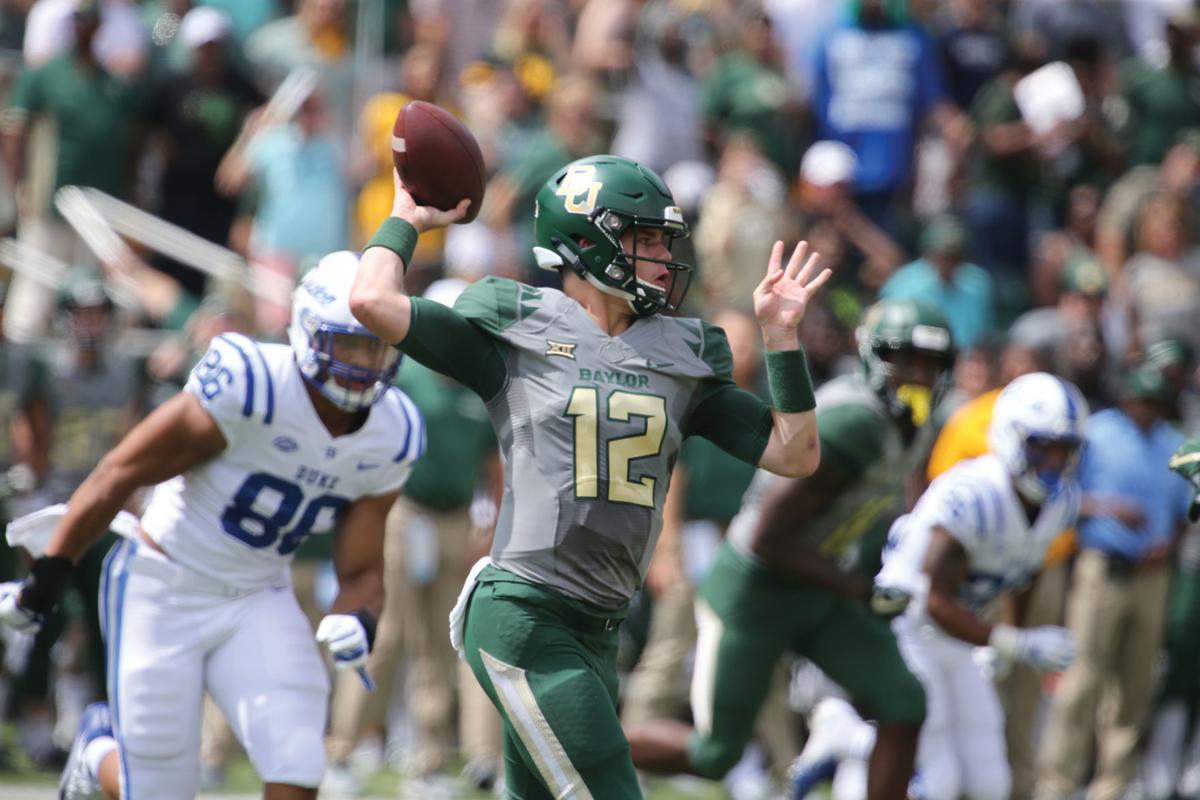 As a state championship-winning quarterback at powerful Lake Travis High School, Charlie Brewer was already accustomed to a high level of success when he stepped on the Baylor campus nearly three years ago.
College would be a whole different experience, and Brewer knew it.
Not only would he have to adjust to a faster, more athletic game, he would be doing so with a rebuilding program trying to rise from the depths of a sexual assault scandal that left the roster thin and inexperienced.
Brewer showed his leadership ability as a freshman, leading the Bears to their only win at Kansas in 2017. Taking over the starting role last season, Brewer guided the Bears to a 7-6 record, including a scintillating performance in a 45-38 win over Vanderbilt in the Texas Bowl that earned him the game's MVP award.
Now he hopes to take Baylor to yet another level: Competing for the Big 12 championship and making New Year's Six bowl.
"We just have to lock in," Brewer said. "At times last year we weren't as focused as we needed to be each week. Coach (Matt) Rhule always talks about a brotherhood, and we all need to jell together and take it week by week. I think if we do that and stay healthy and just play together, I think we'll have a chance this year."
For the first time in his three seasons at Baylor, Brewer comes into the season established as the starting quarterback.
As a freshman in 2017, Brewer opened the season No. 3 on the depth chart behind Zach Smith and Anu Solomon before coming on late in the year to start four games. Last season, Brewer split time with North Carolina State graduate transfer Jalan McClendon early before establishing himself as the starter.
Now, there is no doubt this is Brewer's team since he's by far the most experienced quarterback on the roster with redshirt freshman Gerry Bohanon and true freshman Jacob Zeno backing him up. Still Brewer didn't allow himself to coast through preseason drills.
"It's a little bit different situation, but I've got to come in with the same mindset," Brewer said. "I've got to get better at a lot of things before that first game, and the good thing is I've got a whole fall camp to do that."
Poised and experienced, much of Baylor's success will hinge on Brewer's performance. Last season, Brewer completed 61.5 percent for 3,019 yards and 19 touchdowns with nine interceptions. Showing adept mobility, Brewer was Baylor's fourth-leading rusher with 375 yards and a team-high seven touchdowns.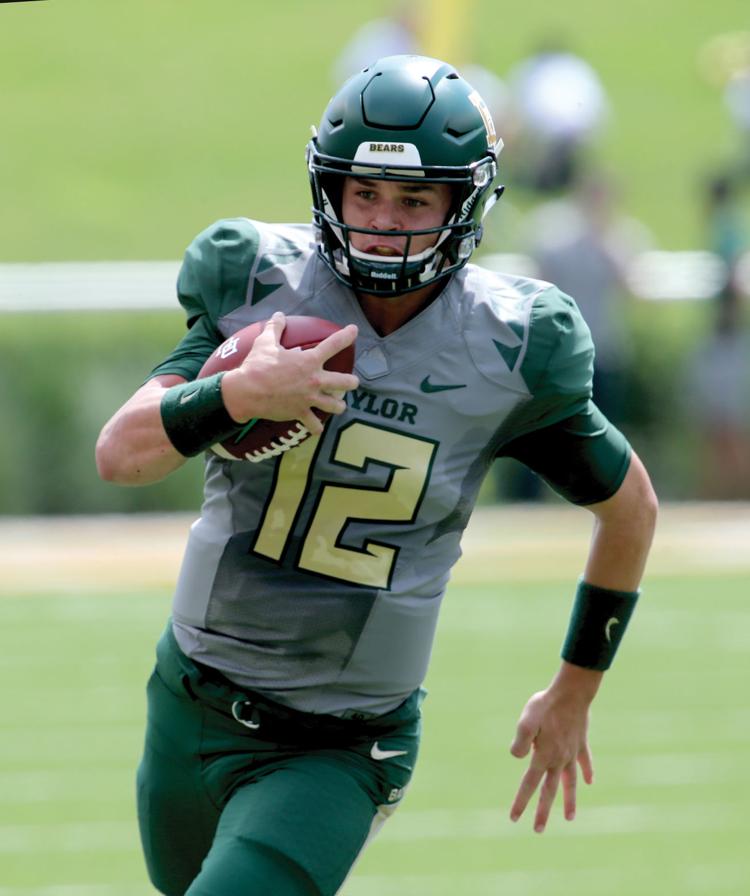 Brewer was at his best in the Texas Bowl, as he passed for 384 yards and two touchdowns while rushing for 109 yards and a score. He hit Marques Jones for a 52-yard touchdown with 1:50 left in the game for the winning score, and donned a black cowboy hat in the postgame press conference after earning the MVP honor.
During the spring and summer, Brewer looked poised and confident and was more accurate than ever. But he continues to understand that there's still room for growth.
"It's a really nice situation to be in and you can see it in him, not only on the field but off the field," said Baylor co-offensive coordinator and quarterbacks coach Glenn Thomas said. "There's a confidence and a sense of pride in what he's been able to accomplish but a humility that he still understands that he's got to be better and continue to grow every day. I think we're excited about that as a staff to see the growth that's still out there for him."
Though he isn't a natural vocal leader, his teammates and coaches trust him because he's shown his leadership ability on the field over the last two seasons. He's a guy they know won't crumble under pressure, a trait he showed again and again as last season unfolded.
"He's not a big personality, he's not real vocal, but he has a sense of confidence and he's extremely competitive," Thomas said. "Anytime he's out here he wants to win. The first spring he was here we were doing early morning workouts and he had blood coming out of his knee but he was fighting and trying to compete to win. That's just his makeup and I think that's how he's been his whole career, not only here but before he got here."
There's no question Brewer has gained a better grasp of the offense as his career has unfolded. Though he was highly accurate as a freshman when he completed 68.1 percent for 1,562 yards and 11 touchdowns, he's become more adept at spotting secondary receivers.
"The mental side of the game is something I've really tried to work on," Brewer said. "Just knowing every situation where to go with the ball, what do I need to check and stuff like that. If I can be sharp with that stuff, it will help us win a lot of games."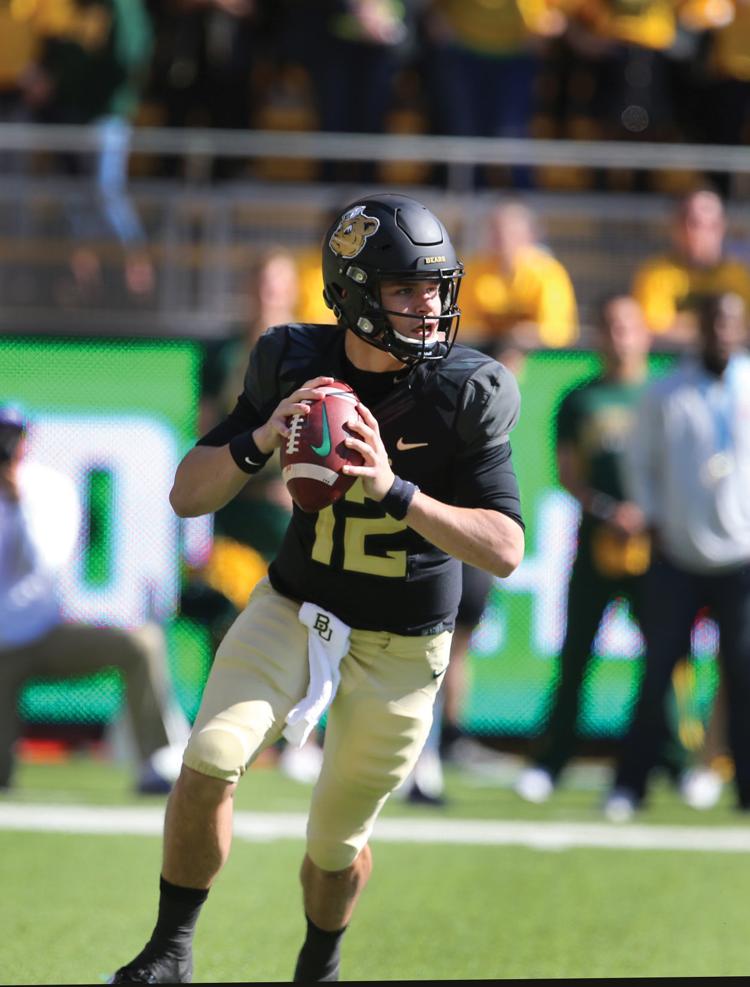 One of Baylor's biggest offensive goals is to keep Brewer upright more often. Baylor quarterbacks were sacked a Big 12-high 39 times in 2018, five more than any other team and more than twice as many as TCU's league-low 16 sacks.
The Bears had to replace senior offensive linemen Blake Blackmar and Patrick Lawrence. Veterans like Sam Tecklenburg, Johncarlo Valentin, Xavier Newman, Connor Galvin and Jake Fruhmorgen will need to lead the way in giving Brewer more protection.
"Obviously, there's been an enormous emphasis on pass protection and penalties," Tecklenburg said. "We still kind of struggled sometimes with both of those in the spring. We'll definitely have to keep working, but I think we did take a step in the right direction. I think we got tougher."
While one of Brewer's biggest strengths is his mobility and ability to avoid oncoming pass rushers, he knows how important it is to establish a pocket presence.
"Would I like to stay in the pocket and throw it? Yes," Brewer said. "But you get out of the pocket sometimes and try to make a play for your team. Sometimes it just works out that way."
If the pass protection improves, Baylor's offense should be more explosive than ever after ranking sixth in the Big 12 with 29.5 points per game last year.
Though versatile Jalen Hurd is gone after the San Francisco 49ers picked him in the third round last year, Baylor's receiving corps is deep. Veterans like Denzel Mims, Chris Platt, Jared Atkinson and Jones will be joined by talented young players like Tyquan Thornton, R.J. Sneed and Josh Fleeks.
During the spring and preseason practice, Baylor's receiving corps was one of the most competitive areas of the team. Brewer has also improved his arm strength, which should translate into more explosive plays for Baylor's offense.
"There's a lot of competition," Sneed said. "We compete in whatever we do, whether it's on the field or playing video games we're just competing. We can run past any DB, which is good for us. Charlie has full control of the offense and is looking great every day."
Brewer knows he's come a long way since he graduated early from Lake Travis to join the Bears for spring drills in 2017. He learned how to compete at the college level on the fly during his freshman year, but he benefited from that experience as the game slowed down for him last year.
"Coach Rhule emphasizes being prepared when your number is called," Brewer said. "I'd be lying if I didn't say everything was moving at 1,000 miles per hour. The speed of the game starts to slow down and it gets a little easier."
Rhule hopes Brewer can build on his superb performance in the Texas Bowl and continue to make great decisions that will benefit the team.
Though Brewer's teammates see how he gives everything he has for the team, Rhule would wants his quarterback to go against his personality and become more vocal around his teammates.
"Not just being a quiet guy who plays really well but becoming a leader," Rhule said. "The seniors want him to be a leader because they know his position and what it means. He'll always continue to do things right and try to influence people with his actions. But becoming a vocal guy – not a yeller or screamer – but a vocal guy who says this is what we're going to do."
Be the first to know
Get local news delivered to your inbox!