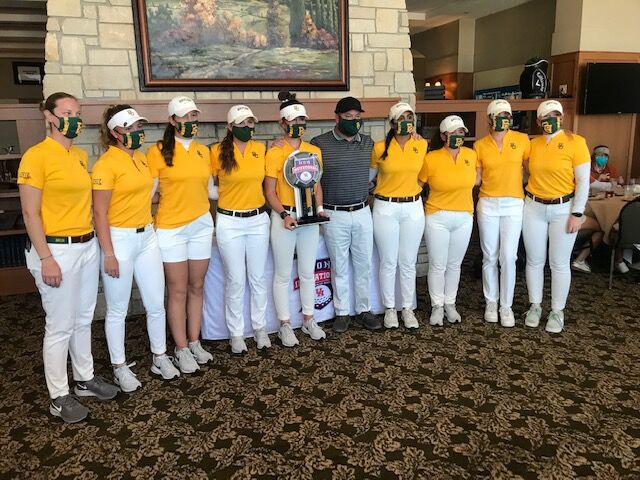 HOUSTON — Make it 5 for 5.
Baylor's top-ranked women's golf team showcased and solidified its NCAA No. 1 ranking on a sunny Tuesday, winning the 2021 ICON Invitational at the Golf Club of Houston. The Bears pulled away from SEC contender and No. 3-ranked LSU on the back nine for their fifth straight college tournament victory.
The five-shot win after 54 holes, 840-845, over LSU extended Baylor's own school and Big 12 record for consecutive tournament wins in one school year. Baylor won all three of its events last fall, opened with a win in the SMU tournament in Dallas earlier this month, and captured this latest victory as the Bears and Tigers turned the 15-school tournament into match play, separating from anyone else.
"The cool thing is that LSU fought hard and we fought hard, and in the end we fought harder than LSU," said Baylor coach Jay Goble. "I have never doubted the toughness of this team, not once, but you want to keep feeling that (winning) feeling again."
Baylor has relied on its veteran leadership to fuel its historic run, led by senior Elodie Chapelet and fourth-year junior Gurleen Kaur, the latter a qualifier for the Augusta National Women's Amateur starting March 31. But this week it was true freshman Britta Synder from Ames, Iowa, who led the team with a 206 total.
She shot a college career-low 65 during Monday's second round, then followed that up with a closing stretch of birdie, birdie and birdie in the final round for a 68.
"It feels great to help the team when every shot counts. On the 16th hole (Goble) came up and said it was going to be close and to make every putt count," Snyder said.
Indeed she did as she rolled in a 17-foot birdie putt on the par-3 16th hole. On the par-4 17th Synder hit three-wood off the tee box because she was downwind, but saw her ball roll into a large fairway divot.
From 165 yards out, she punched her 5-iron approach to six feet for another birdie. On the par-5 18th, she put her third shot on the green, 20 feet away, but curled in her third straight birdie putt, finishing off with a small fist pump.
"I would say shooting 65 yesterday was my college highlight so far, but finishing up with three birdies today was pretty special. This girls have been pushing me to get better and we are pushing each other," Snyder said.
Rosie Belsham finished at 208 for Baylor, tied for fifth overall and second among her teammates with rounds of 70-69-69. Kaur finished in a tie for 16th at 71-74-70-215. Chapelet tied for 19th at 216 with Kurg placed in a tie for 26th at 217.
"I know to be a great team is to fight through adversity and close out tournaments. We have gone through more than women's golf team at Baylor has ever done," Goble said.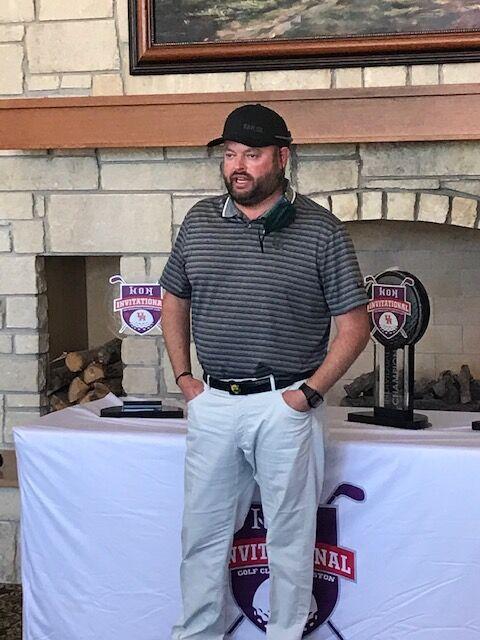 Goble said with last week's icy, cold weather in Waco, plus loss of power and water, the Bears didn't have a chance to practice. He brought the team down to Houston for a practice round over the weekend, but after five holes in Monday's first round, they were next-to-last in the team standings.
"We were a little rusty, but we know how to fight back. The girls want to play hard for the team and for each other," Goble said.
Going to the final round at the former PGA Tour Shell Houston Open site, both Baylor and LSU were tied at the top, followed by a large gap before anyone else showed on the leaderboard. (Oklahoma State ended up third, nine strokes behind LSU.) The Bears and Tigers stayed tight at the top through the front nine on an 80-degree day.
LSU took a two-shot lead at the halfway point of the final round, but Baylor's top-ranked women got rolling on the back nine.
They collected nine birdies as a team on the last five holes of the par-72 course, three from Snyder and two from Kurg.
NCAA records are unclear on national records for consecutive wins in a school year, although both Arizona State's women and Cal's men have previously won every tournament they played in a single season.
"We just got it going and they do what they do," Goble said. "Next week (the South Carolina Invitational) is going to be our toughest test yet, but this is a special team that plays together and pushes each other."