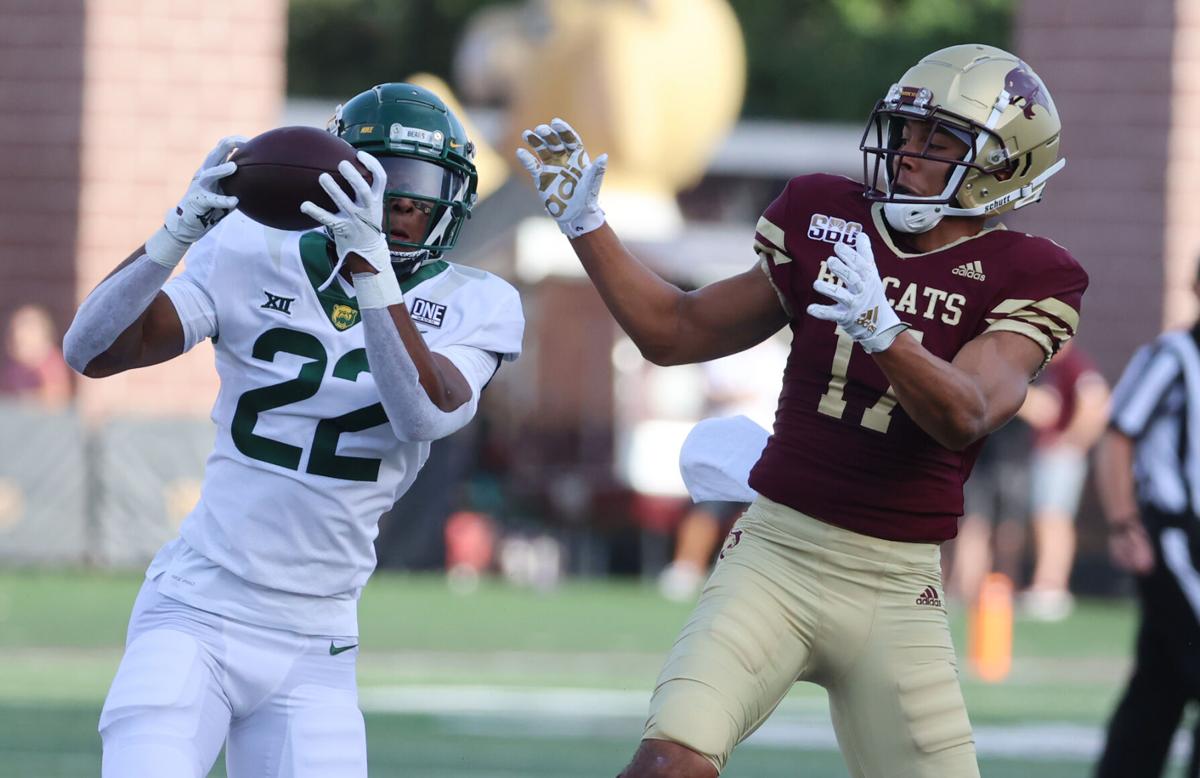 In his post-football life, Baylor safety JT Woods pictures a career as a criminologist delving into the psychology of why people commit crimes.
Woods is intrigued by Netflix's Mindhunter, a series set in the 1970s where FBI agents are on the cutting edge of exploring criminal science.
"It was based in the '70s, and I believe it's about the very first people who thought about criminal profiling," Woods said. "So they were kind of pioneers of it. When I watched that, I thought this is exactly what I want to do. Right away I knew. I just loved every single second of what they did."
Woods has a mind that loves to figure out things. Give him a puzzle and he's intrigued.
Give him film of the offense Baylor is facing on Saturday, and the senior wants to know why the quarterback throws to certain receivers in various situations. He wants to learn every nuance of the receivers he will be covering, their route running habits, the way they catch the ball.
Woods is a film nerd and not ashamed to admit it.
"The game of football is really simple," Woods said. "People do the same thing over and over again, so you can pick up on little stuff like that. It's kind of harder early in the season because you don't have as many new games to look at. So you really have to be looking for the small things early on. It's like a treasure hunt, and you kind of go find it. But as the season goes, those things start to scream at you."
Such thorough preparation has a payoff: Woods is usually in the right place at the right time.
In Baylor's season-opening 29-20 win over Texas State, Woods perfectly read a Brady McBride pass and returned it 20 yards down the left sideline for a touchdown in the opening minutes.
Woods delivered an even more dramatic play in last weekend's 66-7 thrashing of Texas Southern when he picked up a Jacorey Howard fumble at Baylor's 3 and returned it a school-record 97 yards for a fourth-quarter touchdown that helped him earn Big 12 co-defender of the week.
Those were the first touchdowns he's scored since he was a receiver on the freshman team at Cibolo Steele High School.
"That (interception) was like a blur," Woods said. "It didn't really feel like the ball was in my hands. I just saw the ball thrown and I went to make a play, and I blinked and the next thing I know I'm in the end zone."
Woods had a lot more time to think about his fumble return. Like the interception, he had a clear field in front of him. But this time it was almost the whole 100 yards.
"I picked it up and just started running, and I kind of looked at the Jumbotron to see who was behind me," Woods said. "Once I noticed nobody was behind me, I was like OK, I'm probably going to score here."
Coincidentally, Baylor ballhawk Jalen Pitre set up Woods on both of those plays. His blitz helped obstruct McBride's pass that fell into Woods' hands in the opener. Pitre knocked the ball loose from Howard as he was trying to score for Texas Southern, and Woods was on the spot to scoop it up.
Pitre returned two interceptions for touchdowns last season, so now he and Woods have something in common. Whenever a Baylor defender scores, the party's open to everybody.
"We definitely have some playmakers that have showed me how to do it that have kind of paved the way for me," Woods said. "We get everybody together and have some celebration and just have a lot of fun with everything."
Woods almost always wears a smile on his face. Even when he's in the fourth quarter of a tight game, he never tries to disguise how much fun he's having.
Playing free safety is the ideal position for the 6-2, 193-pound Woods because he has the speed and range to roam all over the field to defend pass plays and has enough pop to inch up toward the line of scrimmage and make tackles.
"The range and the freedom I have on defense is really, really nice," Woods said. "It keeps me on my toes. I'm not doing the same thing every single play. I'm in the run fit sometimes and sometimes I'm pass heavy. The biggest thing is I have to communicate with everybody."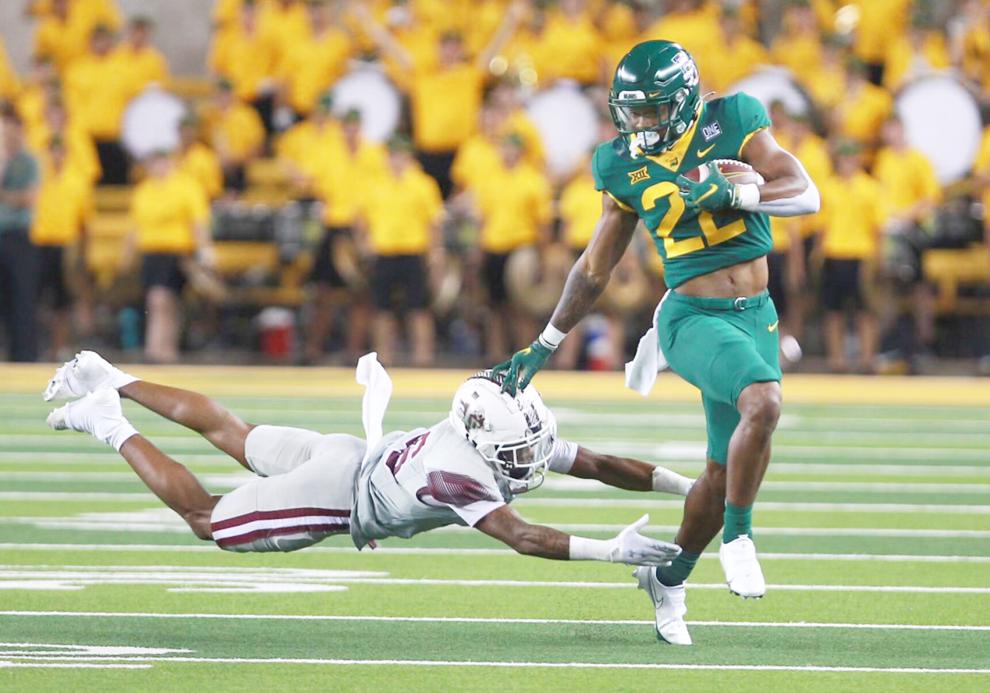 Communication comes naturally to Woods because he loves to talk to his teammates. One of his responsibilities is to make sure players in his area of the field are lined up properly, something that's not always easy in an era with fast-tempo offenses rarely huddle and reel off plays as quickly as they can snap the ball.
"I kind of call my half of the field and (safety) Christian Morgan calls his half of the field," Woods said. "There's definitely a lot of communication going on. I have to talk to Pitre and the corner every single play. Sometimes (linebacker) Terrel Bernard is in communication. If we're not on the same page, we're not playing good defense."
Keeping a high level of communication often becomes more difficult late in close games as fatigue sets in and the crowd gets louder and more involved in the game. But Woods loves that challenge and knows he can depend on his teammates because many of them have as much experience as he does.
"People get tired and start thinking a little bit slower, and that can creep up on you a little bit," Woods said. "That's why in practice we get as fatigued as we can, so we can make those calls when we're tired. It's different talking to a freshman than a fifth-year senior. They just see the field much differently."
Baylor coach Dave Aranda likes having Woods at the back of the defense because he knows he's always prepared and will make the right decisions.
"One of the things that makes JT really unique is just his ability to take in a boatload of information, but then he processes it so quick, and he can play fast and play like he's out there in the schoolyard running around, having fun," Aranda said. "And I think that is contagious."
Making game-changing plays isn't just a recent thing for Woods. Starting full-time for the first time in 2020, he led the Bears with three interceptions while making 46 tackles.
But scoring touchdowns is a new thing, and his teammates hope this is just the beginning.
"JT is the heartbreak kid," said Baylor cornerback Kalon Barnes. "He adds another part that we need, like he can run across the field and tackle, catch, whatever we need him to do, he'll do it. (Scoring touchdowns) two weeks in a row, that's not easy to come by for a defensive player, a pick-six and a fumble recovery. But I'm happy for him. That's really exciting."
Woods has played safety for the Bears since he enrolled in the spring of 2018. Graduating early from Cibolo Steele High School was a tough decision because he envisioned winning medals as a senior at the state track meet that spring.
"Thinking back on it, I didn't really want to do it that much," Woods said. "I wanted to run track my senior year and win a state championship. But my old Little League coach told me: Would you rather go to the moon or would you rather go to Mars? So I was going to grow up a little bit and go discover Mars. It was definitely the best decision that I ever made. I was able to get on the field early and learned a lot of things that I wouldn't have been able to learn if I didn't come early."
Stepping into a secondary that included veterans like Henry Black, Chris Miller and Grayland Arnold, Woods made 18 tackles and broke up two passes on the 2018 Baylor team that won the Texas Bowl. He also ran the 100 meters and the 110-meter hurdles for the Baylor track team in 2019.
But his learning curve arched a few degrees higher in 2019 when he saw more playing time for Baylor's 11-3 team that reached the Big 12 championship game and made its first Sugar Bowl appearance since 1957.
Starting five games and contributing heavily in the other nine games, Woods soaked up everything he could from Baylor's veteran safeties and made strong contributions of his own by collecting 36 tackles and forcing three fumbles for the Big 12's premier defense.
"Those guys had a work ethic like no other," Woods said. "I never saw anybody run the field like Chris Miller. We caught ourselves watching his highlights Saturday morning before the game, watching him run and tackling with no fear and no breakdown.
"Grayland, when the ball was in the air, it's his. I take that same philosophy to my game. Henry worked harder than anybody I'd ever seen. If you don't have a good work ethic and run as hard as you can to the ball or have that ballhawk mentality, you're not going to be able to be out there and make plays."
After former Baylor coach Matt Rhule jumped to the NFL's Carolina Panthers, Woods has continued to seek all the knowledge he can from Aranda, defensive coordinator Ron Roberts and safeties coach Matt Powledge. Aranda was LSU's defensive coordinator for the 2019 national championship team.
"It's very, very heartwarming to sit behind a great defensive mind," Woods said. "You can really just sit there and listen to them, and you can just hear how great they are with defense. It's really settling for me but I also want to learn so much from them."
Woods will graduate with his degree in sociology in December, and have a year of eligibility remaining since 2020 didn't count against eligibility due to COVID-19 interruptions. His NFL stock is certainly on the rise with the playmaking ability he's shown in the first two games this year.
Whatever he chooses to do now or in the future, his ability to keep digging for deeper answers and then apply them will pay off whether that's as a football player or a potential future career as a criminologist.
"We use the term 'Playing green,'" Aranda said. "He plays fast and he plays free. When you just look at football positions, there are certain guys where whatever you tell them, that is exactly what they're going to do."