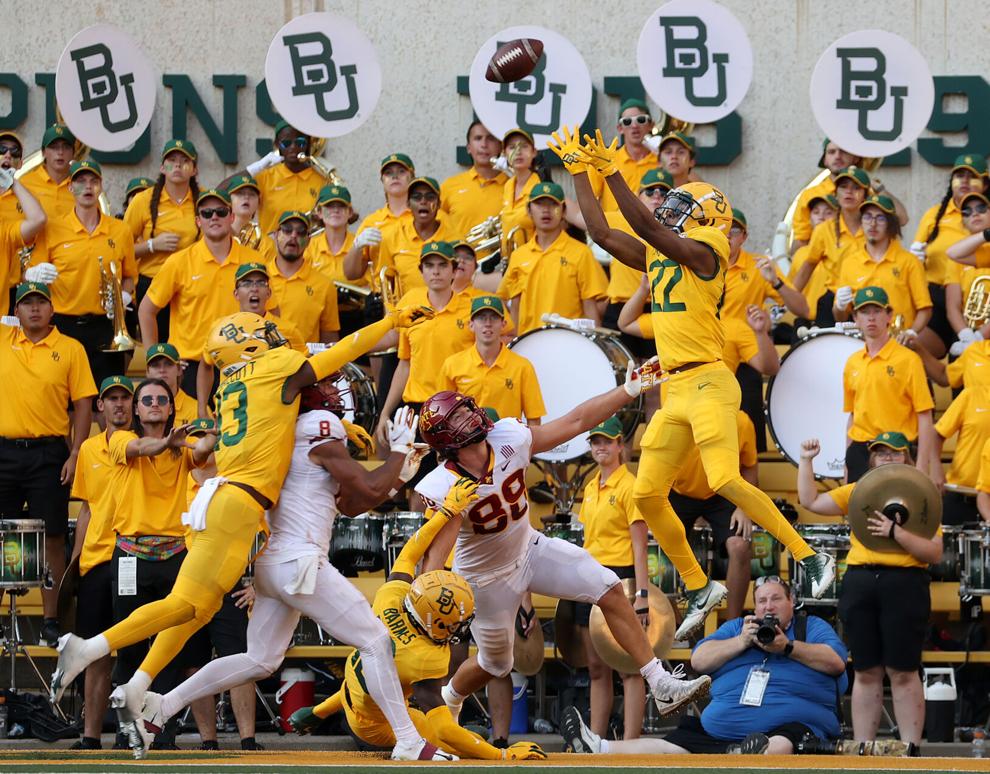 All-America kick returner Trestan Ebner knew the electrifying moment was bound to come.
After returning a pair of kickoffs for touchdowns in the 2020 season opener against Kansas, Ebner hadn't busted one for a touchdown in 11 games.
But when Baylor needed it most against No. 14 Iowa State, Ebner delivered a 98-yard kickoff return for a touchdown and followed with a 41-yard punt return to set up a field goal to lift the Bears to a 31-29 win before 42,359 fans in Saturday's Big 12 home opener at McLane Stadium.
Ebner's two riveting returns were Baylor's best offense in the second half since Iowa State shut down the Bears after quarterback Gerry Bohanon engineered three first-half touchdown drives.
"Coming in, we knew that special teams were something we can beat them on," Ebner said. "They've got a lot of big guys on kickoff returns, so we knew if we jumped them we had way more speed than them. I just feel like we executed well."
Turns out these Bears might be super heroes.
The Bears improved to 4-0 overall and 2-0 in the Big 12 with their first win over a Top 25 team since a 49-38 decision over No. 10 North Carolina in the 2015 Russell Athletic Bowl.
"We're not shocked," Ebner said. "We expected to come in this game and win. We respect them. They're disciplined and tough, and we knew it was going to be a hard game. We've been preparing for this moment. I'm just proud that we came out and executed."
Even with Ebner's magnetic plays, the Bears expected Iowa State (2-2, 0-1) to take the game down to the final seconds.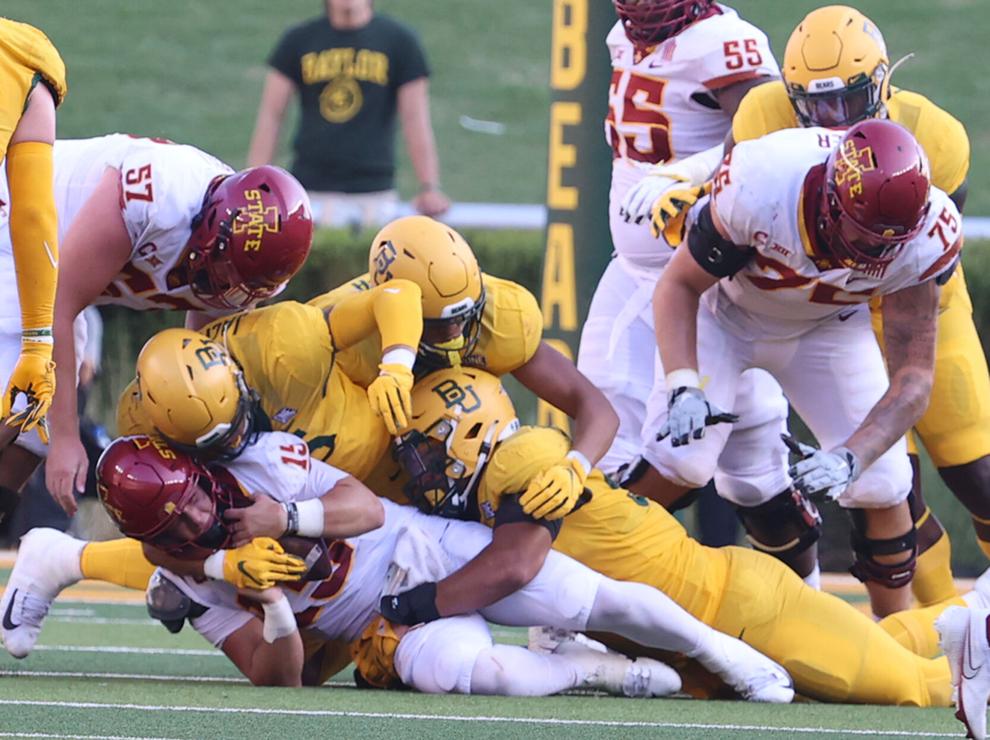 Ebner's 41-yard punt return to Iowa State's 16 set up Isaiah Hankins' 34-yard field goal that gave the Bears a 31-23 lead with 5:36 remaining in the game. But quarterback Brock Purdy guided the Cyclones on a 75-yard drive that ended with his 16-yard touchdown pass to wide-open running back Breece Hall with 24 seconds remaining.
Trailing 31-29, the Cyclones had to attempt a two-point conversion. Under heavy pressure by Baylor defensive end Garmon Randolph, Purdy threw a prayer into the end zone that was intercepted by Baylor safety JT Woods.
But it still wasn't over.
The Bears were penalized for unsportsmanlike conduct for excessive celebration, giving the Cyclones 15 yards to move the kickoff from the 35 to the 50.
Terrel Bernard just can't seem to catch a break.
Iowa State's onside kick was recovered by RJ Sneed, but Baylor's Ben Sims was called for offsides. The Cyclones got another shot at an onside kick at Baylor's 45, but this time Ebner cradled the bouncing ball at the 34 to seal the win. Following so much drama, Ebner and his teammates could finally exhale.
"That's my proudest play," Ebner said. "It's just one of those plays you've got to make whether you get hit or not. No matter what happens, you've got to try to put the team on your back and not to do anything special, just make that play."
Baylor wouldn't have been in position to win without Ebner's kickoff return after Iowa State cut the lead to 21-16 with Andrew Mevis' 39-yard field goal.
Ebner caught the kickoff at the 2 and cut to the left sideline where he found a wall of blockers and outraced the Cyclones for the 98-yard touchdown to push Baylor's lead to 28-16 with 6:59 left in the third quarter.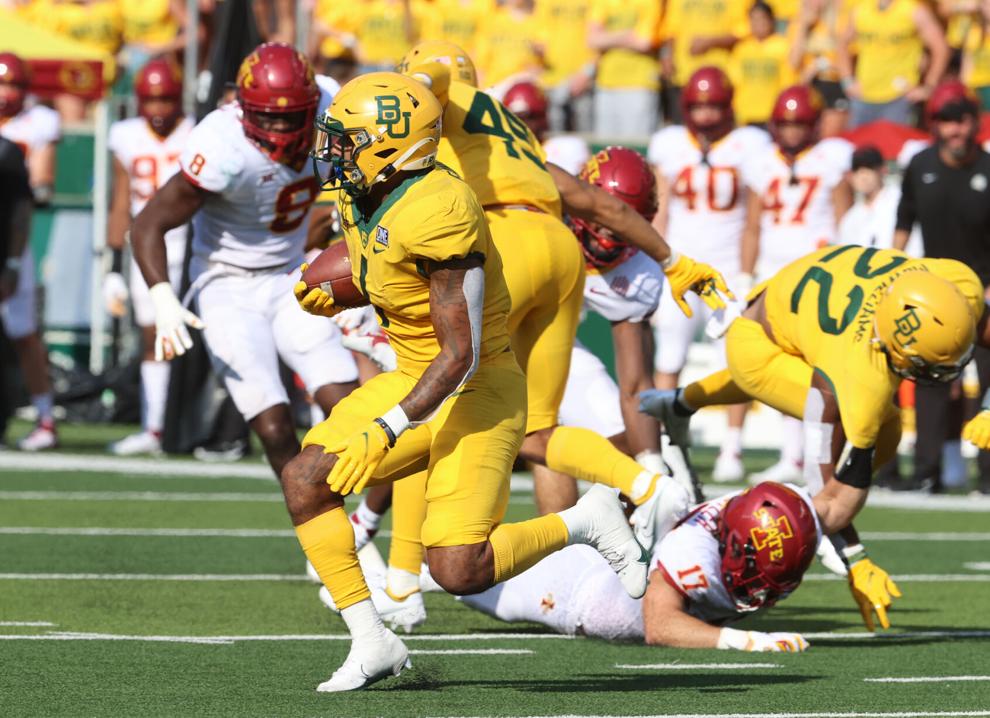 With his All-America resume on returns, Ebner takes it personally when teams kick to him.
"I just think with the blockers we have and the stats I put up, I do take it personally," Ebner said. "But I wouldn't be able to do it without the guys who block for me on every kick return and punt return."
Of course, the Cyclones weren't through as they drove 85 yards to cut Baylor's lead to 28-23 with 39 seconds left in the third quarter. Hall finished off the drive with a two-yard touchdown run as he carried Baylor linebacker Matt Jones into the end zone.
Iowa State's All-America running back performed brilliantly as he rushed for 180 yards and two touchdowns on 27 carries while making five catches for 51 yards and a score.
"I think Breece gets a lot of media attention for the player that he is," said Baylor linebacker Dillon Doyle, who recorded a team-high nine tackles with two for loss. "He's a great player, but I've been more impressed with the person that he is. You tackle him, you make a play, and he gets up and he's like, 'Hey, nice play, 5.' I'm like, 'How does he do that?'"
After amassing 212 yards total offense in the first half, Baylor gained just 70 yards in the second half as Iowa State's defense turned up the pressure. After a near-perfect first half in which he hit 11 of 13 passes for 146 yards and two touchdowns and ran for another score, Bohanan hit three of six passes for 18 yards in the second half and fumbled on a third-quarter run.
Iowa State amassed 469 yards total offense and was penalized just three times for 15 yards. Baylor was penalized nine times for 100 yards.
"That whole second half just felt like it was a couple of games," said Baylor coach Dave Aranda. "I look at the stats and I see the penalties. To be on the wrong side of both of those things and then still come out with a win, to me, just speaks to how tight this team is. How much they fight for each other, how much they believe in one another, just the culture of the team."
The Cyclones came out on fire to open the game by moving 75 yards on 10 plays for the touchdown.
Hall kicked the drive into gear with a 30-yard run, and he made another key run on fourth-and-two at the 26 when he broke several tackles to pick up nine yards.
After Purdy hit Charlie Kolar for 15 yards, Hall finished off the drive with a two-yard touchdown run to give the Cyclones a quick 7-0 lead.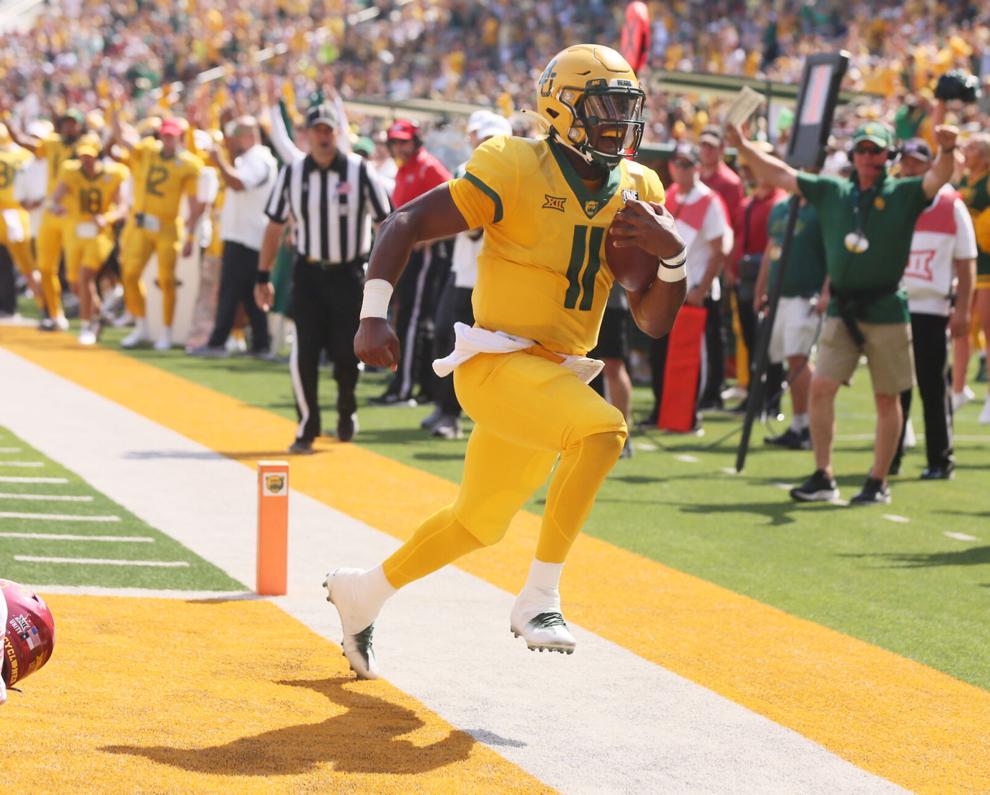 It didn't take long for the Bears to answer as Bohanon engineered an eight-play, 75-yard drive by hitting his first four passes for 48 yards.
The Bears got a break when Sneed fumbled after catching a 23-yard pass from Bohanon. But Tyquan Thornton picked up the ball and ran seven yards to the 8.
On the next play, Bohanon rolled right for an eight-yard touchdown run for a 7-7 tie with 5:34 left in the first quarter.
After a short Iowa State punt, the Bears got great field position at their 44. Bohanon was impressive again as he hit Sneed over the middle for 20 yards before throwing a perfectly placed pass to Thornton on the left side of the end zone for a 21-yard touchdown on the first play of the second quarter to lift the Bears to a 14-7 lead.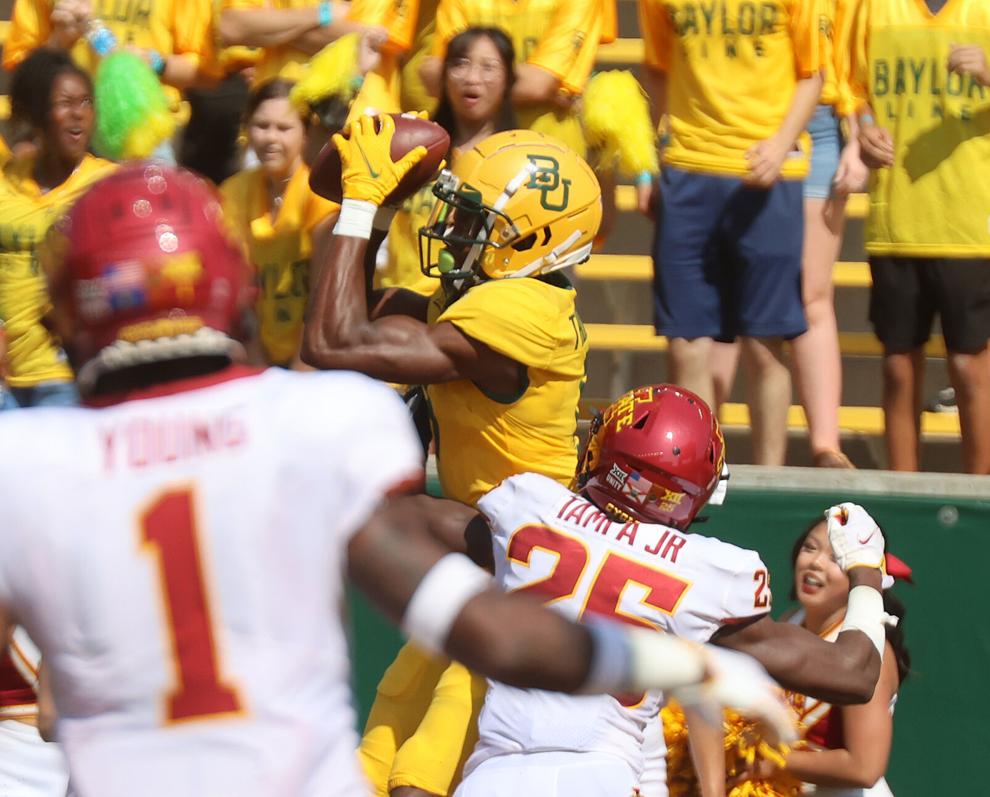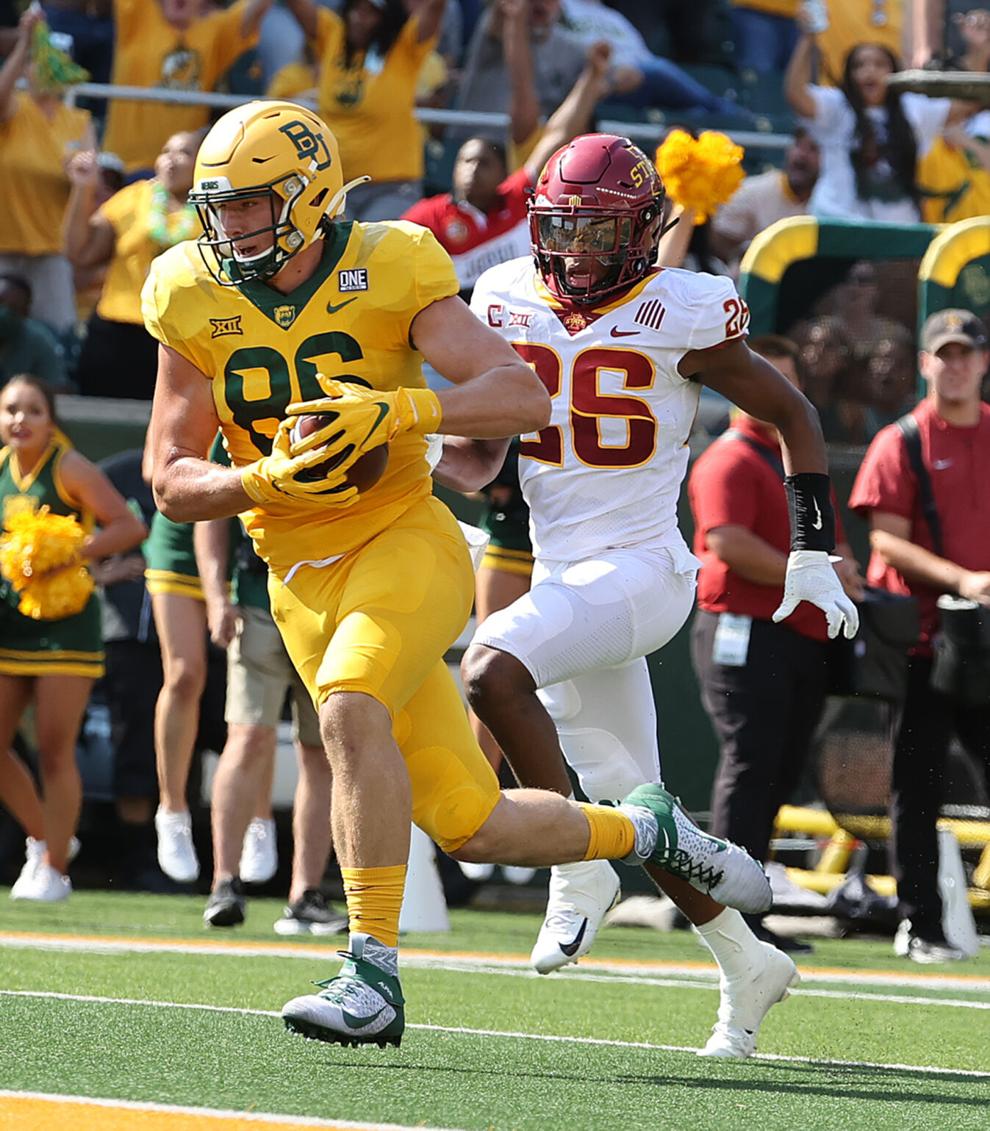 Andrew Mevis nailed a 40-yard field goal as the Cyclones cut Baylor's lead to 14-10 with 10:10 left in the second quarter.
With Bohanon maintaining his hot hand, the Bears drove 75 yards on nine plays to score for the third straight time. Bohanon spotted tight end Ben Sims behind the Iowa State secondary for a 33-yard touchdown pass to push Baylor's lead to 21-10 with 5:37 left in the second quarter.
Mevis missed a 47-yard field goal attempt on Iowa State's next possession, and the Cyclones avoided a near catastrophe when punt returner Jaylin Noel recovered his own fumble at Iowa State's 14 with 59 seconds left in the second quarter.
Purdy hit Hall for 21 yards before finding Xavier Hutchinson for 17 yards to Baylor's 40. Purdy threw to Kolar, who was stripped of the ball and recovered by Baylor's Will Williams.
But Williams was called for a facemask penalty on the play to give Iowa State a first down at the 21, and Mevis nailed a 38-yard field goal to cut Baylor's lead to 21-13 with four seconds left in the second quarter.
But with Ebner's big second-half returns, the Bears had just enough in the tank to walk out of McLane Stadium with a memorable win.
"We got heart," Ebner said. "We have some guys that went down and people had to step up. It was ugly most of the game. I just think guys did a great job pushing through, and we were able to fight them off at the last minute and win."