Baylor will be without one of its key pieces in the ESPN Big Monday game against Oklahoma State at 8 p.m. at Gallagher-Iba Arena in Stillwater.
Freshman sensation Keyonte George suffered a mild right ankle sprain in the first half of Saturday's 81-72 win over No. 8 Texas. He's listed as day to day.
Losing George for any length of time is a blow since he leads the No. 9 Bears (21-8, 10-6) with a 16.3 scoring average.
"As far as when he'll be back, it will be soon because he's a tough kid," said Baylor coach Scott Drew after the win over Texas.
When Baylor faced Oklahoma State last month at the Ferrell Center, the Cowboys were without one of their key players as 7-1 center Moussa Cisse had an ankle injury. The Bears dominated the boards and romped to a 74-58 win on Jan. 14.
Cisse is arguably the best rim protector in the Big 12 and was the league's co-defensive player of the year last season along with Baylor's Tchamwa Tchatchoua. Baylor center Flo Thamba is coming off one of the best games of his career with a 12-point, 12-rebound performance against Texas, and is preparing himself for the challenge of facing the Cowboys' big man this time around.
"It's going to be a huge difference, especially on the defensive side," Thamba said. "Trying to limit him is going to be key."
While the Bears are a long shot to win their third straight Big 12 title standing two games behind Kansas in the Big 12 race with two games remaining, they're likely to land a No. 2 or 3 seed in the NCAA Tournament.
But the Cowboys (16-13, 7-9) are fighting for their NCAA Tournament lives after losing their last four games after winning the previous five. Kansas State knocked off Oklahoma State, 73-68, on Saturday in Stillwater.
"Their team, like us, we were the hottest team for a minute and they were the hottest team for a minute," Drew said. "If can you do that in the Big 12, every team has an NCAA Tournament team, and Coach (Mike) Boynton does a great job with them and we're playing at their place, so we have to be really sharp, really good. It's one of the better defenses in the Big 12, and that says a lot because we're all relatively good."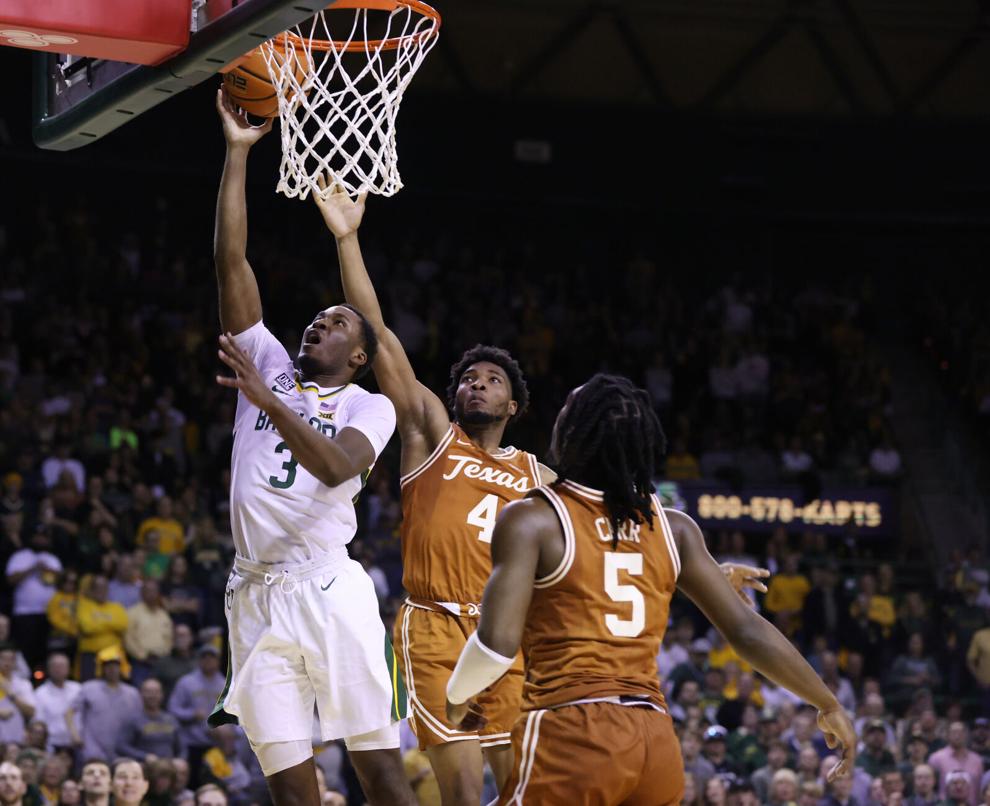 The Cowboys are limiting opponents to a league-low 40.4 field goal percentage and they're the second stingiest defense in the league by allowing 66.5 points per game.
They'll likely try to slow the tempo against a Baylor offense that ranks second in the league by averaging 78.1 points per game. The Bears shot 50 percent overall and hit nine of 19 3-pointers against Texas but committed 21 turnovers.
Oklahoma State's offense is led by forward Kalib Boone with 12 points per game, while guard Bryce Thompson is averaging 11.8 and guard Avery Anderson 11.1. But the Cowboys biggest emphasis is playing gritty man-to-man defense.
Following George's injury, senior guard Dale Bonner gave the Bears a big lift off the bench with 13 points, four assists and two steals after seeing little action in the past month. Baylor will need Bonner to step up again in George's absence along with guards Adam Flagler, LJ Cryer and Langston Love.
"Defense is contagious," Drew said. "You see someone playing that hard and making great plays, it encourages everyone else, too. We had guys getting on the floor, Adam and LJ making tough plays, a lot of guys making tough plays."