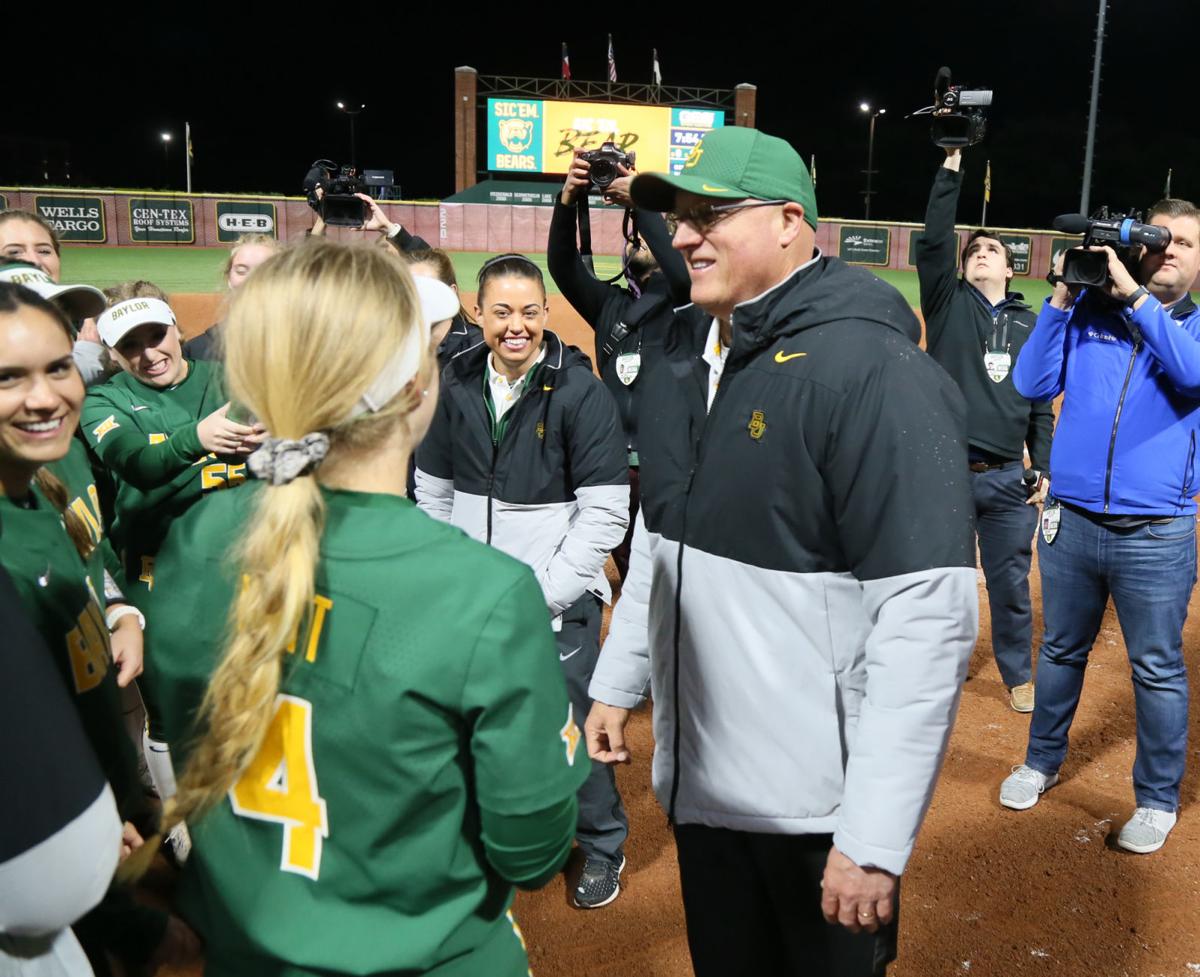 With a victory over Kansas this weekend, all-time winningest Baylor coach Glenn Moore will nail down No. 800.
Moore has amassed a 799-392 record in 21 seasons as the Lady Bears' softball coach.
"It would just be such an honor to be part of the group that would get him to that," said Baylor second baseman Emily Hott. "Such a big number. I don't know how many coaches have gone there, but it would have to be very few."
But the Lady Bears hope a win in Friday's 6:30 p.m. opener at Getterman Stadium is just the beginning of a big weekend.
Baylor needs to win the three-game series to move a step closer to making the NCAA tournament for the 14th time under Moore. Saturday's game is set for 2 p.m. before Sunday's noon finale.
Baylor is excited to play seven of its last eight regular season games at Getterman Stadium after playing on the road most of the season. The Lady Bears conclude the regular season next weekend against Texas with the May 7 game in Austin and the last two at Getterman Stadium.
"The most important thing is we're excited to be home," Hott said. "To finally play on our own field I think is going to make a world of difference in how we compete. I think we're playing very well, especially considering the injuries we're having to overcome."
Through last weekend's games, Kansas (22-20, 2-10) was No. 42 in the NCAA RPI rankings while Baylor (24-15, 5-6) was No. 43. So this is a key series for both teams as they try to polish their resumes for the 64-team NCAA tournament that will be selected May 16.
"I know Kansas has played really well against some really good teams and beaten some good teams," said Moore, who has an overall career record of 938-434 in 24 seasons. "So I expect them to come in knowing the importance of this weekend, and I expect our girls to come in knowing the same thing as well. It's got postseason ramifications, and we've got to play like it has that type of meaning if we want to see postseason."
Though the Lady Bears dropped Tuesday's doubleheader to No. 1 Oklahoma by 7-1 and 11-0 scores, Moore was pleased with the confidence that they played with to open the first game.
Baylor's Lou Gilbert doubled and scored on Taylor Ellis' infield single in the first inning. A chance to extend the lead was denied when two Baylor baserunners were thrown out at the plate in the third inning.
The Sooners took command of the game with Nicole Mendes' grand slam off Baylor ace Gia Rodoni (9-7) in the fourth inning.
"I think we had really good at-bats against really good pitching, and I think that will prepare us for this weekend," said Baylor first baseman Goose McGlaun. "It's important to carry that over to score runs for our pitching staff. We're excited, so hopefully playing on our field, on our turf, it should be a good series."
Texas swept the Jayhawks in a three-game series in Austin last weekend. After dropping 8-1 and 10-1 decisions in the first two games, Kansas put up a much bigger fight in the series finale before the Longhorns took a 10-8 win.
Brittany Jackson leads the Jayhawks with a .387 batting average and 10 stolen bases while Sydnee Ramsey is hitting .378 with seven homers and 23 RBIs. Morgyn Wynne has been Kansas' best power hitter with a .347 average with 15 homers and 44 RBIs.
The Jayhawks' top pitcher is Tatum Goff with a 7-3 record and a 3.79 ERA. Pitching has been erratic for both teams as Baylor has a team ERA of 4.47 and Kansas' ERA is 4.64.
Though the Lady Bears scored just one run in the doubleheader loss to Oklahoma, they believe they're getting into an offensive groove. Gilbert is hitting a team-best .361 while Hott is hitting .323 and has reached base in 26 straight games.
"I think we're really starting to hit our stride, going in the right direction," said McGlaun, who is hitting .328 with a team-high five homers and 24 RBIs. "I feel like we're firing on all cylinders. We're having good at-bats and putting good swings on good pitches."
Baylor played tremendous defense against Oklahoma as Hott made a leaping catch of Jana Johns' line drive in the second inning and Gilbert made a diving catch of Jocelyn Alo's laser to left field in the third. Hott's catch made ESPN's SportsCenter Top 10 plays.