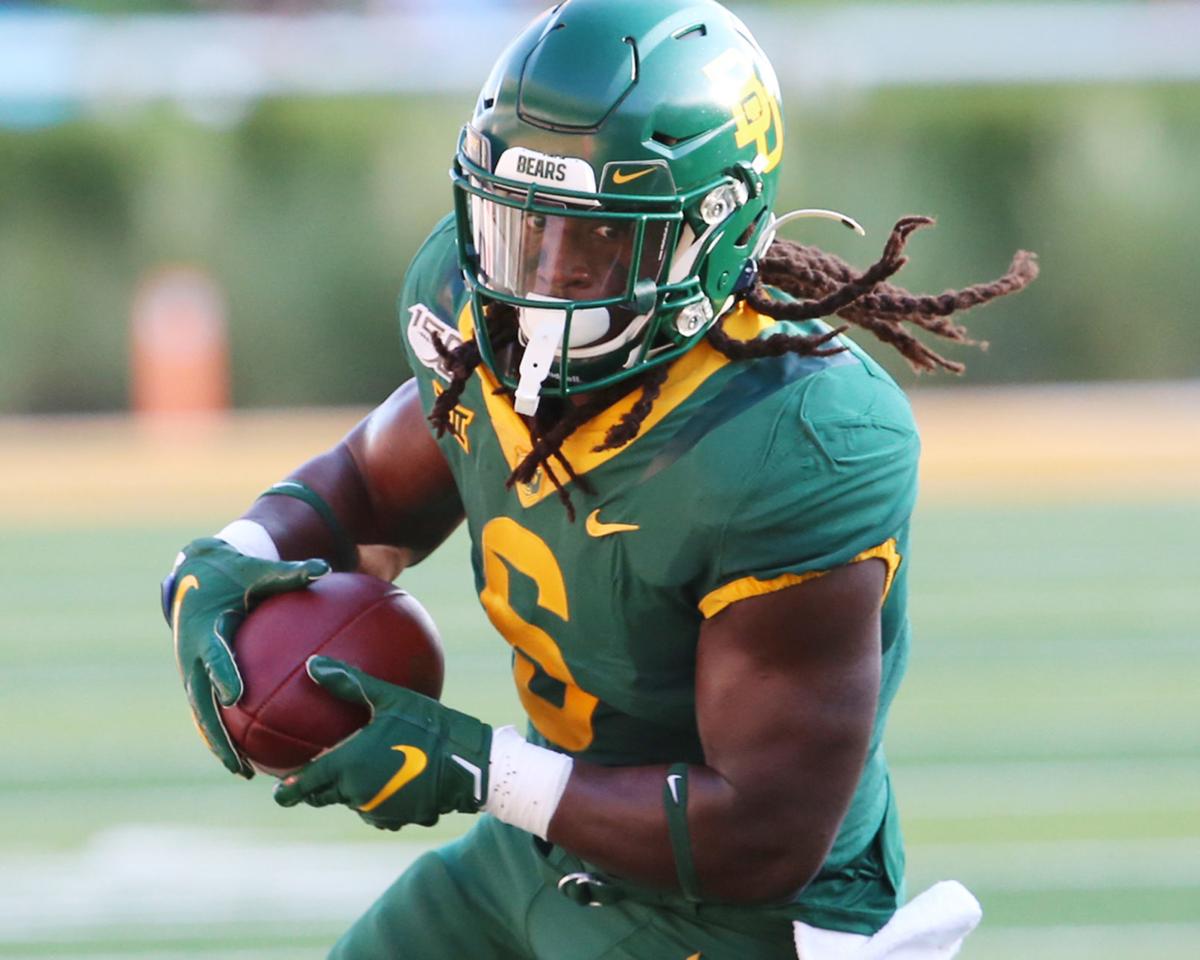 West Virginia kick returner Kennedy McKoy felt the blunt force of the chest-high blow, knocking him off his feet backwards on to the turf as fans let out a collective gasp at McLane Stadium.
The Baylor tackler who sped downfield and unfurled his body like a missile toward McKoy looked like a young linebacker trying to prove himself on special teams.
But it was JaMycal Hasty, a fifth-year senior who is better known for his physical style of running the ball and blocking than laying out kick returners.
"I don't know too many people who will go run a 60 or 70-yard touchdown and then go full speed on kickoff and knock somebody's head off," said Baylor safety JT Woods. "He's definitely a leader, more than vocally but by example and it stands out in practice, it stands out on the field and in the weight room."
As much as anyone, Hasty exemplifies the kind of player Baylor coach Matt Rhule wants in his football program: Tough, relentless and willing to do anything to help the team win.
"He's helped change our mindset," Rhule said. "He's as tough as anyone, he plays on special teams, he picks up every blitz on offense, he runs the ball when we ask him to run it. He's physical, and plays through bumps and bruises."
Hasty's selfless attitude is characteristic of the Big 12's lone remaining unbeaten team that's 8-0 overall and 5-0 in league play heading into Saturday's game against TCU in Fort Worth.
Like a lot of Baylor veterans, Hasty wants to play on special teams in addition to his running back duties as another avenue to get on the field.
"It's fun, it's real fun," Hasty said. "Just always being the one who takes the hits, takes the punishment, it's good to be on the other side of it, no doubt. It's definitely a big deal for our team, just giving everything you've got every time you get on the field and trying to make a play for the team."
While Hasty doesn't put up big numbers like the Big 12's top rushers, he's been a valuable back for the Bears since he arrived out of Longview in 2015. His most productive season was as a redshirt freshman in 2016 when he rushed for 623 yards and three touchdowns.
Following Rhule's arrival after the 2016 season, Hasty has split time in the backfield with John Lovett and Trestan Ebner. After rushing for 314 yards in 2017 and 434 last year, Hasty is Baylor's second-leading rusher behind Lovett this season with 439 yards and four touchdowns while averaging an impressive 6.3 yards per carry.
The Bears often rely on Hasty to pick up the tough yardage, but he's also capable of breaking loose like he did in a 45-27 win over Oklahoma State when he sealed the game with a 73-yard touchdown run in the fourth quarter that silenced the fans in Stillwater.
"He's just a warrior," said Baylor running backs coach Jeff Nixon. "I mean he's one of our main leaders on our team. The kid works his butt off. I think he's a complete running back. He can do everything. And he's making the most of his chances with Ebner being nicked-up a little bit. He's a very good player, and I'm expecting him to finish out the year strong."
Hasty has played some of his best football in Baylor's last four Big 12 wins.
In Baylor's 31-12 road win over Kansas State, Hasty rushed for a team-high 87 yards on just eight carries. The following week against Texas Tech, Hasty caught an 18-yard pass from Charlie Brewer to set up his five-yard run for the winning touchdown in a 33-30 double-overtime win at McLane Stadium.
Hasty delivered the best all-around game of his career against Oklahoma State as he rushed for a career-high 146 yards on 16 carries and caught three passes for 66 yards while scoring two touchdowns. In Baylor's 17-14 win over West Virginia, Hasty led the Bears with 77 yards on 14 carries.
"I just like playing football, so whether that's being physical or trying to finesse my way through the holes or whatever, I just like playing the game," Hasty said.
While Hasty enjoys rushing for big yardage, he gets just as much of a thrill by springing one of his teammates for a touchdown with a crushing block.
"It's just a chance to be extremely physical when you don't have to worry about taking care of the ball," Hasty said. "You can just kind of fly and throw yourself into somebody. I always liked that aspect of the game. I just try to be (Baylor safety) Chris Miller on offense."
Standing 5-9 and 205 pounds, Hasty packs a lot of muscle on his frame. He's built his body in the weight room, a place that he's felt more at home as his career has progressed.
"I always enjoyed lifting weights, but I guess in the spring of '19 was when I really enjoyed it just more," Hasty said. "It became so much of a habit that it was more like therapeutic to me. At the same time, I feel like the weight room is what keeps you healthy. It's more about like your shield and being your protection than anything."
Several of Hasty's teammates like Miller have seen how weight lifting has paid off for him and they've joined him in extra weight lifting sessions.
"A lot of our guys had this belief that if you lifted too much and got too strong that you wouldn't be fast," Rhule said. "JaMycal just started being a guy that if we're lifting on Monday and Thursday, he would go in the weight room on Thursday and do extra and go in the weight room on Wednesday and do extra. People saw his arms grow and his neck grow. The next thing you know, you have this culture of doing extra."
As a fifth-year senior, Hasty has played for three head coaches at Baylor, but has been a rock for a program that's experienced a great deal of turmoil. He's enjoyed the stability Rhule and his staff have brought to the program during the last three seasons, and is excited to be a part of a team that's unbeaten through eight games just two years after finishing 1-11.
"I was always taught the greatest ability in the world is the ability to adapt," Hasty said. "You've got to be able to adapt to any situation. You go through the hard times and go through the adversity because at the end of the day it builds character."
The veterans who have been through all the changes in the Baylor football program have formed a tight bond, and they've passed their knowledge and expectations for the program down to the younger players. They know it's not enough just to work hard, but also to practice with high intensity.
"Everybody works hard, but it takes a certain group of people to work at a different level with high intensity," Hasty said. "Everybody has just bought in and said we have a chance to be a good team and we've locked into that. I'm out there playing with guys you've been through everything with. At the end of the day, all we have is each other. In the hard times, we had each other to lean on and that's what made everything better."
Whether it's his versatility on the field or his dedication in the weight room, Hasty's work ethic has had a big impact on his teammates. The reaction of watching Hasty blast McKoy on the kickoff return last week against West Virginia streaked across the Baylor sideline like an electrical current.
"That kid can do everything," said Baylor deep snapper and linebacker Ross Matiscik. "What can't he do? In practice, he's probably one of our biggest effort guys. You see him sprinting all over the field. So when he blew that guy up, it was no surprise that it was him, No. 6. Just let him do his thing and let him play football."
Hasty earned his degree in health, kinesiology and leisure studies from Baylor in just three years in 2018, and hopes to open his own business some day. But next year, he hopes to get a shot to play in the NFL. His favorite player is Philadelphia Eagles wide receiver DeSean Jackson because of the tenacity he brings to the field much like Hasty does for Baylor.
"I just love the way he plays, the way he acts on the field," Hasty said. "He has a presence, you feel him. And any team he's been on, he's had an impact and he's definitely an explosive player."
Be the first to know
Get local news delivered to your inbox!