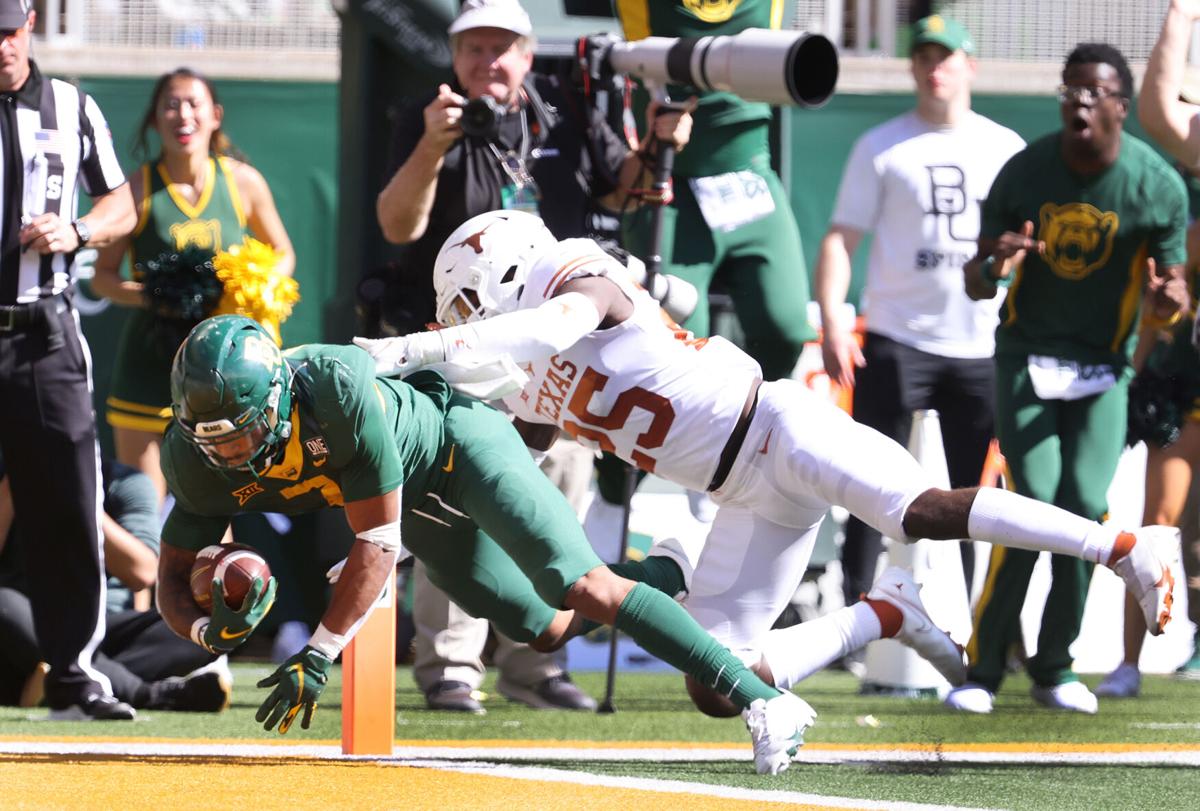 The Baylor and Texas football seasons are headed in opposite directions, and it's easy to understand why.
The Bears can close games and the Longhorns can't.
Rallying from an 11-point third-quarter deficit, Gerry Bohanan, Ben Sims and Abram Smith scored touchdowns in a 12-minute span to lift No. 16 Baylor to a 31-24 win before a loud, raucous crowd of 45,834 Saturday afternoon at McLane Stadium.
With their third straight October home win, the Bears (7-1, 4-1) are legitimate Big 12 championship game contenders heading into their final four regular season games.
"We knew we had to finish strong," said Smith, who rushed for 113 yards on 20 carries and scored the game-sealing touchdown. "It didn't start off the way we wanted it to. We had to come out and be the team we knew we were. Whether we have adversity or not, I think it's for the most part, we know we're going to be able to bounce back when our backs are against the wall."
After blowing double-digit leads in their last two losses against Oklahoma and Oklahoma State, the Longhorns (4-4, 2-3) did it again against the Bears after opening up a 21-10 lead on Bijan Robinson's one-yard touchdown run with 8:49 left in the third quarter.
As the final seconds ticked off, Baylor fans began chanting "S-E-C." The Longhorns are set to join the SEC following the 2024-25 season.
"To see guys handle adversity today, individually, those were some big battles," said Baylor coach Dave Aranda. "The team starting fast, that was the intention. I think getting punched in the face by a really good Texas team, that was anticipated. It was good that we were able to get our hands back up and throw some punches of our own."
Here's the thing about hype. Eventually, it gains speed and overtakes you.
A major key to Baylor's win was holding Robinson to 43 yards rushing on 17 carries with a long run of nine yards. The explosive Robinson came into the game with a Big 12-high 924 yards rushing following a 137-yard performance against Oklahoma and a 135-yard outburst against Oklahoma State.
"I feel like the coaches showed us great tape on him and what he was able to do, especially in the open field," said Baylor safety Jalen Pitre. "They emphasized gap integrity and also when he does break the line that we're all running to the ball. So I think you add those two, it's very hard for a running back to break those long runs and get the momentum they need to get the offensive line going."
After throwing two first-half interceptions, Baylor quarterback Gerry Bohanon regained his poise by leading the Bears on a nine-play, 75-yard drive following Robinson's touchdown run. It began with his 23-yard passes to Tyquan Thornton and RJ Sneed and ended with Bohanon's six-yard touchdown run to cut Texas' lead to 21-17 with 4:45 left in the third quarter.
"Gerry didn't get down that's for one thing," Smith said. "He knew what his job was. He knew what he could do. Despite all that, he led with complete confidence. He was out there like nothing happened. We picked him up but he was already in a whole different mode."
Baylor's next scoring drive was even more impressive as the Bears drove 80 yards on 14 plays. The biggest play was Bohanon's 28-yard pass to a wide open Sims down the right sideline.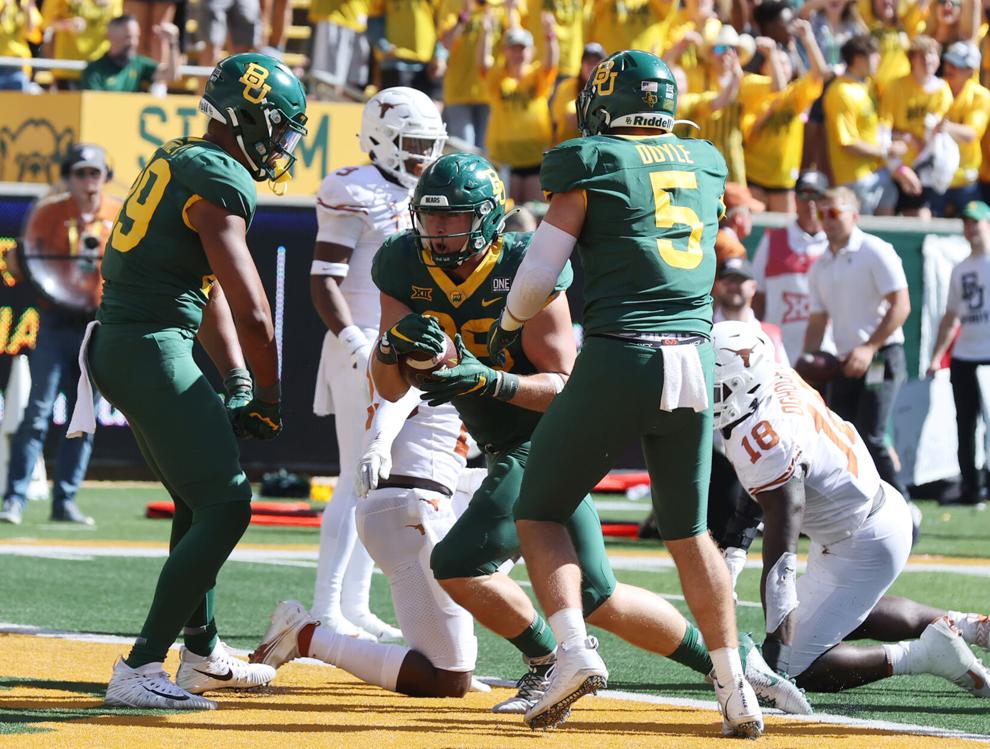 Sims finished it off by running for a one-yard touchdown after taking the handoff in motion behind the line of scrimmage to give the Bears a 24-21 lead with 12:48 left in the fourth quarter.
The Longhorns took a gamble that backfired when they faked a punt on fourth-and-11. Punter Cameron Dicker appeared to be looking to pass before he tucked the ball and ran for two yards, giving the Bears great field position at their own 47.
"We had worked on that look quite a bit, so we were calling that out prior," Aranda said. "Guys were communicating that, and guys were on it. I give Coach (Matt) Powledge a lot of credit for that. Griffin Speaks was on that unit, and he's communicating it and stuff. It's really cool to see the work you've put in, in a critical spot like that."
Smith pulled off the play of the day when he spun away from a Texas defender behind the line of scrimmage and broke loose down the right sideline for a 32-yard touchdown run to propel the Bears to a 31-21 lead with 7:59 remaining in the game.
"I pulled out a few moves out of Trestan's (Ebner) book," Smith said. "I got busy. Thankful for the moves he showed me. It's nice to go out there and do something else instead of going through people."
It turned out to be a bit of a late-arriving crowd for Baylor's 11 a.m. kickoff against Texas on Saturday at McLane Stadium. As the game start…
The Longhorns answered with a 66-yard drive that stalled on the 9, forcing Dicker to kick a 27-yard field goal that cut Baylor's lead to 31-24 with 4:40 remaining.
The Bears picked up a first down before being forced to punt. The Longhorns got possession at their own 32 with 2:07 to play, but had no time outs left after trying to stop the clock.
This time Baylor's defense delivered as Casey Thompson missed four straight passes. Fierce pass rushes by TJ Franklin and Terrel Bernard forced bad throws on first and third downs. Baylor safety TJ Woods broke up a second-down pass before cornerback Kalon Barnes broke up Thompson's pass to Cade Brewer on fourth down.
"We practice two-minute almost every day," Pitre said. "So that's something we're really conditioned on and we really practice a lot. We have a couple of blitzes in our package and a couple of dropbacks. We did it a couple of times in that last two-minute, and I think we executed well."
Getting the ball with 1:40 remaining, the Baylor offense shifted into victory formation and ran out the clock after nailing down another impressive win. Most of the crowd stayed until the end to celebrate with the Bears, and they appreciated the support.
"It was probably the middle of the third quarter I looked around like 'Oh wow. It's lit in here. It's packed and they're staying with us,'" Pitre said. "They definitely brought us some great momentum and I think it helped in the win for us this week."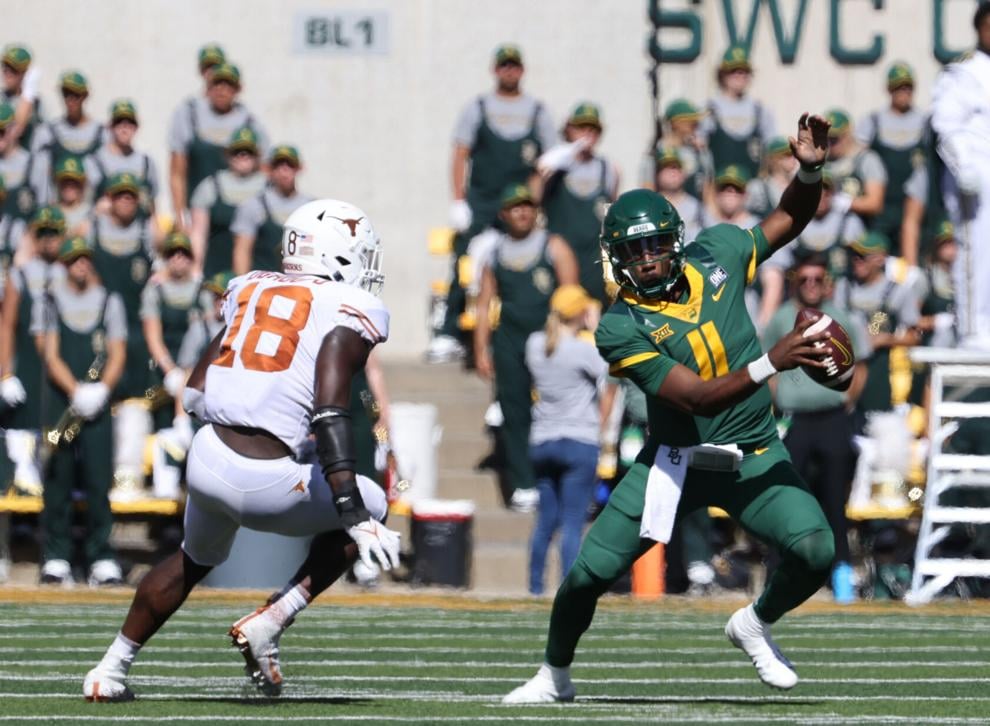 Bohanon finished 18 of 31 for 222 yards, but didn't look like himself in the first half. It began with the opening drive when BJ Foster intercepted his pass over the middle to Sneed and returned it 31 yards to Baylor's 31.
Thompson hit Joshua Moore for 15 yards and then found the receiver again crossing the middle for a 10-yard touchdown pass to give the Longhorns a quick 7-0 lead with 12:34 left in the first quarter.
But the Bears answered with an 11-play, 75-yard drive that ended with razzle dazzle as wide receiver Tyquan Thornton took a pitch from Ebner and threw a six-yard touchdown pass to a wide open Sneed for the game-tying touchdown.
"Grimey (offensive coordinator Jeff Grimes) has had that," Aranda said. "I think the last time we tried some trick plays was Oklahoma State, and it didn't end up like the ones today. I think he had been working back up the ability to call those plays. I'm glad that we did. It gives the sidelines some energy when a guy that's not generally a thrower becomes a thrower."
Baylor's offense was productive again on the next drive as it moved 51 yards with Smith's 20-yard run setting up Isaiah Hankins' 38-yard field goal that gave the Bears a 10-7 lead with 56 seconds left in the first quarter.
But it didn't take long for Texas to respond as Thompson found Xavier Worthy streaking down the right sideline behind Barnes for a 63-yard touchdown to give the Longhorns a 14-10 lead with 24 seconds left in the first quarter. Thompson finished the first quarter by hitting all five passes for 101 yards.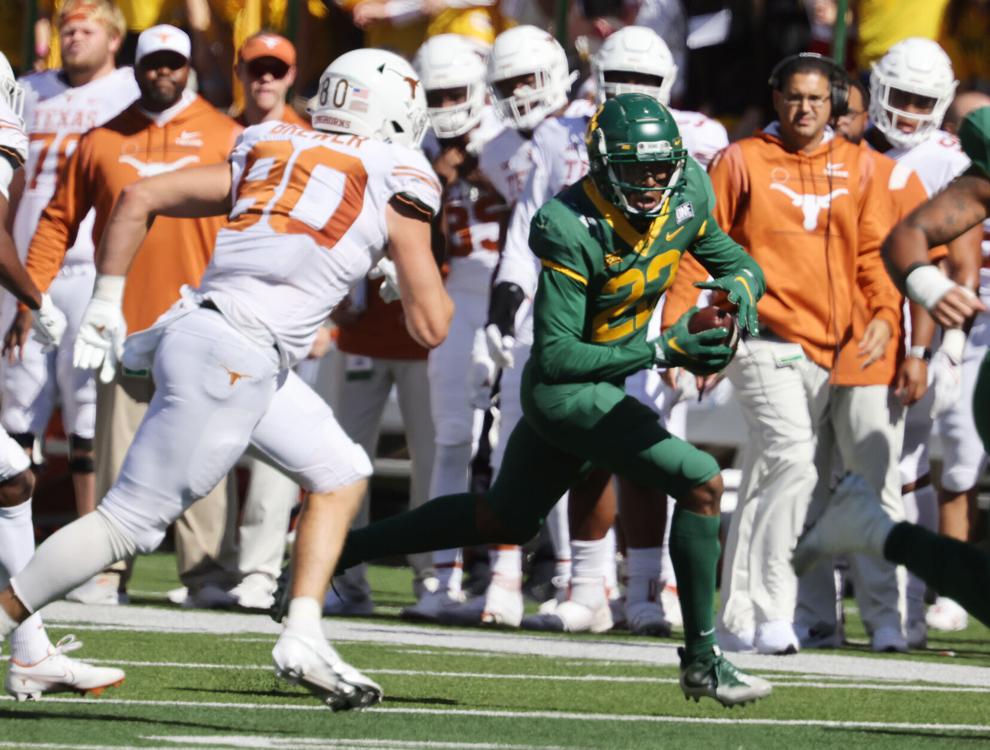 After Smith broke off 32 yards on a pass from Bohanon, a high snap led to Hankins' 51-yard field goal attempt sailing short and wide left.
Bohanon's second interception of the second half was the result of throwing into coverage to Sneed as linebacker Luke Brockermeyer returned it to the 34. But Baylor safety JT Woods saved another potential Texas score when he intercepted a tipped pass and returned it 40 yards with three seconds left in the second quarter.
Despite trailing much of the first three quarters, the Bears felt confident they could come back late and pull off the win.
"The deep touchdown to the receiver was a bust, so we knew that was under our control," Pitre said. "Then the turnover by our offense, we knew we were put in a bad position. But it happens. We understand that's part of the game. We knew that wasn't going to continue to happen."