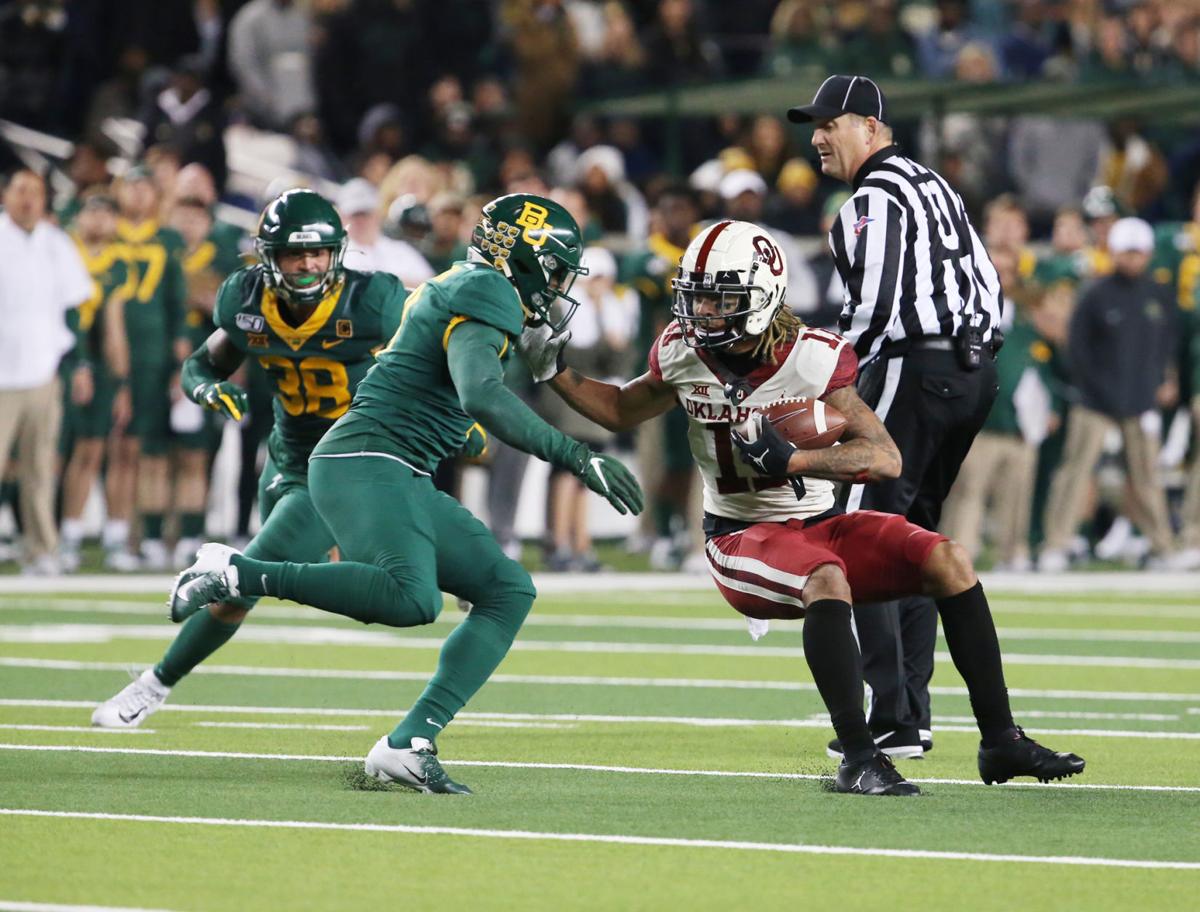 Fresh out of Austin St. Michael's Catholic Academy, Jameson Houston got a harsh education in playing cornerback in the Big 12 the moment he stepped on the practice field for Baylor in 2015.
The kid was matched up against junior Corey Coleman, who won the Biletnikoff Award that season as the best receiver in college football before the Cleveland Browns selected him in the first round of the NFL draft.
Coleman was tough, physical and fast, and knew all the tricks to beat cornerbacks. Dominating Texas high school private school receivers seemed like a distant memory for Houston.
"That was rough," Houston said. "I had played no one like that in high school, and then coming here at the time we were top 10 and to cover somebody like Corey Coleman. He was really good, but that just made me better every day, and that's why I'm the player I am now."
Now four years down the road, Houston has learned his lessons well enough to become one of the premier cornerbacks in the Big 12 for a No. 13 Baylor squad that's one win away from reaching the Big 12 championship game.
Houston has played against enough great quarterbacks and receivers in college football's most dynamic offensive conference to develop his defensive skills and anticipate what to expect from week to week.
"He's developed into one of the best corners in the Big 12," said Baylor coach Matt Rhule. "He can play off man, he can play bump and run, he's held some of the best receivers to career lows. It's just a matter of his confidence growing, and he's now a really confident player."
Displaying supreme confidence can't be underestimated at a position as demanding as cornerback. They're the most vulnerable players on the field. Everyone sees when a cornerback gets beat, and a mistake against a gifted receiver can mean the difference in a game.
Houston has been beaten his share of times throughout the last four years as he's developed his craft. But he always learned from his mistakes, and has constantly strived to improve, and now has the skills to shut down some of the best receivers in the Big 12.
"To play corner, you have to get beat a little bit, and you've got to rebound from getting beat," said Baylor cornerbacks coach Evan Cooper. "You have to make it through the fire. I've watched him be in the fire and I've watched him come out. He's put in a lot of hard work in the offseason, and a lot of attention to detail. He's done everything we've asked him to do."
The Baylor coaches often match up Houston against the opposing team's best receivers, and he's more than held his own.
In Baylor's 45-27 win over Oklahoma State in Stillwater on Oct. 19, All-America candidate Tylan Wallace made six catches for 69 yards. But Houston didn't allow him to break a big play and score a touchdown.
TCU's Jalen Reagor wrecked the Bears last season, but Houston helped limit him to one catch for eight yards in a 29-23 triple-overtime win in Fort Worth on Nov. 9.
"I like challenges and having to guard the best receiver every week is something to look forward to and something I want to do my best at," Houston said. "Allowing no catches is what I want to do. Reagor is a really fast guy who has good ball skills and can run good routes. With him, you just have to contain him and don't play up on him too much or be off too much because he has a lot of tools.
"Wallace is also one of the best receivers in the Big 12 and they just do a lot of different stuff with him. Every receiver is different, so I come with a different approach every week."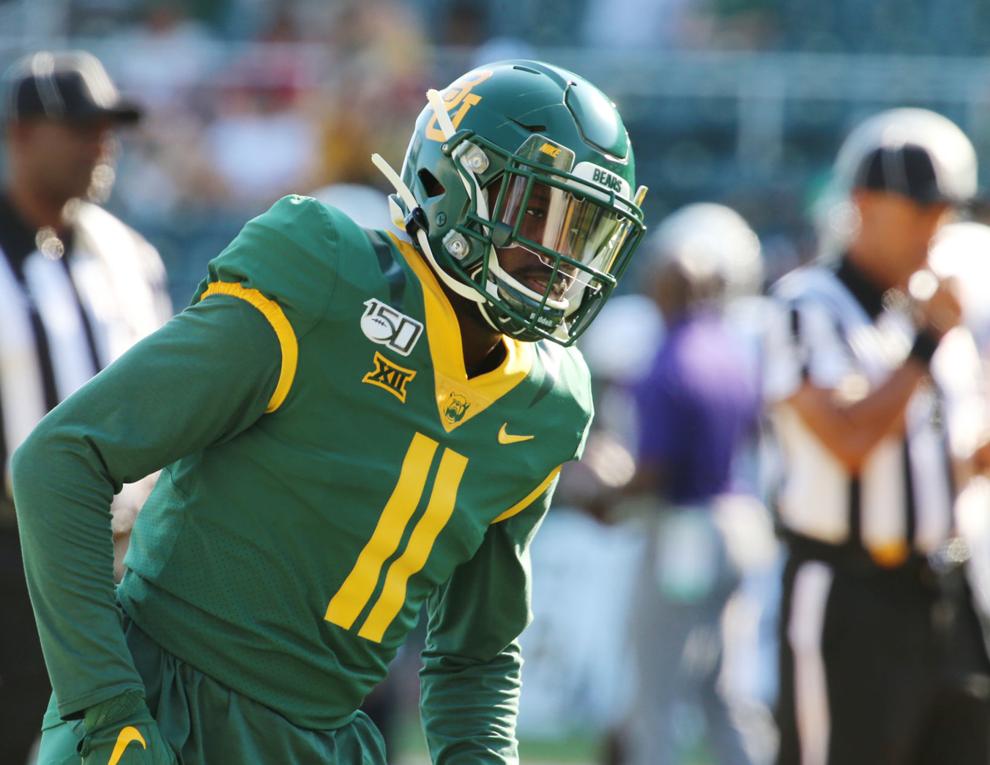 Houston was psyched up to face Biletnikoff semifinalist CeeDee Lamb in last weekend's game against Oklahoma, but the All-America candidate didn't play due to an undisclosed injury.
If the Bears face Oklahoma again in the Big 12 championship game on Dec. 7 at AT&T Stadium in Arlington, Houston and Lamb will likely match up. Regardless of which receiver he faces, Houston tries to learn the book on him through a great deal of film study and practice reps.
"For me, it's been about practicing harder and watching more film," Houston said. "The more film I watch, the easier it makes it for me, and the faster I can go out there and play with more confidence. It's just knowing I've got to be on my stuff every day. I can't have any bad practices while allowing the young guys to follow me and watch what I do."
Houston's film study and attention to detail hasn't gone unnoticed by the Baylor coaches. They can see that he wants to become a lockdown cornerback, and has put in the daily work to make it happen.
"He's been building his confidence throughout practice, the off-season and the weight room," Cooper said. "He's been one of our hardest workers and has taken the leadership role. I didn't know if he would or not, but he's taken it and has kind of grabbed the bull by the horns."
Standing 5-11 and 200 pounds, Houston is bigger and stronger than a lot of cornerbacks. He possesses the physicality to play against bigger receivers and the speed to play against receivers of any size.
Houston is tied for second for the Bears with five pass breakups and made his first career interception against West Virginia. He would likely have more pass breakups, but opposing quarterbacks have increasingly avoided throwing his way.
"Size and speed helps me get my hands on people, which I really like doing," Houston said. "It gives me an advantage. The more confidence I get allows me to play how I want to play, and play fast."
Saturday's game against Texas at McLane Stadium will bring some extra meaning to Houston since he grew up a Longhorns fan in Austin. But he said Texas didn't recruit him, and he signed with Baylor in 2015 to be at a school close enough for his family to watch him play and was coming off consecutive Big 12 championships under Art Briles.
Houston hoped to play as a true freshman in 2015, but his practices against Coleman and the rest of Baylor's talented receiving corps showed him that he needed a lot of work to become a dependable Big 12 cornerback.
"It was just practicing all my technique and all the little details because when I first got here I really wanted to play," Houston said. "But I kind of figured I was really wasn't ready yet. So I practiced and got my details right, and the confidence part and getting everything right to get ready to play."
After playing in 11 games with two starts under interim coach Jim Grobe in 2016, Houston didn't quickly grab the attention of Rhule when he first arrived.
"I don't want to embarrass him, but I remember one of my first games here I suspended him because he missed practice on Friday before a game," Rhule said. "I suspended him for the game and now he's a captain, he's a guy that's as mature, as trustworthy, as accountable as anyone we have."
After primarily coming off the bench during Rhule's first two seasons in 2017-18, Houston put in the work in the offseason to make his final year at Baylor his best.
Baylor's defense is the stingiest in the Big 12, and Houston and the rest of the secondary have benefited from a defensive line that has delivered great pressure on quarterbacks. But his teammates know they can rely on him to do his job and keep top receivers under control.
"Jameson has improved a lot and it has been mostly mental," said Baylor junior safety Grayland Arnold. "It kind of helps whenever you have a corner on one side that you know will have that receiver. If you know you got man coverage, then we all trust that if the ball is thrown, then he is going to make the play."
Houston earned his degree from Baylor in May in health, kinesiology and leisure studies, and hopes to get a shot to play in the NFL next year.
But first he wants to keep playing with teammates who have taken the program from a 1-11 season two years ago to an opportunity to make the Big 12 championship game with a Senior Day win against Texas in his final game at McLane Stadium.
"It's been a really exciting season," Houston said. "No one thought we'd be in this position where we are now. The doubters pushed us and allowed us to be in the position we are now. I think it just starts in the locker room, the brotherhood on the team. Whatever I can do to get us over the hump and help us out is what I want to do."