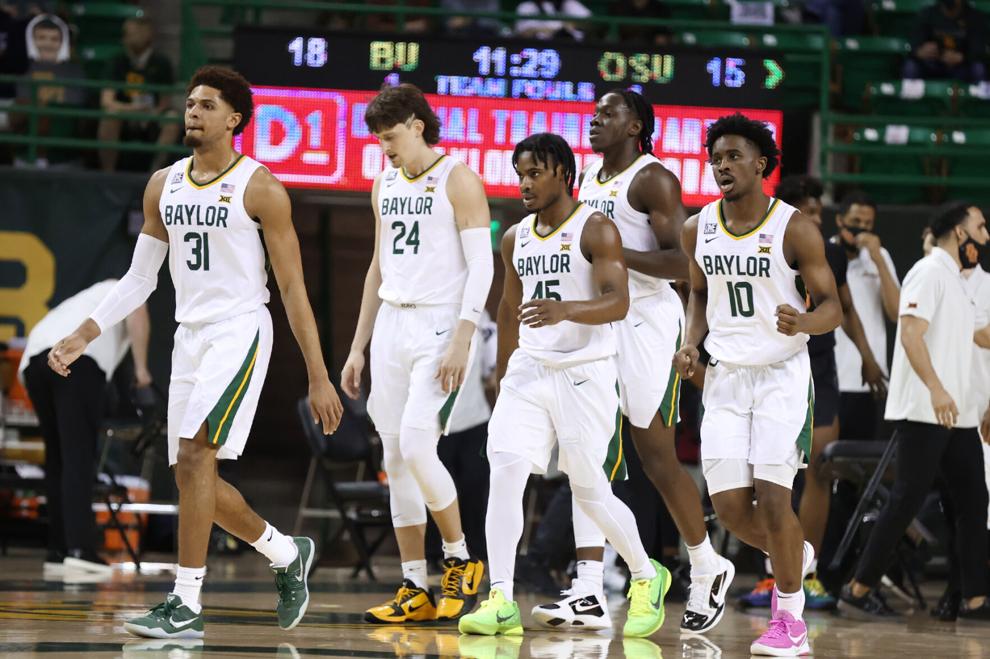 Baylor's first Big 12 men's basketball championship team isn't made up of any Top 25 national prospects that coaches were falling all over themselves to recruit to their schools.
Guards Jared Butler, Davion Mitchell, MaCio Teague and Adam Flagler are all out-of-state transfers who came to Scott Drew's program seeking a better opportunity.
The No. 3 Bears' top big men — Flo Thamba and Jonathan Tchamwa Tchatchoua — were natives of the Democratic Republic of the Congo and Cameroon, respectively.
Though their backgrounds are diverse, they've all got one thing in common: They're hungry, motivated, and play with the cohesiveness and experience possessed by few college basketball teams.
"It has a lot to do with where we came from," Teague said. "I had one offer, Davion came from not playing at Auburn, Jared had to transfer, Flag came from Presbyterian, and Jon didn't play much at UNLV. We've got a group of guys that were overlooked. To get to this point we had to keep working through the obstacles that were thrown in front of us in life. I feel like we just persevere through anything and fight through anything."
These guys aren't the bluebloods that Kansas, Duke and North Carolina routinely bring to the floor. The Bears are more lunch pail kind of guys who have worked together to earn Baylor's first conference championship since 1950 and likely the program's first No. 1 NCAA tournament seed.
They've built their remarkable season while navigating COVID-19 shutdowns, including a three-week pause that left them quarantined away from practice and games most of February.
The team will be honored in a ceremony at the Ferrell Center following Sunday's 3 p.m. regular season finale against No. 18 Texas Tech.
Though Butler is a potential first-team All-American and Mark Vital and Mitchell are candidates for Naismith national defensive player of the year, awards and honors aren't what this team is all about.
The Bears have built their lofty 20-1 overall record and 12-1 Big 12 mark through sacrificing individual glory for the good of the team.
They care more about who gets the best shot on every offensive possession instead of who scores the most points. There's a reason why Mitchell and Butler are 1-2 in Big 12 assists.
With great long-range shooters like Mitchell, Butler, Teague, Flagler and Matthew Mayer, the Bears lead the nation with an insane 42.0 3-point percentage. It helps that they're wide open most of the time because the Bears almost always make the extra pass to get a better look.
Defensively, Vital and Mitchell set an intense tone with their frenetic, aggressive play, and the rest of the players follow. They're always looking for shotblocking opportunities and ways to knife into the passing lane for steals. Butler and Mitchell are 1-2 in the Big 12 in steals.
Baylor's starters and bench players look at themselves as equals. They know it takes a highly productive eight or nine-man rotation to win championships.
"We talk about it all the time, ego is everyone exists for me or you think the world is for you," Butler said. "But we live for joy, you know what I mean? We believe everyone on the team can help us win the game. It's like tug of war: You need everybody pulling the rope. We need everybody on board, and Coach Drew is big on that as well. We feel like everybody's bought in, and that's a good thing."
To all the guys I've loved before
When the Bears clinched the Big 12 title with an epic 94-89 overtime win against No. 6 West Virginia on Tuesday in Morgantown, Drew didn't just credit his players who were hugging and dancing on the court.
He gave credit to all the players and assistant coaches who have built the program since 2003 when he took over a scandal-ridden program that was barely functioning. Guys who helped bring eight NCAA tournament appearances and a 2013 NIT championship to a school that had logged just four NCAA tournament appearances before Drew's arrival.
"You know our last title was 1950, so we've had a lot of great players who helped work toward this," Drew said. "We finished second several times, and everyone's contributed, the fans, the staff, the players to get to this point. I know all our coaches for all the years spending the time away from their families pouring into this program, and all the coaches who believed we could get to a point where we're a national program."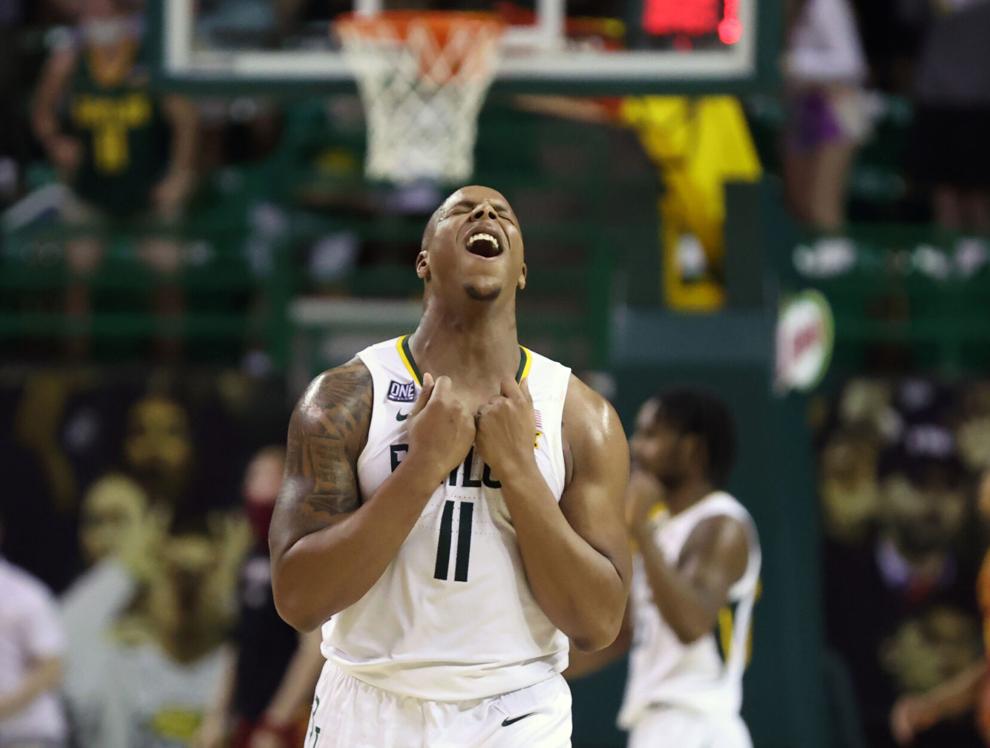 It seemed symbolic that Drew hopped on Vital's back and rode him a while after the Bears clinched the Big 12 title in Morgantown.
The construction of this year's Big 12 championship team began eight years ago in 2013 when Vital committed to Baylor before his sophomore year at Washington-Marion High School in Lake Charles, La.
Vital was already a YouTube dunking sensation, but Drew and his staff could see the energy, rebounding and defensive skills he could bring to the floor once he arrived on campus in 2016.
Even at such a young age, it really wasn't a hard choice for Vital to choose Baylor.
He had grown up a Baylor fan watching fellow Louisiana natives Tweety Carter, LaceDarius Dunn and Rico Gathers, and made the five-hour drive to Waco numerous times to watch them play.
"Tweety was a good friend of mine and so was Rico," Vital said. "He (Gathers) came to Lake Charles and used to dunk on our goals and break them. I met Isaiah Austin in Las Vegas in AAU ball. I came to Baylor games before I committed. Once they offered me, I took it. There weren't too many guys from where I'm from who get to go to a school like Baylor."
Tapping into the Louisiana pipeline
Baylor's Louisiana connection paid off again when Butler decided to transfer to Baylor in the summer of 2018 after he had originally signed with Alabama.
Butler played for Tim Byrd at Reserve (La.) Riverside Academy, the same coach who mentored Carter before he came to Baylor in 2006. When Carter scored 74 points for Reserve Christian School in a December 2005 game, Butler was in the crowd going crazy like everyone else.
"The crowd was packed and the atmosphere was like (Kansas) Allen Fieldhouse," Butler said. "It was alive. I'm just watching it and trying to take it all in."
Butler and Carter became friends and have stayed in touch. Drew and his staff had recruited Butler aggressively out of high school, but he signed with Alabama and enrolled in classes in the summer of 2018.
But after five-star point guard Kira Lewis graduated a year early from Hazel Green (Ala.) High School to enroll at Alabama, Butler got his release and transferred to Baylor.
Butler knew he'd love the family atmosphere Drew and his staff created at Baylor. For years, he's kept a picture on his cell phone that he took with Drew at a Riverside Academy game when he came to Louisiana to see Gathers play in high school before he starred for Baylor from 2012-16.
"I had a chubby face and everything," Butler said.
Like Butler, Mitchell originally started his basketball career at an SEC school. He grew up in Hinesville, Ga., near the Atlantic coast and signed with Auburn in 2017.
Mitchell came off the bench as a freshman as he averaged 3.7 points and 1.9 assists for a team that won the SEC title and reached the second round of the 2018 NCAA tournament. But with starting point guard Jared Harper returning for his junior year, Mitchell wanted a chance to start and decided to transfer.
When he visited Baylor, he immediately recognized the family atmosphere created by the players and Drew's coaching staff.
"What made me come to Baylor, when I visited here it was more like a family with the coaches and players," Mitchell said. "They had high expectations of me, but they wanted to develop me to be a better person and not just a better basketball player."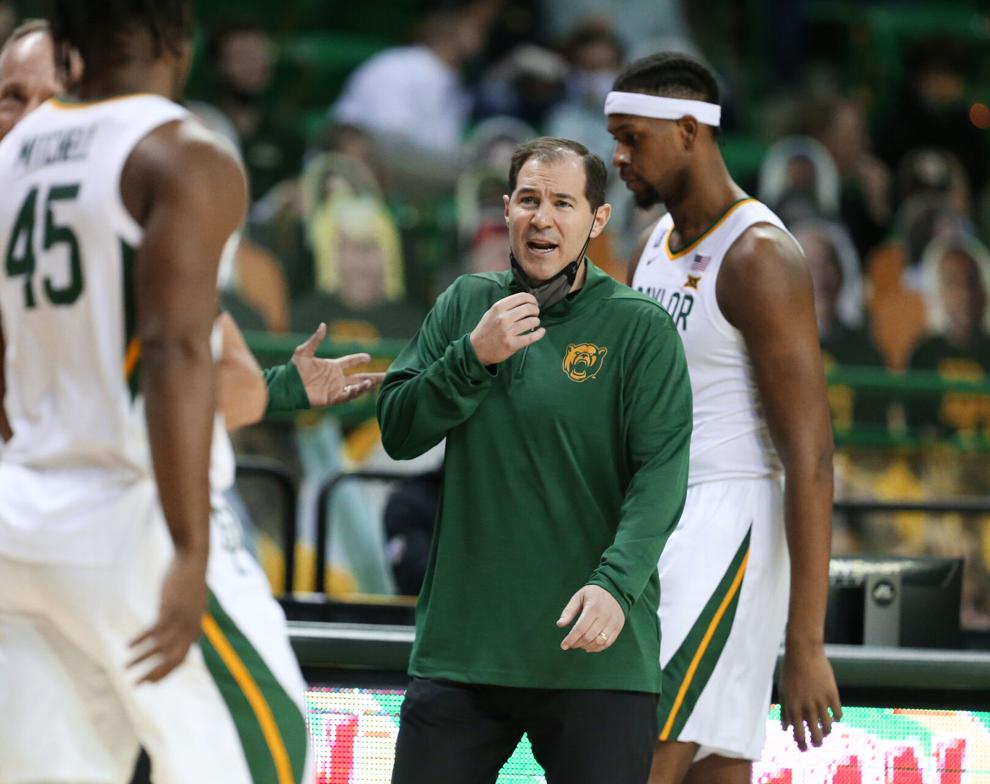 When Mitchell transferred to Baylor in the summer of 2018, he heard that high-scoring North Carolina-Asheville guard MaCio Teague was also looking for a place to transfer. Mitchell tracked down Teague's phone number and asked him to join him at Baylor.
"I told him we're going to be good, and we're going to be good together," Mitchell said. "We can definitely win a national championship, but we need you."
Lightly recruited, now highly regarded
When coach Nick McDevitt left North Carolina-Asheville to become Middle Tennessee State's coach following the 2017-18 season, Teague decided to transfer after averaging 16.1 points and shooting 43.7 percent from 3-point range in two seasons.
Lightly recruited out of Walnut Hills (Ohio) High School, Teague had plenty of big-time schools looking at him after two years of college basketball. Teague found some of Mitchell's film clips and was impressed by how quickly he pushed the ball downcourt and how intensely he played defense. But Louisville players also wanted Teague to join them.
"He (Mitchell) texted me and said we could go to the Final Four or something like that," Teague said. "The Louisville players were doing the same thing. I didn't even know who he was, so I looked him up online and looked at his clips. One thing I did notice is he's really fast. Everything he was doing was with this crazy burst of speed."
Ultimately, a meeting with Baylor assistant coach John Jakus on a campus visit propelled Teague to sign with the Bears.
"It was between here and Louisville," Teague said. "Coach Jakus was writing stuff up on the board in the office, and it connected with my mind the way he thinks about things. The way he processes things and looks at it, and goes about it in such a methodical way, I like that. I felt like he was saying it to my spirit and this was the place to come."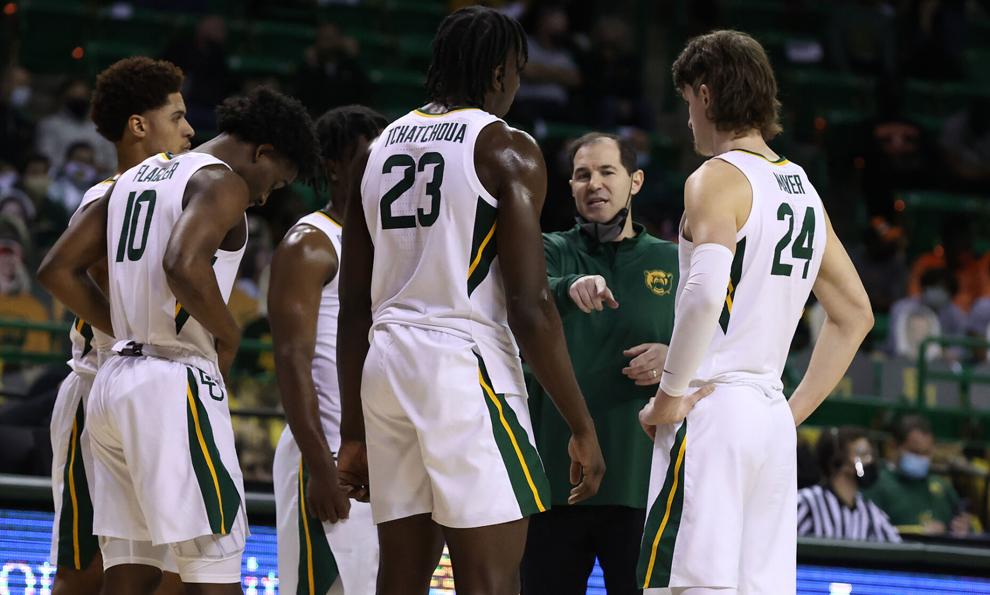 Like Teague, Flagler was overlooked by major colleges out of Duluth, Ga., and signed with Presbyterian College in Clinton, S.C. But after averaging 15.9 points to earn Big South Conference freshman of the year in 2018-19, Flagler decided to leave when Dustin Kerns took the Appalachian State coaching job following the season.
The more he studied Baylor, the more he liked. Not only was he joining a skilled group of players, Baylor had the academic and spiritual components that Flagler was seeking.
"Since high school, I had been battling against the best competition in AAU ball and players in Gwinnett (Ga.) County," Flagler said. "Playing against teams like Marquette and UCLA kept putting on that fuel and kept increasing my confidence. When I got the opportunity to visit Baylor, I knew God wanted me to be here."
A versatile swingman out of Austin Westlake High School, Mayer chose Baylor over Texas and Texas A&M, and has been an impact player for the Bears since his freshman year in 2018.
Coming from all corners
Originally from the Democratic Republic of the Congo, Thamba emigrated to the United States in 2014. Baylor signed the 6-10 Thamba out of Mountain Mission School (Va.) in 2018, and he has developed into a impactful defensive presence.
A native of Cameroon, Tchamwa Tchatchoua transferred to Baylor after starting 11 games as a freshman for UNLV in 2018-19. Both Thamba and Tchamwa Tchatchoua felt the need to bring the Bears energy and provide production in the paint after senior Tristan Clark announced his retirement in last fall due to knee issues.
"In regards to replacing Tristan's effectiveness in the game scoring-wise, he was really good," Thamba said. "But one thing we pride ourselves on is mental toughness and coming in and rebounding and playing defense and making the offense flow easier."
Freshman guard LJ Cryer from Katy Morton Ranch High School has also given the Bears some productive minutes. But every player on the Baylor squad is valued, and that's a big reason they've been successful.
With a 26-4 record and a second-place Big 12 finish, the Bears appeared headed for a No. 1 seed last year before the Big 12 and NCAA tournaments were canceled in March due to the COVID-19 outbreak.
Knowing the Bears had a talented team returning with a shot to win the national championship, Butler and Teague decided to come back to Baylor after exploring the NBA Draft.
Winning the Big 12 title was a major breakthrough, but the Bears won't be satisfied unless they bring home the program's first national championship.
"I think the big thing is winning the conference championship was a goal, but it's not the end goal," Drew said. "We've got March Madness coming up and a chance to do some things there that we haven't done in the school's history in a long time. So each and every day we've got to be getting better and getting prepared and ready for that."
---
Photo gallery: Baylor men beat Oklahoma State