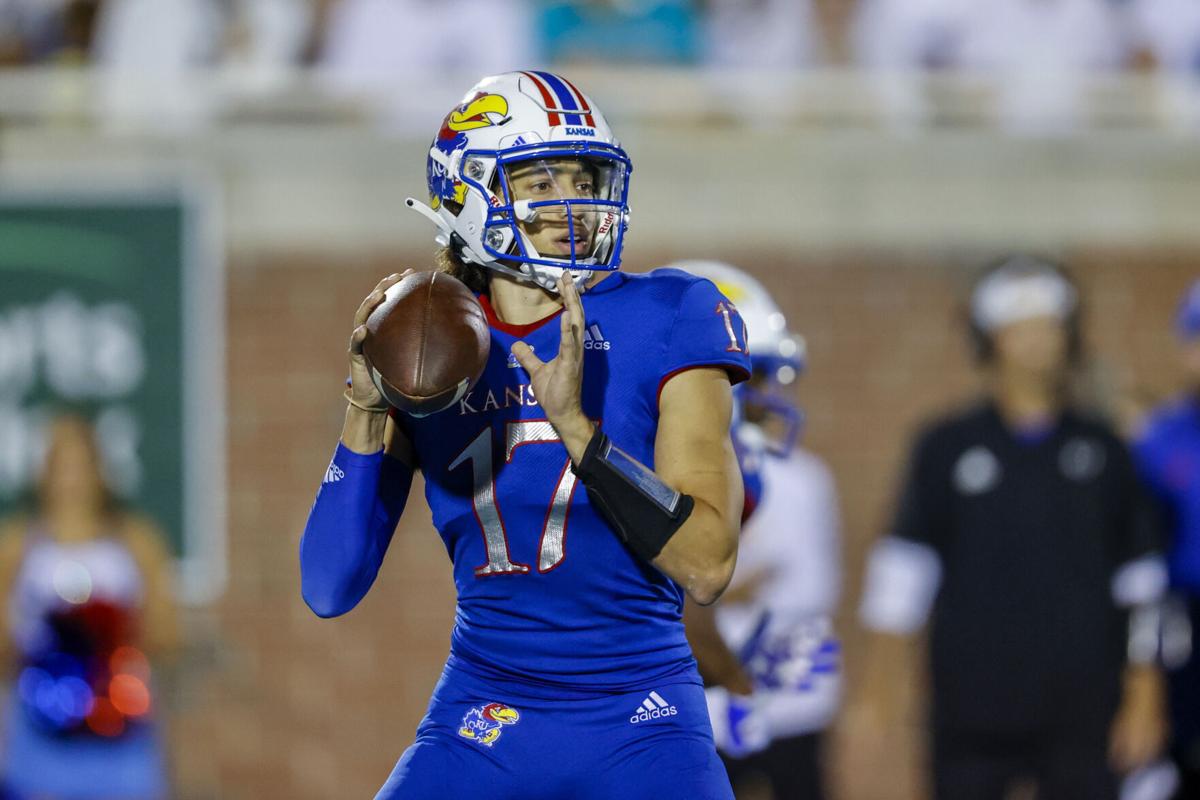 Baylor offense vs. Kansas defense
Through the first two games, Baylor's running game has been the best in the Big 12 by more than 100 yards per game. The Bears are averaging 328.5 yards and 7.5 yards per carry as Trestan Ebner and Abram Smith have each surpassed 100 yards twice. While Baylor's offense has averaged 47.5 points in the first two games, Kansas' defense ranks last in the Big 12 by allowing 31.5 points and appear especially vulnerable to the pass.
Baylor defense vs. Kansas offense
North Texas transfer Jason Bean has given the Jayhawks a lift at quarterback as he's completed 58 percent of his passes for 352 yards and two touchdowns while rushing for a team-high 154 yards and two scores. Containing him will be a key for the Baylor defense, which ranks second in the Big 12 by allowing 13.5 points per game. The Bears have been extremely opportunistic in the first two games, especially safety JT Woods, who returned an interception for a 20-yard touchdown against Texas State and a fumble for a school-record 97-yard score against Texas Southern.
Key matchup: BU QB Gerry Bohanon vs. Kansas secondary
With such an effective running game, the pressure has been off Gerry Bohanon to carry the offense in the first two games. But his leadership and effectiveness have shown as he's completed 68.5 percent for 395 yards and three touchdowns with no interceptions while running for a pair of scores against Texas Southern. Coastal Carolina quarterback Grayson McCall hit 17 of 21 passes for 245 yards and two scores in a 49-22 win over the Jayhawks last week, and it would be easy to see Bohanon posting similar numbers.
Special teams
Freshman Isaiah Hankins earned the starting kicking job and has responded by hitting three of four field goals, including a 43-yarder against Texas State. Baylor's offense was so powerful against Texas Southern that Isaac Power didn't punt after averaging 40 yards on three attempts against Texas State. Kansas kicker Jacob Borcila has hit both of his field goal attempts, including a 46-yarder, while Reis Vernon is averaging 39.9 yards on eight punts. Kenny Logan Jr. is off to an explosive start as a kick returner as he's averaged 39.8 yards on four returns.
Intangibles
After Baylor's nonconference schedule was wiped out by COVID-19, Baylor opened the 2020 season with a 47-14 win over the Jayhawks. It was by far Baylor's best all-around game in coach Dave Aranda's debut season, and should give the Bears some confidence as they head to Lawrence. First-year Kansas coach Lance Leipold is trying to make the Jayhawks competitive in the Big 12 for the first time in more than a decade dating back to the Mark Mangino era, and it's going to take more than a few months to rebuild the conference doormat.