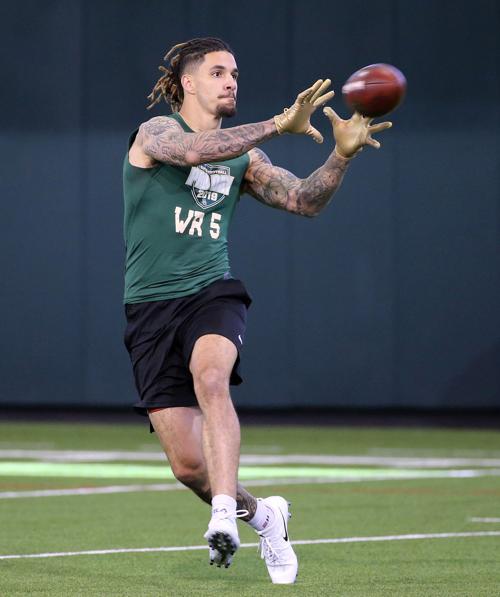 After starring in the backfield for Tennessee for three years, Jalen Hurd transferred to Baylor to transform himself into an NFL-caliber receiver.
Hurd will learn if his career move pays off when the NFL draft is held Thursday through Saturday in Nashville. Thursday's first round will begin at 7 p.m. on ABC, ESPN and the NFL Network.
Hurd and cornerback Derrek Thomas are the only Baylor players expected to be drafted, but that's an improvement over last year when no Bears were selected for the first time since 2008.
The last Baylor player chosen in the draft was center Kyle Fuller in the seventh round in 2017 by the Houston Texans. Baylor coach Matt Rhule is hopeful that both Hurd and Thomas, and possibility others, will be drafted to show the younger players that it's a goal they can shoot for.
"It's always good when guys you play with, you see them get drafted and go on, and you recognize it doesn't seem quite as distant," Rhule said. "It's been a couple of years since they've seen a teammate drafted. To see some guys get drafted this year, I think it will change how far away that feels."
Hurd is projected to be drafted in the fourth or fifth round while Thomas is a sixth or seventh-round projection. The second and third rounds will be held Friday beginning at 6 p.m. while the fourth through seventh rounds begin at 11 a.m. Saturday.
After rushing for 2,660 yards and 20 touchdowns in three seasons at Tennessee, Hurd could have tested the draft waters in 2017. But the 6-4, 217-pound Hurd felt his best chance to make the NFL was as a receiver, so he transferred to Baylor to learn how to play receiver in Rhule's pro-style offense.
Hurd began learning Rhule's system as a redshirt in 2017. The transfer year paid off as Hurd led the Bears with 69 catches for 946 yards and four touchdowns in 2018 while also still contributing in the backfield by rushing for 209 yards and three scores.
"I think I've shown I can be a receiver and do it very well," Hurd said. "I showed I can be a pretty dominant and elite receiver. So I think I'll be able to for sure do that at the next level. My biggest strength is my speed, my versatility and just being able to cut. I'm very big and I can move a lot better than most big people. I'm glad I have a year under my belt (at receiver)."
Hurd believes that spending the last two years in Rhule's NFL-oriented offensive system has been a huge benefit. There's often more of a learning curve in the NFL for offensive players accustomed to college spread offenses.
"Our playbook is stacked," Hurd said. "We run a straight NFL playbook, and everything from the ins and outs of our meetings and throughout our strength program. I mean it's been a great experience. I've really enjoyed being at Baylor."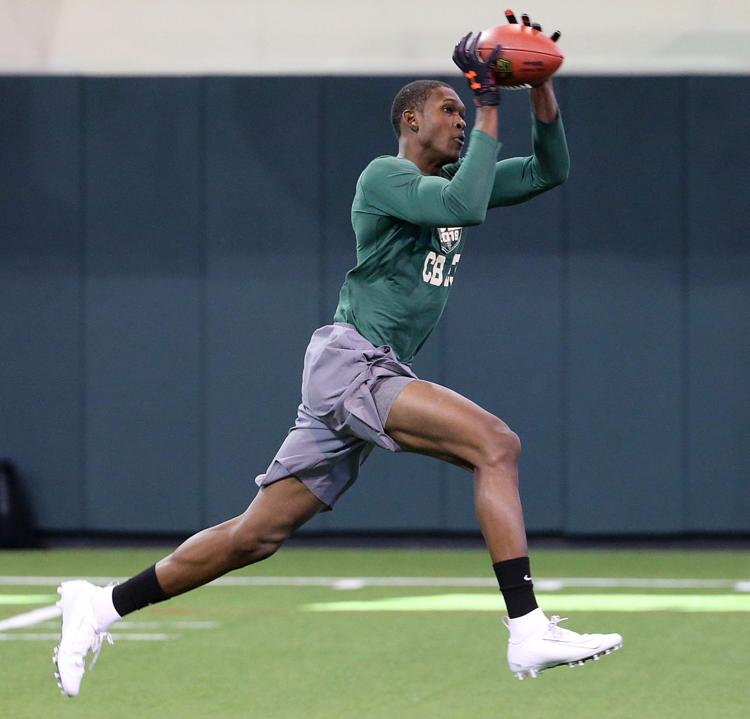 Meanwhile, Thomas has jumped on the radar of NFL scouts because of his 6-3, 196-pound frame and his athleticism. He's a late bloomer at cornerback after coming to Temple as a receiver in 2014. He converted to cornerback in 2016, but was mostly a backup at Temple before starting in 2018 for Baylor as a graduate transfer.
Though his numbers at Baylor weren't spectacular, he showed a lot of promise by recording a team-high seven pass breakups while also hauling in an interception.
"Looking back at the tape, I wish I had been better, not only for myself but for the team," Thomas said. "It can always be better. I came down here and did what was asked of me. I helped changed this program."
Thomas believes his best years are ahead of him and hopes to show an NFL team that he can stick on a roster.
"The feedback I've gotten is really good," Thomas said. "One general thing they've all said is you're extremely intelligent on and off the field. You're a smart guy and you have the tools physically to do this. For me, the conversation was let's just continue to develop and become the guy everybody sees you becoming. We all know you've been playing corner two years, you've got a lot to learn."
Thoughtful and conversational, Thomas thinks he impressed teams during the NFL Scouting Combine in Indianapolis in February. Hurd and Thomas were the only Baylor players invited to the combine, and they also worked out for scouts on Baylor's Pro Day on April 2.
"Really at the combine that's the majority of the process – interviews," Thomas said. "They're evaluating every little thing you do. So for me, and like a lot of guys there, you talked to every team. They all asked different questions. Some talked more football, some talked more life. Someone would see how you react psychologically and some were just kind of talking to you. I had great conversations and interviews with them all, and had a really good weekend."
Several other Baylor players hope to at least be invited to NFL camps as free agents, including quarterback Jalan McClendon, defensive end Greg Roberts, defensive tackle Ira Lewis, defensive back Verkedric Vaughns, punter Drew Galitz, and offensive linemen Blake Blackmar and Patrick Lawrence.
"The overall thing is they like my attitude on the field and they like how I play," Roberts said. "They like who I am as a person. I've gotten to talk to a few people. They're liking what they see, it's just a matter of when they pick me up."
Be the first to know
Get local news delivered to your inbox!