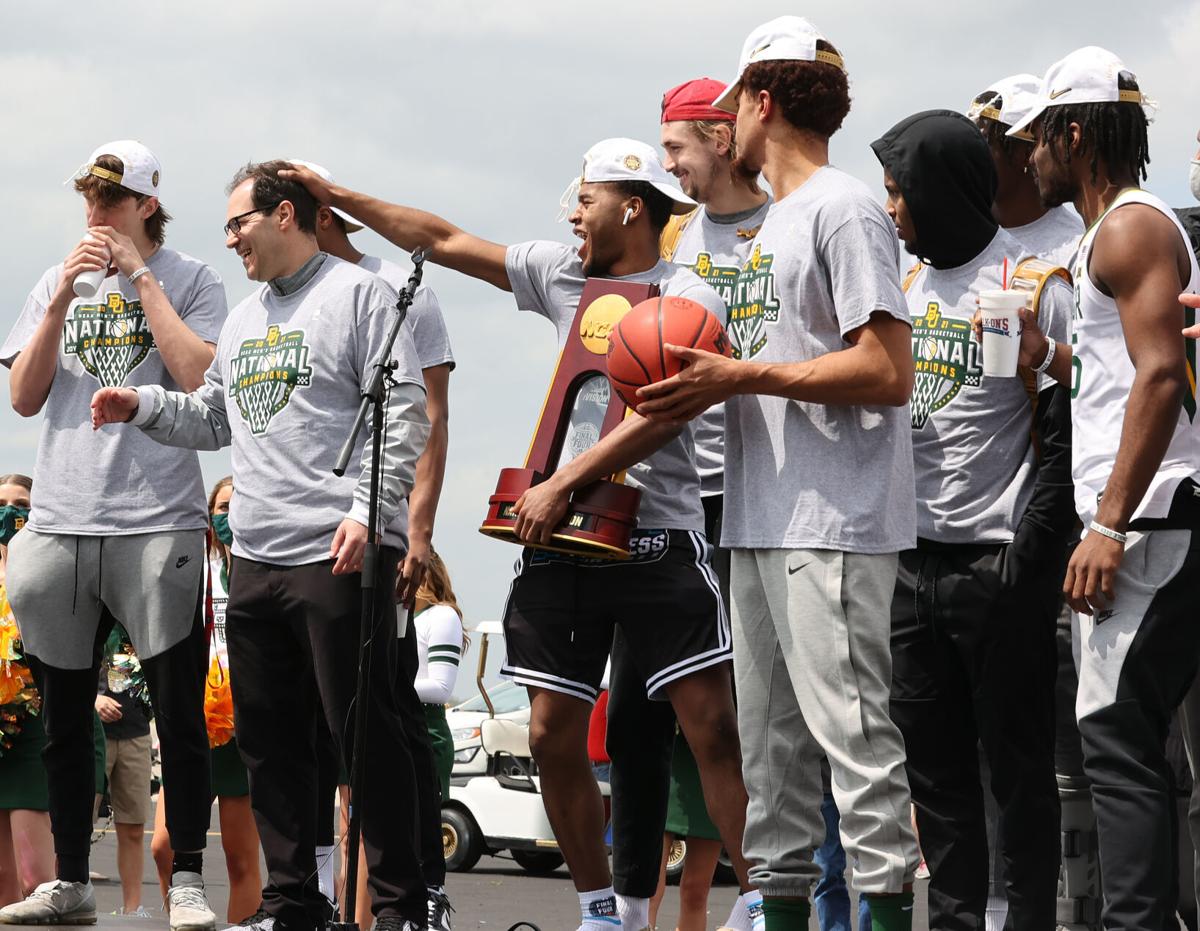 Scott Drew's ambition was never to produce a few successful seasons at Baylor and jump at the first job offer from a big-time basketball school.
If that was his plan, Drew might have left Baylor following Elite Eight appearances in 2010 and 2012. But Drew wanted to keep building the program he raised out of the dirt to higher levels.
It doesn't get higher than the national championship.
After leading the Bears to their first national championship in school history Monday night at Lucas Oil Stadium in Indianapolis, the 50-year-old Drew remains committed to Baylor for the long term.
With his history-making 18th season in the books, Drew believes he has the resources that he and his coaching staff need to keep the Bears among the nation's elite basketball programs.
Under the leadership of President Linda Livingstone and athletic director Mack Rhoades, Drew is convinced he has the support his program needs to continue to thrive. Baylor plans to start construction on a new $105 million, 7,200-seat basketball fieldhouse in the near future after playing the last 33 seasons at the Ferrell Center.
"Until God tells me to go somewhere else, I'm staying here as long as Baylor will have me," Drew said. "My family loves it here, and I get to work with so many outstanding people. We've been fortunate to have the leadership and vision of President Livingstone and Mack Rhoades. They've been a blessing to me."
Coach Scott Drew has led the Baylor University men's basketball program from the depths of murder and mayhem to the March Madness mountain top…
The Baylor administration is equally committed to Drew and the powerful basketball program he's built. As a private school, Baylor doesn't traditionally disclose specific contract details, but Rhoades is committed to keeping Drew at the university.
"Scott and I have been talking prior to the championship run about his legacy at Baylor and I indicated, and many feel the same way, we want Scott to finish his career here," Rhoades said. "We have been proactive in trying to accomplish that, and I think we are close to doing that."
Livingstone isn't just impressed by Drew's success on the court, but also by the way he molds student-athletes in his program and embraces Baylor's Christian mission.
"Scott models what we are about at Baylor in terms of our Christian mission, and we look forward to Scott being our coach for many more years to come," Livingstone said. "We certainly appreciate the way they have won, and won the right way. But at the end of the day, there is so much more about Scott that is important to Baylor. He has such a deep personal faith and commitment to Baylor and does such a good job of developing young men and finding young men who are going to be successful at life."
Rhoades said Drew's current contract has several years remaining on it, and said Baylor is working "on enhancing that total package."
"He has, like all of our coaches, performance incentives built in," Rhoades said. "Like reaching certain milestones, performance incentives like reaching the Sweet 16, Elite Eight, winning the championship, very similar to all coaches throughout the country."
With a veteran team that featured four starters returning from last year's 26-4 team, the Bears came into the season ranked No. 1 in the coaches poll and No. 2 in the Associated Press poll. Baylor also had enormous incentive after the 2020 NCAA tournament was canceled due to the COVID-19 outbreak.
The 28-2 Bears made good on every expectation by capturing its first Big 12 championship with a 13-1 record, and winning six NCAA tournament games by an average of 15.3 points. The Bears' 86-70 blitz of No. 1 overall NCAA tournament seed Gonzaga in the championship game left no doubt that they were the best team in the nation.
On college basketball's biggest stage, the Bears exceeded the level they had played at prior to a three-week COVID-19 pause in February.
"You go into every game thinking you have a game plan that can win and that you get separation if things work out," Drew said. "We played well the entire tournament, much like we did prior to the (COVID-19) pause. We didn't even have to be lucky because our guys were so dominant this entire tournament."
Beyond the superb play on the court, Drew believes his players represented Baylor in an admiral fashion as they navigated COVID-19 restrictions that included a month-long stay in a bubble-like atmosphere throughout the Big 12 and NCAA tournaments.
"Hopefully the world was able to see what great student-athletes we have at Baylor, and through our play see the mission of our university, which is to help young people spiritually, academically, character-wise and athletically," Drew said.
Though Drew's squad will likely have a much different look next season, he still expects his program to maintain a high level of success.
Four starters who contributed heavily to this historic season will likely be gone.
Though the NCAA ruled that the 2020-21 season didn't count against player eligibility due to COVID-19 interruptions, fifth-year seniors Mark Vital and MaCio Teague have indicated they don't plan to return.
First team All-America guard Jared Butler and third-team All-America guard and national defensive player of the year Davion Mitchell are projected to be first-round picks in the NBA Draft if they choose to turn pro following their junior seasons. Mitchell is expected to be a lottery pick while Butler is projected to go later in the first round.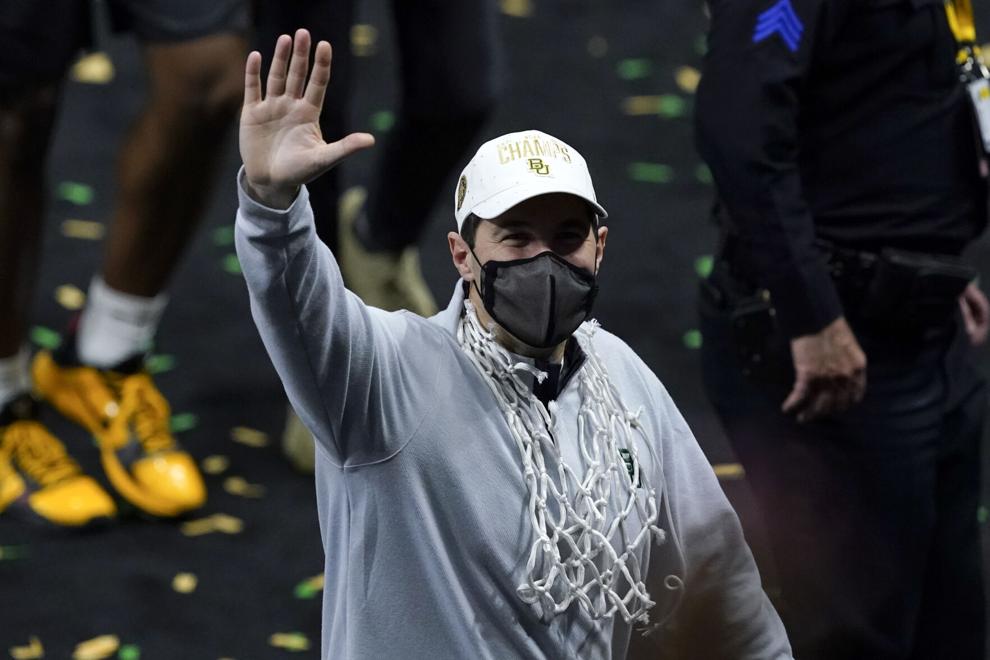 But Baylor's national championship season didn't come out of nowhere. The Bears have been in the national conversation for a long time, and Drew and his staff have always had talented players coming up through the program.
After playing key roles off the bench this season, forwards Matthew Mayer and Jonathan Tchamwa Tchatchoua and guard Adam Flagler will play bigger roles next season. Starting center Flo Thamba is expected to return while freshman guard LJ Cryer and 7-0 forward Zach Loveday are talented prospects.
Additionally, Baylor has Rivals.com's No. 12-ranked 2021 class coming to campus, featuring five-star forward Kendall Brown and a pair of four-star recruits in forward Jeremy Sochan and guard Langston Love. The Bears could also prosper in the transfer market following their national championship season.
Since 2008, the Bears have reached the NCAA tournament nine times with the 2010 and 2012 Elite Eight berths preceding Sweet 16 berths in 2014 and 2017. Drew's NCAA tournament record is a sparkling 17-8.
"I think the best thing about our program has been our consistency," Drew said. "Kansas and Baylor are the only Power 5 conference schools that have won 18 or more games every year since 2008."
Winning the national title will have a major impact on Baylor's recruiting classes for many years to come.
"Definitely when kids grow up, 8 to 16 years old, they're watching college basketball and those are their heroes," Drew said. "Winning a national championship like this will impact recruiting for the next 10 years. Kids that are 9 years old now could be saying they always wanted to be like Jared Butler, Davion Mitchell, Mark Vital and MaCio Teague."
Gonzaga's Mark Few is among the many coaches who believe Drew has done one of the most remarkable rebuilding jobs in college basketball history.
After taking over a program wrecked by the murder of Patrick Dennehy by former teammate Carlton Dotson in 2003 and an attempted cover-up of NCAA rules violations by former coach Dave Bliss, Drew led the Bears to their first NCAA tournament berth in 20 years in 2008 and they've been a consistent Top 25 team since then.
"It's absolutely unequivocally off the charts," Few said. "I just don't think it's ever been seen, and now I'm glad it's coming to light. We've talked about where we came from to where we are now, but ours was a lot smoother. It just didn't come from a dark place. Where they were it's been unbelievable what they've been able to do."
Drew has also overcome the stereotype earlier in his career that he was a great recruiter but not a strong in-game coach. To the contrary, Drew has always shown the ability to adapt Baylor's strategy and style of play to the talent and strengths of each particular team he's coached throughout the years.
"He had to fight through some totally inaccurate portrayals," Few said. "He's a phenomenal basketball coach. Just watch his teams play, and he has an incredible ability for eternal optimism. That's such a gift too. I just have the highest amount of respect for him and what he's been able to do, and actually for the Baylor administration in helping him with the process and growing with him. They're a legit powerhouse now in college basketball, and Scott's staff and obviously all these great players they've been able to get deserve all the credit."
More than ever, Rhoades understands that Drew is a prominent target for coaching vacancies. But Rhoades knows that goes with the territory for a highly successful program like Drew has created.
"His popularity nationally has increased, no doubt about that," Rhoades said. "What a great problem to have, if you consider it a problem. I don't. I consider it a blessing."
If Drew's long-term commitment to Baylor seems like an anomaly in today's coaching world, it's not unusual to him. His role model was his father, College Basketball Hall of Fame coach Homer Drew, who coached for 22 seasons at Valparaiso beginning in 1988.
Before Homer's arrival, the Crusaders had suffered through 11 straight losing seasons. It took Homer six more seasons before the Crusaders broke through with a 20-8 season in 1993. Valparaiso recorded 20-win seasons eight of nine years with six NCAA tournament appearances, including a Sweet 16 berth in 1998.
It's a very familiar tale to Scott, one that he's emulated to an even higher degree of success at Baylor.
"He had a huge impact on what we've done here because I saw how he built the Valpo basketball program," Scott said. "I thought we could do the same thing here at Baylor. During my dad's duration there, I saw how many people he impacted and the effect he had on their lives, and I think it's been like that with us."
Scott saw how Valparaiso was always a touchstone for former players. It was a place they could always return.
It's been the same way for Drew's players over the last 18 years. Only now they can say they've got a national championship program to come home to.
"It's a blessing to see past players stay in touch with the current players and staff," Drew said. "We've been able to help them with job recommendations and be a resource in their lives. It's been a family atmosphere. It's been a true blessing."
Tribune-Herald staff writer Tommy Witherspoon contributed to this story.