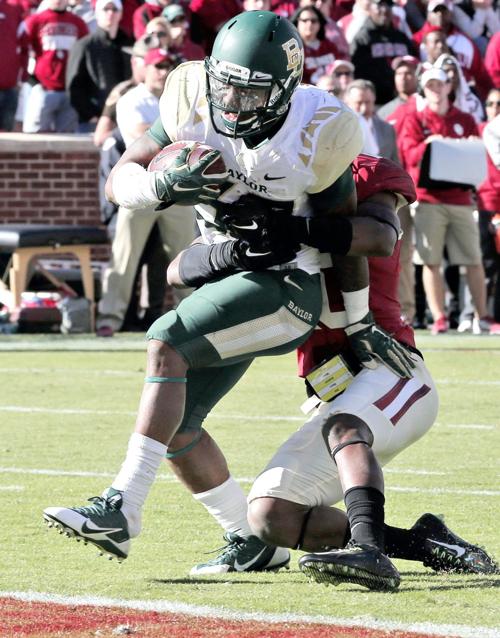 For the Bears, the bye weeks are no more.
With three bye weeks on the schedule this year, that could have been an issue for Baylor, in terms of interrupting the flow of the season. But I don't think the coaches let it become an issue. They kind of said, 'OK, this is the schedule we've been given, let's make the most of it.' And I think you've seen them really do that, using the bye weeks to their benefit. This week they've been able to get Bryce Hager back healthy, they've gotten Terrence Singleton healthy, so they've made the most of it.
But now they realize they're in the stretch drive. They've got three straight games in the next three weeks, and they're ready to make that push to the finish line.
From a schedule standpoint, it couldn't have ended much better for Baylor. To have two of your last three at home and another at a neutral site, that's a good way to finish. Nothing against these teams, but I think Baylor is in really good position — or I should say that they've put themselves in really good position — for a strong finish. When you've got all those road games at the start of conference, I guess the payoff has to be somewhere, right?
Oklahoma State and Baylor are two teams trending in opposite directions, but Oklahoma State has had the Bears' number more than most. I know the Bears are looking forward to this one, for sure.
Here are some things to watch for Saturday when the Bears hook up with the Cowboys:
Meeting in the backfield: A big key for the Bears will be putting pressure on Oklahoma State's quarterback. At this point, I don't know who will start at quarterback, whether Daxx Garman will play or whether it'll be the freshman Mason Rudolph. But either way, that offensive line for OSU has been beaten up a bit this year. It's given up 32 sacks, by far the most in the Big 12. So whomever the QB is, I think you'll see Baylor look to apply a lot of pressure.
That's been a big strength for the Bears this year, that defensive front. They'll know the numbers too, and you'd imagine that they'll be chomping at the bit.
Extending the execution: I think Baylor wants to continue how well it played at Oklahoma. The Bears played so well in that game, definitely their best total game of the year. I can't remember when they played so complete a game. Obviously it was the best this year, and maybe better than any they had last year, too. You might have to back to the Kansas State win in 2012, just in terms of how dominant it was. Last year's game against Oklahoma was a really big one from a total team standpoint, too.
To try to continue that kind of effort you had against Oklahoma, to show that you can maintain that momentum even over the span of two weeks, I think that would be really big for Baylor.
Against the Sooners in particular, the Bears did a nice job of just taking what the defense gave it. We saw that on that first drive of the third quarter, with the OU fans booing their own defense. That's a really smart strategy by Baylor, because when you've got as many weapons as Baylor does, it's impossible for the defense to stop all of them. You figure Baylor will try to take advantage of its running game, but if (OSU) loads up to try to slow that down, that's where the chess match begins.
Embracing the wet darkness: It could be a wet one Saturday. They always say that rain and bad weather is the great equalizer. The Bears have had some rain games this year and they've played through it, so I don't think it'll slow them down much.
You'd hate for the rain to affect the crowd, because we've had great fans at home this year. That could be a little bit of an issue, but hopefully not a huge issue.
The blackout game was such a huge hit last year. The players like it, and I know Coach (Art) Briles and the rest of the coaches like it. If you remember, Coach Briles said that he came out for pregame last year for the blackout game against Oklahoma, and he saw everyone in black and so many people who had gotten there so early, and he said the hair on the back of his neck stood up.